Outcome evaluation: Governance Programme in Suriname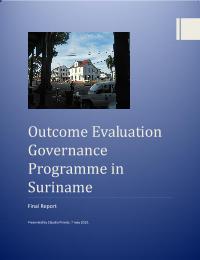 Evaluation Plan:

Evaluation Type:

Outcome

Planned End Date:

01/2013

Completion Date:

05/2013

Status:

Completed

Management Response:

Yes

Evaluation Budget(US $):

30,000
Title
Outcome evaluation: Governance Programme in Suriname
Atlas Project Number:
Evaluation Plan:
2012-2016, Suriname
Evaluation Type:
Outcome
Status:
Completed
Completion Date:
05/2013
Planned End Date:

01/2013

Management Response:
Yes

Focus Area

:

1. Democratic Governance
2. Cross-cutting Development Issue

Corporate Outcome and Output (UNDP Strategic Plan 2018-2021)

1. Electoral laws, processes and institutions strengthen inclusive participation and professional electoral administration
2. Legislatures, regional elected bodies, and local assemblies have strengthened institutional capacity, enabling them to represent their constituents more effectively
3. Effective, responsive, accessible and fair justice systems promote the rule of law, including both formal and informal processes, with due consideration on the rights of the poor, women and vulnerable groups
4. Strengthened capacities of national human rights institutions
5. Strengthened national-, regional- and local-level capacity to implement anti-corruption initiatives
6. UNDP programmes/projects integrate capacity development

Evaluation Budget(US $):

30,000

Source of Funding:
UNDP & Gov. C/S
Joint Programme:
No
Joint Evaluation:

No

Evaluation Team members:

| Name | Title | Nationality |
| --- | --- | --- |
| Claudia Pineda | Ms. | NICARAGUA |

GEF Evaluation:

No

Key Stakeholders:
Ministry of Foreign Affairs, Ministry of Finance, Ministry of Justice and Police and Ministry of Home Affairs
Countries:

SURINAME

Comments:
Field mission of Evaluation Expert completed and presentation held on preliminary findings.
Recommendations
1
For guaranteeing the sustainability of the political will it is important to establish political dialogue with the government coalition, but also maintaining communication with the opposing coalitions in order to measure the level of consensus that would be achieved by any initiative that wants to be set forth.
2
For the political dialogue with the government, UNDP needs to establish with clarity which are its work principles so that no mistrust exists with regards to the defense of principles such as transparency, participation, rights of vulnerable groups, etc.
3
To advocate for stakeholders to be included in the national agenda setting UNDP can organize discussion meetings with social actors, the academia, and the private sector, in order to obtain inputs for its own work and for promoting the prioritized themes in the common agenda that should have with the government. UNDP can contribute to build an inclusive and participatory national agenda.
4
To improve its strategic and operational system of planning and monitoring, the UNDP CO will have to design a strategy, aimed at analyzing the country's governance/political situation and determining a programmatic strategy for UNDP, taking into account the global and national priorities. The problem of lacking a strategic document is that the historic memory of the programme will be lost with change of officers of UNDP.
5
UNDP CO should follow the good lessons from the Election and Parliamentary support projects in mobilization resources from the Government of Suriname. Beside the traditional donors such as IADB, attention should also be given to the non-traditional donors for Suriname, such as Korea, China, and India which could be financial partners for UNDP.
6
To improve the internal coordination in each project and in the programme, it would be recommended that coordination committees are conformed and for the follow-up of each Project, especially when there is more than one implementing institution, as is the case of the Project for the reduction of disparities in the access for information and services through the ICT. Based on an annual plan, trimestral follow-up meetings can be established
7
To improve the implementation of the Democratic Governance Programme under the UNDAF/UNDAP 2012-2016: Outcome 2, a flexible intervention mechanism has to be formulated, such as a Project for the strengthening for the formulation and follow-up of public policies, particularly those that promote the reduction of social disparities. A mechanism as such can be linked and can be shared with the other programmes derivate from the UNDAF 2012-2016 such as the one on Poverty and Social Development as well as with the Energy and Environment Programme.