Elections Multi-Donor Programme (EMDP) to Support Local Elections in Aceh Project Evaluation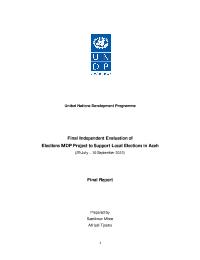 Evaluation Plan:

Evaluation Type:

Final Project

Planned End Date:

01/2015

Completion Date:

09/2012

Status:

Completed

Management Response:

Yes

Evaluation Budget(US $):

15,000
Title
Elections Multi-Donor Programme (EMDP) to Support Local Elections in Aceh Project Evaluation
Atlas Project Number:
Evaluation Plan:
2011-2015, Indonesia
Evaluation Type:
Final Project
Status:
Completed
Completion Date:
09/2012
Planned End Date:

01/2015

Management Response:
Yes

Focus Area

:
Corporate Outcome and Output (UNDP Strategic Plan 2018-2021)

1. Electoral laws, processes and institutions strengthen inclusive participation and professional electoral administration

Evaluation Budget(US $):

15,000

Source of Funding:
EMDP Project
Joint Programme:
No
Joint Evaluation:

No

Evaluation Team members:

| Name | Title | Nationality |
| --- | --- | --- |
| Saediman Mboe | evaluator | |
| Afrizal Tjeotra | evaluator | |

GEF Evaluation:

No

Key Stakeholders:
Countries:

INDONESIA
Recommendations
1
Recommendation 1. Future interventions need to provide support for voter registration and voter education as they are critical elements in achieving free, fair and credible elections. Stakeholders agreed that there is a strong need to improve the voter list, and increase citizen motivation and understanding of their rights to participate in elections. In this regard, educating the voters should not be limited to the mechanics of voting, but should be placed within the broader picture of democratic processes.
2
Recommendation 2. While UNDP needs to align its activities to meet the purposes of the donor as well as final clearance from the GoI, it also has to select activities based on the results of ongoing analysis, experiences and needs assessment. This definitely requires the ability to raise funds to adequately finance the proposed interventions to avoid a high percentage of unfunded budget.
3
Recommendation 3. Programmes such as Elections-MDP would benefit from longer planning, approval and preparation periods. As has been shown, for various reasons, the Project activities experienced delays in the process of preparation and implementation so that less time was available to optimally carry out activities with maximum benefits. For example, preparations for participatory monitoring should begin well in advance to enable the monitoring to cover most stages of elections. The call center needs socialization in order for citizens to be aware of and use its services. Likewise, high quality election manuals and video should be distributed sooner to be more useful.
4
Recommendation 4. Use of the media will be more effective if based on the results of previous study of media effectiveness. Communication expertise may assist to ensure that the messages conveyed are clear and effective. At the same time, media need to be pre-tested in different areas (rural-urban, coastal-inland, etc.) prior to mass production and distribution.
5
Recommendation 5. Any strategic project, like Elections-MDP, should also design its initiatives to develop a regulatory framework that will equip the government with the procedure or methodology for developing and replicating good and useful practices promoted by the project beyond its presence. Advocacy at the government level might be necessary to make them committed to financing some activities.
6
Recommendation 6. In order to increase institutionalization of programme outcomes, Elections-MDP needs to be more proactive in influencing KPU and Bawaslu or the government to adopt necessary programmes, policy and regulations on the basis of lessons learned and best practices from its programmes or projects. This cannot be done under a short-term project like support to elections in Aceh, but could be placed under the context of national Elections-MDP. UNDP could conduct a study to formulate a policy paper and take an advocacy approach to facilitate the adoption of its best practices by the GoI, such as participatory monitoring and the Call Center.
7
Recommendation 7. While Elections-MDP?s method of delivery consolidated the strategic partnership between UNDP and the KIP and PANWASLU, it is suggested for the future project to develop adequate and regular monitoring and coordination to aid in immediately addressing operational issues on ground. This particularly applies to activities or part of activities that are managed by partner organizations, such as those for distribution of manual and video on voting and counting along with electoral materials by KIP and participatory elections monitoring by PANWASLU.
8
Recommendation 8. It is understood that, while Electoral Cycle Approach is UNDP?s standard approach, the Project did not adopt that approach as the donor funding was strictly for a short-term intervention. Despite this short-term intervention and the ?one-off? nature of the election, however, activities of the Project need to be pursued with a longer-term perspective to increase sustainability. More in-depth capacity building should be done between elections. It is a challenge for elections to be seen as part of a continuing process of support throughout the electoral cycle.