Creating Jobs: Capacity Building on Local Resource-based Rural Roads in Selected District of NAD and Nias (ILO Rural Road Project Evaluation)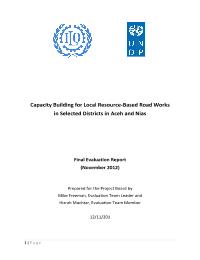 Evaluation Plan:

Evaluation Type:

Final Project

Planned End Date:

03/2013

Completion Date:

03/2013

Status:

Completed

Management Response:

Yes

Evaluation Budget(US $):

25,000
Title
Creating Jobs: Capacity Building on Local Resource-based Rural Roads in Selected District of NAD and Nias (ILO Rural Road Project Evaluation)
Atlas Project Number:
Evaluation Plan:
2011-2015, Indonesia
Evaluation Type:
Final Project
Status:
Completed
Completion Date:
03/2013
Planned End Date:

03/2013

Management Response:
Yes

Focus Area

:

1. Crisis Prevention & Recovery

Corporate Outcome and Output (UNDP Strategic Plan 2018-2021)

1. National and local institutions have the capacities to reduce the impact of disasters, especially climate change related disasters, on vulnerable communities

Evaluation Budget(US $):

25,000

Source of Funding:
Joint Programme:
No
Joint Evaluation:

No

Evaluation Team members:

| Name | Title | Nationality |
| --- | --- | --- |
| MIke Freeman | Team Leader | |
| Hizrah Muchtar | Team Member | |

GEF Evaluation:

No

Key Stakeholders:
Countries:

INDONESIA

INDONESIA
Recommendations
1
Recommendation 1: Continue to focus on LRB in Indonesia: The UN should continue to focus on the LRB approach in Indonesia in the future. It offers valuable contributions to local social and economic development and brings significant impact. It focuses on initial and long-term employment and livelihoods and strengthens community access to social services. It offers a valuable channel for early recovery. Future design efforts should carefully consider the comparative advantages of ILO and UNDP and seek to maximise their use in implementation so that a fuller use is made of ILO and UNDP strengths and talents.
2
Recommendation 2: Integrate LRB with other UN efforts: Future LRB work should be seen as part of larger and longer-term initiatives to tackle MDGs and poverty reduction as well as a valuable methodology in recovery. In this regard ILO brings a range of well tried methodologies (including LRB, and migrant workers) and UNDP brings extensive experience of working directly with government (in crisis recovery, poverty reduction and governance for instance). This means more fully exploiting the comparative advantages that the two organisations bring. Complementarity of this nature should be utilised to develop, for instance, stronger governance and advocacy mechanisms for roads construction and maintenance in participating villages; UNDP's democratic governance expertise could be utilised for this. As another example, in some parts of Indonesia, the excellent work ILO has done in economic empowerment for migrant workers and their families might also be combined with an LRB approach to develop stronger local business capacity to further exploit the gains that roads bring to the economy. Such combined approaches could be powerful tools for both crisis recovery and longer-term development efforts.
3
Recommendation 3: Multiply and replicate LRB within wider GOI programmes : Future LRB work should be within the context of GoI?s own efforts to multiply the impact of rural road construction and maintenance and to link it to poverty reduction. This means much larger programs with much wider geographical scope. It means, for instance, finding ways for MoMT to benefit from consistent TA and other support if it wishes to adapt LRB for Padat Karya. ILO should support GoI to find feasible methods to do this, even if this means waiting for one or two years (bearing in mind the need to keep the current momentum going if this is at all possible).
4
Recommendation 4: Use longer-term planning frameworks for LRB support: Change in the ways that rural roads are planned, resourced, constructed and maintained is likely to be generational in nature and requires actors to be there for the long haul, especially if multiplication and replication of LRB is envisaged. There is a clear need for longer term programme approaches. Included in this is the need to effectively communicate longer term needs to donors and to avoid the need for extensions on extensions.
5
Recommendation 5: Be prepared for further adaptation to LRB: Alternative or adapted approaches to rural roads programmes should be carefully examined. There should be no assumption that ?one size fits all?. Local governments should be assisted to look at their funding source options (international, national, provincial, district and special funds like Otsus and DIPA) and adapted approaches might be necessary. Clearly local sources of funding can be more sustainable. The ILO approach to tendering and contracting cannot be adopted within local government, and adaptation to GOI systems is strongly advised.
6
Recommendation 6: Further develop community ownership and advocacy in LRB: Future LRB efforts should develop a firmer pillar in community ownership of roads and in advocacy for roads and their maintenance. This is beyond facilitation for community activity and involves developing linkages between the village and the district. It involves creating an enabling environment for community demand to be matched by government supply.
7
Recommendation 7: Strengthen capacity building for LRB: In districts covered under the current LRB, the processes of capacity building are not complete. This will be evidenced when local government is able to undertake LRB or something similar on its own, with its own funding base, allocation of technically skilled staff and ongoing funding for training in LRB. If future UN support for LRB eventuates, the current districts should be considered for consolidation of capacity building. In the future, districts capacity building should commence right from the start and this should include the capacity to attract funding from national, provincial and district governments. If necessary donors should also support this through funding channelled via national departments to districts, but measures to ensure that districts can meet their need for growing financial contributions should be built in from the start.
8
Recommendation 8: Provide LRB capacity building and support for Social Offices: If future LRB support is to be delivered through Padat Karya it will be vital to ensure that local Social, Manpower and Transmigration offices are given full opportunity and support to develop their roles to deliver LRB projects. This should include their full involvement in all training, their familiarisation with the use of contractors and limited levels of heavy equipment and support for their facilitation roles with communities. Funding through the social offices should be assured to make this happen, along with a clear allocation of funds for Public Works offices to provide the technical supervision that Social offices are not equipped to provide.
9
Recommendation 9: Continue to use and develop LRB tools: The tools for local government that have been developed under RRP including the GIS and support for regulation should be utilised and/or adapted in future rounds of LRB. Whether compatibility of the GIS with national and provincial roads data systems is possible is an open question, but this should be investigated further. The manuals produced for RRP should remain available for future LRB efforts and if necessary further adapted.
10
Recommendation 10: Strengthen LRB skills development for women: Future rounds of LRB activity should consider very carefully the prospects for unskilled women workers to develop their skills so that they can earn higher wages. This might involve sponsorship for selected women to go on and study at vocational training centres. Support for the valuable roles that women can take in leadership, administration and financial management of local roads projects should also be provided
11
Recommendation 11: Ensure knowledge management in LRB from the start: Knowledge management as an essential tool for learning and programme development should be built in to future LRB work from the earliest stages. This should include a greater focus on consolidating learning through regular opportunities for stakeholders to reflect on successes, challenges, lessons and good practices. It should also involve a consolidated effort from the start by participating UN agencies to ensure that learning and monitoring documentation and reports are kept on one easily accessible server, are given consistent, recognisable and dated file names and are released through suitable media for use by stakeholders as appropriate. This focus should not wait till later stages in projects.
12
Recommendation 12: Document fully the use of LRB as a recovery strategy: ILO and UNDP should jointly fully document the use of the LRB approach as a recovery mechanism, and this should be provided as a reference to the Early Recovery Cluster effort. This should include analysis of how LRB provides support for recovery of livelihoods and restoration of public infrastructure (roads, bridges and irrigation). It should include consideration of the timing for commencement of the LRB approach within the context of wider recovery efforts. It should include guidelines for choice of the initial locations for LRB activity and on preparations needed in local governments and villages.
13
Recommendation 13: Incorporate LRB into disaster contingency planning: As part of the efforts in the Early Recovery Cluster group, ILO and UNDP should advocate the inclusion of LRB within government disaster contingency plans. This should be based on the documentation called for in Recommendation 11. ILO should also attempt to introduce disaster risk maps into the data systems it has developed for local governments as this would be a very useful tool for contingency planning. It would aid the identification of communities most at risk through loss of transport infrastructure, local roads that link to priority routes for relief and likely priority locations for early LRB activity.
14
Recommendation 14: Further integration with GoI systems: As it moves towards extension of the LRB approach to other areas of Indonesia, ILO should examine carefully options for more closely integrating LRB into GoI systems. This should include (but not be limited to) two priority areas. Firstly there is a need to examine ILO and GoI systems for tendering and contracting to determine how LRB could be directly utilised by GoI agencies at the district level. Secondly there is a need to examine the various options that villages have for obtaining funding for road construction and maintenance in order to better support villages to sustainably manage their roads in the future. The latter would likely call for direct support for villages in planning for and obtaining resources for their roads.