Evaluation of UNDP Contribution to Poverty Reduction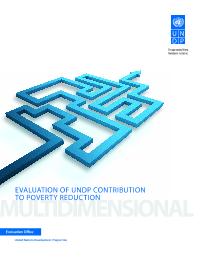 Evaluation Plan:

Evaluation Type:

Thematic

Planned End Date:

01/2013

Completion Date:

01/2013

Status:

Completed

Management Response:

Yes

Evaluation Budget(US $):

250,000
Title
Evaluation of UNDP Contribution to Poverty Reduction
Atlas Project Number:
Evaluation Plan:
2009-2013, Independent Evaluation Office
Evaluation Type:
Thematic
Status:
Completed
Completion Date:
01/2013
Planned End Date:

01/2013

Management Response:
Yes

Focus Area

:
Corporate Outcome and Output (UNDP Strategic Plan 2018-2021)

1. Capacities of national and local institutions enhanced to scale up proven MDG acceleration interventions and to plan, monitor, report and evaluate the MDG progress in the context of related national development priorities
2. Inclusive growth and social equity promoted through pro-poor macroeconomic and fiscal policies that support income, employment and social protection of youth, women and vulnerable groups in a sustainable way
3. Policies, strategies and partnerships established to enhance public-private sector collaboration and private sector and market development that benefit the poor and ensure that low-income households and small enterprises have access to a broad range of financial and legal services
4. Strengthened national capacities to integrate into the global economic system and to negotiate and manage traditional & emerging development finance for inclusive development
5. Strengthened capacities to mainstream action into national policies, plans and strategies on the socio-economic causes and consequences of HIV and the linkage to the health MDG

Evaluation Budget(US $):

250,000

Source of Funding:
Evaluation Expenditure(US $):

250,000

Joint Programme:
No
Joint Evaluation:

No

Evaluation Team members:

| Name | Title | Nationality |
| --- | --- | --- |
| Prof. S.R. Osmani | Team leader | |

GEF Evaluation:

No

Key Stakeholders:
Lessons
Findings
1.

Chapter 4 ASSESSMENT OF UNDP'S CONTRIBUTION

This chapter presents the findings of the evaluation, assessing the contribution of UNDP country programmes to poverty reduction by using three evaluation criteria – effectiveness, efficiency and sustainability – as defined in Chapter 1. Each of the findings is illustrated with the help of a number of examples drawn from different regions where UNDP works. It should be emphasized, however, that the cited examples do not constitute the whole evidential basis from which the findings are derived. The findings are based on the evaluation of a much wider range of evidence drawn from numerous documents and other sources mentioned in Chapter 1; the examples are used below for illustrative purposes only.

As also mentioned in Chapter 1, this evaluation does not cover all of UNDP's work in the area of poverty reduction and could not capture using evaluative evidence some of the more recent initiatives undertaken by UNDP in support of the poverty reduction goal. The findings thus do not represent a snapshot of UNDP but rather a story of UNDP's work over the last ten years. Moreover, since it bases the findings on evidence captured by evaluations, not all examples, good and bad, are included in the narrative. The lack of evaluations is in itself a finding that will be made clearer later in this chapter.

4.1 GENERAL FINDINGS ON UNDP CONTRIBUTION TO POVERTY REDUCTION

The previous chapter set out the strategic intent and corporate initiatives and strategies. This section will look at findings related to what actually happened in terms of UNDP's interventions. While the next two sections separate upstream and downstream performance, there are some general findings that cut across the two and are presented here.

Finding 1. UNDP has taken a pragmatic and flexible approach towards advancing the poverty reduction agenda that has varied across countries depending on the national context.




Tag: Rural development Climate Change Adaptation Effectiveness Relevance Gender Equality Women's Empowerment Human rights Justice system Health Sector Integration MDGs Country Government Post Conflict Education Inclusive economic growth Jobs and Livelihoods Micro-credit Poverty Reduction

2.

Finding 2. The resources UNDP devotes to poverty reduction are difficult to determine as poverty is addressed, to a varying degree, in all its focus areas.




Tag: Crisis Response Efficiency Public administration reform HIV / AIDS MDGs Conflict Crisis prevention Poverty Reduction

3.

4.2 FINDINGS ON EFFECTIVENESS OF UNDP'S UPSTREAM INTERVENTIONS

This section evaluates the evidence on how effective UNDP has been in contributing to pro-poor policy development at the country level and examines the major factors that have had an impact on the degree of its effectiveness. As noted in the previous chapter, the majority of UNDP's work in its poverty cluster is related to its upstream policy work. This proportion has also increased over time from approximately 40 percent by value of projects in the second MYFF to approximately 60 percent in the first four years of the UNDP Strategic Plan. UNDP's upstream policy-oriented work covers support to strengthening the enabling environment for pro-poor policy-making as well as direct support to policy development, often using the same tools. The following analysis and key findings are structured by this distinction.

Finding 3. UNDP has been effective in embedding the agenda of poverty reduction from the multidimensional perspective of human development in national forums for debates and discussions on socio-economic development.




Tag: Effectiveness Civic Engagement Parliament Communication Country Support Platform Integration Knowledge management Ownership Policies & Procedures Inclusive economic growth Poverty Reduction Advocacy Policy Advisory Technical Support Data and Statistics

4.

Finding 4. When given the opportunity UNDP has effectively supported national efforts aimed at developing capacity for evidence–based pro-poor policy-making.




Tag: Effectiveness Efficiency Gender Equality Women's Empowerment Human rights MDGs Monitoring and Evaluation Results-Based Management Civil Societies and NGOs Country Government Capacity Building Inclusive economic growth Poverty Reduction Policy Advisory Data and Statistics

5.

Finding 5. Where UNDP has gone beyond support to creating a pro-poor enabling environment to direct support to pro-poor policy-making by national authorities, its success is less evident.




Tag: Effectiveness Impact Integration MDGs Policies & Procedures Country Government Jobs and Livelihoods Poverty Reduction

6.

Finding 6. UNDP's success in the area of upstream work can be partly explained by its relationship with national authorities and its approach to broad participation.




Tag: Civic Engagement Human rights Donor relations Partnership Civil Societies and NGOs Country Government International Financial Institutions Capacity Building Advocacy Policy Advisory Technical Support

7.

4.3 FINDINGS ON EFFECTIVENESS OF UNDP'S DOWNSTREAM INTERVENTIONS

Beyond its work to support pro-poor evidencebased policy development, UNDP also plays a role in downstream work, aimed at implementing policies and directly supporting poverty reduction. The portfolio of activities is extremely broad and ranges from support to capacity development of local government officials to microfinance schemes and this in itself presents a problem for generalization. Moreover, as noted in Chapter 1, the evaluation will not identify what types of intervention are more effective than others, as this is often context specific. Rather it will attempt to identify the systemic issues that help or hinder UNDP's contribution to poverty reduction. In this context the following are the key findings:

Finding 7. The contribution of UNDP's downstream projects aimed at directly addressing poverty reduction is often unclear.




Tag: Effectiveness Impact Sustainability Gender Equality Women's Empowerment Poverty Reduction

8.

Finding 8. Even when UNDP undertakes activities with an explicit poverty orientation, the approach often lacks a pro-poor bias and tends to rely instead on the 'trickle down' process.




Tag: Tourism Effectiveness Integration Policies & Procedures Programme/Project Design Country Government Private Sector UN Country Team Capacity Building Inclusive economic growth Jobs and Livelihoods Poverty Reduction Trade and Development

9.

Finding 9. UNDP has generally made good use of partnerships within the UN but there are missed opportunities especially in relation to addressing non-income aspects of poverty.




Tag: Aid Coordination Gender Equality Women's Empowerment MDGs Partnership UN Agencies Jobs and Livelihoods Poverty Reduction

10.

4.4 FINDINGS ON EFFECTIVENESS OF OTHER FOCUS AREAS

The importance of UNDP's whole programme to poverty reduction has been emphasized throughout the first chapters of this evaluation report. Chapter 3 pointed to the strategic intent to put poverty as the overriding objective of UNDP and what that means for other focus areas. The evidence suggests that there is indeed an important contribution. For example, the 2011 Sri Lanka ADR concluded that UNDP's contribution to poverty reduction was far greater through its environment, governance and crisis work than through the poverty cluster, noting that although such programmes may not have had poverty reduction as their primary objectives they nonetheless had a considerable impact on the lives of the poor and vulnerable.

Many evaluations have pointed to a central problem in facilitating 'cross-focus area' programme development, namely, the fragmented nature of UNDP's operational structure. UNDP's organization into separate practice areas, combined with dependence on external funding, steers programming in disparate directions instead of providing incentives for integration.

Finding 10. There is great potential for advancing the cause of poverty reduction through UNDP's activities in the democratic governance area, but UNDP's record in harnessing this potential is mixed.




Tag: Effectiveness Anti-corruption Civic Engagement Election Justice system Local Governance Public administration reform Integration Partnership Programme Synergy Service delivery Poverty Reduction Social Protection

11.

Finding 11. Despite some success, there is untapped potential for integrating a poverty focus into UNDP's environment and energy related activities.




Tag: Biodiversity Energy Environment Policy Effectiveness Efficiency Global Environment Facility fund Private Sector Financing Integration Poverty Reduction

12.

Finding 12. Poverty reduction has often been integrated into UNDP's work in support of crisis prevention and recovery, but some opportunities to do so were missed.




Tag: Climate Change Adaptation Disaster Risk Reduction Recovery Health Sector Integration Project and Programme management Civil Societies and NGOs Country Government Conflict Conflict resolution Education Inclusive economic growth Jobs and Livelihoods Poverty Reduction

13.

4.5 FINDINGS ON EFFICIENCY

This section provides the evidence on the efficiency with which UNDP country programmes have contributed to poverty reduction. As noted in Chapter 1, the usual definition of efficiency, which relates to the efficiency of moving from inputs to outputs, is too project-oriented and difficult to ascertain in a broad thematic evaluation. Rather, the present evaluation will use an operational definition of efficiency as the extent to which UNDP maximizes the use of its resources by leveraging these resources for a greater contribution to poverty reduction. In other words, even if UNDP's interventions were successful in achieving their objectives, could the contribution have been much higher for the same resources. This is especially important in the context of UNDP's limited resources to address the huge challenge of global poverty reduction. It is an issue related to the findings in the previous section on the poverty reduction role of UNDP outside the poverty cluster. UNDP can have a greater contribution if it addresses poverty in more of its work.

There are also a number of generic issues that affect all UNDP interventions and have been raised in the past. As discussed earlier, not everything UNDP does is consistent with its overriding priority of poverty reduction, and even the activities that could be potentially poverty-reducing are not always given a pro-poor orientation. This reduces the efficiency of UNDP in terms of making the best possible use of its resources for the purpose of advancing its priority goal. The fact that resources are spread too thinly – a recurrent theme in ADRs – reduces efficiency even further. A thinly spread portfolio also leads to high transaction costs in relation to learning.

Notwithstanding the above, this section will focus on two related issues that concern leveraging UNDP's resources for greater impact and surround the idea of scaling up. The EO has reported on the issue of scaling up (or lack of it) to UNDP management on a regular basis (for example, in the Annual Reports on Evaluation). BDP has responded to the challenge with a major effort168 (in partnership with the Special Unit on South-South Cooperation, UNCDF and regional bureaux) aimed at specifically addressing this issue with respect to local development and local governance interventions. The aim of the initiative is to build a strong knowledge base on the key enablers and conditions for scaling up, and support scaling up programming at the country level. Initial outputs include a series of case studies on scaling up for transformational change and a draft guidance note on scaling up. Ongoing activities include additional case studies featuring various pathways of scaling up; a learning module on scaling up (in collaboration with the UNDP Learning Resource Centre); an advocacy video on scaling up with specific country examples (in collaboration with the Communications Office). This section will look at two related scaling-up issues: (a) the expansion of a scheme in one place or to new areas; and (b) the expansion of an idea though linking lessons from downstream work to public policy. Linking these two ideas is the platform of learning, especially supporting national efforts to learn, so that projects and policies can be adapted based on what has been learned.

Finding 13. In many cases, no systematic effort has been made to maximize the benefits of innovative pilot and small-scale projects aimed at poverty reduction through facilitating their scaling up.




Tag: Efficiency Sustainability Innovation Capacity Building Poverty Reduction

14.

Finding 14. Efficiency is often compromised by the failure to forge constructive linkages between downstream and upstream interventions.




Tag: Efficiency Integration Knowledge management MDGs Programme Synergy Poverty Reduction Policy Advisory

15.

4.6 FINDINGS ON SUSTAINABILITY

This section evaluates the evidence on the sustainability of UNDP's efforts at poverty reduction. As noted in Chapter 1, the sustainability criterion as used in the present evaluation does not relate to the sustainability of particular UNDP interventions per se, but to the sustainability of overall results, in this case a reduction in human poverty, to whichthey contribute. Sustainability of UNDP's success in pursuing its goal of poverty reduction is to some extent outside its own control as it depends on extraneous factors such as availability of resources at the disposal of the country, ideological shifts in policy regime, emergence of conflicts and crises, etc. Nonetheless UNDP can do much to facilitate the greater likelihood of sustainability.

It has already been noted that much of UNDP's work related to natural disasters and conflict is preventative. The same is true with work in the areas of environment or HIV/AIDS. All these have strong linkages to poverty reduction. The sustainability of the poverty reduction results to which UNDP contributes is, therefore, reinforced through the strong preventative stance of much of its work. At the same time, it may not be possible to fully assess the sustainability of the results to which UNDP only recently contributed: likelihood of sustainability is, therefore, identified.

The recent development effectiveness review of UNDP prepared by the Canadian International Development Agency (CIDA) noted that findings on sustainability of benefits/results represent a significant challenge to the development effectiveness of UNDP. Although these findings affect UNDP's contribution to poverty reduction, this section will not dwell on the generic findings on sustainability that have been identified in the past but note two important ones also identified in the CIDA report: (a) the absence in some programmes of an explicit programme phase-out strategy and (b) the lack of integrated sustainability considerations in the early stages of programme design. The section will now examine in more detail two findings more specifically related to UNDP's poverty reduction work.

Finding 15. UNDP's ability to firmly embed the notion of human development in the national discourse has increased the chance of sustainability of the results to which it contributes in the area of poverty reduction.




Tag: Sustainability Civic Engagement Integration Ownership Partnership Policies & Procedures Results-Based Management Strategic Positioning Civil Societies and NGOs Education Poverty Reduction

16.

Finding 16. Sustainability has also been enhanced in countries where UNDP has succeeded in improving national capacity for pro-poor policy-making. However, evidence for sustained improvement in national capacity is not widely found, especially in the countries where existing capacity happens to be the weakest.




Tag: Sustainability MDGs Ownership Country Government Capacity Building Poverty Reduction Policy Advisory
Recommendations
1

Recommendation 1. UNDP should forge stronger links with national stakeholders, especially civil society and academia, to ensure that the ideas and lessons it propagates through its flagship documents, such as NHDRs and MDG reports, may influence the national policy agenda.

While UNDP has been highly successful in embedding the cause of poverty reduction and human development in national discourses, it has achieved much less success in ensuring that the ideas and policies it propagates, for example through NHDRs and MDG reports, are actually incorporated into concrete policies adopted by national governments. To some extent, this is expected because as a development partner UNDP can only have a limited influence on policy-making, which depends on many other factors beyond UNDP's control. But this cannot be accepted as an excuse for being satisfied with the status quo, because ideas are of no use unless they are put into practice. While recognizing that there are limits to what it can do, UNDP should make stronger efforts to influence policy-making, by utilizing the goodwill and leverage it enjoys in most countries as the most trusted and neutral development partner. For this purpose, UNDP needs to build stronger partnerships with relevant national stakeholders such as the civil society and the academia because, in the final analysis, it is the debates, dialogues and campaigns conducted by concerned nationals, rather than the advocacy of outsiders, that would shape national policies. UNDP should build bridges with them not only by involving them in some of its activities such as preparation of NHDRs and MDG reports, as it currently does to some extent, but also by trying to nurture and empower them in ways that are most effective in particular contexts.

2

Recommendation 2. Programmes and projects undertaken by UNDP should be designed with an explicit pro-poor bias, always trying to add specific elements that would enhance the likelihood that the poor will benefit more than they otherwise would through general development interventions. Activities where it is impossible to introduce such an explicit pro-poor focus should be kept to a bare minimum and should be taken up only under strict guidelines with the strategic objective of leveraging the resources and ensuring the goodwill that UNDP will need in order to advance its mission of poverty reduction.

In whatever UNDP does it is likely that some benefits will come to the way of the poor, even if nothing special was done to privilege the poor as beneficiaries. But if that is all UNDP is aiming for, then it is not taking its poverty-reduction priority seriously. Respect for the priority demands that in everything UNDP does it should consciously try to build in specific elements that would ensure that the benefits that flow from its interventions will accrue disproportionately to the poor, i.e., there must be a bias in favour of the poor. Imparting a deliberate pro-poor bias to everything UNDP does should be an overriding concern across its interventions. To ensure a sharper focus on this area, indicators of success in poverty reduction should be made explicit in all project documents, indicating precisely how the bias is to be imparted in the specific context and how the contribution to poverty reduction is to be monitored and evaluated. This shall allow UNDP to better measure its impact at all levels, and provide a more accurate basis for assessing its impact on helping to reduce poverty at beneficiary level. Such an approach will also help UNDP to improve its own monitoring and evaluation systems.

Many UNDP country programmes include a subset of activities that have very remote connection with poverty, if at all. For an organization that has been entrusted with the task of poverty reduction as its overriding priority, this raises concerns about how resources are directed. In its defence, UNDP has argued that it has often had to undertake non-propoor activities to bolster its inadequate core resources, and to use such activities to help it seek funds from agencies for which poverty reduction may not be the primary concern. The UNDP response should also be understood in the context that this has also been done to maintain the goodwill of national governments which often call upon UNDP as the development partner of the last resort to carry out an assortment of tasks that other agencies are not keen to take up. While there is some validity to this argument, and to that extent, it may be acceptable to include some general-purpose activities without any direct connection with poverty, the implication in practice is that many of UNDP activities over the years have resulted in less of an explicit connection with poverty. This means that there may need to be a reflection as to whether UNDP continues to project itself as a poverty-addressing institution, in the main. Unless this changes, in the immediate term such activities should be kept to a minimum, and undertaken within strict guidelines about what proportion of staff and other fixed resources can be devoted to them so that UNDP's primary mission is not compromised.

In addition to the technocratic fixes, there needs to be change in mindset that complements the above. As noted in Chapter 2, UNDP's Strategic Plan 2008-2013 is quite explicit in recognizing that each of the focus areas can and should contribute towards poverty reduction. In some country offices, the reason this recognition does not get reflected in much of UNDP's work is the existence of a separate cluster on poverty reduction. Poverty must be everybody's concern; and every focus area must justify ex ante the activities it undertakes by spelling out the likely contribution to poverty reduction and evaluate its performance ex post by using the observed contribution as one of the evaluative criteria. In some circumstances, the existence of the poverty cluster may reduce the incentive as well as the compulsion for integrating poverty concerns across the interventions by encouraging the idea among staff involved in other focus areas that poverty is somebody else's concern. Country offices need to address the challenge of ending the compartmentalization of poverty-reduction activities while ensuring that the capacities to facilitate the introduction of a pro-poor bias across all activities are in place.

3

Recommendation 3. UNDP country offices should strengthen efforts to create more effective integration between thematic clusters and stronger partnerships with United Nations agencies, especially in terms of ensuring a sharper focus on non-income dimensions of poverty.

The interventions that UNDP undertakes in the areas of livelihoods, governance, environment and crisis prevention and recovery are often potentially complementary with each other, but these complementarities are not fully exploited by UNDP. The strategies to improve livelihoods would have a better chance of success if they are embedded in a system of governance that empowers the people and creates entitlements that people can defend through participation in the processes of governance. On the other hand, efforts to improve the system of local governance would have a better chance of success if people were convinced that better governance would contribute positively to their lives and livelihoods. Similar two-way complementarities exist between all the focus areas. In fact, potential synergies may extend even further to involve more than two focus areas. For instance, attempts to combine environmental protection with sustainable livelihoods may be strengthened by linking them with participatory local governance. UNDP's current practice fails to exploit these synergies fully as it tends to remain confined too narrowly to the respective focus areas. Greater efforts must be made to integrate activities among the focus areas so that the poverty-reducing potential of all the areas can be harnessed together in order to achieve an outcome that is greater than the sum of the parts.

Since ILO is specifically mandated to promote the cause of employment and labour standards, and since the income dimension of poverty is crucially dependent on the creation of productive employment opportunities for the poor, it would seem logical to suppose that UNDP and ILO would be comrades in arms in the fight against poverty. A good deal of cooperation between the two organizations does in fact take place at global and regional levels (as noted in the findings), but UNDP's country programmes are conspicuously weak in building partnerships with ILO. A serious effort must be made to remedy this weakness, including building and extending existing partnerships such as those in post-conflict situations. One possibility is to set up a funding mechanism such as the MDG Fund that can enable UNDP and ILO to undertake joint initiatives in support of labour-intensive growth. As for non-income dimensions of poverty, the natural allies of UNDP would be sister UN agencies such as UNICEF, UNFPA, WHO, UN Women and UNV, working together in the areas of education, health, gender empowerment and volunteerism. In practice, however, UNDP often has very little cooperation with UNICEF and WHO on the ground, usually based on the argument of division of labour. But if UNDP is to take seriously the multidimensionality of poverty, it cannot wash its hands off the non-income dimensions on the grounds that other agencies are dealing with them. Among all the UN agencies, UNDP is unique in being entrusted with the task of dealing with human poverty in all its dimensions, and as such it has an obligation to build strong partnerships with all other agencies that deal with some specific dimensions of poverty.

4

Recommendation 4. Downstream activities should be undertaken for the most part with the explicit strategic objective of contributing to something bigger than what those activities can deliver on their own by way of learning lessons for up-scaling or feeding into upstream policy advice relevant for poverty reduction. UNDP should incorporate into its system of performance evaluation for both its staff and its activities specific provisions that explicitly spell out the means as well as incentives for institutionalized learning so that lessons learned from successes and failures in each of its activities can feed into everything that UNDP does both across portfolios and over time.

There is an ongoing debate within UNDP on what constitutes the right balance between upstream and downstream activities and there has been a tendency in recent years to tilt the balance in the upstream direction. While this tendency may be justified, there remains the question of precisely what purpose the downstream activities, to the extent they are undertaken, are supposed to serve. By their very nature, downstream activities would generally be targeted towards particular groups of population. Even if such activities succeed in conferring the desired benefits to the target population, by themselves their impact on poverty at the aggregate level is bound to be negligible because the target population will seldom be large enough to make a substantial difference to the bigger picture. In general, the only way they can have a larger impact is if the lessons learned from them – from both successes and failures – are systematically used to up-scale the interventions more effectively covering a larger swathe of the population, or to feed policy advice at the upstream level.

Currently, most downstream activities do not serve this broader objective; they are mostly carried out as stand-alone projects whose benefits, if any, often disappear with the termination of the project. This compromises both the efficiency with which UNDP uses its scarce resources and the sustainability of its contribution. UNDP should, therefore, make it mandatory that all its downstream activities are undertaken with the explicit objective of learning lessons from them – in a form that can be used by others. The project documents must be required to specify clearly what kinds of lessons are expected to be learned and the project termination reports must be required to distil the lessons learned and articulate them in a succinct form. Both the specification of expected lessons and the distillation of actual lessons should be accomplished through widespread consultation within the country office as a whole, preferably in conjunction with external experts, both within and outside the government.

Downstream activities are not the only area where UNDP demonstrates a distinct lack of learning. The problem is in fact quite pervasive, involving upstream activities as well. The absence of an adequate learning has been repeatedly noted by numerous evaluations of UNDP's country programmes, as has the lack of a results-oriented culture in the organization. This is a serious impediment to maximizing UNDP's contribution to poverty reduction, or any other objective for that matter. Sometimes some committed individuals have tried to make a difference, but the task of changing a deeply ingrained culture cannot be left to individual efforts alone. It is a systemic problem in the sense that the incentives that UNDP offers – in the form of sanctions and rewards – do not encourage systematic learning on the part of its staff in the country offices. The solution must be systemic as well. UNDP must find ways of altering the incentive structure by revising the criteria by which UNDP evaluates the performance of its staff and their activities. Accountability procedures may have to be set up at different levels, i.e., at the levels of individual staff members, focus area teams and the country office as a whole, so that individually and collectively the staff members find it in their interest to ensure learning from experience and transmission of the lessons learned.