Evaluation of UNDP Contribution to Poverty Reduction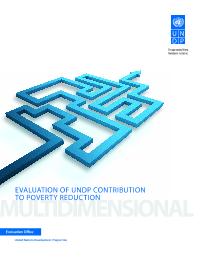 Evaluation Plan:

Evaluation Type:

Thematic

Planned End Date:

01/2013

Completion Date:

01/2013

Status:

Completed

Management Response:

Yes

Evaluation Budget(US $):

250,000
Title
Evaluation of UNDP Contribution to Poverty Reduction
Atlas Project Number:
Evaluation Plan:
2009-2013, Independent Evaluation Office
Evaluation Type:
Thematic
Status:
Completed
Completion Date:
01/2013
Planned End Date:

01/2013

Management Response:
Yes

Focus Area

:
Corporate Outcome and Output (UNDP Strategic Plan 2014-2017)

1. Capacities of national and local institutions enhanced to scale up proven MDG acceleration interventions and to plan, monitor, report and evaluate the MDG progress in the context of related national development priorities
2. Inclusive growth and social equity promoted through pro-poor macroeconomic and fiscal policies that support income, employment and social protection of youth, women and vulnerable groups in a sustainable way
3. Policies, strategies and partnerships established to enhance public-private sector collaboration and private sector and market development that benefit the poor and ensure that low-income households and small enterprises have access to a broad range of financial and legal services
4. Strengthened national capacities to integrate into the global economic system and to negotiate and manage traditional & emerging development finance for inclusive development
5. Strengthened capacities to mainstream action into national policies, plans and strategies on the socio-economic causes and consequences of HIV and the linkage to the health MDG

Evaluation Budget(US $):

250,000

Source of Funding:
Evaluation Expenditure(US $):

250,000

Joint Programme:
No
Joint Evaluation:

No

Evaluation Team members:

| Name | Title | Email | Nationality |
| --- | --- | --- | --- |
| Prof. S.R. Osmani | Team leader | | |

GEF Evaluation:

No

Key Stakeholders:
Recommendations
1
Recommendation 1. UNDP should forge stronger links with national stakeholders, especially civil society and academia, to ensure that the ideas and lessons it propagates through its flagship documents, such as NHDRs and MDG reports, may influence the national policy agenda.
2
Recommendation 2. Programmes and projects undertaken by UNDP should be designed with an explicit pro-poor bias, always trying to add specific elements that would enhance the likelihood that the poor will benefit more than they otherwise would through general development interventions. Activities where it is impossible to introduce such an explicit pro-poor focus should be kept to a bare minimum and should be taken up only under strict guidelines with the strategic objective of leveraging the resources and ensuring the goodwill that UNDP will need in order to advance its mission of poverty reduction.
3
Recommendation 3. UNDP country offices should strengthen efforts to create more effective integration between thematic clusters and stronger partnerships with United Nations agencies, especially in terms of ensuring a sharper focus on non-income dimensions of poverty.
4
Recommendation 4. Downstream activities should be undertaken for the most part with the explicit strategic objective of contributing to something bigger than what those activities can deliver on their own ? by way of learning lessons for up-scaling or feeding into upstream policy advice relevant for poverty reduction. UNDP should incorporate into its system of performance evaluation for both its staff and its activities specific provisions that explicitly spell out the means as well as incentives for institutionalized learning so that lessons learned from successes and failures in each of its activities can feed into everything that UNDP does ? both across portfolios and over time.