Evaluation of UNDP Regional Programme for Latin America and the Caribbean (2008-2013)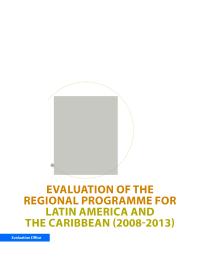 Evaluation Plan:

Evaluation Type:

Regional Programme

Planned End Date:

06/2013

Completion Date:

05/2013

Status:

Completed

Management Response:

Yes

Evaluation Budget(US $):

180,000
Title
Evaluation of UNDP Regional Programme for Latin America and the Caribbean (2008-2013)
Atlas Project Number:
Evaluation Plan:
2009-2013, Independent Evaluation Office
Evaluation Type:
Regional Programme
Status:
Completed
Completion Date:
05/2013
Planned End Date:

06/2013

Management Response:
Yes
Corporate Outcome and Output (UNDP Strategic Plan 2018-2021)
Evaluation Budget(US $):

180,000

Source of Funding:
Joint Programme:
No
Joint Evaluation:

No

Evaluation Team members:

| Name | Title | Email | Nationality |
| --- | --- | --- | --- |
| Brian Cugelman | | | |
| Claudia de Barros Marcondes | | | |
| Dean Pallen | | | |
| Eva Otero | | | |
| Jordi del Bas | | | |
| Oscar Huertas Díaz | | | |

GEF Evaluation:

No

Key Stakeholders:
Recommendations
1
Recommendation 1. The regional programme needs to focus on fewer and more realistic thematic priorities and more strictly prioritize initiatives in which UNDP brings a regional added value and in which costs can be shared by strategic partners able to support countries and, when and if appropriate, regional institutions in taking ownership to ensure the continuity and sustainability of results.
2
Recommendation 2. The regional programme should be less involved in project implementation and should invest its limited resources on upstream initiatives such as: policy and technical advice; advocacy; dialogue; partnership building; multistakeholder coordination; networking; knowledge brokering; and capacity development.
3
Recommendation 3. UNDP should rethink its approach to the Caribbean and should develop a new development cooperation strategy with an adequate resource mobilization plan to allow UNDP to tackle the specific challenges, needs, priorities and opportunities of the Caribbean countries and the different development status and vulnerabilities of Small Island Developing States, net contributor countries and middle-income countries.
4
Recommendation 4. Mainstreaming strategies for cross-cutting areas should be reviewed.
5
Recommendation 5. UNDP should rethink how the regional programme can more strategically and realistically support triangular and South-South cooperation and measure the concrete effects and sustainability of those initiatives in a more systematic manner.
6
Recommendation 6. UNDP should rethink how the cross-cutting areas can best support the core practice areas, increasing synergies and more thoroughly integrating planning, monitoring and learning from evaluations into knowledge management, capacity development, South-South solutions and communication in a more structured and focused environment to bring about a combined perspective for action, accountability and learning.