Cook Islands Sustainable Land Management (SLM)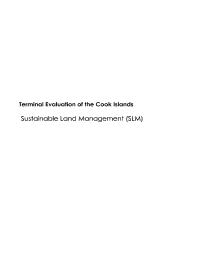 Evaluation Plan:

Evaluation Type:

Final Project

Planned End Date:

06/2013

Completion Date:

06/2013

Status:

Completed

Management Response:

Yes

Evaluation Budget(US $):

25,000
Title
Cook Islands Sustainable Land Management (SLM)
Atlas Project Number:

00051006

Evaluation Plan:
2013-2017, Samoa
Evaluation Type:
Final Project
Status:
Completed
Completion Date:
06/2013
Planned End Date:

06/2013

Management Response:
Yes

Focus Area

:

1. Environment & Sustainable Development

Corporate Outcome and Output (UNDP Strategic Plan 2018-2021)

1. Development plans and programmes integrate environmentally sustainable solutions in a manner that promotes poverty reduction, MDG achievement and low-emission climate-resilient development

Evaluation Budget(US $):

25,000

Source of Funding:
Joint Programme:
No
Joint Evaluation:

No

Evaluation Team members:

| Name | Title | Nationality |
| --- | --- | --- |
| Matt McIntyre | | |

GEF Evaluation:

Yes

| | |
| --- | --- |
| Evaluation Type: | |
| Focal Area: | Biodiversity |
| Project Type: | EA |
| GEF Phase: | GEF-1 |
| PIMS Number: | 3395 |

Key Stakeholders:
Govt of CI
Countries:

SAMOA
Recommendations
1

Evaluation Recommendation or Issue 1.Given that Stakeholders have confirmed their continued interest in addressing land degradation through Sustainable Land Management (SLM), the Government of Cook Islands should pursue follow-up actions to build on the momentum that has been generated by the SLM project

2

Evaluation Recommendation or Issue 2: the National Action Programme (NAP) be used as the key policy platform to mainstream SLM and land degradation activities through firstly linking to the NESAF and the ?Annual Plans? for NES, MOIP and MOA. The Implementation Matrix to the NAP is fully costed as nested Outputs and activities. This needs to be progressed to an Investment Strategy which should prioritize key action areas and determine priorities for funding to match mid-term predictions under the public finance management system (PFM system). The NAP also includes ?project profiles? which have been designed to assist follow-on activities to the SLM Project ? based on priorities discussed at Stakeholder Meetings (for the NAP).

3

Evaluation Recommendation or Issue 3: a parallel project (to follow up SLM activities) be pursued to assist with the development of institutional capacity for integrated Land Use Planning at the local level. In general, individual land users are not always aware of the consequences of their actions with the land, groundwater and coastal resources. This is in part due to lack of information, knowledge and access to ?best practice? in planning for development and undertaking activities. Government commitment to fair and equitable land use planning needs to respond to the calls for such systems by community stakeholders in various fora. Past political influence has heightened conflict over poor planning decisions. Without long-term planning and government intervention at various levels ?market forces? dominate, often resulting in conflicting land use and activities that lead to environmental degradation. Under current socio-economic pressures many land users are ?forced? into practices and actions that may satisfy their short-term needs ? but have deleterious medium and long-term consequences. With the decentralization policies there is the prospect for land use and development decisions being fully devolved to the Island Councils. There is very little experience, skills and resources to content with major development. To institute land use planning and the extension of the Environment Act, 2003 ? assistance and guidance will be required from the national level.

4
Evaluation Recommendation or Issue 4: That consistent with Recommendation 1 above, a parallel project be pursued to assist with extending the integrated land resource and GIS database to cover additional Pa Enua. This is recommended as a parallel activity as the outputs can be used for multi-sector work (as has been experienced since enhancement through the SLM Project). The work will enhance the National GIS (NGIS) to assist with integrated land use planning and sustainable land management initiatives and decision-making. It will provide additional thematic layers & associated databases covering agro-climatic factors, soils, topography, vegetation and present land use. The project could apply capacity building to assist with use of NGIS in decision-making through use of multi-criteria analysis in support of rational land use policy, planning and land utilisation. There is limited thematic land resource information available in a form that is useful for integrated land use planning and SLM. Coverage is best over Rarotonga, however access to such data in the Pa Enua is minimal or available only with difficulty. NGIS is in a very embryonic stage and needs nurtured capacity and continued support over the medium to longer term. Some spatial data is held among different agencies and in various formats and not based on uniform standards of data or procedures. Mapping to support Land use planning and integrated NRM requires accurate and integrated information on land & coastal resources (e.g. spatial extent of the kinds of land use, land production capacity, a system for rural land use ?zoning? that protects the natural resources etc). The focus needs to change from GIS resources primarily for ?map making? to the applying the inputs/outputs to a variety of decision-making arenas where the GIS data is useful in considering various scenarios of development or alternative kinds of land use and allocation.
5
Evaluation Recommendation or Issue 5 : Consistent with Recommendation 1 that there be follow-up project funding to develop a well-resourced and integrated research and extension program comprising suitably qualified MOA/NES/MOIP and NGO staff & sub-national (Pa Enua) staff. These capacities will be borne out of extension to the Soil School approach, to conduct adaptive sustainable land management (SLM) and ?best practice? research to disseminate ecologically sound and socially acceptable land management technologies to land users through targeted and innovative techniques. Aligned with the research and training shall be the set-up of trial/pilot/demonstration farms using biological farming approaches. The almost complete utilisation of finite land resources means that the expansion of agriculture into marginal areas or sensitive environs will continue. Additionally the land management practices including slash & burn as well as over-reliance on fertilizer and other chemicals are not sustainable. There is dramatic impact on remaining vegetation and potential for high levels of contamination of groundwater lens and the surrounding lagoons. Poorly located and worked agricultural areas in close proximity to shorelines can increase erosion rates, which are sometimes already high, leads to productive land being degraded and increases the vulnerability of foreshores, lagoons and reefs. Greater awareness and understanding of alternative farming and SLM practices is needed at the national and local levels.
6
Evaluation Recommendation or Issue 6 : Consistent with Recommendation 1 there should be additional resources sought for a National Sustainable Land Management, Education and Awareness Program. This should aim to create a high level of government and community understanding about SLM, land use policy and legislation, in particular specified land management ?best practices? with the purpose of reducing land degradation and increasing productivity from the land through sustainable land management (SLM). Future economic activity will lead to increasing competition for the use of limited land resources and increases in population can be expected to dramatically accelerate land degradation. There is a very poor understanding about legislation, policy and ?best practice? pertaining to land use and sustainable land management. MoA and MOIP research and extension advice to land users, landowners and farmers is in serious need for advancement.
7
Evaluation Recommendation or Issue 7 : Consistent with Recommendation 1 there should be a concerted effort to Improve the capacity and quality of human resources within Government for land management and land use planning. The mid to longer term aim should be to strengthen the Government capacity for policy making, administrating and facilitating the delivery of quality natural resource information, land management advice and land use planning services. This will be best stimulated by improved quality of basic land information for land use planning through improved skills in the collection, mapping and interpretation of natural resource information. The work should promote the understanding about the importance of ?zoning? (or alternatives) and land use planning for the conservation of land resources and sustainable growth or urban and village centres. Establishing confirming a SLM and or spatial land use planning team within NES, MOA or MOIP would be the first challenge. This team would need to work closely with the planning offices in OPM and MFEM, as well as with the Island Councils to develop and implement a national land use planning system and policy. This requires skilled staff in responsible parts of Government to be fully conversant about how the information for the policy/plan is derived, the land use planning process, how plans are to be used and responsibilities. Also those entities involved need to be competent in managing their Unit?s responsibilities for all steps in the land use planning process. For land use planning to be effective and have positive impacts, end-users and other stakeholders need to be appreciative of the long term benefits and purpose of a planning process. Needless to say Departmental staff need to also be skilled in transferring knowledge and best practice which in turn helps with extending awareness and willingness to change practice.
8
Evaluation Recommendation or Issue 8 : the working model of the Soil School linking with the compost and alternate farming demonstrations should be extended to focus on soil erosion and sediment management for development on sloping lands. While interest is in limiting development of marginal lands, often family members are allocation only land that is very steep. In this event there is much knowledge transfer that is needed to enable both the community member as well as the government officer ? to ensure development on marginal land is such that impacts are minimized. The outputs should be added to the tools that the Compliance Division of NES uses in its administration of EIA provisions.
9
Evaluation Recommendation or Issue 9 : all future initiatives and projects the costs of an efficient and functional Project Management Unit be satisfactorily catered for in budgets. For small governments with large responsibilities over islands where large transaction costs are typical ? a budget of a least 10% but up to 19% represents a good level of funding based on the working practice of private enterprise in the region.