Evaluation of the UNDP contribution to gender equality and women's empowerment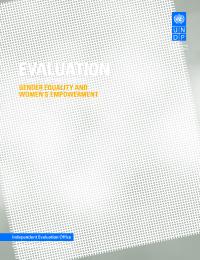 Evaluation Plan:

Evaluation Type:

Thematic

Planned End Date:

01/2015

Completion Date:

08/2015

Status:

Completed

Management Response:

Yes

Evaluation Budget(US $):

350,000
Title
Evaluation of the UNDP contribution to gender equality and women's empowerment
Atlas Project Number:
Evaluation Plan:
2014-2017, Independent Evaluation Office
Evaluation Type:
Thematic
Status:
Completed
Completion Date:
08/2015
Planned End Date:

01/2015

Management Response:
Yes
Corporate Outcome and Output (UNDP Strategic Plan 2014-2017)
Evaluation Budget(US $):

350,000

Source of Funding:
Joint Programme:
No
Joint Evaluation:

No

Evaluation Team members:

| Name | Title | Email | Nationality |
| --- | --- | --- | --- |
| Chandi Kadirgamar | Evaluation Advisor / UNDP IEO | | |
| Ana Rosa Soares | Evaluation Advisor / UNDP IEO | | BRAZIL |
| Alexandra Pittman | Consultant | | |

GEF Evaluation:

No

Key Stakeholders:
Recommendations
1
UNDP should align its resources and programming with its corporate message on the centrality of supporting gender equality and women?s empowerment as a means to ?fast forward? development results. Gender mainstreaming should also go beyond providing sex-disaggregated data for all results areas of the strategic plan. In this connection, the merits of integrating the gender equality strategy as part of the next strategic plan (2018 onwards) should receive serious consideration.
2
Given the uneven performance in the four focus areas of the Strategic Plan, 2008?2013 in promoting gender development results, UNDP should ensure that future assessments pay specific attention to the progress, effectiveness and quality of gender development results in the seven outcome areas of the current strategic plan.
3
UNDP should focus on refining tools, instruments and processes developed during the period 2008?2013 and focus on further internalizing the centrality of gender equality and women?s empowerment to the achievement of all development goals among staff. Specific recommendations on these improvements and possible new areas of intervention are discussed below:

Gender analysis should become mandatory in all programming and be linked with justifying the gender marker rating of each UNDP intervention.

The gender marker should track allocations in a way that provides reliable aggregated data at different stages of the project cycle.

The Gender Seal requires senior management?s attention in terms of its future role as a corporate certification initiative.

Stronger attention should be placed on using the GSIC forum as a venue for organization-wide learning, problem solving and sharing of instructive practices.
The GSIC should ensure that the gender parity strategy is revised and a roll-out programme is articulated.
UNDP should strengthen capacity development processes that focus on gender mainstreaming so they are relevant and apply to staff ?s daily work and needs.

UNDP should consider exploring new frontiers for engaging in gender issues that go beyond women?s issues, for example the ?masculinity? agenda.
4
Country offices should prepare gender plans that identify gaps and needs in technical support, capacity-building, joint action and advocacy, and collective monitoring that facilitate stronger gender programming. These plans should also help to identify areas where UNDP can draw on expertise and leverage the existing capacities of other United Nations agencies active on gender issues at the country level. This process should be supported, monitored and reported upon annually by the respective regional bureaux to the GSIC.
5
UNDP currently does not have a measurement standard to systematically track the type, quality and effectiveness of its contribution to gender results that also captures the context of change and the degree of its contribution to that change. In order to address this issue, UNDP should codify the way it wishes to monitor, report, evaluate and audit its contributions to gender, and this framework should be used for rigorously tracking results for gender equality and women?s empowerment at the country, regional and global levels.