Final Evaluation of the YouthStart Program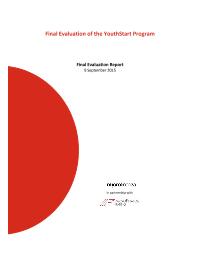 Evaluation Plan:

Evaluation Type:

Final Others

Planned End Date:

08/2015

Completion Date:

09/2015

Status:

Completed

Management Response:

Yes

Evaluation Budget(US $):

150,000
Title
Final Evaluation of the YouthStart Program
Atlas Project Number:
Evaluation Plan:
2014-2015, UNCDF
Evaluation Type:
Final Others
Status:
Completed
Completion Date:
09/2015
Planned End Date:

08/2015

Management Response:
Yes

Focus Area

:
Corporate Outcome and Output (UNDP Strategic Plan 2018-2021)

1. Output 3.2. Functions, financing and capacity of sub-national level institutions enabled to deliver improved basic services and respond to priorities voiced by the public
2. Output 3.6. Governance institutional, and other critical bottlenecks addressed to support achievement of the MDGs and other internationally agreed development goals

Evaluation Budget(US $):

150,000

Source of Funding:
Project
Joint Programme:
No
Joint Evaluation:

No

Evaluation Team members:

| Name | Title | Nationality |
| --- | --- | --- |
| Giampietro Pizzo | Team Leader | |
| Maria Grandinson | Team Leader | |
| Mary Jo Kakinda | Senior Team Member | |
| Aldo Moauro | Senior Team Member | |
| Marine Exposito | Senior Team Member | |
| Marco Pasini | Junior Team Member | |
| Valeria E. Pujia | Junior Team Member | |

GEF Evaluation:

No

Key Stakeholders:
UNCDF, The MasterCard Foundation, Financial Services Providers, Government
Countries:

BURKINA FASO

CONGO DRC

ETHIOPIA

MALAWI

RWANDA

SENEGAL

TOGO

UGANDA
Recommendations
1

.

2
1.Evaluation Recommendation or Issue 1 ?Programme Design: Programme design and approach seems relevant to achieve scale but limited in terms of linking access to finance to concrete economic opportunities. The design should also take into consideration older youth (more in line with national definitions which are usually up to 35 years old). Finally, in the design of a possible successor program, UNCDF should consider adopting a more holistic approach with a set of actions dedicated to foster the demand for youth financial products (and non-financial services) as well as promote a conducive national context. According to recent studies, ?building sustainable markets that serve the poor requires focus beyond institution building to the financial system as a whole?
3
2. Evaluation Recommendation or Issue 2- Programme Management and Implementation: The YS program has benefitted from very committed management as well as good quality reporting and monitoring (even within the limits of MISs of the partner FSPs), even if faced with some challenges in features of program outline and weak institutional coordination with UNCDF representatives at the national and regional level. The program has built and delivered a good quality training and TA process, but the unit cost in terms of people trained appears quite high, and it is difficult to assess relevant changes within the partner FSPs as a result of the training and/or TA interventions.
4
3. Evaluation Recommendation or Issue 3- FSP performance: All partner FSPs record impressive progress in youth outreach with regard to the YS savings products and financial education services; the two products/services specifically promoted by the program. However, the roll out of credit products remain behind as well as the targets for young women.
5
4. Evaluation Recommendation or Issue 4- Influence at global, macro, meso and market level: Overall, UNCDF, through the YS program, can be considered to have fulfilled its role as promoter of youth financial inclusion at the global level. However, it cannot be claimed to have taken on this role at the regional or national level given the relatively limited interaction with macro and meso level stakeholders in the partner countries and regionally.