Final Project Evaluation of UNDP RBAS Regional Project on Anti-Corruption and Integrity in the Arab Countries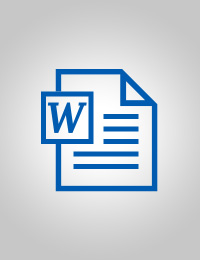 Evaluation Plan:

Evaluation Type:

Final Project

Planned End Date:

12/2015

Completion Date:

09/2015

Status:

Completed

Management Response:

Yes

Evaluation Budget(US $):

60,000
Title
Final Project Evaluation of UNDP RBAS Regional Project on Anti-Corruption and Integrity in the Arab Countries
Atlas Project Number:

00079157

Evaluation Plan:
2014-2017, RBAS
Evaluation Type:
Final Project
Status:
Completed
Completion Date:
09/2015
Planned End Date:

12/2015

Management Response:
Yes

Focus Area

:
Corporate Outcome and Output (UNDP Strategic Plan 2014-2017)

1. Output 2.2. Institutions and systems enabled to address awareness, prevention and enforcement of anti-corruption measures across sectors and stakeholders

SDG Goal

Goal 16. Promote peaceful and inclusive societies for sustainable development, provide access to justice for all and build effective, accountable and inclusive institutions at all levels

SDG Target

16.10 Ensure public access to information and protect fundamental freedoms, in accordance with national legislation and international agreements
16.5 Substantially reduce corruption and bribery in all their forms
16.6 Develop effective, accountable and transparent institutions at all levels

Evaluation Budget(US $):

60,000

Source of Funding:
Evaluation Expenditure(US $):

10,000

Joint Programme:
No
Joint Evaluation:

No

Evaluation Team members:

| Name | Title | Email | Nationality |
| --- | --- | --- | --- |
| Islam Yusufi | Founder of Analytica Think Tank | islam.yusufi@gmail.com | |

GEF Evaluation:

No

Key Stakeholders:
Lessons
Findings
1.

ACIAC was designed in such a way to use regional frameworks as a means to inform and monitor national policies. The political climate in the Arab region has proven to become an important risk factor in the implementation of the UNCAC, and by implication, also standing as a risk factor for the work plans of ACIAC. In response, ACIAC focused on specific priorities that would add value to the efforts of national stakeholders in the Arab countries to improve democratic governance through the work on promoting integrity and fighting corruption.

ACIAC delivered on its objectives as planned and thus enabled actors to gain new skills and knowledge. As noted by interviewed stakeholders, the trainings and policy dialogue activities of the project were the most effective interventions, noting that these activities have had more sustainable results than other activities of the project. The ACIAC team has employed robust processes in monitoring the progress of project activities, but more time could have been devoted to risk identification, monitoring and mitigation. ACIAC has been able to deliver its outputs in a cost-efficient and cost-effective manner. Efficiency challenges have occurred concerning time delays in some of the project activities, namely the preparation of the training materials and the position papers.

ACIAC improved the capacity of individuals, including CSO activists, judges, policy-makers, and businesspersons. This has resulted in an increased number of stakeholders effectively applying knowledge and actively engaging in related activities. The project succeeded in raising stakeholder awareness of the importance of corruption as a political and policy issue and not just a technocratic reform. In that sense, ACIAC seems to have contributed to the reduction of corruption perception in the Arab region according to the Corruption Perception Index in 2014 compared to 2010, as demonstrated later in this report. It is also believed that the project together with other initiatives present in the region has indirectly helped to elevate corruption to the rank of public concern. The project also improved the compliance of Arab governments with the UNCAC's provisions by assisting the beneficiary governments in honouring their commitments under UNCAC's review mechanism and helping them to introduce specific reform proposals in that regard. The project, however, had limited ability to inspire universal and wider political and public appeal to the anti-corruption and integrity agenda in the Arab countries. It also had limited success in energizing high-level political debates on related reform, limiting itself to specific legal reforms and targeted collective action initiatives. In parallel, it demonstrated a lack of focus on cross-cutting issues, such as addressing important social economic issues, including promoting gender equality and effective youth engagement. These factors are noted to be contributing factors for improving governance change. Youth and women play critical roles but are so far generally sidelined in related formal processes, thus requiring closer attention.

Some of the benefits brought about by ACIAC are likely to be sustained, especially where ACIAC has instilled knowledge, skills and capacity in institutions and individuals, namely knowledge gained by the judges on the specificities of anti-corruption and integrity issues; skills gained by non-governmental stakeholders on how to actively engage in related activities; and the platforms established for related reforms under ACINET. There are, however, concerns about the sustainability of some of the project results in terms of the policy reforms achieved, due to continuous political turmoil in the Arab region, and the trust gap that continues to exist between government institutions and the business community in particular.



Recommendations
1

Sustain and deepen the regional approach, while bringing more focus to engage the national political leaderships in the ACIAC activities; establish a development partners' platform to continue dialogue on corruption-related issues; strengthen systematic coordination among project activities and other related activities held in Arab countries.

2

More emphasis should be put on trainings and policy dialogue activities given their apparent positive contribution to local capacities; continuous, comprehensive and systematic approach for monitoring risks should be employed to ensure timely implementation of activities.

3

Maintain the multi-year programming approach of ACIAC; add separate activities that would specifically aim to integrate gender and youth aspects into project activities; build the capacity of the media on anti-corruption and integrity issues; conduct practical and on the ground projects that touch specific sectors and engage regular citizens; and have more specialized trainings that would target new beneficiary groups.

4

Work with political leaderships in facilitating communication and dialogue on anti-corruption and the integrity reform agenda.