Regional Programme Document for Asia and the Pacific Mid-term Review Report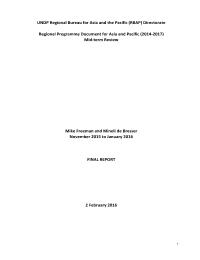 Evaluation Plan:

Evaluation Type:

Others

Planned End Date:

12/2015

Completion Date:

01/2016

Status:

Completed

Management Response:

Yes

Evaluation Budget(US $):

70,000
Title
Regional Programme Document for Asia and the Pacific Mid-term Review Report
Atlas Project Number:
Evaluation Plan:
2014-2017, RBAP
Evaluation Type:
Others
Status:
Completed
Completion Date:
01/2016
Planned End Date:

12/2015

Management Response:
Yes

Focus Area

:

1. Poverty and MDG
2. Democratic Governance
3. Crisis Prevention & Recovery
4. Environment & Sustainable Development
5. Cross-cutting Development Issue
6. Others

Corporate Outcome and Output (UNDP Strategic Plan 2018-2021)

1. Output 1.1. National and sub-national systems and institutions enabled to achieve structural transformation of productive capacities that are sustainable and employment - and livelihoods- intensive
2. Output 1.5. Inclusive and sustainable solutions adopted to achieve increased energy efficiency and universal modern energy access (especially off-grid sources of renewable energy)
3. Output 2.1. Parliaments, constitution making bodies and electoral institutions enabled to perform core functions for improved accountability, participation and representation, including for peaceful transitions
4. Output 2.2. Institutions and systems enabled to address awareness, prevention and enforcement of anti-corruption measures across sectors and stakeholders
5. Output 3.3. National institutions, systems, laws and policies strengthened for equitable, accountable and effective delivery of HIV and related services
6. Output 4.2. Measures in place and implemented across sectors to prevent and respond to Sexual and Gender Based Violence (SGBV)
7. Output 4.4. Measures in place to increase women's participation in decision-making
8. Output 5.2. Effective institutional, legislative and policy frameworks in place to enhance the implementation of disaster and climate risk management measures at national and sub-national levels
9. Output 5.4. Preparedness systems in place to effectively address the consequences of and response to natural hazards (e.g. geo-physical and climate related) and man-made crisis at all levels of government and community
10. Output 5.6. Mechanisms are enabled for consensus-building around contested priorities, and address specific tensions, through inclusive and peaceful processes
11. Output 7.3. National development plans to address poverty and inequality are sustainable and risk resilient
12. Output 7.4. Countries enabled to gain equitable access to, and manage, ODA and other sources of global development financing
13. Output 7.5 South-South and Triangular cooperation partnerships established and/or strengthened for development solutions

Evaluation Budget(US $):

70,000

Source of Funding:
RPD
Evaluation Expenditure(US $):

45,000

Joint Programme:
No
Joint Evaluation:

No

Evaluation Team members:

| Name | Title | Nationality |
| --- | --- | --- |
| Minoli deBresser | MTR Team member | |
| Mike Freeman | MTR Team Leader | |

GEF Evaluation:

No

Key Stakeholders:
Comments:

The RPD targets 4 of the SP Outcomes (1,2,5 and 7) but includes relevant ouputs which are also from other Outcomes (eg.Outcome 3 and 4).
Recommendations
1

Recommendation 1: Do not revise the current Regional Programme Document and its associated Results and Resources Framework during the remainder of this programming cycle. This would be a very time consuming exercise. The Regional Project Documents under this RPD were revised in 2015 and this suffices for this period. It is better to focus on appropriate changes for the next RPD, with attention to sustainability of core business, future programme focus and regionality in mind.

2

Recommendation 2: It is noted that the corporate agenda and priorities drive the RP. It is recognised that UNDP is able to potentially programme across a large number of the SDGs and is already firming up its response to Agenda 2030, notably within the MAPS approach. Within this framework, we recommend that in the next programme cycle the RP cautiously expand into new thematic areas and above all view all of its next RPD (and its formulation) through the development lenses of SDGs 1, 10 and 16. These 3 goals are very broad and allow for a diverse range of programme interventions. Furthermore, recognising the inter-connected nature of all SDGs, this approach should be used to enhance and strengthen the feasible linkages that can be built from SDGs 1, 10 and 16, within the RPD budget envelope and within a developing regional role in MAPS support to countries.

3

Recommendation 3: For the remainder of this programming cycle, the RP should also focus on assisting countries and their governments to follow on the MDG "gaps" and integrate and sustain them within the SDG goals and to develop their baselines for measuring SDG progress, their monitoring systems and capabilities to do this. This work should build on what has already been achieved for measuring MDG progress and achievement.

4

Recommendation 4: Prior to the preparation of the next RPD, undertake well beforehand a consultative theory of change process analysing development constraints and potential programmatic responses to help determine the regional needs that the Programme can help to address. This should involve rigorous mapping of what other development actors are doing in each field. Determine UNDP/RPs comparative strengths and realistically assess available resources. Avoid designing an over-ambitious new RP with a large "unfunded" component. Involve a sample of COs in this process. Include measures to determine what kind of in-house expertise is needed in each area.

5

Recommendation 5: Avoid over-complexity in outcome design, reducing the number of unrelated outputs grouped together. UNDP New York should allow a simpler, lighter and more flexible approach to design, so that RPs can more logically choose their own Intermediate outcomes, providing these can be demonstrated to contribute to the SP.

6

Recommendation 6: Encourage and support RP staff at all levels to use tools and methods to improve programme design and monitoring. RBM staff should be further resourced and empowered to provide continuous and structured training and follow-up for all staff involved in reporting. Institutionalise at least bi-annual outcome team meetings (if possible with an external facilitator) to assess the status of outcome progress, focusing on development results.

7

Recommendation 7: Consider ways of articulating to stakeholders the benefits and results of the advisory support to the COs, which UNDP defines as "development effectiveness", alongside RP "development results". Doing so would allow stakeholders to see a more connected picture of UNDP RBAP's contribution to regional development. This may also feed in to and enhance effective attribution of and reporting on results across all RBAP-supported activities.

8

Recommendation 8: Use every effort to maintain and continue the RP's regional role to research and publish high quality knowledge products, including those that address sensitive, politicised and cross/border issues. The RP should maintain the frequency of flagship publications, despite continuing resources constraints. Options for partnerships and co-sponsors e.g. the private sector, should be pursued more vigorously. Other social media and communications means should also be considered e.g. stories on Facebook and video films.

9

Recommendation 9: Innovate in resource mobilisation. UNDP is already considering its options for future funding on an urgent basis. This should allow for innovative approaches to working with traditional and non-traditional donors. It should include CO-RP programming options that allow country co-financing to help fund the RP to support country programmes. UNDP should seriously examine contributions from citizens. It should not fund raise from the private sector, but should seek to maximise opportunities for partnership approaches with it.

10

Recommendation 10: For gender mainstreaming, ensure that recently completed research and studies are followed-up on in terms of continued regional awareness raising and dialogue. At the country level; avoid new studies and focus on ensuring implementation of the recommendations of this work. Consider recruiting a second gender adviser for the BRH and fully funding the position in the PC to support the outcome teams to mainstream gender considerations into projects. Gender mainstreaming could also be included in RBM training. In order to strengthen gender mainstreaming in UNDP and the RP, corporate and senior level management support is essential.

11

Recommendation 11: Besides continuing to pursue existing partnerships, special focus should be given to the partnership and joint programme potential with agencies in the UN system, including the specialised ones. This is especially relevant if the RP is moving into new thematic areas e.g. UN Habitat and UNEP on urbanisation; ILO on jobs and livelihoods; UN Women on extractive industries and the World Bank and IMF on inclusive economic growth.