Final Evaluation: Central American Markets for Biodiversity (CAMBio): Mainstreaming biodiversity conservation and sustainable use within micro, small, and medium-sized enterprise development and financing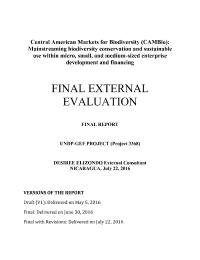 Evaluation Plan:

Evaluation Type:

Final Project

Planned End Date:

08/2016

Completion Date:

07/2016

Status:

Completed

Management Response:

Yes

Evaluation Budget(US $):

40,750
Title
Final Evaluation: Central American Markets for Biodiversity (CAMBio): Mainstreaming biodiversity conservation and sustainable use within micro, small, and medium-sized enterprise development and financing
Atlas Project Number:
Evaluation Plan:
2012-2016, Honduras
Evaluation Type:
Final Project
Status:
Completed
Completion Date:
07/2016
Planned End Date:

08/2016

Management Response:
Yes

Focus Area

:
Corporate Outcome and Output (UNDP Strategic Plan 2014-2017)

1. Output 1.1. National and sub-national systems and institutions enabled to achieve structural transformation of productive capacities that are sustainable and employment - and livelihoods- intensive
2. Output 1.5. Inclusive and sustainable solutions adopted to achieve increased energy efficiency and universal modern energy access (especially off-grid sources of renewable energy)

Evaluation Budget(US $):

40,750

Source of Funding:
Evaluation Expenditure(US $):

40,750

Joint Programme:
No
Joint Evaluation:

No

Evaluation Team members:

| Name | Title | Email | Nationality |
| --- | --- | --- | --- |
| Desiree Elizondo | Consultora Externa | | NICARAGUA |

GEF Evaluation:

Yes

| | |
| --- | --- |
| GEF Project Title: | Central American Markets for Biodiversity (CAMBio): Mainstreaming biodiversity conservation and sustainable use within micro-, small, and medium-sized enterprise development and financing |
| Evaluation Type: | Terminal Evaluation |
| Focal Area: | Biodiversity |
| Project Type: | EA |
| GEF Phase: | GEF-4 |
| GEF Project ID: | 2670 |
| PIMS Number: | 3368 |

Key Stakeholders:
BCIE, CONAP, Asociaci�³n de productores ASODIL y APSOR de la zona Reina, , Comisi�³n Centroamericana de Ambiente y Desarrollo (CCAD), Fondo de Desarrollo Local-FDL.
Countries:

HONDURAS
Recommendations
1

Recomendation regarding target groups:

- Financial institutions have very well-defined strategies for financial markets and credit infiltration. Lending to agriculture continues to be seen as a very risky business. With the exception of microfinance institutions, FIs do not target small farmers, and this sector continues to face severe barriers to financial inclusion. A new UNDP/CABEI initiative must openly address these limitations, to define potential project beneficiaries.

- This evaluation shows that microfinance institutions and agricultural lending cooperatives are better prepared to provide financial services to the smaller production sectors and achieve greater financial inclusion in their networks.

- Ideally, the bracket of potential profitable farmers would be identified that--with the assistance of loans, technical assistance and chain markets--would be able to overcome barriers and become competitive, and exit the productive stagnation that keeps them in poverty.

- The CAMbio lending portfolio concentrated on two very extreme groups of farmers. A new initiative must stay away from such polarized clientele to be effective and to produce impact. In Guatemala, the microfinance organization invested considerable effort trying to reach subsistence agriculture clients. In the case of very small credits, the CAMbio loan approval and follow-up processes posed a severe limitation to the scalability and effectiveness of its model. On the other hand, the environmental requirements for the large loans made by private banks were too lenient.

2

Regarding Productive Sectors:

- Agricultural commodities play a major role in the livelihood strategies of farmers in Central America. However, there are major differences in the degree of modernization and market integration within the CABEI defined MSME sector. A new initiative must clearly define a typology of farmers and productive systems as target groups. A clear target group will allow lending to be effectively integrated with technical assistance and anchor market chains.

- CAMbio demand was in the coffee sector. But within this sector, there are substantial differences in production technologies, and in levels of vulnerability faced by farmers for sustaining livelihoods. To insure consistency with UNDP development strategies, a new initiative must be firmly anchored among small-scale farmers. As many researchers have demonstrated, small-scale family farms produce over 70% of the world's coffee, giving this sector tremendous potential for a vertical and horizontal integration in value chains.

- However, before embarking on a new initiative, a more profound assessment is required to better understand sector niches and opportunities.

3

Regarding Value Chain Approach:

- Commercial sectors and sustainable food chains are increasingly adopting inclusive models, pulling small farmers into the value chain approach. The FDL-Nitlapan institutional model is a very effective approach for providing financing to small producers. In the CAMbio model, they provided support to farmers in the form of credit and technical assistance. However, they also have an excellent record bringing the extension model one step further: integrating markets. Using anchor firms in dairy processing, they have linked farmers receiving credit and technical assistance with these businesses, demonstrating a very successful development model.

- A new initiative must avoid the small grant model of technical assistance, and should fine-tune a more strategic methodology.

4

Of the Definition of sustainable practices:

- To obtain positive biodiversity externalities, a much more comprehensive ecosystem approach is needed. The CAMbio model is based on sector good practices. This approach is reasonable for improving production practices, and for mitigating bad practices. But to reduce deforestation, land degradation, climate change adaptation and biodiversity losses, additions at the farm and landscape levels must be carefully assessed with an agro-ecology perspective. Conservation management strategies must also be part of the picture.

- As a cautionary note, not all certification seals for coffee require ecological considerations. It is possible that a coffee farmer in the specialty market, with several certifications, might be deforesting very important biodiversity spots to increase the coffee production area.

- In any case, the causalities and additions achieved with the introduction of best management practices in regard to biodiversity require careful assessment.

5

Use of Incentives and cash awards:

- If requirements are not clearly defined and if the selection processes are not competitive and transparent, a new initiative should steer clear of this type of award. Better loan rates might, in fact, be an easier alternative to providing incentives.