Evaluation of the UNDP Strategic Plan and Global and Regional Programmes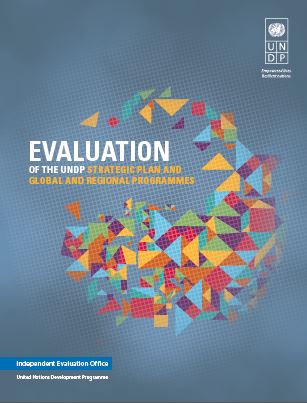 Evaluation Plan:

Evaluation Type:

Thematic

Planned End Date:

06/2017

Completion Date:

08/2017

Status:

Completed

Management Response:

Yes

Evaluation Budget(US $):

100,000
Title
Evaluation of the UNDP Strategic Plan and Global and Regional Programmes
Atlas Project Number:
Evaluation Plan:
2014-2017, Independent Evaluation Office
Evaluation Type:
Thematic
Status:
Completed
Completion Date:
08/2017
Planned End Date:

06/2017

Management Response:
Yes

Focus Area

:
Corporate Outcome and Output (UNDP Strategic Plan 2014-2017)

1. Output 1.1. National and sub-national systems and institutions enabled to achieve structural transformation of productive capacities that are sustainable and employment - and livelihoods- intensive
2. Output 1.3. Solutions developed at national and sub-national levels for sustainable management of natural resources, ecosystem services, chemicals and waste
3. Output 1.4. Scaled up action on climate change adaptation and mitigation across sectors which is funded and implemented
4. Output 1.5. Inclusive and sustainable solutions adopted to achieve increased energy efficiency and universal modern energy access (especially off-grid sources of renewable energy)
5. Output 2.1. Parliaments, constitution making bodies and electoral institutions enabled to perform core functions for improved accountability, participation and representation, including for peaceful transitions
6. Output 2.2. Institutions and systems enabled to address awareness, prevention and enforcement of anti-corruption measures across sectors and stakeholders
7. Output 2.3 Capacities of human rights institutions strengthened
8. Output 2.4. Frameworks and dialogue processes engaged for effective and transparent engagement of civil society in national development
9. Output 2.5. Legal and regulatory frameworks, policies and institutions enabled to ensure the conservation, sustainable use, and access and benefit sharing of natural resources, biodiversity and ecosystems, in line with international conventions and national
10. Output 2.6. Legal reform enabled to fight discrimination and address emerging issues (such as environmental and electoral justice
11. Output 3.1. Core functions of government enabled (in post conflict situations) to ensure national ownership of recovery and development processes
12. Output 3.2. Functions, financing and capacity of sub-national level institutions enabled to deliver improved basic services and respond to priorities voiced by the public
13. Output 3.3. National institutions, systems, laws and policies strengthened for equitable, accountable and effective delivery of HIV and related services
14. Output 3.5 Communities empowered and security sector institutions enabled for increased citizen safety and reduced levels of armed violence
15. Output 3.6. Governance institutional, and other critical bottlenecks addressed to support achievement of the MDGs and other internationally agreed development goals
16. Output 4.1. Country led measures accelerated to advance women's economic empowerment
17. Output 4.2. Measures in place and implemented across sectors to prevent and respond to Sexual and Gender Based Violence (SGBV)
18. Output 4.3. Evidence-informed national strategies and partnerships to advance gender equality and women's empowerment
19. Output 4.4. Measures in place to increase women's participation in decision-making
20. Output 4.5 Measures in place to increase women's access to environmental goods and services (including climate finance)
21. Output 5.1. Mechanisms in place to assess natural and man-made risks at national and sub-national levels
22. Output 5.2. Effective institutional, legislative and policy frameworks in place to enhance the implementation of disaster and climate risk management measures at national and sub-national levels
23. Output 5.3. Gender responsive disaster and climate risk management is integrated in the development planning and budgetary frameworks of key sectors (e.g. water, agriculture, health and education)
24. Output 5.4. Preparedness systems in place to effectively address the consequences of and response to natural hazards (e.g. geo-physical and climate related) and man-made crisis at all levels of government and community
25. Output 5.5. Policy frameworks and institutional mechanisms enabled at the national and sub-national levels for the peaceful management of emerging and recurring conflicts and tensions
26. Output 5.6. Mechanisms are enabled for consensus-building around contested priorities, and address specific tensions, through inclusive and peaceful processes
27. Output 6.1. From the humanitarian phase after crisis, early economic revitalization generates jobs and other environmentally sustainable livelihoods opportunities for crisis affected men and women
28. Output 6.2. National and local authorities /institutions enabled to lead the community engagement, planning, coordination, delivery and monitoring of early recovery efforts
29. Output 6.3. Innovative partnerships are used to inform national planning and identification of solutions for early recovery
30. Output 6.4. Recovery processes reinforce social cohesion and trust and enable rapid return to sustainable development
31. Output 7.1. Global consensus on completion of MDGs and the post 2015 agenda informed by contributions from UNDP
32. Output 7.2. Global and national data collection, measurement and analytical systems in place to monitor progress on the post 2015 agenda and sustainable development goals
33. Output 7.3. National development plans to address poverty and inequality are sustainable and risk resilient
34. Output 7.4. Countries enabled to gain equitable access to, and manage, ODA and other sources of global development financing
35. Output 7.5 South-South and Triangular cooperation partnerships established and/or strengthened for development solutions
36. Output 7.6. Innovations enabled for development solutions, partnerships and other collaborative arrangements
37. Output 7.7 Mechanisms in place to generate and share knowledge about development solutions
38. Output 1.2. Options enabled and facilitated for inclusive and sustainable social protection
39. Output 3.4. Functions, financing and capacity of rule of law institutions enabled, including to improve access to justice and redress

Evaluation Budget(US $):

100,000

Source of Funding:
Evaluation Expenditure(US $):

97,000

Joint Programme:
No
Joint Evaluation:

No

Evaluation Team members:

| Name | Title | Email | Nationality |
| --- | --- | --- | --- |

GEF Evaluation:

No

Key Stakeholders:
Recommendations
1

Recommendation 1: Support for fulfilment of the Sustainable Development Goals should be a cross-cutting issue for all UNDP country offices. Integrated approaches to development are essential for fulfilment of the Goals and should be pursued where possible, taking national contexts and implementation efficiency into consideration.

2

Recommendation 2: The overarching strategic objective of UNDP — supporting the poorest of the poor and the most marginalized members of society — remains valid. Future resources and programming should aim to help countries accelerate the achievement of development results especially for those left behind, based on fulfilment of the Sustainable Development Goals.

3

Recommendation 3: UNDP should retain its global reach. Programming in middle-income countries should align with the Sustainable Development Goals and other global frameworks, placing vulnerable populations at the forefront while seizing opportunities to expand assistance at subnational levels.

4

Recommendation 4: UNDP should strongly emphasize its climate change adaptation capabilities and services in the next strategic plan. The UNDP national and subnational scope of service; capabilities for urban and rural development planning, governance and risk assessment; experience managing multi-partner trust funds; and decades of environmental protection and disaster risk reduction and recovery work provide a platform from which to ably assist national and subnational governments to meet this global development challenge. Specific attention should be paid to the climate change adaptation and disaster risk reduction linkages.

5

Recommendation 5: Recognizing that governance is key to achieving the Sustainable Development Goals, UNDP should be proactive in supporting sectoral governance approaches and more persuasive in promoting democratic governance reforms.

6

Recommendation 6: Analysis of institutional capacities at the national level should guide UNDP governance programming in countries affected by conflict. Governance support needs to be targeted to critical government functions that are essential to stability. UNDP should more strategically support Sustainable Development Goal 16 and related intergovernmental agreements on peacebuilding and State-building.

7

Recommendation 7: UNDP should retain resilience as a distinct area of work under the next strategic plan so that stakeholders see this remaining a core area of the UNDP service offering. To strengthen the coherence of its crisis risk-reduction and recovery support, UNDP should continue to refine the roles and scope of service of the Bureau for Policy and Programme Support and the Crisis Response Unit.

8

Recommendation 8: UNDP should strengthen implementation of its gender policies, taking measures to ensure adequate funding to mainstream gender across all programming areas. Work on gender equality and women's empowerment should not be confined to a gender team alone but should ensure that all large programmes have dedicated gender expertise. Specific attention needs to be paid to such areas as environment, energy and crisis response, where gender mainstreaming remains weak.

9

Recommendation 9: UNDP should take a more systematic approach to South-South cooperation, selecting specific areas and partners for expanded cooperation.

10

Recommendation 10: UNDP should change the global programme to a service line for supporting staff positions at global and regional levels, as its shared deliverables and blurred boundaries make it unsuitable as a specific programme.

11

Recommendation 11: UNDP should determine specialties within its sustainable development, governance and resilience areas of work. This will help it to build world-class technical expertise and focus its resources on building capacities in those areas.

12

Recommendation 12: UNDP should reassess the roles and financial sustainability of the regional hubs, striving to make them centres of excellence for innovation and learning while expanding cooperation and partnerships with regional institutions. It should reduce overlap between regional and country-level programming.

13

Recommendation 13: Regional programming, if better defined, has the potential to be a valuable tool to prioritize and organize UNDP regional engagement and support to country offices. UNDP should develop its regional programmes as frameworks, outlining the regional issues to be addressed and approaches to be followed. To maximize its activities at the regional level and position UNDP to make a meaningful contribution, there should be more focus on a select number of areas at the regional level. For regional programmes to be effective, the activities that are considered should be realistic and pay sufficient attention to regionality principles.

14

Recommendation 14: UNDP should promote a results culture that encourages critical reflection and continuous organizational learning for improved results and institutional effectiveness.

15

Recommendation 15: UNDP should increase the involvement of the Office of Human Resources in strategic decision-making, especially in future institutional restructuring. Given the increasing complexity of programme delivery, inter-agency work and collaboration with a range of partners including civil society, investment in developing skills in leadership, relationship management and management across complex systems should be prioritized.

16

Recommendation 16: UNDP should transition from political budgeting to a more risk- and results-based budgeting process, to more effectively link results to resources. This will help mobilize funds and better highlight investment gaps to donors. UNDP is being held accountable to a corporate strategic plan without predictable and adequate resources. UNDP should work with funders and influence groups to raise understanding of the unintended effects of reductions in core funding. Focus should be on bringing the donor community together to work more effectively on integrated multidimensional approaches to support fulfilment of the Sustainable Development Goals, while contributing to partner country priorities.