Assessment of Development Results: Albania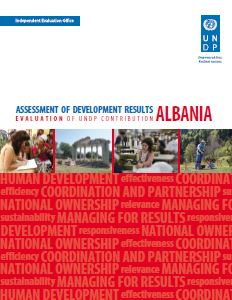 Evaluation Plan:

Evaluation Type:

ICPE/ADR

Planned End Date:

09/2016

Completion Date:

12/2015

Status:

Completed

Management Response:

Yes

Evaluation Budget(US $):

160,000
Title
Assessment of Development Results: Albania
Atlas Project Number:
Evaluation Plan:
2014-2017, Independent Evaluation Office
Evaluation Type:
ICPE/ADR
Status:
Completed
Completion Date:
12/2015
Planned End Date:

09/2016

Management Response:
Yes
Corporate Outcome and Output (UNDP Strategic Plan 2018-2021)
Evaluation Budget(US $):

160,000

Source of Funding:
Evaluation Expenditure(US $):

160,000

Joint Programme:
No
Joint Evaluation:

No

Evaluation Team members:

| Name | Title | Nationality |
| --- | --- | --- |
| Sotiraq Guga | Evaluation team member | ALBANIA |
| Sabina Ymeri | Evaluation team member | ALBANIA |

GEF Evaluation:

No

Key Stakeholders:
Location of Evaluation:

Country Level

Countries:

ALBANIA
Recommendations
1

UNDP's relevance in an EU accession context remains being responsive to emerging development needs and priorities of the Government. Moving forward, UNDP
should provide an adequate balance of policy and demonstration of viable development models.UNDP should focus more on service delivery at the local level.

2

UNDP should continue to strengthen its efforts for resource mobilization. It should also explore cost-sharing options or technical service modalities fully financed by the
Government.

3

UNDP should strengthen partnership and knowledge cooperation with other development actors and should focus on scaling up impact.

4

UNDP should apply a multidisciplinary approach to cross-cutting issues, including human rights, gender equality, social inclusion and environmental management.

5

UNDP should prepare a long-term strategy for its development support to Albania during the course of the EU accession process. The strategy should outline UNDP's key
areas of support to Albania in moving forward with EU membership.