Evaluation of UNV Online Volunteering Service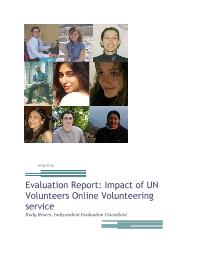 Evaluation Plan:

Evaluation Type:

Final Others

Planned End Date:

07/2015

Completion Date:

07/2015

Status:

Completed

Management Response:

Yes

Evaluation Budget(US $):

36,537
| Title | Evaluation of UNV Online Volunteering Service |
| --- | --- |
| Atlas Project Number: | |
| Evaluation Plan: | 2015-2015, UNV |
| Evaluation Type: | Final Others |
| Status: | Completed |
| Completion Date: | 07/2015 |
| Planned End Date: | 07/2015 |
| Management Response: | Yes |
| Corporate Outcome and Output (UNDP Strategic Plan 2018-2021) | |
| Evaluation Budget(US $): | 36,537 |
| Source of Funding: | |
| Joint Programme: | No |
| Joint Evaluation: | No |
| Evaluation Team members: | |
| GEF Evaluation: | No |
| Key Stakeholders: | UNV |
Recommendations
1

UNV continues to pursue a proactive campaign of advocacy and fund raising with international partners, national governments and donors, including consideration of mutually supporting activities with key strategic partners.

2

UNV should develop a more formalized means of coordination and communication across its network of cost-sharing donors and online volunteer partners, with the view to the eventual promulgation of more common and harmonized approaches which can be shared pro-actively with prospective donors.

3

The UNV Online Volunteering service should develop a multi-faceted online training and mentoring program for online volunteers and organizations, with the latter receiving particular attention in order to ensure strengthened engagement and communication channels with receiving organizations.

4

It is recommended that UNV increase the size and responsibility of the UNV Online Volunteering service team at Headquarters at it grows the number of opportunities such that the overall satisfaction rate of UN Online Volunteers and of receiving organizations is maintained at its current levels. Of note is the importance both of expanding to new organizations and of managing and maintaining relationships with existing organizations in light in increasing competition.

5

It is suggested that UNV engage in or lead a dialogue among UN agencies and the global community of volunteer organizations on the topic of online volunteering, with a particular focus on some of the principle challenges and opportunities in the coming years.