Mid-term evaluation: mountain eco-systems project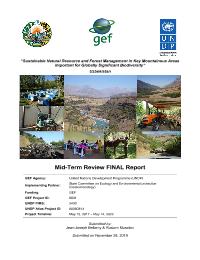 Evaluation Plan:

Evaluation Type:

Mid Term Project

Planned End Date:

11/2019

Completion Date:

11/2019

Status:

Completed

Management Response:

Yes

Evaluation Budget(US $):

45,000
Title
Mid-term evaluation: mountain eco-systems project
Atlas Project Number:

00080814

Evaluation Plan:
2016-2020, Uzbekistan
Evaluation Type:
Mid Term Project
Status:
Completed
Completion Date:
11/2019
Planned End Date:

11/2019

Management Response:
Yes

UNDP Signature Solution

:
Corporate Outcome and Output (UNDP Strategic Plan 2018-2021)

1. Output 2.4.1 Gender-responsive legal and regulatory frameworks, policies and institutions strengthened, and solutions adopted, to address conservation, sustainable use and equitable benefit sharing of natural resources, in line with international conventions and national legislation

SDG Goal

Goal 15. Protect, restore and promote sustainable use of terrestrial ecosystems, sustainably manage forests, combat desertification, and halt and reverse land degradation and halt biodiversity loss

SDG Target

15.4 By 2030, ensure the conservation of mountain ecosystems, including their biodiversity, in order to enhance their capacity to provide benefits that are essential for sustainable development

Evaluation Budget(US $):

45,000

Source of Funding:
Evaluation Expenditure(US $):

25,217

Joint Programme:
No
Joint Evaluation:

No

Evaluation Team members:

| Name | Title | Email | Nationality |
| --- | --- | --- | --- |

GEF Evaluation:

Yes

| | |
| --- | --- |
| GEF Project Title: | Sustainable natural resource use and forest management in key mountainous areas important for globally significant biodiversity |
| Evaluation Type: | Mid-term Review |
| Focal Area: | Biodiversity |
| Project Type: | FSP |
| GEF Phase: | GEF-6 |
| GEF Project ID: | 8031 |
| PIMS Number: | 5438 |

Key Stakeholders:
Government of Uzbekistan
Countries:

UZBEKISTAN
Lessons
1.

• A design focusing on activities and lacking clear expected results leads the implementation team to use an activity-based management approach as opposed to a results-based management approach.
• When the project covers a large geographic area, a strong communications program is vital to project success; including its visibility.
• Implementation through government entities as custodians of project achievements is conducive to good long-term sustainability.
• When gender considerations are almost inexistent in the project strategy/project document, there is a high risk that gender mainstreaming will be limited; particularly if it is not part of measuring the performance of the project.
• Sustainability of this type of projects, is much correlated with capacities being developed during the lifetime of a project. The greater capacities are developed the more sustainable project achievements will be.
• A project that is a response to clear national needs and priorities is often highly relevant for beneficiaries and its chance of being implemented effectively are maximized.
• Involving stakeholders in the implementation of project activities including their participation in decision-making enables conflict minimization and improve ownership of solutions.



Findings
Recommendations
1

It is recommended to set up multi-stakeholder, cross-sectoral technical working groups to oversee the implementation of the project and review the strategies being piloted. These working groups could include thematic working groups such as pasture management, forestry management and biodiversity conservation monitoring but also taking into account a landscape/spatial approach such as a working group on the Gissar area including national and regional government agencies but also representatives from local communities and NGOs.

2

It is recommended to explore the possibility to open 2 local offices in project areas in partnership with local relevant institutions. Having local offices with 1 or 2 staff would provide the project with greater regional and local "connections" and also provide the project with an "ear to the ground" to facilitate the implementation of project activities. It would also provide a place to meet, network and exchange on project achievements as well as providing a more effective and efficient way to implement local activities.

3

It is recommended to increase the participation of the project in related policy and legislation development. Reforming the enabling environment (policy, legislation and institutions) is a rapidly evolving process in Uzbekistan. It is also an important aspect for the project to monitor carefully; it will play an important part in ensuring the long-term sustainability of project achievements. Ultimately, the value of the project is for the government to internalize project findings and eventually, adapt its enabling environment. It is important that the project implementation team increase its participation in the review and update of the enabling environment, possibly to use working groups, to communicate project results and participate in the drafting of new policy and legislative instruments. This participation could take the form of workshops on particular topics to review the existing enabling environment, results from demonstrations and proposal(s) to improve the policy and/or legislation around these topics. It could also be studies requested by relevant government entities to review the existing situations of particular areas; a proposal to improve the policy/legislation in a particular area, etc.

4

It is recommended to develop a project communication strategy and action plan, including the need to rapidly increase the visibility of the project. Despite that the project has been producing many good deliverables in several areas, the visibility of the project is poor, and its implementation is somewhat compartmentalized with limited coordination among focal areas. The result is the constitution of a good body of knowledge on managing snow leopard landscapes but with limited cross-fertilization across thematic areas and limited dissemination/use of this knowledge. A communication strategy and action plan is needed, detailing how to increase the visibility of the project, identify information products and information channels to use.

5

It is recommended to conduct capacity assessments and allocate project resources to consolidate capacities during the remaining implementation period of the project. It is an ambitious project with a broad scope and with limited resources to do it all. There is a risk that capacities developed with the support of the project may not be enough to ensure the long-term sustainability of project achievements. Conducting capacity assessments and action plans of key organizations are needed to identify possible capacity gaps and how they can be addressed, focusing on skills and knowledge but also on strengthening organizational processes and systems; and including the allocation of project resources.

6

It is recommended to review the strategies guiding the pasture management programme and the micro-grant programme. Regarding the pasture management programme, it is already a recommendation from the international pasture expert to review and define more systematically the objective of this programme. Regarding the micro-grant programme, it is effective in creating alternative sources of incomes for remote communities. However, its logic to fund alternative activities to reduce pressure on natural forests and pastures should be reviewed and used more directly as incentives in the same communities where other project activities are taking place such as improving the management of pastures and forests.

7

It is recommended to strengthen gender mainstreaming in project activities. To date, there is a limited focus on mainstreaming gender in project activities. As reported in progress reports, gender is being considered mostly within the implementation of the micro-grant programme. In this area, the project seeks to involve as many women as possible, including as beneficiaries of micro-grants. A Gender Analysis and Plan was developed during the inception phase of this project. It contains an extensive set of guidelines on how the project will mainstream gender in project activities. It is recommended to review this plan and identify actions to be implemented to mainstream gender in project activities.

8

It is recommended to increase the use of adaptive management. The project implementation team does not use adaptive management enough to plan activities, allocate project resources and implement these activities. There are opportunities and innovative ways which could be used but are not considered if they are not part of the detailed project strategy. Overall, using adaptive management is one way to review what is working and what is not working and modify the approach to make project activities more effective.

9

It is recommended to address the inefficiencies in the procurement of goods and services. The procurement of project goods and services is too lengthy, and it is affecting negatively the ability of the project team to quickly respond to investment needs and implement activities efficiently. Within the context of UNDP Support Services to National Implementation Modality (NIM), the procurement process needs to be more transparent/participative with key stakeholders. The objective should be to reduce the time it takes to procure goods and services to project beneficiaries.

10

It is recommended to monitor the financial status of the project and request a no-cost time extension of the project if the GEF grant will not be expended by May 2022. As of end of June 2019, total expenditures amount to USD 1.4M that is 23% of the GEF grant versus an elapsed time of 43%. It is doubtful that the entire budget will be expended by May 2022. From an average monthly disbursement of USD 54,502, the project would need to increase its monthly disbursement to USD 140,965. Another important point to justify a time extension is the fact that the few months delay in starting the project, prevented activities to be implemented during the summer season of 2017.

11

It is recommended to monitor project management expenditures in order to keep them aligned with the allocated budget of 4.8%. To date, 47% of the project management budget has been spent, which represents a ratio of just under 10% of total expenditures to June 2019. This ratio is more than twice the planned ratio of 4.8% allocated to project management. The actual ratio needs to be monitored carefully to stay in line with the budgeted ratio of 4.8%.

12

It is recommended to review co-financing commitments and request yearly estimates from the State Committee on Ecology and Environmental Protection. To date, limited reporting has been made on co-financing contributions. The cash contribution from UNDP is available in the Atlas system, however, no figures are available from the State Committee on Ecology and Environmental Protection.

13

It is recommended to develop an exit strategy for the project. Since its inception, the project has been supporting various additional activities, including procurement of equipment, seeking to improve the biodiversity of these ecosystems. After the end of the project, some of these procured equipment will need at times to be replaced and some new activities will need to be supported by extra resources such as the Snow Leopard Monitoring Programme. It is recommended to develop an exit strategy, setting key milestones to reach before the end of the project, laying out what, when, where and how much some activities need to be continued, and handover procedures for some activities/products.