UNDP ESWATINI MID-TERM REVIEW (MTR) OF THE COUNTRY PROGRAMM DOCUMENT 2016-2020 (CPD) OUTCOMES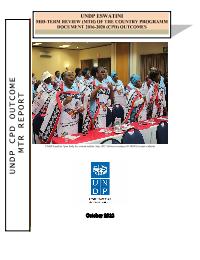 Evaluation Plan:

Evaluation Type:

Outcome

Planned End Date:

09/2018

Completion Date:

01/2019

Status:

Completed

Management Response:

No

Evaluation Budget(US $):

15,330
Title
UNDP ESWATINI MID-TERM REVIEW (MTR) OF THE COUNTRY PROGRAMM DOCUMENT 2016-2020 (CPD) OUTCOMES
Atlas Project Number:

00061307

Evaluation Plan:
2021-2025, Eswatini
Evaluation Type:
Outcome
Status:
Completed
Completion Date:
01/2019
Planned End Date:

09/2018

Management Response:
Yes

Focus Area

:
Corporate Outcome and Output (UNDP Strategic Plan 2014-2017)

1. Output 1.1. National and sub-national systems and institutions enabled to achieve structural transformation of productive capacities that are sustainable and employment - and livelihoods- intensive

SDG Goal

Goal 1. End poverty in all its forms everywhere

SDG Target

1.2 By 2030, reduce at least by half the proportion of men, women and children of all ages living in poverty in all its dimensions according to national definitions
1.4 By 2030, ensure that all men and women, in particular the poor and the vulnerable, have equal rights to economic resources, as well as access to basic services, ownership and control over land and other forms of property, inheritance, natural resources, appropriate new technology and financial services, including microfinance

Evaluation Budget(US $):

15,330

Source of Funding:
M&E Core Budget
Evaluation Expenditure(US $):

15,330

Joint Programme:
No
Joint Evaluation:

No

Evaluation Team members:

| Name | Title | Email | Nationality |
| --- | --- | --- | --- |
| N/A | | | |

GEF Evaluation:

No

Key Stakeholders:
Ministry of Economic Planning and Development, Ministry of Sports, Youth, and Culture,
Countries:

ESWATINI
Recommendations
1

In the next country programme, UNDP must identify clear areas of intervention that form a cohesive response to a definite set of national development challenges and that can be realistically implemented within its limited resource framework. Overall, there will need to be clear focused approach, with a reduced number of partners, in the next programme period with clear areas and strategies of support.

2

UNDP must critically examine its achievements in the implementation of current programme, understand where its main contribution lies and where this contribution has the strongest potential to be sustained and scaled-up. This process requires regular follow-up on project activities, improved documentation of UNDP's outputs and measuring progress on a more regular basis. The monitoring efforts must go beyond data collection and be used as a tool for programme management, learning and reporting. This will help UNDP communicate its contributions, and reinforce trust between the organization and its partners, and strengthen its capacity to mobilize resources.

3

In implementing a more focused programme, with a clear Theory of Change and objectives, UNDP must follow key project management steps more strictly. Priority activities and deliverables must be identified and followed during implementation. UNDP must increase efforts towards reporting and documenting activities and results for effective follow-up during implementation by UNDP and after project closure by its partners. In addition, UNDP needs to redirect its support away from facilitation across numerous activities and give greater and more meaningful support to technical issues.

4

The country office should review the effectiveness of the allocation of programme and operations staff across the Development Advisory Team structure and find areas to improve the allocation of its limited human resources. A strengthened focus and strategy for the programmes outcomes will resolve some of the current inefficiencies in implementation.