Mid-Term Review "Conservation-oriented management of forests and wetlands to achieve multiple benefits"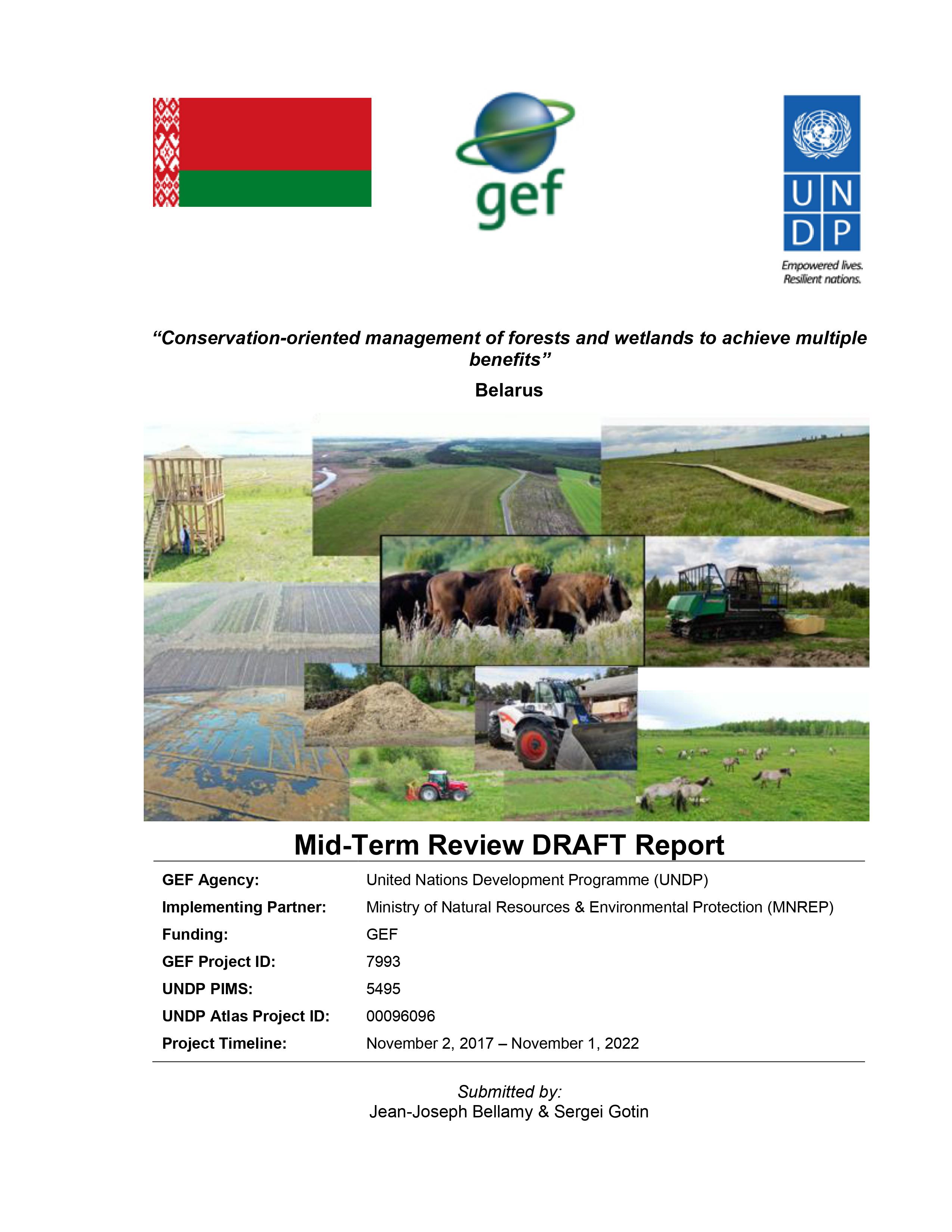 Evaluation Plan:

Evaluation Type:

Mid Term Project

Planned End Date:

12/2020

Completion Date:

07/2020

Status:

Completed

Management Response:

No

Evaluation Budget(US $):

23,250
Title
Mid-Term Review "Conservation-oriented management of forests and wetlands to achieve multiple benefits"
Atlas Project Number:

00090217

Evaluation Plan:
2016-2020, Belarus
Evaluation Type:
Mid Term Project
Status:
Completed
Completion Date:
07/2020
Planned End Date:

12/2020

Management Response:
Yes

Focus Area

:

1. Environment & Sustainable Development
2. Others

Corporate Outcome and Output (UNDP Strategic Plan 2018-2021)

1. Output 1.3. Solutions developed at national and sub-national levels for sustainable management of natural resources, ecosystem services, chemicals and waste

SDG Goal

Goal 13. Take urgent action to combat climate change and its impacts
Goal 15. Protect, restore and promote sustainable use of terrestrial ecosystems, sustainably manage forests, combat desertification, and halt and reverse land degradation and halt biodiversity loss

SDG Target

13.2 Integrate climate change measures into national policies, strategies and planning
15.2 By 2020, promote the implementation of sustainable management of all types of forests, halt deforestation, restore degraded forests and substantially increase afforestation and reforestation globally
15.5 Take urgent and significant action to reduce the degradation of natural habitats, halt the loss of biodiversity and, by 2020, protect and prevent the extinction of threatened species

Evaluation Budget(US $):

23,250

Source of Funding:
GEF
Evaluation Expenditure(US $):

23,250

Joint Programme:
No
Joint Evaluation:

No

Evaluation Team members:

| Name | Title | Nationality |
| --- | --- | --- |
| Jean-Joseph Bellamy | Team leader | |
| Sergei Gotin | National evaluator | |

GEF Evaluation:

Yes

| | |
| --- | --- |
| GEF Project Title: | Wetlands |
| Evaluation Type: | Mid-term Review |
| Focal Area: | Biodiversity |
| Project Type: | EA |
| GEF Phase: | GEF-5 |
| GEF Project ID: | |
| PIMS Number: | 0000 |

Key Stakeholders:
Line Ministries; Implementing Partners; CSOs, private sector.
Countries:

BELARUS, REPUBLIC OF
Lessons
1.

• In order to ensure a good participation of civil society in the implementation of a project, it is critical to engage Civil Society Organizations (CSOs) early in the formulation process of this type of projects and to co-share the ownership of the project strategy.
• A project that is a response to clear national needs and priorities is often highly relevant for stakeholders and its chance of being implemented effectively are maximized.
• A good design leads to a good implementation, which in turn leads to good project results. There is more chance for a project well designed to be a success. Every steps of the way count in the success of a project; it is a lot easier to succeed when all these steps are relevant and clear to be implemented.
• Implementation through government entities as custodians of project achievements is conducive to good long-term sustainability of project achievements.
• When a project is part of a long-term strategy to address national needs and priorities in one area, it has a stronger baseline to start with; it benefits from past experiences and lessons learned and it is more effective in producing the desired changes.
• When gender considerations are limited in the project strategy/project document, there is a high risk that gender mainstreaming will be limited throughout the implementation of the project; particularly if it is not part of measuring the performance of the project.
• A strong participation of stakeholders in the implementation of a project including its decision-making process enables conflict minimization and improve development of innovative solutions.
• Project management driven by consensus among stakeholders provides a good platform for an effective project.



Findings
Recommendations
1

Recommendation 1: Focus on the development of a "financially self-sufficient approach to the management of forests and wetlands" during the remaining period of implementation.

2

Evaluation Recommendation 2: Develop a plan for increasing the engagement of civil society and private sector; particularly for the conservation of biodiversity outside KBAs.

3

Evaluation Recommendation 3: Undertake a socio-economic valuation study of peatlands. It would provide critical information on gauging the importance of these ecosystems on livelihoods of surrounding local communities and demonstrate the socio-economic value of these ecosystems.

4

Evaluation Recommendation 4: Organize annual technical reviews with "field day(s)" to exchange knowledge and observe piloted measures bringing together stakeholders including national decision-makers, local administrations, civil society and private sector.

5

Evaluation Recommendation 5: Conduct comprehensive capacity assessments of park and reserve administrations to identify capacity gaps and needs and allocate project resources to consolidate key capacities.

6

Evaluation Recommendation 6: Strengthen the gender mainstreaming approach of the project and assess how men and women can be part of the solution to restore and conserve peatlands.

7

Evaluation Recommendation 7: Review the indicator measuring the funding gap and establish a more meaningful target for the financial sustainability of the pilot reserves.

8

Evaluation Recommendation 8: Add the risk of a lack of financial resources to sustain project achievements after the project end.

9

Evaluation Recommendation 9: Develop a project exit strategy (in early 2022).