Nationally Appropriate Mitigation Actions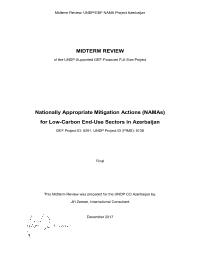 Evaluation Plan:

Evaluation Type:

Mid Term Project

Planned End Date:

11/2017

Completion Date:

12/2017

Status:

Completed

Management Response:

Yes

Evaluation Budget(US $):

20,000
Title
Nationally Appropriate Mitigation Actions
Atlas Project Number:

00081318

Evaluation Plan:
2016-2020, Azerbaijan
Evaluation Type:
Mid Term Project
Status:
Completed
Completion Date:
12/2017
Planned End Date:

11/2017

Management Response:
Yes

UNDP Signature Solution

:
Corporate Outcome and Output (UNDP Strategic Plan 2018-2021)

1. Output 2.5.1 Solutions developed, financed and applied at scale for energy efficiency and transformation to clean energy and zero-carbon development, for poverty eradication and structural transformation

SDG Goal

Goal 9. Build resilient infrastructure, promote inclusive and sustainable industrialization and foster innovation

SDG Target

9.4 By 2030, upgrade infrastructure and retrofit industries to make them sustainable, with increased resource-use efficiency and greater adoption of clean and environmentally sound technologies and industrial processes, with all countries taking action in accordance with their respective capabilities

Evaluation Budget(US $):

20,000

Source of Funding:
State Oil Company of the Republic of Azerbaijan
Evaluation Expenditure(US $):

20,000

Joint Programme:
No
Joint Evaluation:

No

Evaluation Team members:

| Name | Title | Email | Nationality |
| --- | --- | --- | --- |
| Jirí Zeman | Evalutor | jirkazeman@seznam.cz | CZECH REPUBLIC |

GEF Evaluation:

Yes

| | |
| --- | --- |
| GEF Project Title: | Nationally Appropriate Mitigation Actions |
| Evaluation Type: | Mid-term Review |
| Focal Area: | Climate Change |
| Project Type: | FSP |
| GEF Phase: | GEF-5 |
| GEF Project ID: | 5291 |
| PIMS Number: | 5138 |

Key Stakeholders:
Project budget
Countries:

AZERBAIJAN
Recommendations
1

Evaluation Recommendation No. 1: Focus on delivering results in Outcome 1 (Assessment of GHG emission mitigation potentials and target setting) and Outcome 2 (Specific Oil & Gas end-use sectors are endorsed by all stakeholders to begin detailed design and implementation of NAMA projects) without further delay.

1.1. Rename Outcome 2 as "NAMAs (program/action plan) in oil & gas end-use sectors developed for SOCAR?"

1.2. Hire an international consultant with demonstrated experience in developing GHG marginal abatement cost curves (MACC) and developing GHG emission reduction policies and action plans, to support delivery of Outcome 1 and 2.

1.3. Carry out technical and cost analysis of potential GHG emission reduction opportunities in SOCAR to develop MACCs that illustrate potential and associated full costs of individual GHG emission reduction opportunities in a single diagram.

1.4. Based on the technical, cost and barrier analysis, specify feasible time-bound targets and NAMA action program for approval and implementation. The NAMA action plan will combine both investment actions, as well as necessary policy/ actions.

1.5 Use the developed MACCs for awareness raising among decision and policy makers and other local stakeholders, to illustrate impact of prioritizing cost-effective actions first on total costs of achieving specific targets (versus prioritizing higher-costs solutions).

2

Evaluation Recommendation No 2:Develop a pilot project replication strategy

Integrate experience and information gained from pilots and available locally, including from project/studies being implemented in the country with support of other international donors, in developing the NAMA action plan.
Strengthen working relations with all local stakeholders (viz. ministries, agencies, AREA, etc.), and international development partners that are active in similar work.
Disseminate knowledge about eco-driving through trainings to be imparted to drivers of other state/governmental agencies and private sector.
Consider organizing eco-driving training for media representatives to apprise them about the national savings potential and organize an eco-driving contest, or rally for the public.
Implementation of a specific motivation scheme of drivers in eco-driving by SOCAR's management will ensure sustainable fuel and GHG emission savings.

3

Evaluation Recommendation No. 3: Support policy/regulatory dialogue on a national level to adopt necessary regulations to support NAMA action plan implementation on a country level

Energy efficiency and renewable energy requires effective regulations in order to be accelerated and mainstreamed. These regulations are either not in place yet in Azerbaijan, or they are not sufficiently specific/effective. This includes primarily update of energy performance in buildings regulations (including envelope insulation), as well as other energy efficiency regulations, such as energy appliance labeling, minimal energy performance standards for energy appliances etc. Renewable energy represents a typical GHG emission mitigation measure that is more costly than actual (still rather low) energy prices in Azerbaijan. Sufficient financial support scheme is essential for motivation of private investors in investment in new renewable energy production.
UNDP can utilize its experience from other CIS countries, where it implemented GEF supported projects to develop and implement energy efficiency and renewable energy policies and regulations. For example, most of CIS countries have their national energy efficiency in buildings regulations updated already, which leads to utilization of building envelope insulation.
The project can organize regional/international workshop to present experience and lessons learned of other CIS countries to support adoption of effective energy efficiency and renewable energy regulations in Azerbaijan as well.

4

Evaluation Recommendation No. 4:Strengthen information and experience dissemination

The long-term impact of GEF interventions on the project will depend on effective capacity building and enforcement of policies/regulations.
Adopt innovative approaches while organizing trainings and workshops and deliver specific capacity building activities (including for example student contest on energy efficiency in buildings).
The building energy-efficiency experience should be passed on to local expert community, including architects, building designers, construction engineers, developers, construction practitioners, university teachers, students, etc.