MTR Fifth Operational Phase of the GEF Small Grants Programme In India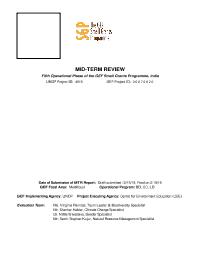 Evaluation Plan:

Evaluation Type:

Mid Term Project

Planned End Date:

04/2016

Completion Date:

02/2016

Status:

Completed

Management Response:

Yes

Evaluation Budget(US $):

10,000
Title
MTR Fifth Operational Phase of the GEF Small Grants Programme In India
Atlas Project Number:

00060871

Evaluation Plan:
2013-2017, India
Evaluation Type:
Mid Term Project
Status:
Completed
Completion Date:
02/2016
Planned End Date:

04/2016

Management Response:
Yes

Focus Area

:

1. Environment & Sustainable Development
2. Others

Corporate Outcome and Output (UNDP Strategic Plan 2018-2021)

1. Output 2.4. Frameworks and dialogue processes engaged for effective and transparent engagement of civil society in national development

SDG Target

12.5 By 2030, substantially reduce waste generation through prevention, reduction, recycling and reuse
15.4 By 2030, ensure the conservation of mountain ecosystems, including their biodiversity, in order to enhance their capacity to provide benefits that are essential for sustainable development
15.6 Promote fair and equitable sharing of the benefits arising from the utilization of genetic resources and promote appropriate access to such resources, as internationally agreed

Evaluation Budget(US $):

10,000

Source of Funding:
Project Budget
Evaluation Expenditure(US $):

10,000

Joint Programme:
No
Joint Evaluation:

No

Evaluation Team members:

| Name | Title | Nationality |
| --- | --- | --- |
| Ravndal | Virginia | |
| Haldal | Shankar | INDIA |
| Srivastav | Nittie | INDIA |
| Stephen Kujur | Samir | INDIA |

GEF Evaluation:

Yes

| | |
| --- | --- |
| GEF Project Title: | MTR Fifth Operational Phase of the GEF Small Grants Programme In India |
| Evaluation Type: | Mid-term Review |
| Focal Area: | Multifocal Areas |
| Project Type: | FSP |
| GEF Phase: | GEF-5 |
| GEF Project ID: | 00076820 |
| PIMS Number: | 00060871 |

Key Stakeholders:
Countries:

INDIA

Comments:

Request to add the project evaluation as it was missed out during the development of the evaluation plan
Lessons
1.

SGP India is in its fifth operational phase (OPV). The primary objective of this five year UNDP/GEF-supported full size project is "to ensure a mosaic of land uses and community practices across the rural landscape that provide sustainable livelihoods while generating global benefits related to biodiversity, land degradation and climate change mitigation".

The programme aims to achieve this objective through:

•Mainstreaming biodiversity conservation and sustainable use into production landscapes and sectors

•Promoting energy efficient and renewable energy technologies in rural communities in targeted landscapes in India

•Maintaining and improving agro and forest ecosystem services in dry lands of Arid and Semi-Arid Regions (ASAR) to sustain livelihoods of local communities

•Cross cutting, capacity development and knowledge management

The Small Grants Programme (SGP) has been operating in India since 1998. UNDP is the executing agency and Center for Environment Education is the National Host Agency for project implementation. The NGO modality of SGP project implementation in India is unique and has been very successful. This has been recognized and appreciated by the Mid Term Review Team.

So far SGP India has supported more than 400 projects under key thematic areas of GEF including Biodiversity Conservation (BD), Land Degradation (LD), Climate Change (CC) and Persistent organic Pollutants (POPs). In the current GEF cycle SGP India has supported 86 project out of which 77 projects were approved before the MTR and is at various levels of implementation and 9 projects were supported at the end of December 2016 in the Seventh National Steering Committee meeting



Findings
1.

Some key achievements of SGP India in the GEF 5 cycle are as follows. These achievements have been acknowledged and outlined in the Mid Term Review Report

•698 NGOs/CBOs have been better equipped and mainstreamed in Government programmes. Better understanding of community has been developed on issues related to Climate change , land degradation, Biodiversity conservation, sustainable use and access and benefit sharing of natural resources; Community capacities has also been developed for value addition and conservation of medicinal plants.

•Capacities of 698 NGOs/CBOs has been developed for creating community institutions; business enterprises and for business models sustainably.

•Linkages of 37 institutions and 450 NGOs/ CBOs has been established for technology adoption & research on better options and usefulness of the technology including post and pre harvest technologies; apiculture; lac cultivation , grasses and seed technologies, cook stoves; solar and renewable energy applications etc. Linkages have also been established with banks for institution building. Linkages have been established with the National and state biodiversity boards and new and renewable energy departments

•Of the 164 Panchayats, 31 Panchayats (in 14 Projects) have taken decisions for conservation of mangroves, artificial reef management, setting up briquetting units, fodder plots, varietal conservation, SRI systems for Rice cultivation, conservation of threatened species, water conservation and harvesting measures

•7 community-led tools and methodologies have been developed for biodiversity mapping, monitoring and valuation

•7 rare/threatened and local species have been conserved including Vechur Cow, Vembur Sheep and "Guggul -medicinal plant". Conservation measures have also been established for 3 Mangroves varieties and 3 Salt resistant Rice Varieties.

•Nearly 951 active women groups formed (including nearly 11,754 women members) in 63 projects and has been involved in regular savings. So far the women SHGs have done savings of nearly US$ 453237. Bank accounts have been opened, linked to access to credit and now most of the women members who are poor and uneducated, have personal savings account

•15 certified eco product brands have been created in the project through 15 different partners

•150 natural resource based products have been developed and many of these linked to markets through more than 30 project



Recommendations
1

A no-cost extension until end December, 2017 should be granted to the project to enable it to operate for a full five years as originally planned and to give it sufficient time to achieve the targets set forward in the project document

2

National Steering Committee is comprised of highly qualified and committed individuals. Nevertheless, strengthening their awareness regarding GEF criteria and the need to focus to a greater extent on strategic matters would be helpful

3

Establish a Technical Advisory Panel (TAP) for biodiversity projects, both to assist the NSC to develop an overall BD strategy, and to technically review proposals and provide their comments to the NSC in advance of NSC consideration. The TAP may also assist the Regional Offices of CEE to technically monitor BD projects as appropriate. The Technical Advisory Panel should be comprised of qualified scientific, academic and other institutions and NGOs with a focus on biodiversity conservation. (These might include entities such as the IUCN, the Wildlife Institute of India (WII), Forest Research Institute (FRI, Dehradun), Indian Institute of Forest Management, Tropical Forest Research Institutes and/or others.) A GEFability checklist could be developed by the Technical Advisory Panel to be used in reviewing all BD project proposals.

4

The MTR recommends that an indicator specific to BD be included in a revised Results Framework and that targets be established for that indicator

5

The proposed Technical Advisory Panel on BD should propose a refined BD strategy to the NSC for consideration and the remaining BD grant funds should support projects that represent a part of that strategy

6

Biodiversity (BD) funds yet to be committed in this OP should support BD projects in globally significant biodiversity areas and in areas where other larger-scale conservation and community development initiatives are underway with whom the SGP projects can collaborate. It would also make sense to support CC and LD projects in these same areas. Thus, a much stronger clustering of projects is recommended for the projects still to be approved.

7

Gender equality should be institutionalized in the various bodies which direct, steer, manage and monitor the SGP programme and projects. This should be accomplished by modifying the TOR of the NSC to ensure gender equality, and by ensuring gender equality in the composition of the NSC, the SGP Regional Committees, the CEE SGP Project Directors (paid by the SGP), none of which currently have achieved gender equality
1. Recommendation:

A no-cost extension until end December, 2017 should be granted to the project to enable it to operate for a full five years as originally planned and to give it sufficient time to achieve the targets set forward in the project document
Management Response:
[Added: 2016/09/18]
The proposal for a no cost extension until December 2017 was taken to the Seventh National Steering committee meeting of the GEF UNDP SGP OPV, by the Centre for Environment Education in consultation with UNDP CO. The NSC members agreed that in order to get concrete results and to achieve desired outcomes additional time should be given to grantees to complete project activities and to enable the SGP India to operate for a full five-year cycle
Key Actions:
2. Recommendation:

National Steering Committee is comprised of highly qualified and committed individuals. Nevertheless, strengthening their awareness regarding GEF criteria and the need to focus to a greater extent on strategic matters would be helpful
Management Response:
[Added: 2016/09/18]
Two NSC members and 2 RCM members were invited to Ahmedabad on two occasions (11-13 January 2016 and 12-13 April 2016) to inter-alia discuss the recommendations of the SGP MTR. The MTR consultants briefed the members on the findings of the MTR and also on the GEF criteria on selection of projects, design and nature of strategic projects; NSC members were also briefed on the focus of an upgraded country programme
Key Actions:
3. Recommendation:

Establish a Technical Advisory Panel (TAP) for biodiversity projects, both to assist the NSC to develop an overall BD strategy, and to technically review proposals and provide their comments to the NSC in advance of NSC consideration. The TAP may also assist the Regional Offices of CEE to technically monitor BD projects as appropriate. The Technical Advisory Panel should be comprised of qualified scientific, academic and other institutions and NGOs with a focus on biodiversity conservation. (These might include entities such as the IUCN, the Wildlife Institute of India (WII), Forest Research Institute (FRI, Dehradun), Indian Institute of Forest Management, Tropical Forest Research Institutes and/or others.) A GEFability checklist could be developed by the Technical Advisory Panel to be used in reviewing all BD project proposals.
Management Response:
[Added: 2016/09/18]
UNDP agrees to this recommendation and supports the urgent need to strengthen the Biodiversity (BD) component in the SGP India Programme by engaging experts and agencies through the National Focal point for the convention on biological diversity in India and with the active support of the programme officers handling the Biodiversity portfolio
Key Actions:
4. Recommendation:

The MTR recommends that an indicator specific to BD be included in a revised Results Framework and that targets be established for that indicator
Management Response:
[Added: 2016/09/18]
UNDP agrees with this recommendation and will work with the CEE team to add one BD related indicator or modify one of the existing indicators to the Results Framework.
Key Actions:
5. Recommendation:

The proposed Technical Advisory Panel on BD should propose a refined BD strategy to the NSC for consideration and the remaining BD grant funds should support projects that represent a part of that strategy
Management Response:
[Added: 2016/09/18]
Briefing of TAP members on GEF criteria and BD strategy for an upgraded country programme for BD referring to the GEF 6 BD strategy.
As SGP OP5 grants for BD are exhausted, this strategy will be used for OP6, although detailed note could be discussed in the Workshop with RCM members and CEE team
Training of regional coordinators on the revised BD strategy
- A training workshop to be organized by CEE for SGP Regional Coordinators on the refined BD strategy to help them guide project partners of ongoing projects and for projects to be selected in GEF 6 cycle. Discussions in progress
Key Actions:
6. Recommendation:

Biodiversity (BD) funds yet to be committed in this OP should support BD projects in globally significant biodiversity areas and in areas where other larger-scale conservation and community development initiatives are underway with whom the SGP projects can collaborate. It would also make sense to support CC and LD projects in these same areas. Thus, a much stronger clustering of projects is recommended for the projects still to be approved.
Management Response:
[Added: 2016/09/18]
This observation and recommendation has been noted. This will be brought to the attention of Regional Coordinators in the CEE Regional offices who guide and mentor the preparation of proposals. UNDP will also inform the regional committee members and members of the National Steering Committee regarding this recommendation so that this is considered while approving projects. Also, this would be included in the BD strategy to be developed for SGP especially for use in OP6.
This will also help in mainstreaming BD concerns in national level plans and programmes and will help India meet its commitments towards national and global priorities for biodiversity conservation
Key Actions:
7. Recommendation:

Gender equality should be institutionalized in the various bodies which direct, steer, manage and monitor the SGP programme and projects. This should be accomplished by modifying the TOR of the NSC to ensure gender equality, and by ensuring gender equality in the composition of the NSC, the SGP Regional Committees, the CEE SGP Project Directors (paid by the SGP), none of which currently have achieved gender equality
Management Response:
[Added: 2016/09/18]
Currently 4 out of the 11 NSC members are women, 3 out of 7 Regional Coordinators are women and in UNDP, 3 women are involved in the SGP Programme. More women representation can be expected in the Technical Advisory Panel for Biodiversity Conservation.
UNDP will also try to institutionalize gender equality through the TOR for the NSC and at various levels of project implementation bodies.
Key Actions: