Terminal Evaluation - Improving Energy Effeciency in Indian Railways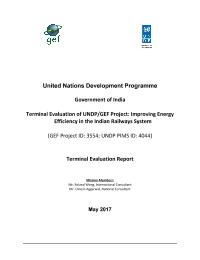 Evaluation Plan:

Evaluation Type:

Final Project

Planned End Date:

10/2016

Completion Date:

06/2017

Status:

Completed

Management Response:

Yes

Evaluation Budget(US $):

40,000
Title
Terminal Evaluation - Improving Energy Effeciency in Indian Railways
Atlas Project Number:

00060440

Evaluation Plan:
2013-2017, India
Evaluation Type:
Final Project
Status:
Completed
Completion Date:
06/2017
Planned End Date:

10/2016

Management Response:
Yes

Focus Area

:

1. Environment & Sustainable Development
2. Others

Corporate Outcome and Output (UNDP Strategic Plan 2018-2021)

1. Output 1.5. Inclusive and sustainable solutions adopted to achieve increased energy efficiency and universal modern energy access (especially off-grid sources of renewable energy)

Evaluation Budget(US $):

40,000

Source of Funding:
Project Budget
Evaluation Expenditure(US $):

22,000

Joint Programme:
No
Joint Evaluation:

No

Evaluation Team members:

| Name | Title | Nationality |
| --- | --- | --- |
| Roland Wong | Team Leader | |
| Dinesh Aggarwal | Team Member | INDIA |

GEF Evaluation:

Yes

| | |
| --- | --- |
| GEF Project Title: | IMPROVING ENERGY EFFICIENCY IN THE INDIAN RAILWAY SYSTEM |
| Evaluation Type: | Terminal Evaluation |
| Focal Area: | Biodiversity |
| Project Type: | EA |
| GEF Phase: | GEF-1 |
| GEF Project ID: | 3554 |
| PIMS Number: | 4044 |

Key Stakeholders:
Countries:

INDIA

Comments:

Request to add the project evaluation as it was missed out during the development of the evaluation plan
Recommendations
1

Indian Railways(IR) after completion of the IEEIRS Project, should foster an environment of information sharing between the different divisions in IR, and to personnel beyond electrical engineers.

2

Since the project involve building the capacity of an institution, more care is required in designing the implementation arrangements to minimize delays in the startup of a project

3

Assist the Ministry of Railways to develop a donor-assistance project involving deployment of other unproven technologies that can be applied to lower the carbon footprint of Indian Railways.

4

Sustained and effective engagement by project management personnel is essential in building capacities of public institutions
1. Recommendation:

Indian Railways(IR) after completion of the IEEIRS Project, should foster an environment of information sharing between the different divisions in IR, and to personnel beyond electrical engineers.
Management Response:
[Added: 2017/01/03]
[Last Updated: 2018/01/10]
Key activities needed for the replication plan are included in the draft work plan of the Indian Railways.
Key Actions:
2. Recommendation:

Since the project involve building the capacity of an institution, more care is required in designing the implementation arrangements to minimize delays in the startup of a project
Management Response:
[Added: 2017/01/03]
[Last Updated: 2018/01/10]
Upon the completion of demo and pilot installation, quality work in monitoring and reporting results, including cost-benefit analysis, has been undertaken as a priority. For those demos or pilots for which similar efforts have been undertaken elsewhere in the IR (and this includes many of the demos and pilots), an effort has been made for these other sites to be included in the monitoring, reporting, and analysis work, to provide a richer picture for policy makers. In some cases, for project demos/pilots has been initiated for which there are already other sites in the IR
Key Actions:
3. Recommendation:

Assist the Ministry of Railways to develop a donor-assistance project involving deployment of other unproven technologies that can be applied to lower the carbon footprint of Indian Railways.
Management Response:
[Added: 2017/01/03]
[Last Updated: 2018/01/10]
IRIEEN has been allocated funds for dissemination workshops. Visits to project sites have been organized of supervisors and managers for awareness building on the successful demos (From railways budget). Moreover, CoEs are going to play crucial role on dissemination and replication of the activities in future.
Key Actions:
4. Recommendation:

Sustained and effective engagement by project management personnel is essential in building capacities of public institutions
Management Response:
[Added: 2017/01/03]
[Last Updated: 2018/01/10]
Railways have adopted ten-year energy efficiency and conservation plan which aims at reducing energy consumption by 10 through efficient measures. Moreover, Railways is allocating budget worth USD 25 million per year to upscale activities demonstrated by the project
Key Actions: