Darfur Community Peace and Stability Fund (DCPSF) Phase II (2011-2017) Evaluation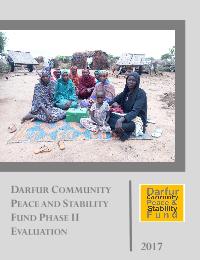 Evaluation Plan:

Evaluation Type:

Mid Term Project

Planned End Date:

11/2017

Completion Date:

12/2017

Status:

Completed

Management Response:

Yes

Evaluation Budget(US $):

85,000
Title
Darfur Community Peace and Stability Fund (DCPSF) Phase II (2011-2017) Evaluation
Atlas Project Number:

00050261

Evaluation Plan:
2013-2017, Sudan
Evaluation Type:
Mid Term Project
Status:
Completed
Completion Date:
12/2017
Planned End Date:

11/2017

Management Response:
Yes

Focus Area

:

1. Crisis Prevention & Recovery
2. Environment & Sustainable Development
3. Cross-cutting Development Issue
4. Others

Corporate Outcome and Output (UNDP Strategic Plan 2014-2017)

1. Output 6.4. Recovery processes reinforce social cohesion and trust and enable rapid return to sustainable development

Evaluation Budget(US $):

85,000

Source of Funding:
MPTF
Evaluation Expenditure(US $):

95,000

Joint Programme:
No
Joint Evaluation:

No

Evaluation Team members:

| Name | Title | Email | Nationality |
| --- | --- | --- | --- |
| Eero Wahlstedt | Managing Director | eero@forcierconsulting.com | |
| Sarah Nijholt | Research Manager | nijholt@forcierconsulting.com | |

GEF Evaluation:

No

Key Stakeholders:
DCPSF donors, DCPSF beneficiaries, DCPSF implementing partner, government bodies and other development actors working on peace
Countries:

SUDAN

Comments:

The main purpose of the evaluation is:

To establish and document the impact of DCPSF funded activities and the relevance of the DCPSF's overall strategy for community stabilization in Darfur; to validate DCPSF results in terms of achievements toward the fund goal and outputs; and to examine to what extent DCPSF interventions supported peaceful co-existence efforts at the community level and strengthened local peace governance.
To assess the relevance, efficiency, effectiveness, economy, and sustainability of DCPSF interventions
To document lessons learned, best practices, success stories and challenges to inform future initiatives.
To formulate informed recommendations on future programmatic vision for DCPSF, including the processes and governance mechanisms of the Fund.
Recommendations
1

Based on the evaluations findings and conclusions, a number of recommendations at project-, program- and process-level are proposed, as well as for crosscutting themes and management.All are under reviews and discussions. Waiting for the final endorsed version by the Steering Committe.

2

Evaluation Recommendation 1 (= 4 Project Level):

M&E systems and conflict types: It is recommended that the M&E systems of partners can capture the different types of conflicts CBRMs engage in, as has been begun in the reporting systems for the CBRM itself, when measuring perceptions in the household level.

3

Evaluation Recommendation 2 (=5: Project Level):

Sustainability of CBRMs: For the sustainability of CBRMs it is recommended to create linkages to information exchange and knowledge sharing. This should not only happen within projects, but also between CBRMs implemented by different IPs in Darfur.

4

Evaluation Recommendation 3 (= 6: Programmed Level):

Follow-up system for CBRMs: DCPSF should consider developing a post-project follow-up system for the work of the CBRMs to ensure their continuation and role in reducing and solving local-level conflicts after projects and DCPSF-funded activities have ended in a community. This could include e.g. regular follow-up visits by DCPSF's field officers and a simple long-term monitoring system. This would help to capture the role and work of CBRMs to be in a better position to know about their development without external project funding. When projects are closed, future follow-on visits could also be announced to the community. This could be a relevant contribution to increasing the sustainability of DCPSF-funded activities and allow the Fund to be in a better position to speak about the impact of its own work

5

Evaluation Recommendation 4 = (7: Programmed Level):

Revise and further develop the Theory of Change: It is recommended to revise and further develop DCPSF's Theory of Change. At the programme level, a theory should be developed how the sum of projects adds up to a programme level impact and how the sum of project-level outcomes amounts to more than the sum of those parts. This includes considering and monitoring possible positive spillover effects between communities, i.e. to monitor whether stabilizing measures and the installation of CBRMs in one community has any positive effect on neighboring communities. It is also not clear whether the contribution of DCPSF to regional peace endeavors should be horizontal (stabilization in key locations organically spreads stability across other locations) or vertical (stabilization below creates pressure for solutions at a higher level). For a meaningful discussion on DCPSFs wider contributions, a theory of change for the expected effects would be required. The current DCPSF theory of change and partner ME systems only apply to the community level, limiting conversation on the topic to highly anecdotal levels

6

Evaluation Recommendation 5 (= 14: Process Level):

Linking DCPSF activities to government: One way of linking activities with the government is to involve the relevant line ministries. For example, the Ministry of Agriculture should be involved in conflicts about natural resources. However, individual IPs may not able to include the government in its activities. As such, it is recommended to ensure involvement from agencies such as the UNDP. If UNDP would take on a role to include the GoS more in the peacebuilding activities, the IPs may be able to better maintain a status of impartiality.

7

Evaluation Recommendation 6 (= 15: Process Level):

Collaboration between three UN funds: It is recommended to continue the efforts to formalise collaboration between the DCPSF and other UN funds, which currently is often limited and occurs on an ad-hoc basis. More effective collaboration would not only make it possible to complement soft activities more effectively with hard activities and continue providing peace dividends past the stabilisation period, it would also provide better opportunities to address all the root causes of conflict and avoid duplication of efforts.

8

Evaluation Recommendation 7 (= 16: Crosscutting themes and management):

Improving monitoring and reporting on gender and female involvement: Currently, the exact number of female members in CBRMs cannot be fully established, as it has not been recorded throughout the program. However, in more recent reporting (post-2016), partners have disaggregated the CBRM members by age and gender. The continuation of this reporting method will produce an interesting dataset and can illustrate trends in the future, and should be encouraged.

9

Evaluation Recommendation 8 (= 17: Crosscutting themes and management):

Better integrating peacebuilding and conflict sensitivity: With conflict being a large driver for humanitarian need (and the potential of humanitarian activities feeding conflict) and a significant impediment to development, peacebuilding and conflict sensitivity should generally be more ingrained in any programming in Darfur, whether through DCPSF or other funds

10

valuation Recommendation 9 (=18: Crosscutting themes and management):

Strengthen conflict analysis: In order for the conflict analysis to become a useful programming tool, it needs to be strengthened. More specifically, it needs to be more in depth and it needs to be updated to accurately reflect the current situation in programming locations in Darfur.