Access to Justice and Rule of Law end of project evaluation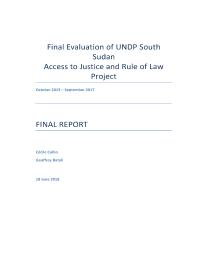 Evaluation Plan:

Evaluation Type:

Project

Planned End Date:

05/2017

Completion Date:

02/2018

Status:

Completed

Management Response:

Yes

Evaluation Budget(US $):

80,000
Title
Access to Justice and Rule of Law end of project evaluation
Atlas Project Number:

00077970

Evaluation Plan:
2016-2018, South Sudan
Evaluation Type:
Project
Status:
Completed
Completion Date:
02/2018
Planned End Date:

05/2017

Management Response:
Yes

Focus Area

:
Corporate Outcome and Output (UNDP Strategic Plan 2018-2021)

1. Output 2.2.3 Capacities, functions and financing of rule of law and national human rights institutions and systems strengthened to expand access to justice and combat discrimination, with a focus on women and other marginalised groups
2. Output 3.2.2 National and local systems enabled and communities empowered to ensure the restoration of justice institutions, redress mechanisms and community security

SDG Goal

Goal 16. Promote peaceful and inclusive societies for sustainable development, provide access to justice for all and build effective, accountable and inclusive institutions at all levels

SDG Target

16.3 Promote the rule of law at the national and international levels and ensure equal access to justice for all

Evaluation Budget(US $):

80,000

Source of Funding:
Netherlands
Evaluation Expenditure(US $):

75,000

Joint Programme:
No
Joint Evaluation:

No

Evaluation Team members:

| Name | Title | Email | Nationality |
| --- | --- | --- | --- |
| | | | |

GEF Evaluation:

No

Key Stakeholders:
Ministry of Justice, Judiciary of South Sudan, Ministry of Interior
Countries:

SOUTH SUDAN

Comments:

Evaluation was succesfully completed
Lessons
1.

Organizational limitations on resources allocations in some sectors constrain the results, which implies that a broader civil service reform would be required (human resources in judiciary, justice, financial management generally).



2.

The commitment of decision makers / commanders within each institution is necessary to implement a proper capacity building strategy and ensure relevant allocations of resources, in first place human resources.



3.

The difficulties and lack of clear framework to measure capacity building highlights the needs to strengthened results-based management. This includes in first place to clearly identify and prioritize interventions with the most of results.



4.

The role of the rule of law sector in conflict affected / stabilization contexts may depend on the provinces. In conflict affected areas, awareness raising bears an interest to mitigate risks of abuses, and to find ways to solve issues through non-violent methods.



5.

The fragmentation of accountability illustrates the fragmentation of the governance and of the command chain. In such a context, expectations on the use of resources and accountability should be defined in details with the partners institutions prior to the interventions, and monitored.



Findings
1.

5 Relevance
5.1 Strategic consideration and comparative advantage
The project was relevant in various aspects, since it met key needs for the implementation of the rule of law in South Sudan and to build local capacities in the
sector while most of the stakeholders have a military background or limited needs. It aimed also to strengthen the State legitimacy by improving the performance of the justice sector and by addressing immediate security threats related to criminal behaviours, as well as to limit abuses on women. It was based on UNDP comparative advantage in country and its unique ability to collaborate directly with State institutions. This comparative advantage was reinforced further with the two crises of 2013 and 2016, which limited the possibilities for bilateral donors to support a conflict stakeholder, while it is UNDP's mandate, as a neutral and multilateral entity. Other comparative advantages include UNDP's technical legitimacy and skills in the sector, especially for a comprehensive and multi-layered approach, as well as its history in the country. According to State partners, UNDP's role is essential in the RoL sector and UNDP was in some cases their only partner, notably for prison or for some State level institutions. UNDP is also seen as the UN operational body necessary to complement UNMISS's mandate. According to one donor, the project raised the attention on Rule of Law by both the GoSS and donors "Without UNDP, GoSS government would not have turned its attention to Access to Justice and Rule of Law (A2JRoL). Similarly, the donor engagement and dialogue, organized by UNDP, would not have been initiated if not for UNDP." UNDP was also the only instrument of the UN community doing development work since there is still a strong focus on humanitarian assistance.




Tag: Relevance Rule of law Donor relations Integration Strategic Positioning Bilateral partners Country Government

2.

The geographic coverage targeted key areas with some relative stability and with a focus on urban centers. Areas of intervention prior to 2013 conflict were the ten states,. Post-December 2013, UNDP suspended field presence in Lakes, Warrap, Unity, Upper Nile, and Jonglei states and relocated staff. The presence of RoL and Law Enforcement advisors got reduced to five states. In the absence of UNDP field presence, UNDP engaged CSOs in Jonglei and Lakes. The key areas of interventions were Aweil Northern Bahr el Ghazal (NBGS), Wau Western Bahr el Ghazal (WBGS), Torit Eastern Equatoria (EES), Yambio Western Equatoria (WES), Bor (Jonglei) and Juba Central Equatoria (CES). This is logical given the focus on institution strengthening, and with the objectives to create champions / dynamics of success which could be replicated afterwards. This is also relevant to target the most populated areas and state services, as well as institutions at central level. However, this does not allow to support areas with the highest level of human right abuses and justice issues, i.e active conflict areas, where interactions between the various stakeholders of the Rule of Law sector could be developed. Rural areas were targeted rather indirectly - essentially through trainings provided to customary leaders - and the coverage and quality of the justice and police system there is limited. Traditional community-based security mechanisms, Monyo Miji, have not been analyzed to date, nor included in the interventions, in contrary to customary justice, but the second series of the ascertainment studies addressed traditional mechanisms of conflict resolution.




Tag: Relevance Human rights Rule of law Operational Services Civil Societies and NGOs

3.

5.2 Contribution to influencing national policies/strategies focusing on human rights protection, gender equality and equitable sustainable development

The project is aligned with national frameworks and contributed to a number of processes with the ratification of international human rights treaties and conventions as well as the development of the institutional framework. In addition, the national dialogue integrates the vision of the rule of law sector reforms and the project supported the development of different components of these strategic frameworks at the national level. The project contributes to the implementation of the Agreement on the Resolution of the Conflict in the Republic of South Sudan, signed 17 August 2015. It falls more specifically under Chapter I, through the support to the judiciary, Chapter II: Permanent Ceasefire and Transitional Security Arrangements related to the Joint Integrated Police; and Chapter V on Transitional Justice, Accountability and Reconciliation, although the latter is related to transitional justice, through the Commission for Truth, Reconciliation and Healing (CTRH), Hybrid Court for South Sudan (HCSS) and Compensation and Reparation Authority (CRA) and does not make reference to access to justice, functioning of the rule of law sector or specific needs of the vulnerable groups It also feeds into the South Sudan National Development Plan 2011-2013 / Realising Freedom, Equality, Justice, Peace and Prosperity for All and prolonged until July 2016




Tag: Relevance Human rights Justice system Rule of law Results-Based Management

4.

Regarding transitional justice, some progresses happened with the Bill for domestication of international crimes and accountability in South Sudan approved by Council of Ministers and sent to the Assembly, as well as with the domestication of international crimes in the Transitional National Legislative Assembly. The legislative framework is being supported through the creation of a technical committee. This resulted from the development of several policy notes on transitional justice. The Commission for Truth Reconciliation and Healing has not been established however.

The project also contributed directly to the drafting of a draft Local Government (Amendment) Bill which will harmonize customary and formal court systems. It also
contributed to the application of various customary laws, which started in 2015 and has been submitted to the Council of Ministers in May 2017.




Tag: Justice system Parliament

5.

In relations to SGBV, a communication was done by the President Office on the subject, through the Joint Communique on Conflict Related Violence, which is followed upon by a specific Joint Technical Committee. In addition, the SPLA code of conduct prohibits SGBV, according to interviewees of several institutions.

In practice however, despite strong commitments of the various institutions in the project, there are a number of mismatches between the project and the GoSS approach and practices to rule of law, largely linked to the past and current conflict situation. First, the State budget is still largely dominated by military expenditures, and comparatively, little funding is allocated to RoL sector. Indeed, in the 2016/2017 budget, almost 11 billion South Sudanese pounds benefits to defence against 3.76 billion to Rule of Law institutions, for a total budget of 33.39 billion. Second, armed forces commit a number of exactions, according to the various interviewees and dedicated studies, notably SGBV, because of the conflict situation. This shows that all stakeholders remain limitedly committed to mitigate such crimes.
Soldiers are often perpetrators of the abuses and the command chain does not always collaborate with the civilian justice system. This varies however depending on the locations and some progresses were identified in some states on this, while it's still quite difficult in Juba, according to the CSOs. Third, there were famous SGBV trials, involving SPLA against civilians in relations to violence against humanitarian aid workers in 2017. They have been prosecuted in Juba by a specific military court, while crimes of defence forces against civilians are supposed to be addressed by civil courts, according to the SPLA code. At the state
level, some interviewees indicated that the roles were clear and that if a soldier would commit an offence to civilians, the commander would allow his transfer to the police authorities. The good collaboration resulted also of some discussions and sensitization of the SPLA. This seems to be a rather ad hoc approach depending on the personality of the SPLA commander, highlighting again the lack of coherence of the governance chain.




Tag: Coherence Gender-Based Violence Rule of law Civil Societies and NGOs

6.

5.3 Consistence of the design, and of the activities and outputs with the intended outcomes and effects & relevance of the Theory of Change

The project design was based on several assessments, which provided baselines, such as a rapid prison assessment 2012. Some further assessments were done over the course of the project implementation, such as an assessment of the SPU in 2014. One of the limitations is obviously the lack of data in the various sectors of the rule of law, which the project aimed to compensate partly through the data management system, and ongoing support to the crime statistics. The intervention logic was defined in the original project document for the Netherlands, highlighting the support to various institutions, both at institutional and operational levels.




Tag: Relevance Programme/Project Design Theory of Change Donor

7.

The programming did not fully integrate all underlying hypotheses, although the project document identified risks in this areas and suggested risk mitigation measures. The two crises in December 2013 and July 2016 strongly interrupted the project dynamics and led to some reshuffling of the project. However, this is not clear if there was a detailed conflict analysis before the design of the project and there was no contingency planning, notably to articulate rule of law interventions with the broader stabilization efforts. In addition, the institutions cannot ensure their minimum duties (such as payment of civil servants) and the minimum maintenance to maximize the outputs of the project. Some interventions appear then relatively sophisticated – albeit compliant to international standards / benchmarks – given the lack of resources of the State. The Emergency Call Center (ECC) for example is related to a US model system, the implementation of IT systems would require a reliable access to electricity as well as some local IT skills for basic maintenance such as antivirus, or software updates. On several occasions, in the areas visited, the State officers could not use the computers because they were blocked by viruses. The project did however include trainings on IT skills, mostly for the use of computer, but this does not appear sufficient to cover all the aspects of maintenance or technical assistance and follow up in that respect. Also, the 2016 annual report indicates that "Only 52 percent of the calls were responded to, largely due to the fuel shortages and SSNPS' budgetary constraints. The PCRC in Gudele collected money from the community to assist the ECC in deploying in that neighbourhood, as it was seen as an essential service by community leaders." The State financial allocation was hence not consistent with the project results.




Tag: Relevance Human and Financial resources Jobs and Livelihoods Technology

8.

6 Effectiveness
6.1 Achievements of project results
The project implemented a relatively high number of activities: in January - August 2017 only, over 78 activities were put in place, for a total number of 5 736 women and 25 760 men 17 beneficiaries.

Some progresses took place for all of the strategic objectives, although quite restrained for what concern transitional justice, whose mechanisms are yet to be put in place. The level of achievement of the targets is in annex 4 for the general indicators at the Country Programme Action Plan (CPAP) / CPD level, and for the project output indicators. In general, almost half of those targets have been reached and exceeded, mostly in terms of number of training beneficiaries or outreach activities. Based on those indicators, the main gaps concern ID registration and transitional justice then. There were limited indicators related to the mobile courts, which did not function as such. Interventions not executed cover :

- some trainings of judges on international law and transitional justice - but some other trainings took place -,
- organization of the national rule of law forum - the customary leader yearly forum was conducted on the other hand -,
- development of policies and mechanisms to address alternative dispute mechanisms and detention options - but a position paper with recommendations
for amendments on legislation was drafted.


Those indicators and the annual reports do not make reference to the evolution of the case backlog, but to the percentage of the cases recorded completed, with a target of slightly over 60% (often achieved).




Tag: Effectiveness Gender Equality Justice system Rule of law Capacity Building

9.

The project put in place capacity building initiatives through various tools, based on the general project objectives but with some level of flexibility for ad hoc support and opportunities.
Capacity building took place in the various Strategic Objectives under the form of technical assistance and trainings. They were articulated to the implementation of the interventions in the various sectors, and as such - to some extent - the evolution of the availability of the statistics is an indicator of the capacity building results. There are however no intermediate indicators / targets out of those results and the activities implementation. The number of trainings was particularly significant: 60 trainings (counting each participating institution as a separate training) in 2017 and 31 in 2016. They supported the various processes and services implemented by the project, as capacities and knowledge to perform their duties, notably on the following topics:
- SGBV (382, including 293 women)
- Community policing (641 police personnel and community members, including 180 women)

-ECC functioning (809 people, including 33 women)Case Management System (25 people) Principles of Law and Human Rights, as well as dissemination of the ascertainment studies for customary leaders (516 chiefs, including 74 women)
- International Justice and Human Rights
- Paralegals, for legal aid mediation purposes
- Trauma management (over 1000 people)
- Vocational trainings for inmates and returnees (557 inmates and prison personal in 3 benches of with new skills).




Tag: Effectiveness Gender-Based Violence Rule of law Jobs and Livelihoods Technology Capacity Building Technical Support

10.

Institutions interviewed highlight the usefulness of the technical assistance conveyed by the Chief Technical Advisors (CTA) and UNVs on a daily basis. The ToRs of those assistants were however not always very clear for the partners and in some cases, they were used as secretary or to transfer requests for funding/messages to UNDP. This said, the different methods and channels for capacity building combined various leverages on both the supply and the demand for justice, which triggered some changes and local dynamics towards Rule of Law. Paralegals trained brought with success assistance to victims, even after failure to get supports from customary courts 19 in case of divorce, or to keep properties after the death of the husband and refusing to marry one husband's brother as per the customs. This was done through mobilizing community members. This also contributed to increase the role of the training beneficiaries in their communities. For example, a paralegal became member of the Coalition of State Women and Youth organization in former Eastern Equatoria State. Besides, though the project did not plan for follow-up of the beneficiaries of the vocational trainings, according to the prison staff and training center personal, some developed businesses based on what they learnt with success.




Tag: Effectiveness Gender-Based Violence Rule of law Jobs and Livelihoods

11.

The project contributed to the drafting of a number of knowledge products, such as ascertainment studies, training manuals, guidelines, which constituted essential tools for Rule of Law implementation and which contributed to streamline the information and data on practices and normative frameworks. They are not always fully disseminated or available to local stakeholders though, notably in local languages (the latter was planned for the ascertainment studies).




Tag: Communication Knowledge management

12.

Several infrastructures were built as part of the project. This includes:
- Renovations of prisons in Yei, Wau, Aweil and Juba
- Building of the vocational training centre close to Juba Central Prison
- Renovation of six SPUs in Aweil, Torit, Wau, Awiel, Rumbek, Munuki, Juba.
- Building of an SPU in Malakia (Juba)
- Renovation of the ECC
- Equipment of three community aid posts in (Rock City, Hai Mauna and Gudele)
- Relocation and equipment of Juba College of Law

No new facility was built for the Ministry of Justice (MoJ) / judiciary, since it was a component of previous interventions. The institutions indicated that they were not always involved in the full project design e.g. some police stations were constructed without the participation of police engineers, and some construction issues happened in various locations, such as in the prisons in Juba. According to UNDP, those issues may also relate to staff turnover, the new staff not being aware of what was done and decided in the past, since there is frequent communication, notably in the RoL forum. A joint project board/committee was also established for the construction of Juba college of law.
The infrastructures are also misused in some cases. For example, SPU rehabilitation rooms are used as detention centres, or the police station chief utilizes the SPU office, as well as the computer provided by the project. The team observed that SPU built within a police station included a specific jail for women, while there was already a custody for women in the police station, and hence the new cell was used as a storage space or not used. Also, some infrastructures were built in previous interventions – and were hardly used. This is the case of the Rumbek centre for customary law or some training facilities in Rajaf and Aweil.
In some cases, the rehabilitations were rather minimal and represented a small step forward before further potential interventions, which the institution cannot pursue
actually. For example, in Aweil's prisons, the project built a fence for a potential prison field, which is not cultivated because of lack of seeds and tools.




Tag: Effectiveness Reconstruction Operational Services

13.

In terms of processes and improvement of the services to the population, some progresses happened to various degrees in relations to the diverse initiatives, as
indicated below.
Case Management System, mobile court and arbitrary detention
Some statistics are available on crimes and inmates. The case management system is not fully functional, and requires support from a UNDP consultant, but statistics are hardly consolidated or available for all the geographic areas and institutions, at each stage of the process (identification, registration, potential prosecution etc...)
The mobile courts could hardly be put in place but the RoL forum conducted specific actions to address issues of cases backlogs and overcrowding of prisons. Interviewees indicated that there was no concrete plan on how to implement the mobile court (in contrary to case management – based on the Ugandan model), and the system sometimes did not achieve its full purpose. Judges were indeed only positioned in Juba Central prison, and addressing new cases, not specifically old ones to reduce the backlog. According to the interviewees, the system did not reach out to the states or to other courts, such as Appeal and Supreme Courts. The lack of visibility on the backlog of cases restrained also the most efficient tool of this system. UNMISS indicated to be able to provide for transportation of judges in the future in order to start reducing the backlog of cases at the states level.




Tag: Effectiveness Election Rule of law Social Protection

14.

ID registration
The project put in place databases of the staff for the police and prison and started the process of issuing ID cards. The crises compromised the process since several
thousand police staff fled and new recruits arrived. In 2016, the targeted police personnel for completion of data verification process and issuance of identity cards reached 25 276, out of a total of 35 778 police personnel. Three states were excluded because of the ongoing conflict. 15 036 (59%) were issued identity cards. 15 202 prison personnel in ten states are registered and 6 347, (41.8%) personnel have completed the verification process and have been issued identity cards.




Tag: Human rights Rule of law Operational Services

15.

Legal Aid & Justice Confidence Center (JCC)
The project assisted around 930 people in legal aid, of whom 2/3 of men. Legal aid was piloted in 2014 with only 6 beneficiaries, while objectives were exceeded in the following years. It overwhelmed expectations in 2015, when 161 people (67 female) received legal aid services in Central and Eastern Equatoria and Northern Bahr elGhazal states, against 30 planned and in 2016, with 769 (including 289 female) against 120 people targeted. JCC also conducted legal awareness raising activities in six states, reaching out to several thousand people. An estimated 82 000 listeners received radio broadcast messages on human rights, in particular the right to fair trials, equality before the law and freedom from torture. The team did not receive detailed statistics on the nature of the cases and support provided by the CSO (mediation, prosecution, support to a victim or not, ethnic group).
In some areas, CSOs get the cases since they have good connections with the police stations, who call them when cases arrive. This may imply some kind of competition between the various CSOs in Juba to be contacted by the police, while there is only one per site in the states. Legal aid is provided regardless of the nature of the issues, and the status of the victim (perpetrator or victim). The evaluation team also noted a lack of synergies between partners in relations to legal aid. In the areas visited, members of the Rule of Law forum do not know the JCC (in some extent even the RoL advisor), and legal aid remains clearly insufficient to support victims.




Tag: Human rights Justice system Operational Services

16.

ECC
The ECC in Juba attended to almost 15 000 calls. From 15 July to 31 December 2014, the ECC answered 6 083 calls including 810 medical emergency calls and 171 SGBV cases. In 2015, there were 6 865 calls, including 2 442 crimes against body,1 551 crimes against property, 1 363 medical emergencies and 328 SGBV. In 2016, the ECC in Juba received 1 988 calls and responded to 1 037 calls, including 76 SGBV cases, 777 crimes against the body, 489 crimes against property, 143 traffic incidents and 404 medical emergencies. Only 52 percent of the calls were responded to, largely due to the fuel shortages and SSNPS' budgetary constraints 21 . The 2016 results are noticeable: the recovery of six vehicles, the arrest of 871 people and conviction of 560 of them, mostly for robbery / killing and looting. Seven cases of rape were apprehended, while four other perpetrators escaped. One serial killer was captured. Two children were rescued from human trafficking. The results also comprised arrest and killing of two soldiers that tried to escape for armed robbery at day time, and of three soldiers committing crimes. The force also arrested policemen committing offences, some of which were convicted. This highlights the significance of the ECC as an instrument to support rule of law. Over 1 000 police officers were trained of whom 759 remained in the team, including 46 women. Their motivation was sometimes uncertain - and the number dropped - as they face significant risks during the interventions. Indeed, four officers were killed and eleven wounded. They got no incentives and even medication was difficult. To some extent, the responsibility of this type of intervention now shifted to the Joint Integrated Police (JIP) 22 , but there is no more emergency response. The original target of people assisted was 25 000 in 2016 (while over 1 000 calls were indeed responded as indicated above) but the ECC stopped along with the 2016 crisis. Ad hoc alternative mechanisms were put in place, since some community leaders / members are more in contact with the population, - owing notably to community policing – and then contact directly the intervention forces of their area, and they react to this. Because of the crisis, the project could not implement the ECC planned in Wau.




Tag: Effectiveness Emergency Relief Social Protection

17.

SPU
The team did not identify comprehensive statistics on the number of cases addressed by the SPUs. The number of cases recorded in some stations is relatively limited - only a few in a month in Juba -, which raises also questions on the need for specific facilities. On the other hand, in other areas, Aweil for example, more than 200 cases were recorded in the first 10 months of 2017, for which fines were paid, illustrating the usefulness and results of the protection unit. Looking at the statistics for the first quarter of 2017, most cases concern adultery however in WBGS (39 cases against 7 rapes and 9 defamation) and NBGS (22 cases against 4 rapes, 9 defamations, 9 assaults and 11 domestic violence). Hence, the SPUs are not necessarily mostly used to support access to justice for women, but also to prosecute them. Women indicated nonetheless that the SPUs were of great interest for them as a safe place where they could take refugee, which in the case of domestic violence would often occur at night. However, it was sometimes difficult for them to go there as they would be immediately identified as SGBV victim. For this reason, they would also sometimes prefer to go there at night to report cases, although this is hardly possible since SPU are not equipped to host women at night (no light, no room, guards asking the victims arriving in the evening – when the abuses most likely occur - to come back at day time...). This highlights the need for specific women centres more generally, not specifically for SGBV, which could be also used as shelters. Women also mentioned that they came to the SPUs since some people supported them to come here and that they would not necessarily dare to file a claim on their own. This highlights the need for support to victims even for those initial steps. SPU desks are not in place at the hospitals in Aweil and Torit. In Juba, this is just being put in place by UNFPA, and implemented by IRC. The functioning of the SPUs faces some challenges related to the availability of A forms, for which victims have to pay. In one SPU, the victims have to go to the market to print the form bring it back to the SPU, and then can go to the hospital with the form. Also, there is still a lack of female investigators to be able to register the cases accurately since women would not be so frank with men than with women, though the professionalisms of the men agents in SPUs was confirmed by the victims interviewed.




Tag: Effectiveness Gender-Based Violence Social Protection Refugee

18.

External factors affecting the results
Out of the security issues and logistical challenges, the availability and management of resources by the government are major constraints, in terms of finances, tools,
equipment and human resources for the various Rule of Law institutions. A four months judges strikes occurred in 2016/2017, which impacted negatively on the project
dynamics. Traditional practices remain strong and can provide more interests to the victims. Customary leaders and some police officers were sensitized to refer the SGBV cases to the SPUs but this is not done systematically, according to interviewees. Perpetrators would sometimes arrange with the police through bribery and then the case would be dismissed, or marriage arranged. The needs remain also huge and several informants highlight the fact that the project is just "scratching the surface".




Tag: Challenges Effectiveness Gender-Based Violence Human and Financial resources

19.

6.2 Results at outcome level
Based on the CPD indicators, the level of progresses of the yearly targets at outcome level was on track in 2014-2015, except on the third indicator on transitional justice mechanisms, but out of track in 2016. This highlights the impact of the 2016 crisis, in delayed the results and breaking some of the RoL dynamics. The project had originally an ambitious goal of 16 governance and security reforms implemented, of which only 2 were actually passed (CTRH and domestication of international crimes in the Transitional National Legislative Assembly). Some progresses happened in 2014 and 2015 regarding the decrease of crimes, and particularly security perception, while this could not be measured in 2016. In annex 5 is a table which indicate the level of achievements of the targets.

The Community Security and Small Arms Control (CSAC) project commissioned perception studies in 2015 and 2016. According to these, the perception of the security at the community level security and incidence of SGBV did not evolve much in two years, especially since the 2016 violence outbreak affected the situation. In the baseline, 39.6 percent of the interviewees observed that the rate of SGBV incidences decreased but in the endline only 19.4 percent noted a decline.
This is not a consistent trend for all the states, but there is no overall trend based on the project main areas of interventions.




Tag: Effectiveness Gender-Based Violence Public administration reform Rule of law Security

20.

The studies also indicate an upward trend was noted on confidence in police ability to assure justice. Baseline was at 28.7 percent and endline was at 52 percent.

More generally, based on the evaluation team's interviews, organizational changes contributed to the transparency and consistency of the procedures, notably detention periods: stakeholders know that people cannot be kept over 24 hours in preventive detention. This also led to a decrease in arbitrary arrests by various authorities. Duty bearers now feel guilty since they understand more the consequences of non-respecting the procedures and of compromises. People are also increasingly reporting to the authorities and CSOs.

Community policing had results in terms of a reduction in crimes, according to the police staff. The approach was able to solve specific incidence of insecurity / criminality in some locations. The ECC also had similar results Juba. This trend is confirmed by the overall crime statistics in the seven stable states, since they indicate a decrease of the five major crimes between 2013 and 2015 24 from 37 855 in 2013 to 27 588 in 2015 and 23 144 in 2016 for the total of crimes.

The project also had some results in terms of prevention. Women interviewed indicate that SGBV or domestic violence were less of a threat since the perpetrators knew that they could be arrested and prosecuted if they committed such crimes / abuses.




Tag: Effectiveness Gender-Based Violence Anti-corruption Policies & Procedures Civil Societies and NGOs

21.

The project played a role in reinstating some State authority and legitimacy by strengthening the Rule of Law sector: improvement in the normative framework and its
implementation, abilities of the different institutions to perform their duties and increased access to justice for vulnerable groups in urban centres.
The ascertainment studies contributed to provide references and streamline the different practices for customary justice within each ethnic group, in a context
where there are "customary courts under each tree" according to one interviewee, and many ways to interpret the customs, as well as a number of inadequacies with the formal justice system. The project supported in addition the implementation of the peace agreement, in particular mobilizing customary leaders for its implementation, and in bringing up expectations in that respect. There are still serious needs in terms of consistency and knowledge of the legal framework by the practitioners notably. They indicate for example that some law texts have not been found, although they have been voted according to the official records.
There is then a need for a specific repository, possibly online in order to be accessible throughout the communication network. Interviews also stress the limited coverage of courts and lack of judiciaries personal. The Rule of Law forum constituted also in local mechanisms to address specific localized rule of law issues, such as the conformance of the customary courts.

The project also created demand for more security and police. Interviewees mentioned for example that in Apada, a community took the initiative of building a police station to ensure the permanent presence of the police in their area. Some also supported the building of a dedicated building for the SPU.

Despite those progresses - which remain fragile and as such should be sustained -, the challenges and needs to Rule of Law implementation in South Sudan remain extremely high given the context. Some key informants of the State institutions even indicated to the team that "Rule of Law is a lie in the current situation and will never happen in a situation where soldiers are out of everything". The political economy and power interests around the various positions also put a significant constraint on the governance dynamics.




Tag: Rule of law Peace Building Vulnerable

22.

The project had linkages with various UN organizations based on their respective mandate, notably UNWOMEN on SGBV and in the development of the training manual for traditional leaders and actual training of traditional leaders, with UNMISS/UNPOL on community policing, UNFPA for the one stop shop of the SPU at the hospital and IDLO for the support to the Law Revision Committee. A coordination mechanisms exist amongst UN organizations, mostly documented for the early years of the project, but there is no integrated programming amongst UN organizations, around a common stabilization framework or peacebuilding plan designed by the State for example, as it would be the case when there is a peacebuilding fund for example. Obviously, there are also direct complementarities with UNMISS, which has strong human resources capacities (in Aweil, while the UNDP rule of law officer is alone, there are around 8 people in charge of human rights and 12 on civil affairs). UNMISS however has not the mandate or technical capacities to implement projects directly. Nonetheless, they sometimes provide operational support to RoL institutions, for example by distributing A form on a daily basis.




Tag: Effectiveness UN Agencies Coordination

23.

At UNDP level, synergies were more on an ad hoc and operational basis than at strategic level, which would imply clear articulations/interactions/capitalization of the various projects within a strategic or stabilization framework. Synergies existed at the local level. In 2014, A2JRoL implemented the BCPR"Strengthening National Capacities for Early Recovery, Peace Building, and Reconciliation Programme" along with CSAC and Inclusive Growth and Trade Capacity Development (IGTCD) projects in Protection of Civilian (PoC)site 1 in Juba, CES and the IDP camp in Mingkaman, Lakes state. There is the potential for more synergies with CSC, since it putin place support to mediation at the community level and establish peace committees. They could constitute relays for the RoL interventions, participate in some RoL forum, and convey cases to the justice system. The UNDP Intergovernmental Authority on Development (IGAD)project also deployed a staff at the police service for civil service reform from a South South mentorship angle. Reports indicate the participation of IGAD'sautomative advisor in the technical committee for the vocational training Center, IGAD Information and Communication Technology specialist for the prison personnel registration, IGAD Civil Service Support Officers for assistance in inmate and crime statistics databases and support to SSNPSS and NPSSSon IT, communications, forensics sciences, automobile engineering, and financial management.




Tag: Effectiveness Rule of law Programme Synergy Peace Building Jobs and Livelihoods Technology South-South Cooperation

24.

6.4 Positive or negative, intended or unintended, changes brought about by the project's work

The project covers a broad spectrum of interventions, in a complex context. As such, it is difficult to apprehend the various levels of effects accurately, highlighting the need for a strong and robust monitoring and risk management framework. Some indirect effects concern activities put in place to ensure the project result's intermediary steps to maximize the success of the interventions. Those steps were not clearly outlined/defined originally. For example, the 2014 annual report indicates that to enhance service delivery and reduce ECC's response time, UNDP also supported the Juba City Council to install road names at 32 junctions in Juba city. A total of 64 streets, 123 avenues, and 45 junctions were identified for naming in three phases. This led also indirectly to defining bus stops.

Some potential negative effects appear in various areas of interventions.

In some cases, the activities of the project have the potential to put its stakeholders at risk. Youth sport of community policing may be subject to threat if their collaboration with the police is known, which is in particular the case when they patrol with the police. In Apada, the youth leader involved in community policing got his house burnt, though the team could not investigate the circumstances of this problem and if there were other reasons than participation in community policing.For this general issue, UNDP staff indicated that a mitigation strategy was put in place, consisting in involving the youth or the community overall, and not identifying publicly the small group of youths who work regularly with the police.




Tag: Effectiveness Service delivery Operational Services

25.

Some negative effects also reflect the general weaknesses and specificities of the legal and operational framework for the RoL sector, notably the legal framework and customary justice practices. SPUs are used generally to address the cases involving women and juveniles, which means also -as indicated above -that cases of adultery are addressed by the SPUs. In Aweil, four women -including one with a baby -were in the SPU pre-trial detention for that reason. Adultery actually represented most of the cases addressed by the SPUs in some states, based on the 2017 ECC statistics. The detention condition in the SPUs also mirrors the general livelihoods challenges in the country, and in prison in particular. In some cases, women and youth in custody are left without support and don't get food, the same occurs with the juvenile. The team saw cases of youth who were there for more than a day without any food, since they don't always have relatives or even the SPU would not have the means to seek and inform the relatives systematically. To mitigate this, attention should be paid to prevent and reduced detention in those facilities, by providing an even more integrated support with follow-up on the referral mechanisms to the court, by ensuring also that relatives are informed of the detention, or social assistance NGOs / associations / CBOs if there are no relatives, or by linking the detention with the prison systems mechanisms (taking into account also their weaknesses). Increased prosecution of some cases can also lead to prolonged detention since the police have limited -if any -transportation means from the custody to the court -. Such case was reported in Aweil in relation to the SPU activities. Legal aid also includes support to the perpetrators, and not only to the victim, which is part of the rationale that justice must be accessible to everybody and then coherent with rule of law concepts. However, the balance of the support provided to the two types, perpetrator and victims was not obtained by the team. Besides, some CSOs indicated that they provide assistance in mediation, and not prosecution, in the case of SGBV, depending on the wishes of the victims. Victims find indeed a more direct interest in getting financial compensation, notably given the poverty context. This is not coherent with the overall objective of the project on access to justice. Here again, statistics are not available. Customary practices and weak State institutions impact on the quality of the delivery. CSOs funded by the project did not have a consistent approach in ensuring the respect of formal justice system.




Tag: Youth Gender-Based Violence Justice system Rule of law Civil Societies and NGOs

26.

6.5 Gender Considerations

The project took into account gender both in its approach, content and results. Gender perspective was included in the design, implementation and monitoring of the access to justice interventions. The A2JRoL project took into account more specifically the needs of women with a specific angle on SGBV. The team did not identify either specific analysis on gender per se or specific sections on gender in some of the deliverables, such as the ascertainment studies, but those studies include gender as a cross-cutting aspect. In addition, there is no clear analysis of the specific needs or men, and other specific needs of women in relations to the South Sudanese context and the conflict settings. Men are indeed victims of specific types of violence, directly as the main actor of the conflict, or indirectly as victims of pressure to be involved in the conflict and commit violence, or victims of the conflict in their community. In some countries (Democratic Republic of Congo for example), some awareness and dialogue is initiated on the meaning of masculinity and relationships between masculinity and violence27. During the implementation, statistics were disaggregated by gender and efforts were made to support the inclusion of female state officers in the various interventions, as well as women from the communities, notably for community policing. The project however promoted women participation, in some cases through request for specific ratio of women, or for trainings specifically dedicated to women. However, in terms of participation to the activities, the ratio between men and women is obviously influenced by the Human Resources structure of the various institutions, largely dominated by men. Some activities also benefitted mostly men, such as legal aid. Gender marker started being used as of 2016 in the UNDP annual Work Plan, ROAR and CPD. They are also included in the new project document for the second phase, where the various outputs are rated 2 or 3, the highest grade, but the consistency of the rating cannot be assessed at this stage.




Tag: Effectiveness Gender-Based Violence Women's Empowerment Rule of law Capacity Building

27.

7Efficiency

7.1 Efficiency and cost effectiveness of the implementation strategy and approaches, conceptual framework and execution

The various outputs had significant differences of budget, the smallest amount being logically for the output 3 of harmonization between customary laws and the legal framework. Based on the project structure and interviews, infrastructures and personal costs represented the main expenses.I n comparison with the amounts in the Netherlands project document, the difference in funding is relatively important for the first two outputs(see the table below), indicating that the project could leverage additional funding, as shown in the table below. Consequently, the results of the project team go beyond the sole results of this project, and their efficiency is higher than the project. Indeed, the rule of law project team developed other interventions based on the implementation of the peace agreement and the evolution of the context, such as the Joint Integrated Police.

The actual expenditure rate with respect to what was planned in the project document is relatively good. The highest budget delivery rate was in 2015 with 7,748 million USD and 91%, against 69% in 2013 and 70 % in 2014, with the interruption caused by the December 2013 crisis. The details by year and by output are available in annex.




Tag: Challenges Efficiency Human and Financial resources Ownership

28.

The project efficiency challenged to some extent the functioning of the CSOs. They reported that they could not always include their personal costs in their budget, and needed to ensure synergies with other projects to cover them. Some CSO staff also operated on a voluntary basis because of this constraint, even during a whole year. In particular, in the PoC in Juba, a young graduate provides some assistance voluntarily to his community, in relations with a CSO but without any further support yet.

The need for call for proposals based on UNDP procedures may sometimes contradict the overall institutional support request. For some trainings, external trainers had to be hired based on a competitive process, while potential trainers were identified in the institutions, which led to an increase in cost. It would then be relevant to ensure that preidentified staff from an institution can apply to those tender processes.




Tag: Challenges Efficiency Human and Financial resources Policies & Procedures Civil Societies and NGOs

29.

7.2 Sensitivity to the political and development constraints of the country

The project adjusted to the evolution of the context and as such took into account the political and development constraints of the country. Determining a strategic sequencing approach in a context where specific priorities will change rapidly and where legitimacy, social division/cohesion, incentives, and power dynamics are a serious issue, is a real challenge. Consolidating existing processes, focusing on medium-term plans that could yield pivotal change was the value UNDP brought to national counterparts.

A conflict sensitivity analysis was published in April in 2014 crisis. This analysis highlighted "the need to a disaggregated approach geographically with support limited to non-conflict states; closer engagement with civil society actors in the process of institutional reform and extension of justice services; integration with community focused conflict resolution and peace and reconciliation programmes; increased coherence in our state level interventions".The validity of the project, despite the crises, was also confirmed after the 2013 crisis through a programme criticality assessment of all the UN interventions in country.




Tag: Challenges Efficiency Country Government

30.

SGBV became a major focus of the project, which shows an attention to the conflict context and the level of abuses on vulnerable groups. The project followed upon the evolution of the context and opportunities/needs also by adding new components: two concept notes were developed one for the Joint Integrated Police (approximately 16 million USD) and one for Transitional Justice (approximately 8 million USD). At the level of beneficiaries,the specificities and complexity of the context were not systematically addressed. The level of access to justice of the different ethnic groups has not been clearly analysed and there are limited data on potential direct or indirect barriers to access to justice for the various ethnic groups. There is no tribe disaggregated data in A2J services, which seems relevant given the sensitivity of the subject. As mentioned above, some major abuses are still not addressed, such as SGBV abuses around PoC, which bear a strong political aspect, notably in terms of perception of the equity of access to justice by the various communities. This said, the reduction of abuse is not the sole responsibility of this project, since it needs multi-stakeholder and multi-disciplinary actions. Stakeholders also indicate the interest of extending Rule of Law forum at the county or payam levels to solve local issues, while bringing also the institutions closer to the population. This could be done in some priority areas.

In terms of processes, a risk matrix was established as part of UNDP standard procedures. The project document and reports identified risks in a rather general manner and mostly those related to the project implementation or to the security context, than to the results/effects of the interventions, the targeting of beneficiaries and potential biases. Risks included in the matrix are: logistics, funding level, coordination, culture of impunity and security




Tag: Gender-Based Violence Justice system Risk Management Vulnerable

31.

7.3 Timeliness

The timeliness of the interventions was obviously affected by the two crises, and the volatile nature of the context. Hence, interventions planned in 2014 suffered from delays since staff were evacuated and only returned in the second quarter of 2014 when the security situation improved slightly. The results related to the various activities implemented highlight the interest of starting to strenghten rule of law even in a conflict context though, notably to limit the abuses, clarify the norms and promote alternatives to conflict resolution through violent modes. Out of the gaps identified in the effectiveness section, the evaluation team noticed in particular significant delays for: -the female dormitory in Rajaf police training center started in 2014 and is still not finalized and handed-over since the Police requested additional work (fence, water, cafeteria, etc). The work was done in 2014 and 2015. -the law revision commission proposal for the update of the Local Government Act have only been submitted in 2016 to the Parliament, while the review started in 2013/2014. The procurement procedures, as part of UNDP general Programme and Operations Policies and Procedures(POPP), impact the delay of the interventions, since the process has to go through UNDP administration even for small amounts of less than 1000 USD. This is also a guarantee of reliability of the expenditures though.




Tag: Local Governance Rule of law Policies & Procedures

32.

7.4 Alternative approaches

Potential alternative approaches would include pooling of resources requiring maintenance (computer or vehicles for example, which could be allocated to RoL institutions/forum collectively, though the feasibility of such an approach would need further analysis). An option would be also to strengthen mentoring compare with ad hoc training, and ensure that the implementation of the training learnings is taken into consideration and monitored. This would mean for the CTA and UNV, strengthening the follow-up of the trainees and follow up on the training knowledge and practice implementation with a documented and formalized monitoring. This could form part of a longer-term capacity building plan for the various institutions. Another approach could be also to target areas/sectors with the highest level of access to justice issues at the community level and put in place bottom up approach compare with top down institutional strengthening. Community involvement in monitoring the access to justice issues could also be strengthened, with specific mechanisms for accountability to affected populations, such as watchdog/surveillance systems. This could constitute a first step for the governance chain and could be linked with the Rule of Law forum. This would be also a way to support data collection. A good strategy would be required to link up the two to have a mechanism for the state-level forums to feed up useful information and recommendations for the national level. UNICEF has a system for collecting the point of view of the population, named UReport, which provides data on community through SMS questions. Such mechanism could allow to strengthen the integration of the population's perception in the programming, at least for population with communication accessand update perception surveys.




Tag: Efficiency Capacity Building

33.

7.5 Project management structure

The project was overseen by a Project Board with a standard structure, according to the POPP and specificities of the project. The Project Board isin charge of meeting on a quarterly basis to provide guidance and review the progresses and reporting. The evaluation team received the minutes of only two meetings from the board, in May 2015 and March 2016, and the structure functioned limitedly. The multiplicity of the meetings and busy schedules of the members explain those issues,in addition to the project interruption due to the conflict. The stakeholders used to meet and discuss the project through other means, such as bilateral meetings and Rule of Law forum. The lack of meetings constitutes however a limitation to a formal planning and monitoring of the activities.




Tag: Efficiency Oversight

34.

The project structure included a project management unit, covering core administrative functions and UNV deployed in the various states. Their work was supervised by UNDP Team Leader and programme specialist. There were strong delays in hiring relevant staff, leading to breaches in the project dynamics, not to mention hand-over/knowledge capitalization issues. Hence, the project manager only arrived in Autumn 2015. The M&E, reporting and resource mobilization was done within the project team, in contrary to what is on the diagram. The process to hire a Monitoring &Evaluation staff started in February 2016 and was completed in November. The team leader and programme specialist played mostly a quality assurance role, and had a remote oversight on the project implementation. The project deployed various technical advisors, CTAs at the national level, and UNVs at the State level, to provide day to day support to the institutions. At the time of the evaluation, there was no CTA at the Ministry of Interior level, since autumn 2016, and no CTA at the Judiciary of South Sudan (JoSS)since the second half of 2016. The role was partly filled by the project manager and the MoJ CTA.The the UNV advisors are supposed to be based at the partner's office but occasionally spend most of the time in UNMISS compound. Their presence was also sometimes irregular. The 2013 report indicates that"the project suffered from inadequate funding resulting in staff posts not being filled (for example Unity State lacks a Law EnforcementAdvisorand a RoL Officer)".In Aweil, there is only a rule of law advisor and then there is no follow-up of the support to the police and prison. In Wau, there is no staff since the 2016 crisis. UNVs were originally hired to work as Rule of Law Officers or Law Enforcement Advisors. In case the two skill sets were not available, (Torit for example), a Rule of Law Officer or Law Enforcement Adviser would perform both duties, while in some others they would only focus on their original mandate. There would then be no support or follow up on the other institutions and specific activities such as community policing. In those cases, some further clarification would be useful on minimal tasks to be ensured in case of the absence of one advisor, and a strengthened support, in terms of tools, training, technical assistance. The UNVs do not always have a strong knowledge of all the institutions out of their original portfolio. Although they receive a general briefing before deployment, UNVs indicated also that they were not always sure of the specific tasks that they should conduct, which meant that the assistance provided varied depending on the staff and their initiatives. Some UNV took the initiative to buy registers with their own money for example. One UNV indicated to have decided to do some day to day mentoring as it seems quite relevant but that there was no clear request for this. In some cases, they are also not fully aware of the project they inherit. For example, one UNV did not know the name JCC, although he was following-up on the CSO grant. There are limited formal lessons learned or knowledge sharing exercise at the project level between UNVs(although there are interactions during yearly meeting to discuss the workplan), CSOs, or between structures implementing similar approaches, such as SPUs or JCCs. The advisors are in touch with each other, more on a personal and ad hoc basis.




Tag: Efficiency Human and Financial resources Project and Programme management

35.

7.6 Usefulness of the monitoring systems and accountability of results

The consultants experienced a particular need to triangulate information collected by various sources. Indeed, there are sometimes contradictory statements on the achievements and results of the project interventions, notably between the Central and the state level. This is partly due to some staff turn-over and limited project knowledge capitalization, in addition to the context.

In the project, the M&E included constant communication at several levels:

-within the project team through weekly internal meetings in Juba, and

-frequent communication between project team in Juba and the UNV,

-as well as between UNDP staff and the partners, through participation in the activities, ad hoc visits and meetings.

-In addition, the team produced regular reporting quarterly and yearly, based on requirements of the various donors (hence up to 14 reports a year). Yearly reports were discussed and approved during the project board.

The monitoring system faced several limitations however:

-There was no staff in charge of M&E and follow up on the reporting. This was a requirement in the project document though, and was discussed at UNDP level but could not materialize before the start of the second phase of the project.

-M&E activities, such as monitoring visits and on the spot checks remain limited, in particular at the State level or regarding CSO grants. Some issues are not identified rapidly(thefts, misfunctioning), and the coherence of the project execution details could improve(by increasing the standardization of approaches between CSO sand UNV)

.-Indicators do not capture the most significant aspects of the interventions. For example, outcome level indicators focus on the number of governance and security reforms implemented, which cannot give an indication of their effects, or focus on the legal aid framework being in place, which does not allow to measure the results of the assistance provided. There is no indicator to assess the evolution of the number of crimes/abuses committed by defence and security forces, or on the evolution of the SGBV cases identified by NGOs / SPUs / Social workers and cases prosecuted. An indicator is also the participation of the media and CSOs to the transitional governance mechanisms, which does not link up with the coverage of those mechanisms and their effectiveness, or on the specific role of the CSOs and media in those mechanisms. Outcome level indicators also focus on transitional justice, while this was not the core of the project.

-Also, the targets and related indicators vary in nature and scopefrom one year to another, and hence it is difficult to assess the evolution of the project performance.




Tag: Efficiency Human and Financial resources Monitoring and Evaluation Ownership Civil Societies and NGOs

36.

8 Partnership strategy

8.1 Adequacy of the partnership modalities

The collaboration with a broad range of partners allowed to address the multi-layer and comprehensive approach, though this could be further extended.

As UNDP programme is under direct implementation, no funding goes directly to the beneficiary State institutions, and this situation is unlikely to change the coming years given the context. There were general assessments of the partners in signing the Letter of Agreement but not clearly related with objectives for progresses as part of capacity building, notably their procedures in terms of human resources, administration and finances. Those are however major weaknesses of those structures and thende detailed analysis. Capacity building plan would be of interest to have a clearer picture of the gaps and provide adequate assistance, if necessary including on some of those aspects, as they hamper the technical implementation of the activities. The involvement of the social workers is partial and their absence was noticeable in the SPUs visited, though they are supposed to be positioned there, and while they play a key role in the referral pathways. More broadly, CSOs on women protection/ shelter were not involved in the project, while assuring their protection is key in the referral mechanism. They also play a role in supporting women, similarly to reinsertion activities / vocational training implemented at Juba central prison. In this vocational training center, the participation of Ministry of Education(MoE)is particularly noticeable, as it ensured that the approach is institutionalized, as well as the efficiency of the center.the ministry of Health was also involved in some Rule of Law forum (Aweil for example).




Tag: Policies & Procedures Civil Societies and NGOs Capacity Building Jobs and Livelihoods Gender Equality Partnership

37.

Interviewees indicate that the project facilitated the collaboration between the various types of stakeholders, notably between CSOs in charge of legal aid and judiciaries, who were previously reluctant to let them access to courts, and with police stations, who contact them for legal aid. CSOs were selected based on call for proposals, and are recurrent partners of UNDP, meaning that there is a rather long-term partnership(taking into account that those NGOs are still relatively new in the emerging nature of the country).UNDP organized the transitional justice consultative process in coordination with the law societies. Law societies were however not involved in legal aid assistance activities, though they can play a significant role, including at the State level. For example, in some countries, such as Philippines, law societies are requested to deal with a certain number of cases pro bon to get their registration. The main involvement of the private sector was during the ECC implementation, with partnerships with MTN, Vivacel and Zain, for the provision of the line 777. There were no formal interactions with the SPLA as part of the project since it targeted rule of law institutions. This is normal to some extent given the context of an active conflict but SPLA play a key role in ensuring implementation of rule of law and in limiting abuses, and as such their sensitization, awareness and knowledge of the rule of law would be key in the South Sudan context. Some interactions took place on an ad-hoc basisat the State level. They were not systematically involved in the rule of law forum, where they could be observer to increase mutual understanding on the roles and responsibilities and challenges face by the various institutions. There are also potential articulations with the security forces for community policing, follow up on the evolution of the crime level, as well as with the prisons and judiciary / justice when perpetrators are soldiers or when soldiers need to report cases.




Tag: Rule of law Partnership Civil Societies and NGOs Private Sector

38.

8.2 Complementarities and overlap with existing partner's programmes

Several stakeholders contribute to the community policing, notably UNPOL/UNMISS, with a relatively good level of coordination. Saferworld is also working strongly on the issue, and took over some of the communities where UNDP started the community policing, though their approaches can vary. For example, Saferworld does not ask youth or community members to collaborate at operational level, for Do No Harm reasons. A key respondent indicated some overlaps on roles and responsibilities by UNDP and DFID in community policing.

The team could not obtain details on the British Council projecton access to justice funded by DfID/ EU32and its specific results, although they are clearly closely related to UNDP's interventions, with similar topics such as legal aid/ assistance to vulnerable and support to customary courts. Those are broad sectors in which stakeholders would not necessarily duplicate given the extent of the needs, the high number of customary courts.




Tag: Partnership Operational Services

39.

There are risks of duplication regarding potential trainings since some stakeholders interviewed indicated that they benefitted several trainings on similar or related issues. There are numerous trainings / awareness raising being conducted on issues such as SGBV. There is overall no common/centralized approach to capacity building, with databases of training participants and their positions, as part of human resources management procedures. Notably, some staff benefitted several trainings in order tobecome trainers themselves, and they could be resource persons not only for a specific project but for all of the international assistance on rule of law.

Some CSOs also received other sources of funding, for example IsraAid, to provide legal assistance to SGBV victims, and to build the capacity of service providers who work with the most marginalized individuals. This includes social workers, church leaders, community leaders, medical personal and teachers. CSOs also organize occasionally some types of Rule of Law forum or trainings to the various institutions.




Tag: Partnership Capacity Building Civil Societies and NGOs

40.

9 Social inclusion

The project board minutes indicate that the specific needs of vulnerable groups are considered as an essential cross-cutting issue(May 2015). This is done by the focus on SGBV, youths and women in relations with SPUs or some trainings, but the approaches to social inclusion are not detailed further.

The youths are included in the community policing but benefit indirectly of the intervention as part of the community, through improved security. Children were also reunited with their family in the early stages of the project. The project did not include the perspective of children in conflict with the law and street children–sometimes involved in small thefts -since it is also a specific subject on its own, according to the project staff. There are no reformatory schools in prisons yet and children coexist therewith other detainees. The project also included assistance to 250 returnees(89 female)in Wau for vocational training, at the beginning of the project, which was followed up by a refresher course. Nothing was done specifically for what concern disabled persons, in terms of targeting, which in the case of South Sudan, could concern post-conflict cases and victims of human rights abuses and violence. Mentally ill are also usually put in prisons, instead of received adequate medical care. The annual report 2015 stipulates that UNDP facilitated the intervention of Handicap International in the prisons for the benefits of mentally ill. Data available on beneficiary of interventions do not indicate specific cases of disabilities though.

The coverage of the interventions is limited obviously(Aweil, Torit, Yambio, Juba, Wau, Bohr), and given the vast number of ethnic groups, 64, in the country, some of them would not be direct beneficiaries(those in the East and West border areas notably, such as Fertit, Bertal, Burum, Toposa, Nyangatum). This does not take count however of the social mix in the urban centers.




Tag: Vulnerable Gender-Based Violence Security Capacity Building Social Protection Youth

41.

10 Sustainability

UNDP clearly operates in a political arena. The projet chose to operate through the selection of pivotal institutions to provide them sustained support on realistic sequencing of efforts since reform and transformation processes are very long-term processes. The project put in place some local dynamics, local processes in the rule of law sector and mechanisms to address specific issues, with coordination and interactions amongst the institutions and between institutions and the communities. There is no self-reliance and no maintenance at the State level for the RoL sector. Given the lack of resources to maintain equipment and infrastructures, human resources and organizational practices are the main drivers for the sustainability of the results.

Though new services were created, the project did not create new institutions and builds on existing longstanding structures. In addition, a certain level of ownership was ensured through the project board. Some interventions have been institutionalized, at the police level, to a certain extent, such as the SPU and community policing, and as such form part of the institution strategy, with a potential for further extension. The ascertainment studies are also prescribed texts in respect of the Customary Law course under the Bachelor of Laws programme of the Juba College of Law. The law revision commission is mandated by the MoJ to draft a legal aid bill, which has not been done yet. Some institutions indicate that they have capacity building plans, however those plans are hardly followed upon since there is no State budget to implement them.




Tag: Sustainability Rule of law Human and Financial resources Ownership

42.

The project was quite efficient in leveraging other funding sources to complement gaps and limitations of this current intervention. Anew phase with a budget of 10,78million USD from the Netherlands started in October 2017, constituting in a follow-up of some interventions. It focuses on issues neglected or insufficiently developed in the previous phase, such as transitional justice and human rights and of key importance given the context, in particular the crises of 2013 and 2016. In addition, Germany is funding in 2017 a 1,35 million USD project focusing on the support to communities, in particular vulnerable groups, in the PoC in Juba and Bor. Besides, the US International Narcotic and Law Enforcement Affairs (INL) supports a 3,95 million USD project in2016-2017 to strengthen SGBV referral paths.The repeated crises put however constraints of the context on the donors involvement in supporting State institutions.

The mid-term evaluation recommended the design of an exit strategy, which was never really put in place, given the context and the extent of the needs, since the project allowed to start dynamics which remain very fragile. Some key respondents in the State institutions indicated however the need to discuss with the counterparts about an exit strategy along the planning and implementation of the project, with a view to increase ownership and implementation of local alternative strategies when possible. Given the lack of resources of the State and the level of capacities, an exit strategy would hardly appear feasible though.




Tag: Efficiency Human and Financial resources Results-Based Management
Recommendations
1

Strengthen legal aid and support to victim for SGBV and human rights abuses. Ensure that legal aid to women victims in all the states are considered a priority to benefit from legal aid assistance, and that strong linkages are established for the referral of the cases by women associations / NGOs to JCC / structures in charge of legal aid. To file a claim and for prosecution, victims need support throughout, from entering to an SPU, so there should be support for it through women associations / NGOs / CBOs starting from the grassroot level

2

Support local initiatives, particularly when it relates to replication of some of the project activities, such as community policing, or possibly of some of the trainings with local facilitators. Even minimal support, such as awareness raising material, leaflet, pictures and billboard would bring some encouragements to develop those kind of self-reliance approaches. This would be also of interest in areas where the project is not developed.

3

Conduct capacity assessment of the institutions to set up clear benchmarks / targets for improvement, potential conditionality's to ensure effectiveness and maximize the resources. Support linkages with broader civil service reform on the functioning of administration.

4

Reinforce coordination with other agencies working in RoL to maximize the coverage of the interventions. In that respect, strategies to reach out to rural areas and non-targeted areas to be developed / strengthened. This should be first the responsibility of the State institutions

5

Ensure that the different levels of the command chain are involved and committed to the interventions, as well as that they concur to the effectiveness of the project. Specific attention could be paid to the commitment of the hierarchy notably to ensure relevant human resources management. This should also include political stakeholders.