Final evaluation - Support to strengthening Rule of Law in Kosovo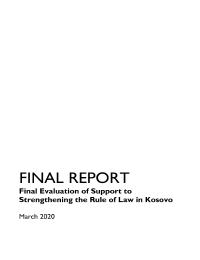 Evaluation Plan:

Evaluation Type:

Final Project

Planned End Date:

03/2020

Completion Date:

04/2020

Status:

Completed

Management Response:

Yes

Evaluation Budget(US $):

10,000
Title
Final evaluation - Support to strengthening Rule of Law in Kosovo
Atlas Project Number:

00092278

Evaluation Plan:
2016-2020, Kosovo
Evaluation Type:
Final Project
Status:
Completed
Completion Date:
04/2020
Planned End Date:

03/2020

Management Response:
Yes

Focus Area

:
Corporate Outcome and Output (UNDP Strategic Plan 2018-2021)

1. Output 3.2.1 National capacities strengthened for reintegration, reconciliation, peaceful management of conflict and prevention of violent extremism in response to national policies and priorities

Evaluation Budget(US $):

10,000

Source of Funding:
Government of Kosovo - 30071
Evaluation Expenditure(US $):

5,538

Joint Programme:
No
Joint Evaluation:

No

Evaluation Team members:

| Name | Title | Nationality |
| --- | --- | --- |
| Dardan Berisha | Local Evaluation Consultant | KOSOVO |

GEF Evaluation:

No

Key Stakeholders:
Ministry of Justice, Kosovo Judicial Council, Kosovo Prosecutorial Council and Kosovo Judicial Institute
Countries:

KOSOVO
Lessons
1.

Effectiveness will increase if beneficiaries are involved in program design: The involvement of beneficiaries and stakeholders in the design of the project has led to improved effectiveness and efficiency in program implementation. The interventions, project activities were designed in a manner as to fit the strategic and operational plans of the institutions, and suitable to their immediate and long-term needs. As a result, all of the project activities were completed in an effective and timely manner.



2.

Intervene from multiple angles: Rule of law depends on a variety of actors including judiciary institutions, government agencies, non-public legal actors, non-governmental organizations, private sector and citizens. The impact on rule of law is therefore dependent on interventions from all these angles. UNDP's intervention was primarily focused on supporting institutions, but effort was also placed in empowering non-legal actors and improving access to justice for vulnerable groups. The intervention from multiple angles helps identify issues in depth and address them from a variety of perspectives such as institutional coordination, capacity building, rule of law reform, Mediation and Public Outreach.



3.

Increase efficiency through digital solutions: UNDP has supported the development of (a) case management system for the Agency of Free Legal Aid; (b) E-learning training module for the Academy of Justice, and; (c) Human Rights database for the Ombudsperson. All of these institutions were of the view that the such digital solutions have improved effectiveness and efficiency and has enabled the design and implementation of data-based solutions. As such they present an important foundation to build on their relevance and impact through future interventions.



4.

Collaborative approach for increased effectiveness: By working under one umbrella, jointly with other UN agencies including, UNICEF, UNWOMEN, and UNFPA, the UNDP has managed to increase the effectiveness, efficiency and the impact of the program. This collaborative approach ensured coordination in support to institutions between UN agencies and improved impact of delivery of content and messages during trainings. Equally important, such collaborative approach between the UN Agencies, contributed in implementing addressing certain targets and indicators within the UN Common Development Plan 2016-2020.



5.

It is important to focus on institutional agenda: It is noticeable that following the adoption of 2015 and 2018 rule of law reforms and the agreement on justice between Kosovo and Serbia, the critical issues on rule of law were the drafting of secondary legislation and support to integration of Kosovo Serb community judges and prosecutors. The project's adaptive management strategies ensured that its support was tailored to the agenda of the institutions. It is therefore critical that rule of law programs are adopted to immediate needs of the institutions, as well as long term objectives.



Findings
1.

UNDP's rule of law program was highly relevant and designed in a collaborative approach with beneficiaries in a manner to address inherited and emerging challenges pertaining to Kosovo's rule of law



2.

The key informants were highly appreciative that UNDP involved the stakeholders and beneficiaries in project design from its outset. Generally, the key informants were of the view that the collaborative project design aligned the project objectives to their strategic plans, priorities and needs.



3.

The beneficiaries were also signatories of the project, and this included the Ministry of Justice, Kosovo Judicial Council, Kosovo Prosecutorial Council and the Academy of Justice.



4.

UNDP has also been effective in supporting coordination, strategic and operational planning between rule of law institutions. UNDP facilitated the establishment of the Rule of Law Coordination Mechanism in 2016, comprised of four directors of justice institutions, and supported by four embedded national legal experts in these institutions.



5.

During the evaluation period, 2016 – present, the Support to Strengthening the Rule of Law project contributed to the increase in effectiveness and efficiency of the rule of law system in Kosovo.



6.

One evident shortcoming in the rule of law program is the implementation of eight simultaneous or subsequent projects pertaining to rule of law and drawing a logic between the various interventions in the project's logical framework



7.

The project partners generally found that the national experts supported by UNDP in their institutions contributed in improving their performance, and deliver their foreseen objectives.



8.

Generally, the project has had success with the sustainability on its support to electronic programs and databases.



9.

UNDP's support was often required because the institutions did not possess sufficient capacities (professional and technical) to address their objectives related to for instance policy or capacity development.



10.

With respect to outcome (a) planning and coordination in rule of law, it is evident that the MoJ Mechanism established with the support of UNDP has led to improved strategic and policy planning on rule of law.



11.

The capacities of the institutions were also advanced by way of developing innovative case management systems and learning tools.



12.

The program had a partial impact in back-log reduction.



Recommendations
1

Follow-up with Ministry of Justice in rule of law coordination and policy planning.

2

Strengthening capacities of legal drafters and trainers.

3

Provide assistance in expansion of free legal aid

4

Embedded support should be implemented with prospect of employment.

5

Capacity development activities should take into account sustainability issues.

6

Strengthen project logical framework and baseline data collection.