BRA/14/G72 ODS Waste Management and Disposal Project MTE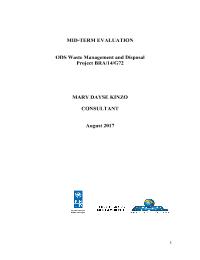 Evaluation Plan:

Evaluation Type:

Mid Term Project

Planned End Date:

12/2017

Completion Date:

09/2017

Status:

Completed

Management Response:

Yes

Evaluation Budget(US $):

25,000
Title
BRA/14/G72 ODS Waste Management and Disposal Project MTE
Atlas Project Number:

00084741

Evaluation Plan:
2017-2022, Brazil
Evaluation Type:
Mid Term Project
Status:
Completed
Completion Date:
09/2017
Planned End Date:

12/2017

Management Response:
Yes

Focus Area

:
Corporate Outcome and Output (UNDP Strategic Plan 2018-2021)

1. Output 1.4.1 Solutions scaled up for sustainable management of natural resources, including sustainable commodities and green and inclusive value chains

SDG Goal

Goal 12. Ensure sustainable consumption and production patterns
Goal 13. Take urgent action to combat climate change and its impacts
Goal 9. Build resilient infrastructure, promote inclusive and sustainable industrialization and foster innovation

SDG Target

12.4 By 2020, achieve the environmentally sound management of chemicals and all wastes throughout their life cycle, in accordance with agreed international frameworks, and significantly reduce their release to air, water and soil in order to minimize their adverse impacts on human health and the environment
13.2 Integrate climate change measures into national policies, strategies and planning
9.4 By 2030, upgrade infrastructure and retrofit industries to make them sustainable, with increased resource-use efficiency and greater adoption of clean and environmentally sound technologies and industrial processes, with all countries taking action in accordance with their respective capabilities

Evaluation Budget(US $):

25,000

Source of Funding:
FML - Multilateral Fund for Montreal Protocol Implementation
Evaluation Expenditure(US $):

10,000

Joint Programme:
No
Joint Evaluation:

Yes

Evaluation Team members:

| Name | Title | Nationality |
| --- | --- | --- |
| MARY DAYSE KINZO | Evaluator | BRAZIL |

GEF Evaluation:

No

Key Stakeholders:
Ministry of Environment
Countries:

BRAZIL
Recommendations
1

Extend the expiration date of the project for five (5) years in accordance with the proposed work schedule presented and approved by the Executive Committee of the Multilateral Fund for the Implementation of the Montreal Protocol at its 79th Meeting, held in July of 2017, in order to allow the activities in the execution and planning stages, including the effective destruction of the 100 tons of identified ODS1 residues, to be carried out.

2

Support the CRAs3 to improve their laboratories. This improvement is necessary so that laboratories can adequately verify the degree of purity of fluids that have undergone regeneration processes. This is the only way for laboratories to certify regenerated fluids.

3

Include in the training programs to be carried out within the scope of the Project emphasis on adequate handling, in terms of storage, transfer, transport and destruction of ODS.

4

Review procedures and standards to include issues about data and information on ODS Waste Management, under development and to be developed in synergy with national programs on energy efficiency and sustainable management of solid waste and electrical and electronic equipment waste, as determined by the Project Document.

5

Conduct, in a participatory manner, the revision of existing national technical standards and others to be created in accordance with international parameters that require viewing and revision simultaneously with the preparatory activities already explained in this document. Industrial and professional associations and related institutions play an important role in this regard.

6

Encourage discussions on specific issues raised during the execution of the activities of Project BRA/14/G72, based on workshops or meetings with the support of industrial associations and environmental agencies

7

Carry out awareness-raising and training activities when possible. Although diffusion of technology occurs relatively quickly, changes in awareness and behaviour of technicians in their work routines may take years.