Terminal Review: Catalyzing the Sustainability of Thailand's Protected Area System (CATSPA) PIMS 3825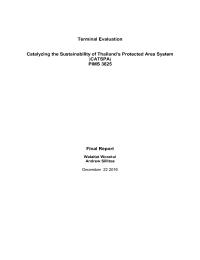 Evaluation Plan:

Evaluation Type:

Final Project

Planned End Date:

09/2016

Completion Date:

12/2016

Status:

Completed

Management Response:

Yes

Evaluation Budget(US $):

25,000
Title
Terminal Review: Catalyzing the Sustainability of Thailand's Protected Area System (CATSPA) PIMS 3825
Atlas Project Number:

00059058

Evaluation Plan:
2012-2016, Thailand
Evaluation Type:
Final Project
Status:
Completed
Completion Date:
12/2016
Planned End Date:

09/2016

Management Response:
Yes

Focus Area

:

1. Environment & Sustainable Development
2. Others

Corporate Outcome and Output (UNDP Strategic Plan 2018-2021)

1. Output 1.3. Solutions developed at national and sub-national levels for sustainable management of natural resources, ecosystem services, chemicals and waste

Evaluation Budget(US $):

25,000

Source of Funding:
GEF
Evaluation Expenditure(US $):

31,071

Joint Programme:
No
Joint Evaluation:

No

Evaluation Team members:

| Name | Title | Nationality |
| --- | --- | --- |
| Walaitat Worakul | National Consultant on Terminal Evaluation | THAILAND |

GEF Evaluation:

Yes

| | |
| --- | --- |
| GEF Project Title: | FS Catalyzing Sustainability of Thailand's Protected Area System |
| Evaluation Type: | Terminal Evaluation |
| Focal Area: | Biodiversity |
| Project Type: | FSP |
| GEF Phase: | GEF-4 |
| GEF Project ID: | |
| PIMS Number: | 3825 |

Key Stakeholders:
Department of National Parks, Wildlife and Plant Conservation
Countries:

THAILAND
Recommendations
1

A 'Road Map Workshop' should be convened before the end of the project with the aim of consolidating the projects achievements and planning the next steps in order to sustain the projects accomplishments and roll out further actions based on lessons learned, thereby serving as a project 'exit strategy'. The workshop delegates should include key DNP staff and stakeholders from each project outcome / individual field project, representatives from the project steering committee and the UNDP. The main areas for discussion should include:

a. National Park Conservation Funds;

b. PAC (Complex and Individual PA level);

c. SMART Patrol/Marine SMART Patrol;

d. Protected Area Management Plan Development / Spatial Planning for Park Management;

e. Protected Area Business Plan Development;

f. Monitoring and Evaluation Tracking Tools and their future implementation;

g. Preparing and disseminating 'Knowledge Products' based on lessons learned.

Based on the outcome of the 'Road Map Workshop' sufficient budget and technical support to implement the 'Road Map' should be sought from government resources, private sector investors and appropriate donors.

2

With the support of the Budget Bureau, Area-Based / Complex PA Management should be extended to other locations in Thailand. The 'Road Map Workshop' can provide the initial discussion forum and set the agenda and timetable for this action.

3

Prior to any future UNDP / GEF project launch with DNP, a 'Project Implementation Rule Book' covering financial disbursement and procurement procedures should be drawn up and agreed between the parties concerned. This rule book should then serve as the manual for all staff to observe during the implementation of the project.

4

DNP should establish a Special Delivery Unit for project implementation to ensure efficient and effective management of the project and sustainability of its results. This unit should also have the remit to develop new projects and seek funding opportunities.

5

Project manager appointed should have knowledge of both DNP and UNDP financial and procurement systems in order to identify and rectify issues and blockages that occur outside of the 'rule book' both speedily and without disruption to the ongoing project operation.

6

Prior to project launch, agreement should be sought from the Permanent Secretary or other high official as to the procedure for non-government participants to attend a workshop or other project activity in order to reduce time delays in seeking approvals.

7

The project management team for the project "Strengthening Capacity and Incentives for Wildlife Conservation in the Western Forest Complex" should review the results of this project and integrate the lessons learned into their activities.

8

During the course of the projects implementations the DNP and local communities have participated in a number of conservation supporting activities at a level not previously undertaken, the lessons learned from this experience should be collated and analysed by DNP and those deemed to be successful integrated into the departments working practices.

9

In order to ensure continuation of activities initiated in the project and their replication into other protected areas in Thailand, e.g. terrestrial and marine SMART Patrol, Complex PACs, working with buffer zone communities to assist with community forest management and reduction of conflicts through the elephant corridor creation of buffer zones etc. DNP should, with the Budget Bureau, National Economic and Social Development Board, and MoNRE ensure that the programmes and strategies governing these activities are adopted into government policy and that continuous funding is identified.