Assessment of Development Results: Kyrgyzstan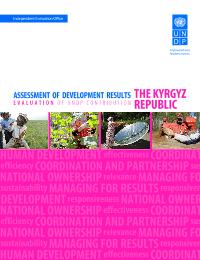 Evaluation Plan:

Evaluation Type:

ICPE/ADR

Planned End Date:

06/2017

Completion Date:

12/2016

Status:

Completed

Management Response:

Yes

Evaluation Budget(US $):

104,000
Title
Assessment of Development Results: Kyrgyzstan
Atlas Project Number:
Evaluation Plan:
2014-2017, Independent Evaluation Office
Evaluation Type:
ICPE/ADR
Status:
Completed
Completion Date:
12/2016
Planned End Date:

06/2017

Management Response:
Yes

Focus Area

:
Corporate Outcome and Output (UNDP Strategic Plan 2018-2021)

1. Output 1.3. Solutions developed at national and sub-national levels for sustainable management of natural resources, ecosystem services, chemicals and waste
2. Output 2.5. Legal and regulatory frameworks, policies and institutions enabled to ensure the conservation, sustainable use, and access and benefit sharing of natural resources, biodiversity and ecosystems, in line with international conventions and national
3. Output 3.1. Core functions of government enabled (in post conflict situations) to ensure national ownership of recovery and development processes

Evaluation Budget(US $):

104,000

Source of Funding:
Evaluation Expenditure(US $):

104,000

Joint Programme:
No
Joint Evaluation:

No

Evaluation Team members:
GEF Evaluation:

No

Key Stakeholders:
Countries:

KYRGYZSTAN
Lessons
Findings
1.

UNDP has provided an important contribution to the Kyrgyz Republic's transition to the parliamentary system, in particular through its support to the conduct of free and fair elections.




Tag: Effectiveness Election Parliament Technical Support

2.

UNDP's contributions in the area of rule of law and access to justice focused on development of the legal framework, strengthening the capacity of key public organizations, legal empowerment of citizens and enhancement of civil society participation.




Tag: Effectiveness Justice system Rule of law Technical Support

3.

UNDP contributed to strengthening the delivery of public services and people's trust in state institutions.




Tag: Effectiveness Anti-corruption Public administration reform Technical Support

4.

Stakeholders praised UNDP's support for the government's efforts to fight corruption and improve transparency and accountability in the public sector.




Tag: Effectiveness Anti-corruption Civic Engagement Technical Support

5.

UNDP contributed to the empowerment of civil society, especially the Public Advisory Councils (PACs), in their public administration oversight role.




Tag: Effectiveness Civic Engagement Public administration reform Technical Support

6.

At the subnational level, UNDP contributed through the ABD approach to the strengthening of local governance and citizen engagement with local institutions, especially where citizens were able to form strong local development structures and where local authorities were more open to involvement.




Tag: Effectiveness Civic Engagement Local Governance Technical Support

7.

UNDP's border management activities strengthened border management systems and contributed to cross-border cooperation among law enforcement bodies, but had less impact on cross-border trade.




Tag: Effectiveness Rule of law Migration Security Technical Support

8.

UNDP mainstreamed gender throughout most activities in this outcome area and actively pursued the participation of women in its activities. Overall, it improved women's awareness of their rights and changed attitudes towards gender equality. UNDP was also instrumental in the development of policy documents that promoted positive changes in the roles and status of women and men. Overall, its contribution can be categorized as gender responsive.




Tag: Effectiveness Gender Equality Gender Mainstreaming Women's Empowerment Technical Support

9.

UNDP's activities contributed to addressing the special needs of vulnerable groups, including women, children, youth and persons with disabilities. UNDP promoted and applied a human rights-based approach to development by strengthening the capacity of rights holders to exercise their claims, and that of duty bearers to fulfil their obligations. Specific attention was paid to the rights of vulnerable groups and their equal participation in political, civil, economic, social and cultural life.




Tag: Effectiveness Women's Empowerment Capacity Building Youth Technical Support

10.

Through its top-down approach to peacebuilding, UNDP strengthened the capacity of state institutions to formulate policies, laws and strategies related to conflict prevention and reconciliation. Although a large body of laws and policies resulted from this work, the capacity of institutions to implement them remains weak and represents a challenge that needs to be tackled more effectively in the future.




Tag: Effectiveness Peace Building Technical Support

11.

Through its bottom-up approach, UNDP supported local governments and communities to act as catalysts of peace by strengthening their capacity to uphold the rule of law and reduce tensions among communities.




Tag: Effectiveness Local Governance Peace Building Technical Support

12.

Support was also given to the establishment of the Monitoring Centre for Inter-ethnic Relations, a conflict monitoring system designed to collect data on inter-ethnic relations and develop policy advice for national and local authorities.




Tag: Effectiveness Local Governance Monitoring and Evaluation Technical Support

13.

By supporting cross-border cooperation, UNDP helped communities engage in cooperative interactions to build trust and find mutually agreeable solutions to cross-border challenges.




Tag: Effectiveness Integration Migration Technical Support

14.

By addressing deep-seated factors that generate and sustain violence in conflict-prone communities, UNDP contributed to reducing tensions and the likelihood of resumed violence.




Tag: Effectiveness Conflict resolution Crisis prevention Technical Support

15.

Recognizing the role of disenfranchised and unemployed youth as drivers of conflict, the programme focused significantly on the empowerment of youth as agents of peace.




Tag: Effectiveness Crisis prevention Jobs and Livelihoods Youth Technical Support

16.

A number of activities under the peace and development programme focused on women's empowerment and gender equality.




Tag: Gender Equality Women's Empowerment Peace Building

17.

Throughout the programme cycle, UNDP contributed to building national capacities for the implementation and monitoring of the MDGs and the formulation of the SDGs.




Tag: Effectiveness MDGs Capacity Building Technical Support SDG monitoring and reporting

18.

UNDP has provided valuable contributions to the development of a number of strategies and plans at the national and subnational level, as well as to creating an institutional and policy framework for trade and private sector development, but there is scope for further improvements in these areas.




Tag: Effectiveness Private Sector Trade and Development Technical Support

19.

Regional and local development was an area where UNDP invested significant efforts and resources. UNDP supported community-based initiatives that enhanced key public infrastructure and services, generated income and employment, and built social capital.




Tag: Effectiveness Local Governance Technical Support

20.

UNDP's activities under this outcome area focused significantly on women. Women's socioeconomic empowerment was a key goal of programme activities at both the national and subnational level. Moreover, most interventions were designed and implemented to ensure that women were fully involved in and benefited from activities. Overall, this component of the programme can be categorized as gender-responsive.




Tag: Effectiveness Gender Mainstreaming Women's Empowerment Technical Support

21.

Overall, UNDP has made positive contributions to the operationalization of sustainable management of energy, environment and natural resources practices in the Kyrgyz Republic by promoting and incorporating to various degrees the principles of sustainable natural resource management, low emissions and climate resilient development into national, sectoral and subnational development strategies, plans and programmes.




Tag: Climate Change Adaptation Energy Natural Resouce management Effectiveness Technical Support

22.

Results in the environment and energy area contributed to reducing inequalities and poverty by promoting improved natural resource management practices and mainstreaming climate change adaptation considerations into local planning processes.




Tag: Energy Environment Policy Effectiveness Inequalities Poverty Reduction Technical Support

23.

UNDP has, to a certain extent, contributed to making DRM in the Kyrgyz Republic gender sensitive.




Tag: Disaster risk management Disaster Risk Reduction Vulnerable Effectiveness Gender Equality Women's Empowerment Technical Support

24.

Overall, UNDP has been effective as principal recipient and largely ensured the uninterrupted supply of drugs and medical supplies, particularly for persons living with HIV. It has introduced new approaches to managing diseases and programmes, including HIV rapid saliva testing and performance-based incentives. However, UNDP's capacity-building work needs further strengthening, particularly in preparing the country for when it takes over the role of principal recipient.




Tag: Effectiveness HIV / AIDS Technical Support

25.

Interventions during the programme cycle were largely aligned with national priorities, strategies and policies; the country's development needs; and UNDP's own mandate and strategy. UNDP effectively adapted its programming approach to the changing needs of the country. The approaches and conceptual framework were, in general, adequate for delivering results but there is room for further improvement in certain cases.




Tag: Relevance Election Local Governance Peace Building

26.

Organizational change initiated by the Country Office in 2012 contributed to improving efficiency and cost-effectiveness, strengthening implementation oversight, simplifying the overall structure of the office, facilitating cross-practice work and avoiding the silo approach.




Tag: Efficiency

27.

The programme has, in general, benefited from a high level of national ownership which has contributed to sustainability.




Tag: Sustainability

28.

UNDP has positioned itself well to contribute meaningfully to the Kyrgyz Republic's development needs. The programme has been responsive to the country's changing context and emerging challenges. The ABD approach has helped the Country Office achieve further integration and synergies within the programme.




Tag: Coherence Strategic Positioning

29.

In addition to close cooperation with government agencies, UNDP also established partnerships with donors, civil society and the private sector. These partnerships, to various degrees, enhanced the impact of UNDP's interventions.




Tag: Coherence Partnership
Recommendations
1

UNDP should further focus its support on strengthening the capacity of national institutions, especially at the subnational level, to implement existing policies and legislation. The focus on implementation will require greater attention to and more alignment with the broader public administration agenda, and in particular more engagement with the civil service reform. The Public Sector Reform Roadmap, approved by the government in 2014, offers UNDP a good platform for delivering its support in this area in an effective way and in coordination with the contributions of other development partners (especially by tapping into the expertise of specialized UN agencies). This work should build on the strong foundations laid by UNDP activities in support of public service delivery, budget transparency, local governance, etc.

2

Capitalizing on its rich experience with local development, UNDP should support the government in strengthening its regional development model and, within that framework, further rationalize, refine and harmonize its own model of support to local development and community mobilization. UNDP is in a unique position to support the government in its attempt to strengthen the model of regional development. In parallel with this process, UNDP should strengthen its own model of local development and community mobilization by building on the ABD approach and other existing frameworks. Also, UNDP should play a stronger role in supporting local authorities strengthen the coordination of the activities of development partners at the local level. Donor coordination at the local level could be linked more effectively to the strategic planning process which UNDP has supported in a number of locations.

3

UNDP should further strengthen its results-based management system and risk management practices and capacities. The CO should further strengthen its results-based management system by upgrading its data collection and M&E systems. Programme synergies should be pursued more effectively by having activities implemented, monitored, and evaluated at the level of the programme as a whole. Measurable indicators should be embedded more effectively into the programme's log frames and other programme management documents. More effort should also be made to further cultivate an evaluation culture among staff and partners. Furthermore, the CO should strengthen its risk management systems and capacities. Potential risks should be identified carefully before the beginning of projects and should be continuously monitored throughout implementation. At the sub-national level, monitoring and evaluation practices and procedures among ABD offices should be further developed and harmonized.

4

UNDP should pay greater attention to the sustainability of structures and initiatives it creates. Sustainability concerns should be integrated more effectively into the Country Office's planning and monitoring processes. UNDP should ensure that all internal and external factors that affect the sustainability of its interventions are well accounted for and assessed at the design stage and during implementation. Management should ensure that all projects have well-defined exit strategies and sustainability plans. The sustainability of interventions should be carefully monitored throughout programme implementation. The possibility for continued support or donor replacement after the end of a project should receive careful consideration and assessment. There is also a need for strengthening the planning and monitoring of pilot initiatives and their demonstration effects, so that their replicability and scaling up are monitored and supported more effectively. Furthermore, the CO's knowledge management system should enable staff and partners to learn more effectively from and be better aware of sustainability successes and failures. In the HIV/TB programme area, UNDP should further strengthen its capacity building work to prepare the country to take over the PR role as planned in 2018.

5

There is scope for UNDP to further strengthen the gender-sensitivity approach and the gender-related impact of its programme. UNDP should further strengthen its gender-sensitive approach when planning, implementing and evaluating programme activities. Gender perspectives should be mainstreamed more effectively in programme design and implementation, in line with UNDP's Gender Equality Strategy. The CO can achieve more gender transformative results by shifting the approach of some of its interventions from "women as victims/vulnerable citizens" to "women as agents of change". At the community level, there is a need for a more active engagement of women in programme activities, especially in peacebuilding and reconciliation. Also, gender-related activities require a stronger M&E framework, relying on more solid and disaggregated evidence. Given that almost 4 years have passed since the Gold Gender Equality Seal was awarded to the CO, UNDP may also consider going through the Gender Seal Certification Process for revalidation, as this process will help maintain a positive and supportive environment for gender equality, as well as revalidate the investment the office has made in the gender area.