Terminal Evaluation of the Project - Expansion and strengthening of the protected area subsystem of the outer islands of Seychelles and its integration into the broader land and seascape – (Outer Island Project)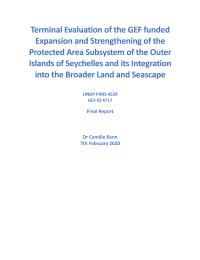 Evaluation Plan:

Evaluation Type:

Final Project

Planned End Date:

12/2019

Completion Date:

03/2020

Status:

Completed

Management Response:

Yes

Evaluation Budget(US $):

20,000
Title
Terminal Evaluation of the Project - Expansion and strengthening of the protected area subsystem of the outer islands of Seychelles and its integration into the broader land and seascape – (Outer Island Project)
Atlas Project Number:

00075876

Evaluation Plan:
2017-2023, Seychelles
Evaluation Type:
Final Project
Status:
Completed
Completion Date:
03/2020
Planned End Date:

12/2019

Management Response:
Yes

Focus Area

:
Corporate Outcome and Output (UNDP Strategic Plan 2018-2021)

1. Output 1.4.1 Solutions scaled up for sustainable management of natural resources, including sustainable commodities and green and inclusive value chains

SDG Goal

Goal 1. End poverty in all its forms everywhere
Goal 13. Take urgent action to combat climate change and its impacts
Goal 15. Protect, restore and promote sustainable use of terrestrial ecosystems, sustainably manage forests, combat desertification, and halt and reverse land degradation and halt biodiversity loss

SDG Target

1.3 Implement nationally appropriate social protection systems and measures for all, including floors, and by 2030 achieve substantial coverage of the poor and the vulnerable
13.2 Integrate climate change measures into national policies, strategies and planning
15.1 By 2020, ensure the conservation, restoration and sustainable use of terrestrial and inland freshwater ecosystems and their services, in particular forests, wetlands, mountains and drylands, in line with obligations under international agreements

Evaluation Budget(US $):

20,000

Source of Funding:
GEF
Evaluation Expenditure(US $):

16,264

Joint Programme:
No
Joint Evaluation:

No

Evaluation Team members:

| Name | Title | Nationality |
| --- | --- | --- |
| Camille Bann | Dr | |

GEF Evaluation:

Yes

| | |
| --- | --- |
| GEF Project Title: | Terminal Evaluation of the Project - Expansion and strengthening of the protected area subsystem of the outer islands of Seychelles and its integration into the broader land and seascape – (Outer Island Project) |
| Evaluation Type: | Terminal Evaluation |
| Focal Area: | Multifocal Areas |
| Project Type: | FSP |
| GEF Phase: | GEF-5 |
| GEF Project ID: | 4717 |
| PIMS Number: | 4529 |

Key Stakeholders:
Island Development Company, Island Conservation Society, UNDP, MEECC, PCU, Seychelles Island Foundation
Countries:

SEYCHELLES

Comments:

The project has been extended to JUne 2020. As stated in the last PIR, the terminal Evaluation has now shifted to DEcember 2019. The CO is requesting that the Planned date is amended to Dec 2019. below is extract from the MTR report. :

TERMINAL EVALUATION: As recommended by the MTR, a request was made to extend the project by 10 months until the end of June 2020. The request was approved. The Terminal Evaluation was therefore rescheduled and will take place in late 2019 or early 2020. PROJECT CLOSURE: Closure is expected to be at end of June 2020.
Lessons
1.

Project Design

Project design needs to be realistic about the realities of working in the Outer Islands considering the logistical challenges and the remoteness of working in these islands.
Risks need to be properly identified especially recognition of a perceived increased risk of cyclones for the country's southern islands.
Indicators and targets should be within the control of the project and realistically set taking into consideration the challenges of working on the OI.
A theory of change should be explicit part of the project design, summarized in diagrammatic form to facilitate understanding of the project's contribution to the specified impacts and factors that have contributed to or hindered project progress towards impact.
Future designing of projects need to have a practical and technical understanding of the OI as well of the Seychelles' political context. Extensive planning and consultations with stakeholders is needed to ensure that the project is well grounded from the start.




Tag: Sustainability

2.

Project Implementation

Coordination and cooperation across stakeholders with diverse interests is essential to successful working in OI.
Close communication and working with IDC as the main partner is critical to ensuring delivery of projects in OI as is IDC's commitment to initiatives.
Processes operating at different scales have to find a connection point, so that they don't operate as parallel processes, but rather become mutually beneficial and aligned.
Inter-disciplinary teams bring benefits. Interaction with others increase the understanding of issues and hence the quality of outputs as witnessed with, for example, the LUPs.




Tag: Sustainability

Findings
1.

Project Design

The project covered four island groups, which was very challenging.Every Island is a challenge and a focus on 1-2 OI sites would be more manageable for future projects.
The GEF project document format is inflexible and unable to accommodate the requirements of SIDS/ OI.
The one size fits all framework does not adequately take into account national circumstances such the size of countries, and issues related to SIDs.
GEF Project design issues are a recurring problem in the Seychelles.There is a tendency to over design projects and make them too ambitious in an effort to meet GEF strategic priorities and design criteria.However, this leads to problems at implementation with project Results Frameworks having to be significantly revised through the MTR.This is not efficient.
A comprehensive capacity assessment of the responsible partners should be done at project design to avoid implementation issues. For example, it was not known at project design that ICS officers did not have the capacity to prepare the marine habitat maps. ?



2.

Project Implementation

Coordination and cooperation makes for effective implementation as all partners need to understand what others are doing, what is working, and how work can be harmonized and synergies capitalized on. Bringing people together is a lot of work, it takes time, energy and commitment but is critical to reach a common understanding and agreement across stakeholders.
Having the same people sitting on the committees of related projects helps with understanding the issues and with integration.
The MSP was one initiative that helped bring stakeholders together. The OI projects strong relationship with the MSP, with the MSP focusing at the macro level and OIP focusing at the micro level and the two initiatives benefitting from each other was a critical success.
Inter-disciplinary expeditions to the OI can be cost effective and gain from wide range of expertise.
Capacity constraints of a small island nation needs to be factored into planning and allow realistic timeframes for completing assignment
Seychelles has a strong ecosystem based approach to the development of its Blue Economy. This can inform other SIDS as Blue Economy approaches in other countries typically take industry as their basis.



Recommendations
1

Terminal Evaluation recommendation 1. Collating of lessons and their dissemination nationally and internationally.

Ahead of project closure, the project should ensure that all lessons are fully captured and shared both within the Seychelles and internationally. The recent IPCE of UNDP Seychelles found significant weaknesses in communicating lessons learnt. The IOP can help address this through the collation of lessons learnt relating to technical and operational aspects (beyond the information reported in the Quarterly Review Reports), as best practice example.

Recommendation to: PM

2

Terminal Evaluation recommendation 2. Set out replicability of plans and tools that have been developed.

Given that the replicability of the project's initiatives at its demonstration sites is a key design feature of the project, it is recommended that the project makes explicit how each of the tools and plans developed can be applied within the Outer and Inner Islands conditions under which they are applicable or not, challenges/barriers, lessons in applications (both technical and operational).

Recommendation to: PM

3

Terminal Evaluation recommendation 3. Dissemination of project outputs and lessons learnt on international stage in 2020.

This can include a photo essay to showcase the project's achievements, dissemination of key documents and talks at international conferences.

Recommendation to: PM

4

Terminal Evaluation recommendation 4. Incorporate OIP lessons in project design into GEF7 proposals.

UNDP Seychelles should also consider working with the RTA to determine how a case for SIDS / Seychelles tailored GEF design features can be made to the GEF Council.

Recommendation to: UNDP Seychelles / RTA

5

Terminal Evaluation recommendation 5. Focus on consolidation, implementation and learning, rather than on further expansion of protected area network in the near term.

There is a need to test the Management Plans and protocols developed to better understand what works and what elements require further strengthening.

Recommendation to: MEECC, ICS, UNDP

6

Terminal Evaluation recommendation 6. Focus on cross sectoral / institutional / stakeholder dialogue going forward.

The OIP along with the MSP has set a strong precedent for integrated dialogue across all concerned stakeholders. This will be even more important going forward when restrictions on use come into force with varied distributional impacts

Recommendation to: MEECC UNDP

7

Terminal Evaluation recommendation 7. Develop data management capacity and processes.

A continued focus on building capacity in GIS and data management in future projects is needed to build on the work done by the OIP. More support is needed to complete the ICS geo-database and to move to centralized data storage at MEECC as well as to further build capacity.

Recommendation to: MEECC

8

Terminal Evaluation recommendation 8. Support the development of PA regulations.

Once the PA Bill is approved, work will start on the detailed regulations, which would benefit from the project's expertise in cross sectoral dialogue and ecosystems knowledge

Recommendation to: GoS, UNDP

9

Terminal Evaluation recommendation 9. Enforcement capacity needs to be enhanced.

Enforcement of the areas once gazetted will be critical going forward, this is when tensions are likely to emerge over use and access.

Recommendation to: MEECC, ICS, IDC, Tourism operators

10

Terminal Evaluation recommendation 10. Cost saving mechanisms need to be identified and tested.

Given the high costs of operating in the OI identifying cost saving approaches are central to providing the level and scale of protection that will be needed.

Recommendation to: MEECC, ICS, IDC, Tourism operators

11

Terminal Evaluation recommendation 11. Support for the development of a systems approach to PA financing.

While much progress has been made in terms of sustainable financing through the PAF project, SeyCATT and other initiatives, more support is needed to accelerate towards a systems

approach to PA financing, which is of particular importance for the OI.

Recommendation to: MEECC

12

Terminal Evaluation recommendation 12. Capacity / Institutional Capacity needs further developing.

It is recommended to explore and develop options for attracting and retaining expert staff on the OI and for increasing staff numbers on OI

Recommendation to: MEECC, ICS