Gender impact mid-term evaluation across the 3 programme outcomes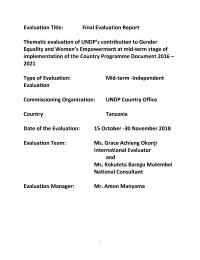 Evaluation Plan:

Evaluation Type:

Thematic

Planned End Date:

10/2018

Completion Date:

12/2018

Status:

Completed

Management Response:

No

Evaluation Budget(US $):

20,000
Title
Gender impact mid-term evaluation across the 3 programme outcomes
Atlas Project Number:
Evaluation Plan:
2016-2022, Tanzania
Evaluation Type:
Thematic
Status:
Completed
Completion Date:
12/2018
Planned End Date:

10/2018

Management Response:
Yes

Focus Area

:
Corporate Outcome and Output (UNDP Strategic Plan 2018-2021)

1. Output 1.6.1 Country-led measures accelerated to advance gender equality and women's empowerment

Evaluation Budget(US $):

20,000

Source of Funding:
UNDP, Government of Tanzania
Evaluation Expenditure(US $):

36,140

Joint Programme:
No
Joint Evaluation:

No

Evaluation Team members:
GEF Evaluation:

No

Key Stakeholders:
Government of Tanzania, Local Government Authorities
Countries:

TANZANIA (UNITED REPUBLIC OF )

Comments:

This is mid-term evaluation of Gender impact across the 3 programme outcomes
Lessons
1.

Advancing gender equality at the national level is the product of a complex web of forces and cannot be addressed by isolated interventions by UNDP or Government Institutions alone. UNDP's intervention is just one element in the mix of factors that influence change on national indicators such as Indicator 1.2: percentage of women of voting age who are registered to vote and the ratio of women to men participating as candidates in general elections and the UNDP is only a small lever of change. Therefore, CPD design set higher-level national indicators that could only show its intermediary contribution as change progresses from output to Outcomes. The complexity is that achieving these gender-responsive results requires multiple actions and actors such as women's participation in elections, legal instruments, women's advocacy, changing social norms and economic empowerment and introduction of the gender quota.

ii. In supporting the development of gender-responsive policies, UNDP may not have control of the process and the timing to be able to achieve the outcomes within a five-year CPD.

iii. GEWE initiatives are dealing with social norms and entrenched behavior at national or local levels that require UNDP to deal with any emerging drawbacks. Advancing GEWE means dealing with institutionalized practices and normalized conduct.

iv. Although there are cases where outputs/projects were not formulated in a gender-sensitive manner, disaggregated gender results did emerge implying that even when the design of projects is weak from a gender lens, there is a possibility to turn things around at the implementation and reporting level with substantive results.

v. Allocation of resources through the gender marker is not always commensurate with gender-sensitive results. Tracking of expenditures needs to be ensured to have a true picture of results achieved.

vi. There is a need for a theory of change for gender mainstreaming and women's empowerment. Because of this gap, there has been an intervention that is not geared towards an agreed road map. As a result, there are ad hoc and sometimes unplanned efforts to address gender equality, for example, an emphasis on numbers as opposed to results. The UNDP needs a theory of change that is particularly geared at changes in transformative gender relations and the status of women.

vii. While 50% of the beneficiaries of projects are women (particularly demonstrated in the pillar on environmental and climate change). The approach should be more transformative.

viii. While the use of new technology enhances the protection of the environment and at the same time ensure sustainable uses of resources, it is important to assess the cost-benefit and the ability of beneficiaries implement the project ideas. For example, the use of biogas for cooking is highly needed, but it is too expensive for most of the households in villages. It is important to UNDP to assess what is suitable and yet for affordable for communities. The most cost-effective modern technology should be adopted and at the same time, ensure that the technology responds to the gender needs of women and men, for example, the energy-saving stoves.

ix. While women have demonstrated the ability to manage the roles of leadership in water association, it is important to reconsider the 30/70 percent. Currently, women are doing very well, while it is true that some of the associations have more than 30%. Women are in most cases less than 30%. It is important to advocate for the women's role in this sector and 45 particularly, how to engage women in processes and decisions regarding the water resources. Related to this, there are few registered VICOBA which results in less access to financial services. The UNDP therefore has an opportunity to ensure that these VICOBA are registered and are accessing various services, including financial services. Some of the VICOBAs have been evolved into community banks but have not been registered. Under the UNDP regulations, they are not allowed to facilitate to become fully-fledged independent institutions. For purposes of re-evaluating the work of the UNDP, it might be relevant to assess the need to change the policies given the changing the context.

x. It is important to practice cross-pillar learning, for example, under the environment pillar, the youth are actively engaged. This is however missed in other pillars. In the environment pillar, youth are engaged in honey processing and other activities.

xi. While the support to accessing justice is making a difference, there is need to evaluate the need for a comprehensive approach in addressing the needs of vulnerable and poor communities under the TASAF program, as well as the Legislative project. For example, there is a need to enhance the changing behavior of judges/magistrates regarding GBV. With the increasing number of women and children accessing justice, there is a need to be a group of judges and magistrates that are bold and knowledgeable of human rights and in particular GBV and VAC. What the UNDP can consider is to follow up on the issue of sexual abuse and instill a new culture in the legislation as well as the enforcement of rights of victims of sexual violence.

xii. TWDP has been a very instrumental actor in changing the landscape of legislation in Tanzania. However, this group is informal and it its support is not consistent and assured. What the UNDP should consider where TWDP can make it into a mainstream committee where the role would be to ensure that all the gender equality and women empowerment interventions are followed and implemented.

xiii. There are some fundamental issues that need to be addressed under the access justice program, for example, how to enhance witness protection. This is not addressed under the programme but affects the implementation of the programme. In addition, other cultural and faith issues need to be addressed in order to understand gender dynamics. For example, in Zanzibar, while the law is impactful, the community members are more compliant to the culture regarding the age of marriages as well as GBV and ownership of assets by women. The whole of the issue of conflict of laws need to be evaluated in term of gender equalities. For example in Zanzibar, there is something called legal rape (that is where there is consent by women to be raped, that is where there is evidence that there is a close relationship between the two.)



Findings
1.

2.1 Relevance
SCORE=B - Good progress with moderate areas of improvement
Finding 1: The alignment between the CPD and the national development priorities for GEWE exceeds expectations and is thus rated as being highly relevant. The CPD was aligned to national priorities, aligned to corporate priorities; respond directly to the acute and important needs of Tanzania women and men. The requirement by UNDP that GEWE must be mainstreamed in outcomes and related projects was well appreciated by implementing partners. There is continued relevance to emerging issues such as Sustainable Development Goals (SDGs), FYDP and new UNDP corporate strategies.


The following are the main findings of this mid-term evaluation regarding the relevance of UNDP support to GEWE through the CPD outcomes.


i. Alignment with national and Sectoral Priorities: UNDP's relevance of support to GEWE is based on the overall UN system strategies for the UNDAP II, 2016-2021 in the spirit of DaO, which were directly aligned with Tanzania's national development framework, articulated in Vision 2025 (mainland) and Vision 2020 (Zanzibar), MKUZA/MKUKUTA I and II, and corresponding sector-specific policies and strategies. A number of CPD projects contributed to implementation of the national gender policy, 2000. One of them is addressing the gap in gender statistics that inform policy analysis and planning. One of the objectives in the policy is to create awareness and understanding that environmental degradation is the major cause of women's workload, especially in fetching firewood and water and make clear the importance of involving women in environment management programmes. At sectoral level, these priorities are also emphasised in the National Energy Policy (2015) which recognizes gender mainstreaming as a crosscutting issue and promotes the participation of women in energy related activities, the Action Agenda require actors in sustainable energy for all to be supported with tools for mainstreaming gender in their interventions. The 5-year implementation programme which addresses gender and energy nexus issues around health, water, cooking energy while also providing strategies to empower women along the value chain of renewable energy. The various policies also advocate for increased women representation in decision making.




Tag: Relevance Gender Equality Gender Parity Inequalities

2.


iii. Relevance to international commitments on GEWE: UNDP's relevance of support is in helping the country to make progress in some of the priorities under the agreements, Conventions, Protocols, Treaties and Instruments. Tanzania has signed, ratified and domesticated Regional and International Agreements, Conventions, Protocols, Treaties and Instruments which aim at bringing gender equality, equity and women empowerment such as Convention on the Elimination of all Forms of Discrimination Against Women (CEDAW), Beijing Platform, Convention on the Rights of the Child (CRC), Great Lakes, African Union and East African Community.




Tag: Gender Equality Gender-Based Violence Women's Empowerment Social Protection

3.

iv. Alignment with UNDP corporate priorities: UNDP Country Office (CO) priorities were relevant to the corporate GES, 2014-2017. The GES sets out a vision of eradicating poverty and reducing gender inequalities by empowering women. The GES states that " the sustainable development pathways area of work provides an opportunity to address inequalities and reshape policies to empower women and girls in all their diversity, so that they can become catalytic agents of change and equal partners with men in the quest to promote growth that is inclusive, just, equitable and sustainable. With women's engagement, success in eradicating poverty, promoting sustainable consumption and production patterns and sustainable management of natural resources can be achieved." (GES page 9). The priorities remain relevant for attainment of GEWE in CPD and there is opportunity to realign with the recently released Corporate GES, 2018-2021.




Tag: Relevance Gender Equality UNDP Regional Bureaux Inequalities

4.

v. Relevance of strategic partnerships for GEWE: The requirement by UNDP that GEWE must be mainstreamed in outcomes and related projects was well appreciated by implementing partners. The support provided by the CPD outcomes and related projects was largely appreciated by implementing partners as relevant to the needs and although gaps remain, they were fully satisfied with the benefits. A few examples include, relevance to have strategic partnerships for improved institutional processes to address GEWE, such as through National Assembly to influence budget process; with judges and prosecutors as entry point for capacity building in legislative support and access to justice; multi-ministries including the Ministry of Finance and Planning (MOFP) for development of policies and plans and Ministry of Water and Irrigation for reducing the burden of women in access to water.




Tag: Relevance Parliament Country Government

5.

vi. Relevance to emerging issues: The thematic GEWE was implemented over a period during which a number of new relevant developments emerged that may have implications for the remainder of the CPD period.
An emerging relevant issue over the CPD period is that the Government developed the new Five Year Development Plan (FYDP), 2016/17-2020/21. Gender analysis of the situation is presented in section 2.13 and informs the planning priorities. The Plan notes that Tanzania has made great progress towards attaining gender balance. Despite this progress, some disadvantages have persisted. Some challenges still remain: for example, Low women/youth participation in economic activities; drudgery of women in search of fuel wood; and poor linkage with financial institutions.





Tag: Challenges Relevance Gender Equality Gender-Based Violence Human rights Youth

6.

Relevance to SDGs: Although the CPD was developed at the onset of SDGs and no alignment was applicable, the evaluation presents it as an emerging issue over the CPD period that has implications for remainder of the period. Although GEWE cuts across many SDGs, the evaluation highlights relevant targets for Tanzania for SDG 5 to show that the CPD addressed the priorities within UNDP mandate.2 The goal has 9 targets and 13 indicators. The following are relevant targets for Tanzania:- (i) End all forms of discrimination against all women and girls everywhere; (ii) Eliminate all forms of violence against all women and girls; (iii) Eliminate all harmful practices, such as child, early and forced marriage and female genital mutilation; (iv) Recognize and value unpaid care and domestic work; (v) Ensure women's full and effective participation and equal opportunities; (vi) Ensure universal access to sexual and reproductive health and reproductive rights; (vii) Undertake reforms to give women equal rights to economic resources; and (viii) Enhance the u Women and Gender Development Policy (2000) to ensure that the gender perspective is mainstreamed into all policies, programmes and strategies.


Support for increased capacity for SDG - based planning, awareness and commitment to the SDGs is relevant to the alignment of CPD with reporting on gender responsive targets and indicators based on the SDG baseline and monitoring system. In the SDGs era, UNDP will continue to leverage the close alliances it has forged with UN agencies.




Tag: Gender Equality Gender Mainstreaming Gender-Based Violence Women's Empowerment Agenda 2030 SDG monitoring and reporting

7.

2.2 UNDP Strategic Position to advance GEWE
SCORE=B - Good progress with moderate areas of improvement


This section assessed UNDPs internal effectiveness in terms of advancing GEWE. The section responds to the key question of where/how have UNDP's institutional changes (in particular the Gender Seal process) results been the most and least successful in improving GEWE development results?
Finding 2: UNDP's commitment, comparative strength and value added contributed effectively to positive results in GEWE. The Gender Equality Seal certification for the CO has been an important catalyst for change and the UNDP CO Gender Equality Strategy was a significant step forward with regard to providing guidance on gender mainstreaming and programming. There is mutual reinforcing mainstreaming of gender in both programmatic results and in institutional systems and processes, a focus on learning, a long history of working on GEWE issues, investment of resources through the gender marker, and a functional cross-unit gender focal team. However, improvements are still required in some aspects such as knowledge management and continuous capacity development.




Tag: Gender Equality Gender Mainstreaming Strategic Positioning Country Government UN Agencies UNDP Regional Bureaux

8.

ii. Accountability and Commitment
The UNDP is committed to accountability for its GEWE work. Key factors of success noted by the evaluation include, Senior Management Team has put the gender agenda as a top priority in the CO. The Country Director (CD) is the chair of the Gender Focal Team; all managers now have to include at least one gender equality/parity/empowerment key result in their Performance Plans; there is mutually reinforcing of mainstreaming gender in both programmatic results and in institutional systems and processes, a focus on learning, a long history of working on GEWE issues, investment of resources through the gender marker, and a functional cross-unit gender focal team. There is great improvement in gender mainstreaming when comparing projects rolled over from previous CPD and those developed during the current CPD with notable change in 2017 and 2018.







Tag: Gender-Based Violence Strategic Positioning UNDP management UNDP Regional Bureaux

9.

iii. Staffing and Human Resources
The CO is in the process of strengthening the human resource aspect of gender mainstreaming: The CO has a functional gender focal team led by Country Director that drive the gender agenda across programmes and operations. UNDP Corporate GES, 2014-2017 requires all country offices to have multidisciplinary gender focal teams led by senior management (Deputy Resident Representative/Country Director). These teams will bring together operations and programme staff to ensure gender mainstreaming in the programme portfolio; monitor and evaluate GEWE results; and address institutional issues including gender parity, enabling environment and gender-sensitive communications. These capacities will not supplement but rather complement dedicated gender expertise. Based on this, a terms of reference was prepared for the CO gender focal team.




Tag: Gender Mainstreaming Strategic Positioning UNDP Regional Bureaux Operational Services

10.

iv. Staff Capacity
Finding 3: The evaluation established that training has been effective in improving gender mainstreaming in outcomes. During consultations with programme staff, there appeared to be good command and confidence by each one to share their progress on gender mainstreaming. There is room for continuous learning through undertaking a wide range of UN online gender mainstreaming training course and broadening learning beyond UNDP specific tools.


Significant progress has been made by the CO to build not only capacity of programme staff but all staff on basic gender mainstreaming. The CO is consistent in allocating 10% of the learning budget for gender-related trainings. All staff have completed the basic on-line course on gender journey and prevention of sexual harassment and abuse of authority. Over the CPD period, efforts have been made to provide substantive training and hands on guidance to programme staff as well as provision of guidelines and tools for gender mainstreaming trainings accompanied by on-the-job-support, sharing of simple gender mainstreaming tools and guidelines and putting in place mechanisms to ensure better integration of gender into induction and recruitment processes. The CO indicate that their gender equality seal score has improved from 33% to 83%, indicating enhanced capacity to deliver gender results.




Tag: Gender Mainstreaming Knowledge management Strategic Positioning UN Agencies Capacity Building

11.

Noted challenges/ bottlenecks for UNDP Positioning
i. The CO does not have a dedicated Gender Specialist/Analyst. In addition to the gender focal teams, the UN System-Wide Action Plan (UN-SWAP) recommends that UNDP CO with a portfolio over US$20 million would be expected to have a dedicated Gender Adviser in their office or equivalent dedicated capacity who can provide technical backstopping to programme and operational units, as well lead on developing and implementing gender-focused and women-specific programmes, building partnerships with women's movements and shaping the country office's advocacy on gender.


ii. The capacity of staff and partners focusing on 'how to" of gender mainstreaming, provision of quick gender analysis or diagnosis at the design of programme/project areas needs continuous improvement as new staff come on board. A number of CPD outcomes plan to mainstream gender in policies, strategies and budgeting. These are potential priority area for capacity building and provision of appropriate relevant tools. For example, teams working on social protection could be taken through training on "how to" mainstream gender in social protection to prepare them for the upcoming policy development.




Tag: Gender Mainstreaming Knowledge management UNDP Regional Bureaux

12.

2.3 Effectiveness
SCORE=B - Good progress with moderate areas of improvement
2.3.1 Effectiveness of CPD Strategies and Approaches
In this section, the evaluation assessed key strategies and approaches for effectiveness of design of CPD results framework, financing for gender equality, capacity development, gender statistics/gender analysis, gender data and evidence; and strategic partnerships (Collaboration with governments, CSOs, the private sector, and UN agencies.

i. Effectiveness of Design

Finding 4: Evaluation revealed a strong focus on gender mainstreaming in the CPD/RRF planning stage. The Strategies and approaches used by UNDP CO have been effective and appropriate but needs consistency and timely application to be effective.
In order assess the UNDP gender mainstreaming in the resources and results framework, the evaluation present a guide (box 3) on 'what would a gender mainstreamed Country programme would look like?

The UNDP CO adopted a dual approach to gender mainstreaming which is in line with its corporate GES, 2014-2017 and most recent one 2018-2021 which states that 'The UNDP approach to gender mainstreaming is a dual one: UNDP supports the empowerment of women and girls through targeted gender-specific interventions and also addresses gender concerns in developing, planning, implementing and evaluating all policies and programmes'. The CO mainstreamed gender in its programme outcomes but also identified gender specific targeted approach in three projects which have a GEN3 in 2017: the Joint Programme to support Productive Social Safety Nets; SDG-F Livelihoods Component; and UN Kigoma Joint Programme. Furthermore, a number of projects addressed gender targeted interventions.


The country programme's theory of change included GEWE aspects 'the CO will anchor its support on policy development, capacity-building activities and more downstream interventions to achieve tangible results for women, youth and people with disabilities. It is against this TOC that the performance of assessments is undertaken.




Tag: Effectiveness Gender Mainstreaming Integration Programme/Project Design

13.

ii. Financing for Gender Equality
Finding 5: UNDP is cognizant that work on gender equality is not cheap and gender-responsive interventions require dedicated and adequate financial resources and efforts. As a mandatory requirement during budget submissions the Gender Marker has become an important driver of promoting reporting on gender equality. Financial allocations for UNDP supported programmes through the Gender Marker has improved. However, the evaluation finds a notable challenge with the Gender Marker that it represents intentions at the project/outcome design stage and does not link these directly to results achieved. It does not systematically track the quality or type of gender results.


UNDP has made great progress to commit core resources for GEWE results through the Gender Marker which is an accountability tool that allows UNDP to track its financial allocations and expenditures contributing to GEWE. Making the Gender Marker mandatory during budget submission has served to heighten awareness of the need to consider gender during budget allocation. Some project documents were noted to include the Gender Marker rating on the cover page, but this good practice is currently not done in any systematic way. This is because the Project Document template was changed in 2016 where Gender Marker was put in the front page and required per output. Project Documents drafted in 2016 and early 2017 used the old template where although Gender Marker was mandatory in budget process, it was not indicated on the front page.




Tag: Effectiveness Gender Mainstreaming Human and Financial resources Integration

14.

iii. Use of Gender statistics/Gender analysis /Gender Audits
Finding 6: Gender statistics, sex disaggregated data or gender research is an important aspect of gender mainstreaming. UNDP has provided substantive support to government to generate gender responsive national level gender statistics but improvements are needed in mapping gender statistics at CPD level for monitoring its contribution.


There is no evidence that at the beginning of the CPD, all gender statistics required within the outcomes were compiled and sources identified. The mid-term evaluation found it a challenge to get the overview picture of CPD contribution in terms of number of women with increased entrepreneurship and livelihood skills; number of women's enterprises benefiting from increased income and market access; number of women in the targeted districts benefiting from climate change initiatives and many others. These are output level data for which the CO intended to have control and hence should consistently have the overview data.


In terms of national level gender statistics, there has been progress. Through the project- Enhancing Capacities for Development Effectiveness and Results, a specific output 2 was on 'gender sensitive national data systems is in place to support the monitoring and reporting of development strategies'. The project was to enhance capacities to systematically collect, analyse disseminate, harmonize and accurately report on data that are highly disaggregated by sex, location and income. As part of UNDAP team contribution, gender analysis of the Integrated Labour Force Survey (ILFS), 2014 conducted and key Policy recommendations developed. The integration of Time Use Module was done for the first time in Household Budget Survey (HBS), 2017/18, linked to SDGs GEWE indicators on women's unpaid care work, ownership of property and assets, access to social security.




Tag: Challenges Gender Equality Data and Statistics SDG Integration

15.

Finding 7: Substantive gender analysis and gender responsive strategies have been applied in some cases but the lack of gender analysis as a central component of programme design was evident in some projects across all three outcomes. Where gender analysis was not undertaken of projects at design stage, the CO is taking steps to address gaps during implementation.
Another example of a gender neutral study with no gender analysis is the feasibility study (October 2018) for implementation of the Off-Grid Box technology for the three Islands in Bunda districts in Mara region and three villages in Ikungi districts, Singida pioneered by the UNDP Tanzania through its pilot initiative 'Bringing Clean Energy and Water to Off-grid Tanzania rural communities'. In issues of sanitation and hygiene, menstrual hygiene management does not affect men.




Tag: Effectiveness Gender Mainstreaming Implementation Modality Programme/Project Design

16.

iv. Capacity Development Approach

Finding 8: UNDP has made progress to move training to a level beyond just numbers in a classroom workshop to greater focus on 'how to' mainstream that is related to the job function. This was well appreciated and more effective when used. Partners would like to see more of this type of training. In some cases, the evaluation found that capacity building through training has too often been seen as 50% quota to be achieved in terms of women versus men beneficiaries.

The training of prosecutors, judges and police in Zanzibar on how to complete form PF3 accurately for evidence in court in cases of SGBV was presented as transformative result. Out of 26 past PF3 forms reviewed by trainees, only one passed the test of credible document for court cases. The knowledge has been remarkable after the training. The training was also practical on electronic and cybercrime. Another example is practical agriculture extension with regular follow up to that ensured success through project for Sustainable Agriculture. The implementing partners including TASAF, highly recommended for such practical and 'how to' training courses on GEWE to be given priority in future.




Tag: Effectiveness Gender Mainstreaming Communication Knowledge management Capacity Building

17.

v. Strategic Partnerships Approach
Finding 9: UNDP engaged with diverse partners in delivering gender equality results for the CPD. The level of engagement differed with heavy reliance on government as the key partners. UNDP ensured that several government partners beyond MCDGEC were provided with support in addressing GEWE within the various outcomes/projects. This was strategic as it opened space to interact with the sectors normally perceived as "hard to penetrate sectors" (wrongly seen as gender-neutral). Partnerships with the UN for DaO have been established with success beginning to emerge in Join Programmes. Partnership with private sector is not visible except in the Global Compact Local Network project.
Partnerships with the government
UNDP CO placed strong emphasis on partnerships with the government both at national level and Local Government authority level for delivering in all its outcomes; with UN agencies for greater effectiveness and DaO to advancing GEWE and with the private sector for women's economic empowerment.




Tag: Local Governance Joint UN Programme Country Government UN Agencies UNDP management

18.

Partnerships with private sector seemed to have been mostly with individual institutional commitment to the Global Compact and Ring the Bell which highlights the business case for achieving gender equality in the workplace, marketplace and community. Some Global Compact partners would like to mainstream gender in their institutions but they have inadequate information on how to effectively address gender issues within the 10 principles. Some partners are developing gender equality policy with inadequate knowledge on 'how to do' it. On the other hand, some partners were already engaged on gender mainstreaming within their institutions outside of the Global Compact, for example, the Association of Tanzania Employers has a good practice in empowering women for leadership positions with high transformative results. The partners expressed strong need to have meaningful engagement with UNDP on promoting women in leadership positions beyond parliamentarians. The need to engage private sector was mentioned by key informants, particularly in extending services to economically empower women farmers and business through expanding access to financial services.


Some partners expressed need to connect with UNDP to benefit from good practices from other countries on how to institutionalise GEWE within private sector. The evaluation noted opportunity for UNDP with the gender equality seal which is already being institutionalized in private sector in a number of countries, particularly in Latin America.




Tag: Gender Equality Gender Mainstreaming Partnership

19.

Partnerships for documenting knowledge on GEWE: Partnership with the media has been 'one off event related news coverage'. The evaluation notes that UNDP has potential to partner with mainstream, social and alternative media organizations as a vehicle to show case its good practices in advancing GEWE but this has not been exploited to the full partly, because the CO has no Communication Specialist/Analyst.




Tag: Gender Equality Gender Mainstreaming Communication

20.

Partnerships with CSOs/NGOs and women's organizations, there is evidence that UNDP has established strong working relations with CSOs/NGOs at local levels. There is hardly any direct contractual partnerships because the implementing partner is the government who has engaged the CSOs at local levels. Engagement with CSOs was noted across all outcomes with progress on gender responsive results emerging.




Tag: Gender Equality Civil Societies and NGOs

21.

Noted challenges/ bottlenecks on Effectiveness of Approaches
i. During implementation stage, UNDP has been successful in producing key national documents that include gender statistics and can inform planning, programming and policy. It is unlikely that CPD indicators can often be linked to national level data. The national documents compile data from cycles that UNDP have no control over. The CPD indicators required data collection cycles that the UNDP has control over and whose collection overlap with the CPD cycle.







Tag: Gender Parity Programme/Project Design Data and Statistics

22.

2.3.2 Effectiveness of Gender Mainstreaming Across Outcomes
SCORE=B - Good progress with moderate areas of improvement
Finding 10: UNDP has made progress in mainstreaming gender across all outcomes with results emerging in line within the Theory of Change. UNDP anchored its support on policy development, capacity-building activities and more downstream interventions to achieve tangible results for women even as challenges remain and successful efforts need to be up-scaled and strengthened that also include men. An important contributor to progress has been the marked visibility of gender in the CPD outputs and indicators as well as in projects accompanied by steady commitment by both UNDP and implementing partners, investment of resources through the gender equality marker and capacity development.
The assessment of effectiveness determined the extent to which UNDP contributed to development and institutional results that are gender responsive and gender transformative. The evaluation used assessment of the performance of GEWE within planned outputs (Results chain principle) to determine performance of outcomes. UNDP programme staff contributed to the self-assessment of outcomes using the ' Output Performance of GEWE assessment Tool'. Judgement was made on level of progress with additional information from stakeholder interviews and documents reviewed to come to conclusion at output level on performance towards gender mainstreaming.







Tag: Capacity Building Coordination Policy Advisory Gender Equality Gender Parity

23.

2.3.3 Assessment of GEWE Results of Outcome 1
This section assesses UNDP's contribution to results in GEWE in the three outcome areas and seeks to answer the following evaluation question: 'Has UNDP contributed to gender equality and women's empowerment development results'? The performance is rated as indicated in table 2, 3 and 4. The self-assessment by programme staff is included as it explains why some indicators were not on course. As noted earlier some outputs and indicators were gender responsive but made no progress. However even those that were gender neutral made attempts to address GEWE during implementation so all outputs and indicators are assessed.
Outcome 1: The economy is increasingly transformed for greater pro-poor inclusiveness, competiveness and increased opportunities for decent and productive employment.
The Thrust of outcome 1 is to support the government efforts in promoting inclusive growth through employment promotion strategies and programmes; expanding social protection and social security programmes and improving quality of education training and lifelong learning to all. The UNDP CO will continue to work with the government towards ensuring that poor rural women and unemployed youth have sustainable livelihoods; promote better use of natural resources and the economic empowerment of rural women and youth. The outcome had five outputs. The progress in terms of planned actions for GEWE are found to be all partially achieved and on course to be achieved by end of the CPD. The summary progress of mainstreaming GEWE at outputs level is presented in Table:




Tag: Women's Empowerment Inclusive economic growth Social Protection

24.

The following section presents narrative analysis of performance towards CPD outcome 1 which also corresponds to UNDAP II outcome.


Output 1: Select ministries and districts have enhanced capacities to develop, implement and monitor gender-responsive, environmentally sustainable and inclusive growth policies/plans
Finding 11: Although it was not clear which specific policies, plans or strategies, outcome 1 planned upfront to influence, substantive contributions were made in support of the government that led to sound gender responsive policies, plans and strategies. Timely engagement during policy review and plans formulation provided strategic entry points for mainstreaming poverty-environment- gender nexus objectives.


UNDP was strategic in approach that 'what is not planned for is not budgeted for'. By ensuring gender responsive plans and strategies, foundation is laid for advocacy to allocate resources in budgets for poverty, environment and gender issues. The mid-term evaluation does not find evidence of budgetary allocations for GEWE as a result of this contribution. The presence of strong national policy/plan commitments to gender equality do not automatically translate into greater budgetary allocations which continues to lag behind.




Tag: Local Governance Joint UN Programme Results-Based Management Capacity Building

25.

Output 2: Options enabled and facilitated for inclusive and sustainable social protection
Finding 12: UNDP and the governments and other partner's contributions led to development of a National Social Protection Framework (NSPF) and implementation of a Productive Social Safety Nets (PSSN) gender sensitive and sustainable livelihoods model that benefited many households nationally.


The primary principle for mainstreaming gender through work on social protection is that protection systems may be aimed at the household or they may be gender blind, thus many times effectively short-changing women and girls' rights and options. Absence of women's social protection can muffle their voices and ability to influence decisions that affect their lives, limiting their prospects for a better future, and engendering social isolation.





Tag: Country Government UN Agencies Social Protection

26.

Finding 13: UNDP support need to be consistent in monitoring and tracking to address any negative consequences that may arise in relation to the redistribution of power, status or resources as a result of women accessing cash transfer. The role of men is especially important when addressing changes in distribution of resources or decision-making power.
The government has decided to pay the cash transfer to women as recipients on behalf of the households as experience shows that women are better at optimal use of the payments. Instances of backlash were reported in the case of social protection fund. Men had difficulties understanding how they as breadwinners can be side-lined when women enjoy financial gains. Women may gain in terms of cash being transferred to them but negative impacts on family dynamics is negative result. Women continued to lead the household, recipient of the cash transfers, started Poultry Keeping and other animals e.g. goats, started their own small farms, selling products from the farm. Despite the male resistance towards female income, most have come to terms with it, not least because the women have started sharing some of the income with the men.




Tag: Women's Empowerment Cash Transfers Social Protection

27.

Finding 14: Through a Joint Programme UNDP, UNICEF, ILO and UNFPA, UNDP supported institutional capacity development and systems improvement in notable at the Tanzania Social Action Fund (TASAF).
TASAF was enabled to have a gender responsive approach to social protection through the integration of gender sensitive indicators and gender sensitive and sustainable livelihood models. TASAF was enabled to conduct an in-depth gender assessment of its Productive Social Safety Nets (PSSN) programme. The assessment looked into the gender impact and gender responsiveness of the PSSN programme and TASAF's institutional capacity, mechanisms and structures for gender mainstreaming. Findings of the assessment will inform the development of a TASAF gender mainstreaming action plan and will also inform the design of the new PSSN programme. TASAF was enabled to have trained staff and monitoring and evaluation system that strengthens monitoring of PSSN. Households nationally benefited from the TASAF support on the livelihood activities that resulted to an increase in income (actual figures of increase are not available).




Tag: Gender Mainstreaming Joint UN Programme UN Agencies Social Protection

28.

Finding 15: UNDP support has been innovative in creating synergy to address challenges requiring multi-sectoral responses, particularly in poverty, environment and gender. This led to innovative results of increased entrepreneurship and livelihood skills through management of natural resources. The approach added value to gender mainstreaming as a cross-cutting issue going beyond boundaries defined by specific outcomes (outcomes 1 and outcome 2).


The approach by UNDP Tanzania towards Jobs and livelihoods creation that focused on downstream interventions to create opportunities for specific groups to expand their business and income has been a transformative achievement.




Tag: Gender Mainstreaming Programme Synergy Inclusive economic growth Jobs and Livelihoods

29.

Output 3: Capacities of women's and youth enterprises in the 28 districts enhanced to grow and add value to their products for increased income


UNDP contributed to youth and women's enterprises benefiting from increased income and market access. UNDP completed the assessment to gather baseline information on business advisory services and technological changes required for women enterprises and women producer groups. As a result 4 LGAs in Kigoma (Kasulu TC and DC, Kibondo and Kakonko) have identified 3 Training of Trainers to be trained on Business Development Services and the TOTs will support the Women Groups identified in each LGA.


UNDP capacity building enhanced farming skills and several farming groups (youth and women) in Tabora were enabled to pilot alternative crops and shift from labour intensive tobacco farming. Growing tomatoes has been found to be more profitable than tobacco. While incomes have been earned that contributed to women's economic empowerment, access to market was an afterthought in the project.


Practical skills acquired from the SUMA JKT demonstration plots help graduates to secure job in different sector such as agriculture and fisheries resources management, service industry sector, security and defence. Currently, 640 male youth and 240 female youth are benefiting from the SUMA JKT led fish farming enterprises.




Tag: Women's Empowerment Inclusive economic growth Trade and Development Capacity Building Youth

30.

Output 4: Relevant policies and programmes in growth sectors reviewed and operationalized on the basis of evidence/data


UNDP supported the MOFP and national statistical offices to enhanced capacities for completion of baseline survey for the SDGs targets and indicators which included information for the CPD on gender gaps at national level. The SDG report is able to determine available data for SDG 5 by targets and indicators that enabled FYDP II and MKUZA III to incorporate SDG data. UNDP contributed in terms of technical and financial capacity to production of the draft Tanzania Human Development Report 2017 which includes substantive gender analysis on gender inequalities. The report highlights the importance of closing gender gaps in human development and provides recommendations on how to promote GEWE as an end goal in itself and as a means to reduce poverty and achieve inclusive economic growth. The report will be used to inform planning and policy making. Fisheries Policy (page 23) provides a need for intervention for both women and men in the fisheries sector.




Tag: Fishery Gender Equality Technical Support Data and Statistics SDG monitoring and reporting

31.

Output 5: Solutions developed at national and subnational levels for sustainable management of natural resources, ecosystem services, chemicals and waste.
This output was gender responsive and was expected to achieve an increase in incomes by households; new jobs/livelihoods created through management of natural resources disaggregated by sex; an increase in hectares of land improved through soil/water conservation methods in supported districts and; women in selected districts participating in decision-making processes on use of national resources. There was no clarity on who was responsible to deliver this output between inclusive growth and environment.




Tag: Natural Resouce management Gender Equality

32.

Noted challenges/ bottlenecks for Outcome 1:
i. While the measures taken had some positive results, it is recognized that more efforts are needed to scale-up community level interventions, address structural gender inequalities, and strengthen institutional capacities to mainstreaming gender into plans and budgets.

ii. It was not made upfront clear what specific policies and plans UNDP planned to mainstream gender into over the CPD period.


iii. It is critical to provide needed information on time that can influence the gender budget allocations, for example, a UN Women-recruited consultant assisted with gender analysis of the budgets of selected sectors. Due to the late constraints, however, the findings did not sufficiently feed into the 2018/2019 budget process.


iv. Targeting women as the main beneficiaries in inclusive growth has brought short-term results in GEWE. Most results were 'gender targeted' in nature, often merely mentioning the percentage of women receiving benefits or women and men are included such as the women's incomes and access to resources had increased or women were provided with jobs and skills. Follow up and gender analysis UNDP's approach incorporating attention to gender factors and dynamics that go beyond access to resources and opportunities is needed.




Tag: Gender Parity Women's Empowerment Inclusive economic growth

33.

2.3.4 Assessment of GEWE Results of Outcome 2
Outcome 2: Improved environment, natural resources, climate change governance, energy access and disaster risk management
The thrust of the outcome was to empower women and men in communities to harness economic and social benefits from natural and cultural resources in a sustainable and equitable way whilst managing risks to lives and livelihoods.

The following section presents narrative analysis of performance towards CPD outcome 2 which also corresponds to UNDAP II outcome.
Output 1: Relevant ministries and districts are able to formulate, implement and enforce environmental and natural resources management policies, strategies and regulations.


UNDP wanted to effect changes through number of ministries with functioning sustainable environmental and natural resources plans and strategies; number of districts with financial and sustainable environmental/natural resources plans and strategies; extent to which national monitoring system, surveys and census are in place to monitor progress on poaching reduction and wildlife crime and percent of land covered by forests in 28 targeted districts. The evaluation notes that output and indicators are gender neutral. Despite this omission, a number of results under outcome 2 are being reported in terms of 'parity', number of men and women participating or women targeted but some attempts have been made to show change in lives of women trained.




Tag: Natural Resouce management Gender Parity Results-Based Management

34.

Finding 16: Some stakeholders were found to consider gender mainstreaming as the same as improving women representation/participation (50/50)- Parity' and nothing else. Knowledge and consciousness has been imparted to women and communities with some attempts made to go beyond parity and show gender responsive change taking place in the lives of women and men.


There is increased awareness among men and women around the water sources and improved water resources management. This was as a result of UNDP's support to strengthen consciousness and awareness of the policies guiding water resources management such as the water resources Management Act of 2009, and the National Water policy of 2002 and other regulations. Communities in Kihara, Muheza where the area was highly degraded by illegal miners are now aware of the existing regulations and laws and the area has been highly rehabilitated. Training had been offered in the Basins in Pangani and Wami Ruvu (under the Ministry of water and Irrigation), to the newly formed 7 Water User Associations, 5 from Wami/Ruvu and 3 from Zigi.




Tag: Natural Resouce management Water resources Wildlife Conservation Gender Equality Gender Parity Capacity Building Civil Societies and NGOs Youth

35.

Output 2: Select districts and communities have their capacities strengthened in climate governance and sustainable energy access.
Through this output UNDP support was to effect change in number of districts with plans and strategies for enhanced resilience to climate change impacts; number of women in the targeted districts benefiting from climate change initiatives; number of new development partnerships with funding for improved energy efficiency and/or sustainable energy solutions targeting underserved communities/groups and women; and extent of energy efficiency, and/ modern energy coverage by users in targeted 28 districts.

Finding 17: UNDP strategy to address the energy and water nexus with solar and other technology options for energy efficient water pumping and provision of potable water and promoting adoption of clean cooking solutions was strategic in empowering women. Majority of results related to energy contribute to economic wellbeing as a result of engaging in time saving interventions that lead to an increase in access to livelihoods, resources and opportunities while at the same time reducing pressure on the natural resources.


UNDP contribution to the energy sector reinforced its relevance and effectiveness in responding to the country's needs through the implementation of the Tanzania Action Agenda which was prepared under the global and Africa regional Guidelines for Developing National Sustainable Energy for All requiring gender equality and inclusiveness. The action plan proposed as strategy to address the energy and water nexus with solar and other technology options for energy efficient water pumping and provision of potable water; and to promote universal adoption of clean cooking solutions.




Tag: Climate Change Adaptation Energy Water resources Inclusive economic growth Civil Societies and NGOs

36.

Output 3: Preparedness systems in place to effectively address the consequences of and response to natural hazards
Through this output UNDP support was to effect change in number of districts with early warning systems for man-made and natural hazards; and number of women prepared to minimize consequences of disaster.

Finding 18: Through UNDP support women in the targeted districts are benefiting from climate change initiatives and have used information for social economic activities such as Irrigation farming, crop farming, livestock keeping, mining and income generating activities enhanced wellbeing of the women as a result of accessing the information on early warning.


Notable achievements are through the project 'Strengthening climate information and early warning systems in Tanzania for climate resilient development and adaptation to climate change.' notable improvement have taken place in accessing early warning information on climate change and disaster risk management through support provided for capacity building of community members (men and women), small holder farmers, journalists and development of guidelines for local early warning systems simulation (EWS). Specifically, given their particular roles in agriculture, and the large number of female-headed households in project sites, the project ensured that women have a role to play in the early warning system, that they benefit from climate information that was relevant to them and their roles, and that the information was presented and transmitted in a way that is accessible to them, considering their specific constraints.




Tag: Agriculture Crop production Forestry Livestock Climate Change Adaptation Disaster risk management Women's Empowerment

37.

Noted challenges/ bottlenecks for outcome 2
i. One of the biggest challenges is the cost of some of the technology. While solar technology is applauded by village members, the cost of installation is too high for many villages. According to an interviewee, the cost (which is paid at once) is 3.5 Million Shillings. This is possible only in very few households. The multiple benefits of solar energy is unquestionable and more importantly, it can address multiple needs of household members.


ii. While the youth have been actively participated in banning poaching, there is no alternative ways of generating income for them. This threatens sustainability of the intervention. It is noted that in general, the project design did not focus on youth as beneficiaries of the project. It is unfortunate that the opportunity to do so were not tapped on. For example, the Energy Sector and Extractive Industries project built 4 biogas plants for the Mbeya Women Group Association, and a further 56 domestic biogas were installed throughout Rungwe district for women, nothing for youth (particularly boys, the assumption is that among the women, there are young women. However, this is an assumption that can be rebutted because the results are not age disaggregated).


iii. Capacity for gender mainstreaming is still a challenge with stakeholders on "how to" mainstream on sector specific areas as opposed to general overview of mainstreaming.




Tag: Energy Challenges Gender Mainstreaming Innovation Sustainability

38.

2.3.5 Assessment of GEWE Results of Outcome 3
Outcome 3: National governance is more effective, transparent, accountable and inclusive
Outcome 3 corresponds to similar outcome under UNDAP. The thrust of the outcome was to support: increase effectiveness, transparency, accountability and inclusiveness of the national governance; increase participation of women and girls in political and public life and election to leadership positions; and enhance prevention of and response to violence against women and children. UNDP CPD aim was to contribute to strengthening the National Assembly, improving equal access to justice and legal services, gender equality and inclusiveness in decision-making processes.

The following section presents narrative analysis of performance towards CPD outcome 3 which also corresponds to UNDAP II outcome.
Three out of five outputs for outcome 3 have not started. One of these outputs had gender sensitive indicators with potential for great impact based on past UNDP experience: ratio of women to men participating as candidates in general elections; ratio of women to men in decision-making at all levels. It is still uncertain when they will start because in one output, the national electoral commission has not made a request to UNDP for support.




Tag: Election Justice system Parliament

39.

Output 1: Parliaments and electoral bodies are enabled to perform core functions for improved transparency, accountability and citizen participation


Finding 19: UNDP Support has been effective in strengthening networking between the National Assembly, CSOs, private sector and research institutions that promoted discussions around GEWE. UNDP and UN Women support to the National Assembly led to enhanced capacity for Tanzania Women Parliamentary Groups and National Assembly members/committees.
As a way of strengthening the institutions, the UN Women and UNDP have worked with the National Assembly to develop the gender sensitive guidelines and toolkits that are used to assess bills, budget analysis, public hearings, field visits and CSO engagement. However, there is no adequate information on the extent to which the tools and guidelines have been applied in the work of national assembly. Likewise, it would be difficult to assess the impact of such an intervention in the absence of clear examples of how this work has contributed to change in gender responsive laws, policies, bills or regulations. What is evident is the availability of gender tools to facilitate constructive discussions in committees. The National Strategy on gender equality is being developed for National Assembly. This is a positive move as it ensures that resources to support the implementation of strategy will be mobilized. However, it is essential to ensure that as part of the programme, the strategy should be financed.





Tag: Gender Equality Civic Engagement Parliament Country Government UN Agencies Civil Societies and NGOs

40.

Output 2: Citizens have improved access to and are better served by the justice system and human rights reporting
Finding 20: UNDP has provided technical and legal expertise to support the development and adoption of laws promoting women's rights and mainstreaming gender into national institutions. Support to the judiciary has led to development of legal aid policy and legislative and regulatory frameworks. Results in this area were also more often gender responsive and supporting the potential for more gender-transformative results. The UNDP support to the judiciary has built capacity of prosecutors, judges and police with notable changes on consciousness and knowledge to handle cases of sexual and gender based violence (SGBV).




Tag: Gender-Based Violence Human rights Justice system Rule of law Capacity Building Technical Support

41.

Output 3: Key public institutions are enabled to address corruption and implement their procurement needs in a transparent manner.
The planned project on anti-corruption initiatives has not yet been finalized due to changing priorities on the project outcome and changing leadership of key implementing partners. As it is, the output gender neutral. Since it is at design stage, there is opportunity to undertake gender analysis of corruption, particularly when corruption may be linked to power relations that could lead to sexual exploitation and abuse of women or men in accessing opportunities and resources hence deepening social inequality. Other issues that could be addressed are how UNDP support strengthens women's networks to improve transparency and accountability in service delivery, particularly at local levels and work with women groups, communities and non-governmental organizations to strengthen the demand for budgetary allocation for GEWE as well as to monitor corruption and minimise effects on GEWE.


In a recent evaluation by UNDP (Global) 's Independent Evaluation Office on UNDP's work on anti-corruption a key finding was 'Finding 12: UNDP brought out publications highlighting the disproportionate impact of corruption on women, but there was little evidence that gender perspectives were analysed and linked to anti-corruption and accountability and transparency support. As will be seen in later chapters this lack of gender analysis did affect results of output 3 under outcome 3. ….. UNDP anti-corruption and public administration programmes lacked a gender analysis that would inform programme strategies'.6




Tag: Gender-Based Violence Anti-corruption Inequalities Social Protection

42.

Output 4: Government has effective mechanisms in place to monitor and report on use of Official development assistance (ODA) and other sources of global development financing

Project implementation only started in the third quarter of 2018 meaning that only few activities have been implemented and it is too early to realize results. With support from UNDP, the Regional Government of Zanzibar/ MOFP has successfully completed a gender indicator mapping of the MKUZA III and SDGs. Further to this, a mechanism to report against these indicators at national and international level is being elaborated.


This evaluation notes that there is opportunity to assess and monitor financing for GEWE as part of ODA and other sources of financing. There are risks to development effectiveness from not adopting a gender perspective. These include the likelihood that women will not benefit equitably from expanded budgets; new institutions, systems and mechanisms will be developed without recognizing their gender dimensions. There is need for commitment to financing to implement gender equality goal 5 of the SDGs from all sources, at all levels. The project need to be cognisant of the Addis Ababa Action Agenda on Financing for development, paragraph 53, "We encourage partner countries to build on progress achieved in ensuring that ODA is used effectively to help to achieve development goals and targets…..We urge countries to track and report resource allocations for GEWE"7.




Tag: Resource mobilization Women's Empowerment

43.

Output 5: Women have enhanced capacities to participate in electoral and decision-making processes at all levels.
This was a key gender responsive output identified under outcome 3. However, support to electoral processes has not started as a request for UNDP support to the coming 2020 national election has not yet been received from the National Election Committee (NEC) and the Zanzibar Electoral Commission (ZEC) and therefore UNDP has not developed support to Electoral Management Bodies as of the mid-term evaluation.


The other gender responsive result that was expected was ratio of women to men in decision-making at all levels. There was no evidence of progress on this through UNDP support. However, in the process of interviewing UNDP partner (Association of Tanzania Employers) on the global compact, the evaluation did come across a good practice on capacity building of middle female managers to increase the number of women in decision making. The association expressed interest to work with UNDP to expand the initiative across private and public sectors.




Tag: Women's Empowerment Election

44.

Noted challenges/ bottlenecks for outcome 3
i. UNDP support to the National Assembly had some gaps in performance in terms of gender mainstreaming. The project did not deliver as well as it should have done on important priority area of gender inclusion.




Tag: Challenges Gender Equality Gender-Based Violence Anti-corruption Justice system Parliament

45.

2.4 Efficiency
SCORE=B- Good progress with moderate areas of improvement
Finding 21: Efficiency is not just about timely delivery of resources but also the appreciation that UNDP intervention led to reduced time burden of women to fetch water and firewood Joint programmes are appreciated as efficient. The findings of the Cost Benefit Analysis of the Community Livelihoods Improvement Initiatives in Tanzania study is a good indicator that projects funded by UNDP can be cost effective; value for money could be enhanced by strengthening marketing and reducing time taken to get perishable products to the market; While value for money agenda is not just about cutting costs, cost saving measures are noted in the approaches used with less classroom and more practical onsite training.


Efficiency is also not just about timely delivery of resources but also the appreciation that UNDP intervention led to reduced time burden of women to fetch water and firewood and enable them contribute more effectively towards project results as well as their own productive activities. Improved stoves can also positively impact public health, women's empowerment, education and environmental management.




Tag: Efficiency Joint UN Programme Civil Societies and NGOs

46.

Cost Benefits and Value for money
The findings of the study on 'Cost Benefit Analysis of the Community Livelihoods Improvement Initiatives in Tanzania,' is a good indicator that projects funded by UNDP can be cost effective with profound transformative benefits. There is not only short term gain in livelihoods of women and men but foundation is laid for long term gain in the more sustainable use of natural resources and improved climate resilience which will save the country its natural resources.







Tag: Agriculture Fishery Effectiveness Trade and Development

47.

Capacity building
While value for money agenda is not just about cutting costs, cost saving measures are noted in the approaches used with less classroom and more practical onsite training appreciated by stakeholders, as less costly and delivering results. District-based personnel from relevant government departments delivered on-sight practical training on aquaculture, apiculture, biogas production, and energy saving cook stoves, anti-pouching activities and training of women on branding and strategically placing produce along the roads for access to market. These approaches are appreciated by stakeholders, as less costly and delivering results.




Tag: Energy Efficiency Capacity Building Agriculture Aquaculture

48.

Timeliness of delivery
There were mention of some delays in delivery of by partners such as the slow delivery of the project's gender mainstreaming and women's empowerment priorities. Whereas the project is designed to ensure that gender is fully mainstreamed in all the project activities, and also that the institution's policies, structures and methods of work are gender sensitive, delays in finalising the gender audit and the related gender, and HeforShe strategies, have resulted in limited progress on delivery towards gender mainstreaming and women's empowerment.




Tag: Efficiency Gender Mainstreaming Women's Empowerment Implementation Modality Programme/Project Design UNDP Independent Offices

49.

2.5 Sustainability
SCORE=B - Good progress with moderate areas of improvement
Finding 22: Sustainability involved assessing the likelihood that results of UNDP interventions will continue to be enjoyed by men and women in the long term and that gender issues mainstreamed therein will be sustained. Gender mainstreaming cuts across three outcomes and many sectors, it is therefore difficult to make an aggregated opinion of sustainability while at the same time being objective. However commitment by the Government and some interventions by the UNDP are showing potential for sustainability.


Enabling Environment and government ownership
Over the period, 2016 to 2018, there has been progress for an enabling environment for possible real change for GEWE in the country. There is seriousness on the part of URT to advance GEWE such as by participating and contributing to international GEWE conventions and reporting obligations (for example CEDAW);





Tag: Sustainability Gender Equality Integration Country Government

50.

Interventions with potential for sustainability
Sustainability refers to the likelihood that achievements relevant to GEWE will be sustained after the funding period, including ownership by beneficiaries, the extent to which their strategic needs have been met through the outcomes and the extent to which capacity has been built to sustain the impact of the outcomes. Key informants interviewed saw sustainability as a long term plan and not possible in the short term where institutional capacity for GEWE is still being strengthened.




Tag: Energy Sustainability Gender Equality Women's Empowerment Parliament Ownership

51.

Alternative Partnerships for financing GEWE

With UN support, a high-level development dialogue process was held between the government and Development Partners which reviewed the aid architecture for inclusion of private sector and CSOs. A development corporation framework document was produced that will facilitate renewed focus on effective dialogue with new actors and new financing. UNDP utilized its comparative to support the Regional Government of Zanzibar to facilitate a meeting with the Donor Partners.

The Government and development partners agreed to review the Development Cooperation Framework (DCF), formally approved in July 2017 with technical support from UNDP, acting as a convener among development partners. The DCF provides the strategic framework that will enable an effective development dialogue with potential new actors, thereby increasing inclusivity, offers scope for new development financing and will enhance mutual accountability between Government and partners.




Tag: Civil Societies and NGOs Donor UN Agencies UNDP management
Recommendations
1

The CO need to aim at 'Going for gold' certification. The gender equality seal is available for regular monitoring hence the CO needs to undertake periodic internal assessment to stay on course. The CO can learn from reports of those countries that were certified gold to improve on weaknesses. The country office should continue with gender mainstreaming efforts and ensure full integration of GEWE components in all its programmes. Specifically:

Revise the CO GES and CO Gender Seal Action Plan to accommodate actions required from the Corporate GES as well as the recommendations from this evaluation and agree on who will take action by when and cost implications.
Partnerships: Continue to translate into action at country level, the common chapter in the corporate Strategic Plan of four agencies, UNDP, UN Women, UNICEF and UNFPA.
Consider recruitment of dedicated gender specialist/analyst.
The area of knowledge management is critical for gender equality. Any future CO communication plan/strategy should integrate how it will effectively communicating gender equality results for UNDP and provide guidance on gender-sensitive language. Documentation of gender results should be regular and not wait for ROAR - Consistently disseminate GEWE good practices across CO staff, UNCT, partners. For example, there is need to document and disseminate widely on how women, as well as men, have addressed challenges related to climate change.
Ensure Staff are constantly updated on channels of reporting sexual exploitation and abuse including the planned establishment of a free, 24-hour, international and confidential helpline by UNDP New York.
In DaO, the CO should continue strengthening staff capacity and add value to gender mainstreaming in outcomes by making good use of other UN agency specific tools and courses for GEWE.

2

Mainstream gender analysis in design, implementation and monitoring. Pay more attention to timely gender analysis of projects being formulated during the remainder of the CPD period and where there are gaps ensure gender analysis is completed during implementation.

3

Map out gender statistics required for monitoring GEWE contributions to the CPD and compile in a systematic and consolidated manner to give the big picture at outcome level and not just limited to project level

4

Gender Marker requires continuous learning by new programme staff. The CO needs to consistently and periodically update the coding for any changes taking place during implementation as well as during closure of projects.

5

Improve the way gender results are captured - Make an effort to disaggregate results by sex beyond counting numbers or percent of male and female and showing gender-responsive change. Include qualitative results where progress has been made in changing gender roles, social norms, and gender social relations. There is room for improvement and going beyond numbers and addressing whose capacity changed at the level of an entity, organization, group or system and what capacity changed.

6

UNDP should consistently address interventions linked to reducing the impact of social-cultural practices that hamper progress on gender equality- strengthen partnerships and collaboration with custodians of culture such as traditional and religious leaders in both Tanzania Mainland and Zanzibar.

7

Continue to balance dual approach of gender mainstreaming and gender specific: Enlist men as agents of change for and champions of gender equality- Gender mainstreaming implies including women, but does not imply excluding men. Gender analysis is needed to inform any programming design process to identify any male-based gender issues that make men and boys particularly vulnerable in a given context, as well as ways to engage men and boys as actors to promote and support increased gender equality. Involve men and boys in efforts to remove gender-based barriers and strengthen gender results as opposed to women only results except where inequalities are more glaring for women.

8

SPECIFIC FOR INCLUSIVE GROWTH

It is pertinent that mainstreaming is strengthened at the local government level to ensure adequate provision of financial and human resources for planning and implementation of GEWE results

9

The planning-budget interface will require partnerships be strengthened with UN Women who indicate that they are already working on the gender responsive budgets.

10

Timing of engagement in the National Budget process is crucial to determine entry point for gender budget allocation that is linked to plans. UNDP support for Gender Responsive Budgeting tools are being developed for the National Assembly to assist in gendered budget analysis and training for selected committees. This should be strengthened as committees play critical role in approving budgets

11

Timing of gender mainstreaming is key in achieving results in policy formulation. This is important for gender mainstreaming in the upcoming social development policy not to be an "add on" exercise. Mainstreaming in 'where the river is flowing' is an opportunity for UNDP that improves relevance. Hence, UNDP needs to be strategic and use the draft social protection framework in place to inform the policy development

12

The UNDP CO should ideally be aware of which policies, plans or strategies are in the pipeline within the CPD period and identify where it wants to make a difference. In the absence of this, ad hoc or 'add on' response to gender mainstreaming without gender analysis could be the norm that also makes it difficult to hold UNDP accountable.

13

Economic empowerment focusing on expanding the reach and financial base through micro-finance has not been fully exploited and could be prioritised. The Continuous linkages between business enterprises, finance and access to markets needs to be up scaled and sustained.

14

UNDP should encourage mentorship programmes for entrepreneurs across regions and districts to open space for entrepreneurs to learn from one another, example on how to use energy saving stoves, beehives, solar pump. It is not clear how women entrepreneurs are learning from each other

15

Achieving GEWE has to be strategic and framed within a broader rapid assessment of markets to strengthen market linkages for the women groups based on production of what would likely be on high demand, study possible risks that perishable agricultural produce are exposed to and integrate marketing and value addition into the design. A clear plan for value addition and marketing is required at the beginning of the project, working with UNCDF

16

Ensure the implementation/practical use of the numerous studies focusing on GEWE under outcome 1

17

Global Compact: There is need to share practices from different countries on experiences of implementation on how to integrate gender equality and gender empowerment in global compact. Currently, UN is already negotiating with some of the partners (Alpha Associates and ATE) on how they can share the best practices.

18

Strengthen institutional capacity of TASAF for gender mainstreaming, including how to address issues of cultural barriers to women's full participation in socio-economic activities; sensitize and build the capacity of TASAF staff and PSSN implementers at all levels in gender analysis and the application of gender mainstreaming tools and put in place gender mainstreaming systems and mechanisms in TASAF, including recruitment of Gender Specialist or appointment of Gender Focal Point with gender competencies. Part of this support to TASAF should be targeted at supporting the action plan on gender mainstreaming that is partly supported by Bill and Belinda Gates. See above also re social protection work.

19

Include gender indicators that address the strategic and other needs of women, girls, boys and men in the Log frame/projects which includes gender disaggregated indicators.

20

Upscale energy efficient cooking techniques as they are more adaptable and there is evidence that this technology has been successfully applied in Tanzania compared to domestic biogas.

21

Ensure the implementation/practical use of the numerous studies focusing on GEWE under outcome 2.

22

As an exit strategy for the project, it is important to re-evaluate the sustainability of installation of solar energy.

23

While continuing to strengthen justice institutions, address demand for access to justice by women and men, particularly with regards to SGBV

24

Design youth income generation activities that will attract girls and boys and at the same time protect the environment and biodiversity (depending on what is relevant for each of the sex). New opportunities such as support to promoting the domestication of the Africa Mining Vision (AMV) in Tanzania can be an avenue for youths to actively engage related activities in mining areas

25

The electoral process is a cycle, hence while a process should start to negotiate with the government for electoral support that will include implementation of gender-specific indicators within the big picture of support to elections, UNDP has an opportunity within the project for support to National Assembly to speed up gender mainstreaming and provide support to elected women. This requires the speedy implementation of the gender audit and assessment of the National Assembly that was completed, along with a gender strategy and action plan as well as a HeforShe strategy. These components have negatively affected the rating for UNDP contribution to gender mainstreaming results within the National Assembly.

26

Undertake gender analysis of upcoming projects

- anti-corruption and learn from the recommendations and management response of corporate evaluation of UNDP's contribution to anticorruption and implement what is appropriate to Tanzania in addressing gender issues of anti-corruption

- Undertake gender analysis of financing for GEWE as part of ODA project

27

It is not enough to enact laws and have strong institutions. UNDP could support Tanzania efforts to strengthen women's access to justice in formal and informal Systems. This includes the promotion of the legal empowerment of women; and engagement of religious and traditional leaders on women's rights

28

Continues investment should be dedicated to staff and partners training on "how to" thematic gender mainstreaming expertise beyond basic awareness. For example, in UNDP operations - how to mainstream gender in human resources, in procurement, in finance and others. A coherent programme approach to gender equality can be developed within each thematic area or sector of work. Training should move to the level of "how to" in thematic and customized areas such as gender mainstreaming in climate change; gender mainstreaming in elections; gender mainstreaming in poverty. These are more practical with greater benefits. Training should be followed up with assessments of effectiveness of application of skills, such as after training women in business what changed.

-Replicate and scale-up the best practices and lessons learnt from the pilot project interventions (aquaculture, apiculture and biogas production).