Terminal Evaluation: UNDP support to UXO programme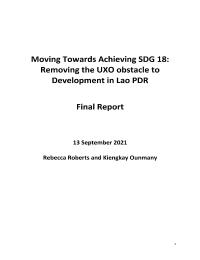 Evaluation Plan:

Evaluation Type:

Final Project

Planned End Date:

10/2021

Completion Date:

09/2021

Status:

Completed

Management Response:

Yes

Evaluation Budget(US $):

30,000
Title
Terminal Evaluation: UNDP support to UXO programme
Atlas Project Number:

00098202

Evaluation Plan:
2017-2021, Lao
Evaluation Type:
Final Project
Status:
Completed
Completion Date:
09/2021
Planned End Date:

10/2021

Management Response:
Yes

Focus Area

:

1. Poverty and MDG
2. Others

Corporate Outcome and Output (UNDP Strategic Plan 2018-2021)

1. Output 1.1. National and sub-national systems and institutions enabled to achieve structural transformation of productive capacities that are sustainable and employment - and livelihoods- intensive

SDG Goal

Goal 11. Make cities and human settlements inclusive, safe, resilient and sustainable
Goal 17. Strengthen the means of implementation and revitalize the Global Partnership for Sustainable Development

SDG Target

11.5 By 2030, significantly reduce the number of deaths and the number of people affected and substantially decrease the direct economic losses relative to global gross domestic product caused by disasters, including water-related disasters, with a focus on protecting the poor and people in vulnerable situations
17.18 By 2020, enhance capacity-building support to developing countries, including for least developed countries and small island developing States, to increase significantly the availability of high-quality, timely and reliable data disaggregated by income, gender, age, race, ethnicity, migratory status, disability, geographic location and other characteristics relevant in national contexts

Evaluation Budget(US $):

30,000

Source of Funding:
Evaluation Expenditure(US $):

23,210

Joint Programme:
No
Joint Evaluation:

No

Evaluation Team members:

| Name | Title | Nationality |
| --- | --- | --- |
| Rebecca Roberts | Evaluation team leader | |
| Kiengkay Ounmany | Evaluation team member | LAO PEOPLE'S DEMOCRATIC REPUBLIC |

GEF Evaluation:

No

Key Stakeholders:
National Regulatory Authority for UXO/Mine Action Sector in Lao PDR
Countries:

LAO PEOPLE'S DEMOCRATIC REPUBLIC
Recommendations
1

Identify what UNDP's role in the sector is and communicate this clearly to other stakeholders

2

Act as a neutral arbiter within the UXO sector and ensure that the interests of all stakeholders including the people of Laos, UXO sector actors, GoL and donors are represented.

3

Provide leadership for/or support for coordination and information exchange and joint initiatives that facilitate the work of the sector.

4

Support the capacity needs assessment for NRA (and another for UXO Lao) and identify where UNDP can contribute.

5

UNDP has a comparative advantage for advocacy across multiple sectors, for example, to improve support for victim assistance and persons with disabilities, and to promote gender mainstreaming and the meaningful participation of women in the UXO sector.

6

Improve project design, develop a baseline and monitoring and evaluation mechanisms that can assess progress and help to differentiate UNDP's contribution to the UXO sector from that of other stakeholders.

7

Ensure that appropriate staff and funding are available. Lobby headquarters for support and work with UNDP regionally to share experiences, lessons learned and to pool resources.

8

Determine the impact of the contamination and UXO Action through research and analysis and use findings as an advocacy and fundraising tool. Examine methods to extrapolate from existing survey and bombing data to determine the extent of the contamination.

9

Agree the strategic priorities for the UXO sector based on analysis of the impact of the contamination and UXO Action and develop SPFIII accordingly in collaboration with other UXO sector stakeholders.

10

To fulfil SPFIII, agree criteria for task prioritisation informed by the impact of contamination and clearance. Agreed prioritisation criteria should facilitate MoU procedures.

11

Based on the strategic priorities, identify capacity development needs. There is a huge amount of capacity and expertise in the UXO sector in Lao PDR. Resources should be pooled, capacity mapped, and comparative advantages identified to develop a comprehensive capacity development programme to build sustainable national capacity. The process should be led by the NRA with support from UNDP if it has a full-time CTA in place. If UNDP does not have a CTA, an alternative long-term solution should be found to ensure continuity.

12

Identify issues to be addressed to ensure sustainable national UXO Action capacity and develop a plan to achieve sustainability.

13

Improve coordination for action within the UXO sector through more effective sector and technical working group meetings and sharing of IMSMA data and other relevant information.

14

Continue advocacy with ministries for UXO Action and mainstream the sector's activities.

15

Continue to work towards expediting the MoU process.

16

Collate and make public information on all the GoL's financial and in-kind contributions to the UXO sector. Work with the GoL to identify ways of increasing its contributions.

17

Continue to develop existing relationships with donors and to build trust by ensuring timely communication, transparency and accountability.

18

Improve information management, monitoring and evaluation of sector activities and analysis of data which should inform strategic decision making in the sector.

19

Strengthen quality management capacity.

20

Continue to work with UNDP and other stakeholders to strengthen programmatic and technical UXO Action capacity.

21

Ensure that responses to and engagement in investigations are timely. Ensure that engagement in processes such as strategic planning and evaluations are timely.

22

Identify ways to strengthen subnational capacity and coordination between the national and subnational levels

23

Use risk education teams to improve community liaison. Examine more innovative ways to deliver risk education. Explore the possibilities of using international NGOs to provide support.
Management Response Documents