Mid-Term Evaluation of the Making Access to Finance More Inclusive for Poor People Program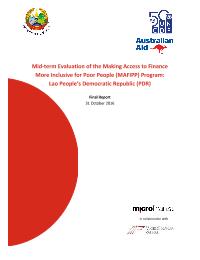 Evaluation Plan:

Evaluation Type:

Mid Term Others

Planned End Date:

11/2015

Completion Date:

10/2016

Status:

Completed

Management Response:

Yes

Evaluation Budget(US $):

71,700
Title
Mid-Term Evaluation of the Making Access to Finance More Inclusive for Poor People Program
Atlas Project Number:
Evaluation Plan:
2014-2015, UNCDF
Evaluation Type:
Mid Term Others
Status:
Completed
Completion Date:
10/2016
Planned End Date:

11/2015

Management Response:
Yes
Focus Area:

1. Poverty and MDG
2. Others

Corporate Outcome and Output (UNDP Strategic Plan 2014-2017)
Evaluation Budget(US $):

71,700

Source of Funding:
non-core
Evaluation Expenditure(US $):

71,700

Joint Programme:
No
Mandatory Evaluation:
No
Joint Evaluation:

No

Evaluation Team members:

| Name | Title | Email | Nationality |
| --- | --- | --- | --- |
| | | | |

GEF Evaluation:

No

Key Stakeholders:
Countries:

LAO PEOPLE'S DEMOCRATIC REPUBLIC
Recommendations
1

.

2

Evaluation Recommendation or Issue 1: Clearer definition and strategic orientation on part of the program itself towards further refining what MAFIPP intends with financial inclusion with more emphasis on outreach in priority poor districts and/or rural areas.

3

Evaluation Recommendation or Issue 2: Evaluation Recommendation 2: Stronger focus on the provision of financial education

4

Evaluation Recommendation or Issue 3: leverage MFA as a channel for knowledge management and dissemination of best practices and for promotion of voluntary industry standards

5

Evaluation Recommendation or Issue 4: Concerted attempt towards bringing microfinance funding efforts under the same umbrella and continue to crowd in and facilitate investments in FSPs

6

Evaluation Recommendation or Issue 5: Soliciting higher level political support for the financial inclusion agenda
Management Response:
[Added: 2017/07/10]
[Last Updated: 2018/08/24]
Management thanks external evaluators Microfinanza for their comprehensive report and insightful findings, with which Management overall agrees. BoL and UNCDF will endeavor to embed the evaluators recommendations into the remaining year of activity of MAFIPP and into the foundation of the post-MAFIPP programming framework.
Key Actions:
2. Recommendation:

Evaluation Recommendation or Issue 1: Clearer definition and strategic orientation on part of the program itself towards further refining what MAFIPP intends with financial inclusion with more emphasis on outreach in priority poor districts and/or rural areas.
Management Response:
[Added: 2017/07/10]
Partially Accepted - Management deems that the evaluators may not have properly seized the extent of the challenges in developing a market approach to pro-poor and pro-rural financial services: therefore the request for a focus on priority districts and for very targeted groups is deemed premature as the mode of intervention is always indirectly under UNCDF sustainability mandate, i.e. through established Financial Services Providers (FSPs). It is recalled that, as part of the Lao Australian Rural Livelihoods Programme (LARLP), MAFIPP had be requested to perform interventions in the 3 priority districts of LARLP – Soukhouma of Champasak, Lao-Ngam of Salavan and Xepon of Savannakhet- and in spite of its efforts MAFIPP wasn't able to identify any FSP willing to work there.
Key Actions:
Key Action

Responsible
DueDate
Status
Comments
Documents

1.1. Management to propose refined methodology for outreach calculation to be validated by MAFIPP PMC.




[Added: 2017/07/10]

[Last Updated: 2017/12/01]

MAFIPP management

2017/08

Completed

Microfinanza recommended to adopt a client-centric measurement as opposed to counting accounts without indication of their level of activity. Microfinanza also assessed the outreach targets as over-ambitious. MAFIPP will therefore track the proxy closer to its target defined in terms of 'additional active users'. MAFIPP will adjust its methodology for calculating outreach: • When an FSP provides both loans and savings, sum up the number of savings and loan accounts but deduct systematically the dual ownership of savings and loan accounts: to be assessed from the lending methodology (i.e. existence of compulsory savings) or broad estimate by the grantee of dual ownership • Deduct systematically dormant accounts, defined for traditional accounts as without transactions over the last 365 days: do this for all grantees that have provided information on dormancy • Redefine the scope of the attributable outreach at supported institutions in space and time Space: if the support is circumscribed to a specific expansion of an institution already with a large footprint then account only the additional outreach in relation to that specific expansion. If the support covers also institution-building then the scope of the entire institution is acceptable.E.g. support to ACLEDA Bank Laos (ABL) can claim additional outreach only for the 5 Service Units opened with the support of MAFIPP (MicroLead activity). Support to Champa Lao for the expansion to Nam Tuan Thai encompasses also an overhaul of the MIS of the MFI, therefore MAFIPP can account for progress of outreach on the scope of the entire institution. Time: accounting for the outreach should not be circumscribed to the timeframe of the Performance Based Agreement (PBA) signed with the partner institution. The outcomes are attributable on a longer period of time as long as the scope in terms of 'space' is rigorously determined. E.g. MAFIPP can continue to account additional clients of the 5 Service Units of ABL opened with the support of MAFIPP until the end of MAFIPP Programme (and its possible no-cost extension). • In the case of Digital Financial Services, count as additional user any customer who has performed a transaction using the DFS channel over the last 90 days , regardless whether s/he is transacting with a pre-existing bank account through the DFS channel. Rationale: impossible to receive regularly baseline data on the prior level of activity of the pre-existing bank account for any new user of bank-lead DFS (i.e. BCEL BCOME). Likewise telco-lead DFS will have no extensive data on the number of unbanked among its active users (linking the digital wallet with a bank account is a functionality still for the distant future)

1.2. Management to revaluate DFS outreach target for validation by MAFIPP PMC.




[Added: 2017/07/10]

[Last Updated: 2017/07/11]

MM4P MAFIPP management

2017/04

Completed

Management will reassess the target of users of Digital Financial Services that was set to 200,000 users by end 2017 – already lowering the estimates from UNCDF/MM4P that set a 250,000 target (see annex #5 of ProDoc revision #1). The two reasons for this unachievable target are first the time necessary to raise the awareness of the local financial & telecom industry and to nudge them to draft business cases and then to pilot, then more importantly is the severe shortfall of capital from the State-Owned Enterprises that dominate this market which does not provide the opportunity to heavily invest in marketing for penetration to soar up once customer acceptance and the business model are validated by the pilot. BCEL BCOME is a case in point where customer acceptance and the overall sustainability of the value proposition are demonstrated but the lack of capital resources prevent the bank from turning the business growth into a hockey curve as envisioned by MM4P: business growth is envisaged by BCEL to be linear. Now that the second DFS pilot is about to start (the objectives set out in the ProDoc revision #1 were that two pilots would be launched in 2015 – only one did actually) management forecast for DFS outreach based on the business plans of the three operators supported by UNCDF (2 by MAFIPP, 1 by SHIFT) are: • Q4 2017: 11,733 • Q4 2018: 109,116 • Q4 2019: 280,726 See Appendix 1

1.3. Recalculation of results under the new methodology




[Added: 2017/07/10]

[Last Updated: 2017/12/01]

MAFIPP management

2017/09

Completed

Management will update the DFS outreach targets of MAFIPP using the values above for 2017 and 2018 (since a no-cost extension of 6 to 9 months into 2018 is envisaged). Management will therefore reset the MAFIPP outreach targets using the above-delineated methodology and rationale. Management agrees that "more emphasis on outreach in priority poor districts and/or rural areas" is desirable. Management and BoL concur that rural areas will remain a priority for their action moving forward: support to DFS and MFIs has been geared in nearly all instances toward rural expansion – SmartKids is the only urban outreach project to have received support from FIF. However, management points out that, at such a nascent stage of a sustainable market of pro-poor financial services, nudging Financial Services Providers which struggle already with sustainability to operate in priority districts is too much of an ask in the short-term. MAFIPP has been already struggling to create a pipeline of investable projects for the FIF that cater to rural expansion – focusing on the priority districts would certainly yield no projects at all. That said, the idea will however be kept for the post-MAFIPP interventions to offer a reinforced set of incentives for operations extending to priority districts: UNCDF would then reach out to the WB Poverty Reduction Fund to see if it would agree to co-finance the extra incentive (an operational subsidy may be needed to nudge an FSP to encompass also the priority districts). See Appendix 1
3. Recommendation:

Evaluation Recommendation or Issue 2: Evaluation Recommendation 2: Stronger focus on the provision of financial education
Management Response:
[Added: 2017/07/10]
Accepted - Management agrees with the importance of the financial education to bring about catalytic change in the adoption of formal financial services by all strata of the population and also in increasing the likelihood of impact on poverty reduction.
Key Actions:
Key Action

Responsible
DueDate
Status
Comments
Documents

2.1. Support to MFA on capacitation of 8 MFIs on business planning training and consumers' general financial education




[Added: 2017/07/11]

[Last Updated: 2018/10/03]

MAFIPP Management

2017/12

Completed

1st tranche PBA disbursed May 2017 Even before the release of the MTE MAFIPP was already encouraging the Laos Microfinance Association (MFA) to use the Microfinance Institutions (MFIs) for the delivery of financial education at the clients' doorstep with an emphasis on the entrepreneurs where there is a clear win-win situation: through business planning training the MFIs decrease greatly default risks on their largest loans – since April 2016 their lending limit has been lifted from 10 to 50 million kips (~$6,200). A grant of $28,054 was offered in December 2016 to the MFA for the capacitation and coaching of 8 MFIs to train a total of 120 micro-entrepreneurs on business planning and 600 retail clients on financial education. 3rd and last tranche PBA disbursed September 2018

2.2. MAFIPP to evaluate the budget cost of financial education for 2-3 target groups: #1 – factory workers in an urban setting #2 – Urban consumers, focus on household budget management and goal planning #3 – Youth in secondary education




[Added: 2017/07/11]

[Last Updated: 2018/12/11]

MAFIPP Management

2018/12

Completed

MAFIPP has urged the MFA to consider offering the business planning training delivery beyond MFIs and to press Department of SME Promotion of the Ministry of Industry & Commerce (MoIC/DOSMEP) for the official sanction of this training with a final exam managed by MFA that coincidentally would allow MFA to levy royalties from third-parties delivering its copyrighted training. That said, the delivery of quality financial education to retail consumers faces a sustainability issue: Financial Services Providers have of course an interest in providing it but at the risk of blundering the boundary with product promotion. If Financial Education is considered as a public good its delivery should be subsidized accordingly. MAFIPP cannot resolve the problem of funding the delivery but could determine effective delivery formats and estimate the associated cost per head. Target #1 – factory workers in an urban setting – is tackled through the DFAT ADA funded project 'Laos Female Garment workers payroll eco-system' Target #3 – Data points obtained through former grantee EMI, 'Smart Kids' initiative
4. Recommendation:

Evaluation Recommendation or Issue 3: leverage MFA as a channel for knowledge management and dissemination of best practices and for promotion of voluntary industry standards
Management Response:
[Added: 2017/07/10]
Accepted - MAFIPP has done much for the institutionalization of the MFA and the recognition by government of MFA as a necessary partner in public-private dialogue on financial sector issues.
Key Actions:
Key Action

Responsible
DueDate
Status
Comments
Documents

3.1 Encourage MFA to take offer of services beyond the MF sector




[Added: 2017/07/11]

[Last Updated: 2018/12/11]

MAFIPP Management, BoL

2018/12

Completed

Organizations interested in MFA training include NTPC II, Project on Capacity Development for Agricultural Innovation Systems (CDAIS), Poverty Reduction Fund (PRF), Women Entrepreneurship (WEC) and Faculty of Environmental Sciences of the National University of Laos Advocated to MFA to extend business planning to banks under an income-generating franchise throughout activity 2.1 but MFA didn't want to consider.
5. Recommendation:

Evaluation Recommendation or Issue 4: Concerted attempt towards bringing microfinance funding efforts under the same umbrella and continue to crowd in and facilitate investments in FSPs
Management Response:
[Added: 2017/07/10]
Accepted - Management and BoL have put this topic high on their agenda. A concept note on the extension of FIF beyond MAFIPP has been presented to the PMC #19 on 26 August 2016 to raise the attention on the need of such a facility for the implementation of the Roadmap for Financial Inclusion 2016-2020 and the possible synergies that BoL could create.
Key Actions:
Key Action

Responsible
DueDate
Status
Comments
Documents

4.1. Create synergies between the different refinancing facilities under the purview of BoL: MAFIPP FIF, KfW LAFF, IFAD upcoming ARF




[Added: 2017/07/11]

[Last Updated: 2018/12/11]

MAFIPP Management, BoL

2019/04

Initiated

Close concertation continues to be sought with donors involved in the Financial Inclusion space as exemplified by the leveraging of the international NGO Appui au Développement Autonome (ADA, funded by Luxemburg) support to the MFA on the MFMCC and also for the capacitation of 8 MFIs on financial education. Bilateral discussions initiated with IFAD and KfW. FIF Manager has shared job experience with staff of BoL/Banking Operations Dpt groomed to manage in-house the KfW LAFF

4.2 Operational synergies of donors to BoL on refinancing facilities




[Added: 2017/07/11]

[Last Updated: 2018/12/11]

BoL

2019/04

Initiated

BoL yet to kickstart inter-departmental discussions. Banking Operations Dpt in charge of refinancing facility now cooperating with KfW's appointed consultants, strategic workshop contemplated for 4Q18
6. Recommendation:

Evaluation Recommendation or Issue 5: Soliciting higher level political support for the financial inclusion agenda
Management Response:
[Added: 2017/07/10]
Management Response: Accepted - Management and BoL concur with this recommendation: it is precisely the goal of the Roadmap for FI to provide a platform for taking key financial sector issues to the inter-ministerial level as in the case of subsidized lending which distorts the economy and weighs on the state budget, of village banks for which BoL needs the active support of an administration with presence down to district level to undertake supervision under a framework drafted by BoL.
Key Actions:
Key Action

Responsible
DueDate
Status
Comments
Documents

5.1. BoL to reach out to MAF for operational collaboration in agricultural & rural finance




[Added: 2017/07/11]

[Last Updated: 2018/12/11]

BoL, UNCDF

2018/12

Completed

Deputy Director General of Financial Institutions Supervision Dpt (BoL/FISD) focal person for dialogue with MAF. Areas of cooperation identified: village banks and refinancing facility for rural FSPs. Political decision taken to start cooperation on the village banks theme, yet to be operationalized at a technical level. BoL associated to the MAF Sub-Sector Working group on Rural Development. Social transfers could emerge as additional theme with WB $27mn CCT for pregnant mothers in rural North, implemented by MAF.

5.2 Raising awareness at ministerial level on the Roadmap for Financial Inclusion following sign-off by Governor of BoL




[Added: 2017/07/11]

[Last Updated: 2018/12/11]

BoL, UNCDF

2019/04

Initiated

Inter-ministerial consultations around the FI Roadmap action plan in Feb. 2018, validated end May through workshop chaired by Deputy-Governor BoL Mdm Vatthana. High-level intergo¬vernmental workshop on Financial Inclusion planned for Q1 2019