Programme Progress Evaluation for the GCF programme Accelerating the Transformational Change to a low carbon Economy in the Republic of Mauritius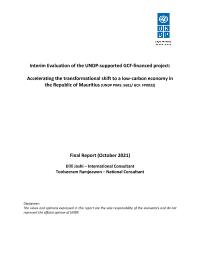 Evaluation Plan:

Evaluation Type:

Mid Term Project

Planned End Date:

12/2019

Status:

Planned

Management Response:

No

Evaluation Budget(US $):

30,000
Title
Programme Progress Evaluation for the GCF programme Accelerating the Transformational Change to a low carbon Economy in the Republic of Mauritius
Atlas Project Number:
Evaluation Plan:
2017-2020, Mauritius
Evaluation Type:
Mid Term Project
Status:
Planned
Planned End Date:

12/2019

Management Response:
No
Focus Area:

1. Environment & Sustainable Development
2. Others

Corporate Outcome and Output (UNDP Strategic Plan 2014-2017)

1. Output 1.5. Inclusive and sustainable solutions adopted to achieve increased energy efficiency and universal modern energy access (especially off-grid sources of renewable energy)

Evaluation Budget(US $):

30,000

Source of Funding:
project
Joint Programme:
No
Joint Evaluation:

No

GEF Evaluation:

No

Key Stakeholders:
Ministry of Finance and Economic Development. Ministry of Energy and Public Utilities, Central Electricity Board, Utility Regulatory Authority, Mauritius Renewable Energy Agency
Countries:

MAURITIUS

Comments:

This is a GCF funded project and the actual date of the evaluation may change depending on when the first disbursement occurs.