First Interim Evaluation for the GCF programme Accelerating the Transformational Change to a low carbon Economy in the Republic of Mauritius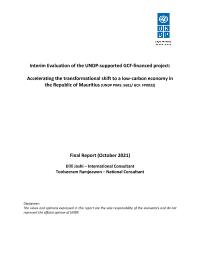 Evaluation Plan:

Evaluation Type:

Mid Term Project

Planned End Date:

12/2021

Completion Date:

12/2021

Status:

Completed

Management Response:

No

Evaluation Budget(US $):

30,000
Title
First Interim Evaluation for the GCF programme Accelerating the Transformational Change to a low carbon Economy in the Republic of Mauritius
Atlas Project Number:

00105006

Evaluation Plan:
2017-2023, Mauritius
Evaluation Type:
Mid Term Project
Status:
Completed
Completion Date:
12/2021
Planned End Date:

12/2021

Management Response:
No

Focus Area

:
Corporate Outcome and Output (UNDP Strategic Plan 2018-2021)

1. Output 2.5.1 Solutions developed, financed and applied at scale for energy efficiency and transformation to clean energy and zero-carbon development, for poverty eradication and structural transformation

SDG Goal

Goal 13. Take urgent action to combat climate change and its impacts
Goal 7. Ensure access to affordable, reliable, sustainable and modern energy for all
Goal 9. Build resilient infrastructure, promote inclusive and sustainable industrialization and foster innovation

SDG Target

13.2 Integrate climate change measures into national policies, strategies and planning
7.1 By 2030, ensure universal access to affordable, reliable and modern energy services
9.4 By 2030, upgrade infrastructure and retrofit industries to make them sustainable, with increased resource-use efficiency and greater adoption of clean and environmentally sound technologies and industrial processes, with all countries taking action in accordance with their respective capabilities

Evaluation Budget(US $):

30,000

Source of Funding:
Project
Evaluation Expenditure(US $):

30,000

Joint Programme:
No
Joint Evaluation:

No

Evaluation Team members:

| Name | Title | Email | Nationality |
| --- | --- | --- | --- |
| Dilli Joshi | International Consultant | dillijoshi@gmail.com | |
| Toolseeram Ramjeawon | National Consultant | ramjawon@uom.ac.mu | MOROCCO |

GEF Evaluation:

No

Key Stakeholders:
Ministry of Finance and Economic Development. Ministry of Energy and Public Utilities, Central Electricity Board, Utility Regulatory Authority, Mauritius Renewable Energy Agency
Countries:

MAURITIUS

Comments:

This is a GCF funded project and the actual date of the evaluation may change depending on when the first disbursement occurs.
Lessons
1.

Lesson Learned 1: Recruitment process for staff to be initiated immediately after project approval

With substantial delays in team recruitment, the project activities started nine months after project approval. The team has been able to overcome the initial delays and very slow delivery progress to the present level of energy. In retrospect, there is substantial learning in this how to prevent such slow start-up phases. The recruitment process should start immediately after project approval and the team should be in place before the inception workshop.

Lesson Learned 2: Work planning to better anticipate delays in the procurement process

The PMU should anticipate and plan by accounting for potential further impacts of the pandemic for Phase II activities, especially when procuring items from abroad. Reduce impact of the pandemic by planning alternative procurement routes for essential items in the supply chain. The time frame for the procurement process through the Central Procurement Board (CPB) and possible appeals through the Independent Review Panel (IRP) needs to be considered in the work planning. The impact and probability of this risk occurring must be properly evaluated in the risk log.

Lesson Learned 3: In co-financing through a loan by another financial institution, there must be clear interpretation if the loan is part of the project or in parallel to it.

The experience with the AFD loan to CEB has shown that it is advisable not to link two financial institutions with a loan in co-financing. In case it is so, there must be clear interpretation if the loan is part of the project or in parallel to it Also, planning for co-financing disbursement should factor in possible delays to adjust for implementation hurdles.

Lesson Learned 4: For more effective Monitoring and Evaluation(M&E), there must be due diligence in the formulation of indicators during project design and at the start of the project.

Some of the indicators and related targets in the Project Results Framework (PRF) were not found to be SMART (Specific, Measurable, Attainable, Relevant, Time-Bound) and this impacts on the quality of the M&E. It is important that there is due diligence in the formulation of indicators during the project design, inception workshop and at the start of the project.

Lesson Learned 5: A contingency plan is needed to assess and mitigate against COVID 19 impacts in Phase II.

It is noteworthy that the impact of Covid 19 has been reported in Quarterly and APR Reports. It is recommended that a Covid-19 contingency plan should be prepared and included as a specific subsection within existing Quarterly reports to help identify potential solutions. It is also important to ensure proper stakeholder engagement and that appropriate stakeholders are involved in the review of key deliverables.



Findings
View report for recommendation