Report of the Evaluation of Southern Thailand Empowerment and Participation (Phase Two) Project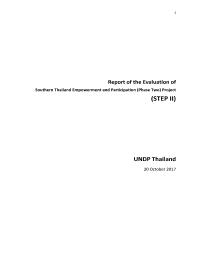 Evaluation Plan:

Evaluation Type:

Final Project

Planned End Date:

06/2017

Completion Date:

10/2017

Status:

Completed

Management Response:

Yes

Evaluation Budget(US $):

20,000
Title
Report of the Evaluation of Southern Thailand Empowerment and Participation (Phase Two) Project
Atlas Project Number:

00081751

Evaluation Plan:
2017-2021, Thailand
Evaluation Type:
Final Project
Status:
Completed
Completion Date:
10/2017
Planned End Date:

06/2017

Management Response:
Yes

Focus Area

:

1. Democratic Governance
2. Others

Corporate Outcome and Output (UNDP Strategic Plan 2018-2021)

1. Output 2.4. Frameworks and dialogue processes engaged for effective and transparent engagement of civil society in national development

SDG Goal

Goal 1. End poverty in all its forms everywhere
Goal 16. Promote peaceful and inclusive societies for sustainable development, provide access to justice for all and build effective, accountable and inclusive institutions at all levels

SDG Target

1.2 By 2030, reduce at least by half the proportion of men, women and children of all ages living in poverty in all its dimensions according to national definitions
1.a Ensure significant mobilization of resources from a variety of sources, including through enhanced development cooperation, in order to provide adequate and predictable means for developing countries, in particular least developed countries, to implement programmes and policies to end poverty in all its dimensions
16.7 Ensure responsive, inclusive, participatory and representative decision-making at all levels

Evaluation Budget(US $):

20,000

Source of Funding:
Japanese Trust Fund
Evaluation Expenditure(US $):

8,390

Joint Programme:
No
Joint Evaluation:

No

Evaluation Team members:

| Name | Title | Nationality |
| --- | --- | --- |
| Montra Leoseng | National Project Evaluator | THAILAND |

GEF Evaluation:

No

Key Stakeholders:
Countries:

THAILAND
Lessons
Findings
1.

3.1 Main findings and analysis

The project progress reports are well documented. The STEP Project Phase II offers an opportunity to enter into or glimpse areas that are usually hidden and/or restricted.The three year, USD 800,063.43 project sought to establish and manage community development initiatives that contribute to improved human security and social cohesion. The STEP Phase II project is a co-signed project between UNDP and Government of Thailand through Prince of Songkla University,as the appointed Implementing Partner, working in partnership with other national collaborating agencies, including Ministry of Foreign Affairs, Ministry of Interior, Ministry of Justice, and Southern Border Provinces Administrative Center.




Tag: Partnership Country Government Security Social cohesion

2.

The Project Executive Committee played a largely figure head role in making management decisions for a project when guidance and recommendations are required by UNDP/Implementing Partner to ensure management ford evelopment results, effective resource mobilization, fairness, integrity and transparency. The project established deep and inclusive national ownership by inviting the Director of College of Islamic Studies of Prince of Songkla University, Pattani Campus to act as the Chairperson of the Project Executive Committee.

The final responsibility for monitoring the project progress rests with Project Monitoring Committee. In July 2015, Project Monitoring Committee was set up by appointing representatives from the government and civil society in the areas of the southern border provinces.

The STEP Project Phase II has been built on the support of the majority of the population to avoid further catastrophe and return local communities to growth. By keeping collaboration and partnership into focus, the project improved collaboration across UN agencies, promoted more unified interaction with governments and achieved better results at the community level.




Tag: Oversight Ownership Partnership

3.

3.2 Relevance

The STEP Project Phase II sits at the core of UNDP's prioritiesas it supports two strategic areas of UNDP works, i.e., promoting inclusive and effective democratic governance, and building the society's resilience. These two distinct strategic areas are integrated under the implementation of this project, in order to achieve the overall goal of sustained peace building.

The project is a critical elementtoreinforce the UNDP Human Security Strategy and facilitates the implementation of the UNDP's new Strategic Plan 2014 –201728as its objectives aimt o eradicate poverty and reduce inequalities and exclusion as well ascontributes positively to the new global Sustainable Development Goals (SDGs) to promote peaceful and inclusive societies for sustainable development, to provide access to justice for all and to building effective, accountable, and inclusive institutions at all levels, and to achieve gender equality and empower all women and girls.




Tag: Relevance Results-Based Management Security SDG Integration

4.

More importantly, the STEP Project Phase II also supports the development strategies of the RTG, particularly the Southern Border Province Administrative Center (SBPAC)31. The government also started several initiatives, witnessed by the enactment of the Southern Border Province Administrative Center (SBPAC) law to decentralize administrative power, respect for human rights and the rule of law,and introduce a better model of cooperation and integration. The peace agenda of SBPAC has put renewed attention on security and development strategiesas a central priority and goal to enhance local peace and securitythrough peaceful means.

The STEP Project Phase II was built on the UNDP's comparative advantage and expertise in enhancing the resilience of fragile communities, in line with its commitment to resilience-building. It was designed through a highly participatory process, and thus included multiple multi-stakeholder assessment missions and a number of project reviews through the STEP Project Phase II monitoring committee and national experts to ensure broad-based engagement and effective project design.

It is clear from interviews with those involved that rate the project relevant. Significant efforts were made throughout the assessment and inception phase of the project by the Project Management Teami nvolved in the process. This was in part to ensure a proper understanding of the environment, to ensure stakeholders by-in and to ensure local and national ownership and alignment with national priorities.




Tag: Resilience building Relevance Human rights Rule of law

5.

A clear exit strategy of the STEP Project Phase II will be agreed up on from the beginning by project responsible parties and will be discussed and accepted by all project counterparts.

A few of the highlights include changing context of governance, conflict situation and development situation in Thailand strengthens the STEP Project Phase II. Civil society has now a unique chance to become really important force in the three southernmost provinces. The project's key counterparts remain the same as in Phase I and will include civil society organizations (CSOs), local networks including woman andyouth groups, local leaders and volunteers (many of whom have been directly and indirectly affected by the violence), as well as UN agencies, but was implemented in closer collaboration with local partners, including Royal Thai Government (RTG) agencies, NGOs and academic institutes.





Tag: Relevance Human rights Programme/Project Design Security Women and gilrs Youth

6.

3.3 Effectiveness

Effectiveness is a measure by which the project is seen to have achieved its objectives. The project began implementation with the threefollowing expected outputs:

Output 1

Dialogue program designed to increase open-mindedness.More importantly, the models of governance are inclusive and accountable to ordinary people.

The Institute of Peace Studies (IPS) and its partners achieved key goals which included (1) development of local media for broadened communication on peace in the Deep South through various activities to promote three components of knowledge (i.e. peace process, Melayu language, and communication) (2) promotion and dissemination of alternative media to enhance communication networks and encourage access to information by extending more accessible spaces for information sharing about the Deep South vis-à-vis discourse on the existing peace process (3) establishment of Academic Learning Centers on Community Peace in three provinces (Safety Net: Kampong Damai) which aims to open political, democratic, and safety space for people to participate in peace building in potential communities in the three southernmost provinces (4) building the capacity of local leaders to exercise a firm command on positive peace components (i.e. justice, equality, andautonomy) with the expectation that local leaders will recognize the importance of participating in the peace-building process and feel empowered to do so (5) conducting trainings and workshops under the auspices of various organizations on the peace process for local communities and fleshing out peace networks (6) promotion of Insider Peacebuilders' Platform (IPP), which for years has been a platform for NGOs/CSOs to meet on a regular basis and discuss peace and conflict in the Deep South in order to develop a joint roadmap to settle the conflict peacefully. IPP also encourages all parties to establish a safety zone for the fragile peace through close collaboration with academic institutions and civil society organizations in the region. The project addresses major grievances such as the economic marginalization of vulnerable groups, limited access to justice, and the distrust within different segments of the population.




Tag: Effectiveness Justice system Communication Knowledge management Peace Building Capacity Building

7.

Output 2

Benefitting from being part of a larger network, the STEP II Project has supported to build spaces and platforms at local level in order to build the capacities of local communities and government authorities to address the wide range of violent conflict38. It combines both conflict prevention elements and peace building activities in all deliverables, focusing on societal resilience and human rights.

The STEP Project Phase II of UNDP work was immensely influential in the sense that it was looking at micro-level dynamics and conflict way before anyone else was.As a result, local civil societies have had the most decisive role. The mapping of civil society and community-based organizations in 2011 and the mapping of legal aid organizations in 201239show that CSOs in the southern border provinces are particularly strong in 3 areas: 1) human rights and access to justice, 2) human security and support groups, and 3) sustainable development and environmental conservation.




Tag: Effectiveness National Human rights Justice system Peace Building Security Civil Societies and NGOs

8.

Output 3 Local communities become resilient with strong social cohesion through the improvement of livelihoods

Output 3 has 4 interlinked components (See the Table below).

Main planned activities

Goods and services to be produced for income generating activities are identified and prioritized in local community plans with the market assessment conducted.
Eight target groups such as female household heads and youths identified from both Muslim and Buddhist communities are assessed on their needs and capacity gaps to receive initial training for the necessary skills to start up activities.
Community-based micro and small enterprises are established and operated with support from experts and small financial contributions provided.
Community-based business/livelihood operational scheme coordinated, monitored and evaluated by small grant steering committee and scaled-up plan developed with the support of local authorities.

Indicators

Number of vulnerable individuals and communities benefit from small grants with at least 20% increase in income generation.
Ratio of women groups participating in community initiatives.
Number of community initiatives on social cohesion.
Number of local authority participating in and taking on community initiatives.




Tag: Effectiveness Jobs and Livelihoods Micro-credit Civil Societies and NGOs Women and gilrs Youth

9.

The College of Islamic Sciences of Prince Songkla University served as implementing partners. Subsequently, the Small Grants Committee was formed and over the last two years, the project brought together faculty, staff, and students from across PSU to work on the project.Consultant teams working with local and regional stakeholders developed locally-responsive proposals.Following need-based approach allow the project to enhance and broaden assistance to project beneficiaries on many fronts including training course, supervision, exchange visit programs, the introduction to new marketspaces.

In short, key achievements include 1) small grants provided to potential local community groups have built a relationship between Buddhist and Muslim families, 2) running with a spirit and practice of collaboration, itprovided linkages between communities and local governance,3) income generating activities initiatives has increased capacity across multiple communities, and 4) the project has enhanced recognition of women as it clearly mentioned in 2016 UNDP Annual Progress Report that vulnerable groups of people, including conflict-affected female-headed households and their families, are beneficiaries of sustainable livelihood improvement.




Tag: Social cohesion Jobs and Livelihoods Capacity Building Coherence Effectiveness

10.

The twelve local community groups, comprising of groups of women, the elderly, people with disabilities, and vulnerable youth in the 3 southernmost provinces were selected by the Small Grant Committee. The selection criteria are based primarily on group potentiality and a needs-assessment report conducted by independent researchers.

They can be categorized into 4 categories as follows:

Empowerment of women, youth and vulnerable group of people

The violent conflict in the three southernmost provincesduringthe nearly 13 years left thousands of women widowed and numbers of children orphanedin their wake.Female heads of households increased continuously after the reemergence in 2004 and in the years of violence that followed. In hard-hit communities, violence against widowed appears to be increasing, particularly when many adult men have been causalities of the conflicts, some are in prison or migrate to other parts of Thailand or even to Malaysia. Leaving women, children, and the elderly alone in the family, their needs have come to exceed available help. The widespread unemployment led many desperate youth to join illicit drug activities.

The seven projects have helped women and youth as beneficiaries of income generating activities to live in dignity. The activities' goal was to provide distinct neighborhoods for women and vulnerable people to do different types of wok and enable the conversations, team work, conflict experience sharing and learning exchange necessary for promoting community engagement.

The grieving widows emerge with new skills, identities, and social networks. By learning the value of team, these groups has reinstituted a type of neighborhood watch, complementing community-level security practices and will play a pivotal role in the continued growth of entrepreneurship in the coming decades.

The group is organized into small units of 10 –20 people. They received a hands-on experiencefrom other leading communities.

The STEP II Project Phase II has made local authorities and NGOs who play a decisive role in the development of communities more representative when stressing the goal to establish strong relationships with government authorities.




Tag: Effectiveness Gender-Based Violence Jobs and Livelihoods Vulnerable Women and gilrs Youth

11.

1. The Production of Kolae Boat Model Project

The production of Kolae Boat Model project was met with mixed responses. The activation of certain identities of the community, particularly historical and economical identities have powerfully achieved and brought social ties and responsibilities to the youth group. This project was not performing as well as others, with performance in indicators relating to income generation and community initiatives on social cohesion lagging behind. In those indicators currently not on track, performance stopped after 2016. According to the SWOT analysis presented by Dr.

In fact, this project was started from scratch with seed capital from UNDP to organize the training and start the production. Working on a time-consuming task, combined with internal conflicts between a group leader and members,varied local support over time, and former supporters became more receptive to messages from community skeptics, these factors pose important challenges for ensuring the achievement in this project. Slow delivery is also hampered by the migration ofgroup members, particularyouthful migrant workers to work in Malaysia.




Tag: Effectiveness Social cohesion Education Capacity Building Youth

12.

2. Thienya Roasted Coconut Production Project

Progress was made and all four indicator targets have been achieved and likely to be exceeded by 2017. The opportunity that the project offered for engagement has been vital for building relationship among community members.As people previously have not had a trust on each other and no platform to work together in economic activities, never been involved in the decision-making process, therefore, it can be considered a success story. This project revealed a clear social impact on women and vulnerable households who collectively work on this project: 1)it helped rebuild trust and harmony in the community while improving their livelihood, generating income. There is a reported increase in the number of members and increased livelihood on women. The group improved revenue generation efficiency through team practices, frequent communication, meetings and gatherings. Groups are formed by women themselves.The group has marketed their product in local markets and through word-of-mouth advertising, they can run wholesale operations and import to Malaysia. The individualized and focused mentoring has helped the group push through the problems facing them and focused on creating a plan for immediate action. Gaining exposure to key government actors and other entrepreneurship resources allow the group to tap into a broader entrepreneurship network and a network of community advisors. The demand for roasted coconut, a locally produced food, is obviously high. Therefore, the group holds aspirational goals to serve wider markets by developing robust and scalable production solutions.

In recent decades, Thienya village,located ina very remote area ofThienya sub-district of Yaring district in Pattani province,has been a notoriously difficult place for women to participate in development matters.Recent brutal and violent attacks against Buddhists have strained the relationship between them47, although itwas once a harmonious mixed community of Muslim and Buddhist. As a result, neighbors do not communicate and look out for one another.Given years of violent conflict, Thienya village is a very unlikely place to see results from development aid.




Tag: Agriculture Agriculture policy Effectiveness Local Governance Reconstruction Jobs and Livelihoods Value Chain Vulnerable Women and gilrs

13.

3. Palm Sugar Development and Branding Project

Achievements in this activity have been significant, particularly changes in internal conflict situation with the community and women's empowerment. The importance of women's empowerment and capacity building is clearly shownin the production, product classification,and product development. All indicators are on track, particularly adaptive action that enhanced the 1stindicator by increasingthe number of vulnerable individuals and communities benefit from small grants with at least 20% increase in income generation.A new classification system of palm sugar has recently been introduced and the price for granulated palm sugar and sliced palm sugar has been raised up.The price of granulated palm sugaris satisfactorily, 50 percent higherthan palm sugar syrup.

nitially, this project do not generate substantial revenue, but serve as community development tools by reducing blight, promoting educational awareness on traditional food, providing a way for community members to gain new skills, and simply creating a safe space for people to gather.The woman takes her leadership role very seriously and the past year has seen dramatic results in their efforts, particularly enhancing quality of the products and packaging using woven baskets. Having a woman in a leadership position allows other women participate constructively invillage decision-making and realize economic benefits as a result.




Tag: Effectiveness Women's Empowerment Jobs and Livelihoods Micro-credit Poverty Alleviation Trade and Development Value Chain Capacity Building

14.

4. Dried and Fresh Fish Crackers Project

This project built on previous performance of a local Muslim family that joined hands with a couple of neighboring groups of villagersin Na Pradu sub-district, started producing and selling fresh and driedfish crackers branded "Harofat"over the last 10 years. Incorporating the successful aspects of past efforts, performance in this project has tracked steadily.Hiring both Muslim and Buddhist villagers who are not working is a major contributing factor toward promoting social inclusion. More importantly,production efficiency succeeded to address the larger social concerns about food product standards, networking andlocal input in decision-making.

The STEP Project Phase II began work with this community enterprise to announce expansions for their business through provision of technical support and capacity development. There were signs pointed to an increased interest in quality of food.




Tag: Effectiveness Jobs and Livelihoods Trade and Development Value Chain Capacity Building Technical Support

15.

5. Development of Prepared/Preserved Garcinia Project

This project is a locally-operated food production, i.e, prepared/preserved garcinia that generates revenue through a variety of products. Garcinia, a sour fruit and widely planted in Sai Khaohas grown a robust demand and local and sustainable food movement.The Sai-Khao Agriculturist Housewife Community Enterprise, comprising of50 elderly members, was established to create healthier, more engaging, and more inventive future food systems ofgarcinia's food processing, packaging and marketing. A variety of products from preserved garciniawas created and willacquire a Good Manufacturing Practice (GMP) certificate in order to expand their market.

A public health officer was contacted to provide advice to the group. As the factory of this group is well built, it did not need to be significantly renovated; only some parts were improved to meet the requirements outlined under the GMP standard. The group has improved the factory and also designed new products. They later decided to produce spicy and sour preserved garcinia.After successfully creating new products like garcinia tea and spicy preserved garcinia, which were popular with consumers, the group designed appropriate packaging for the spicy preserved garcinia—a small plastic cup with a colourful sticker label. In 2016, the group produced and sold spicy preserved garcinia in various markets in the Deep South and also in Bangkok, especially throughthe One Tambon One Product markets organised by the government.

As this group is consideredas one of thesuccessful community enterprise, the group leader shares best practices ininnovative food processing toother groups and supports business expansion through effective management.




Tag: Effectiveness Innovation Trade and Development Value Chain Technical Support

16.

6. Economic Empowerment for Gujingluepa Conflict-affected Women

The economic empowerment for Gujingluepa conflict-affected women project has made great stride towards all 4 key indicators, particularly social inclusion. Involving 15 conflict-affected women in fried fish crackers has spurred many changes that have helped to make Gujingluepa a better place for outsiders.The group has partnered withthe Network of Civic Women for Peace (NCWP)on peace-platformto take violence prevention in their own hands and play an important role of women peace-builders to complement the larger peace-building process.

Gujingluepa becamethe violence-prone areas ince last decade. Mistrust, suspicion, fear and violence corrode the foundations of a healthy community. Some members were victims of violence with others living in the most unstable setting of violence for a long time. In escalating violence and divisiveness, women were at a disadvantage due to their comparative lack of experience in entrepreneurship and certain technical skills. Livelihood development has rarely been made a priority as Gujingluepa has widely been viewed as a dangerous,highly conflict-affected and economically struggling community. Tensions between local people and the government still linger long after the peace process started few years ago. Bringing about women empowerment project is a highly complex challenge.Withlittle experience in food production and project management and even less of a customer base, Muslima KL group in Gujingluepa village ofNarathiwatprovince,initiated fried fish crackers to the market.





Tag: Effectiveness Gender-Based Violence Women's Empowerment Peace Building Jobs and Livelihoods

17.

7. Economic Empowerment for Po-Ming Conflict-affected Women

For more than a decade, Po-Ming village in Panareh district of Pattani province has been considered unsafe but a group of widow are pushing forward new efforts to make their home community and neighborhood safer.This project is seen as a national example of a successful, financially self-sustaining community enterprise.The Warnita Group hasmore potential for growth and endeavor to diversify product lines including roasted coconut, coconut dessert balls, packaged locally produced rice, and potato chips.




Tag: Effectiveness Women's Empowerment Social cohesion Inclusive economic growth Jobs and Livelihoods

18.

Energy and environment preservation

While fuel prices have been declining globally, oil smuggling from Malaysia to Thailand via the southern border provinces has become increasingly problematic. This trend will continue as long as fuel prices differ between Malaysia and Thailand and conflicts in the Southern border provinces remain. Lack of income-generating opportunities in the Deep South triggered the migration of male household members to Malaysia and elsewhere, but those who cannot leave their hometown remain unemployed or underemployed. The following three projects aim to build a sustainable community economically, socially and environmentally.

8. Energy Saving Oven and Charcoal Production

This project has steadily progressed towards achieving its indicator targets, and is on track for all four in 2016. Energy saving oven and charcoal production is an approach that brings together a group of 30 unemployed youth from 5 villages in Lochut sub-districtofWaeng district, Narathiwatprovince to promote the use of energy-saving household appliances. Energy-saving ovens and charcoal kilnsareimpactful products addressingsustainable actions and youth partnership on collective drives for green energy.




Tag: Jobs and Livelihoods Youth Energy Effectiveness

19.

9. Sustainable Waste Management

Project Waste has grown to become a regional challenge when Laem Phois rapidly becoming a tourism hot spot. This project proposes first step towards developing a comprehensive solution to waste management which has progressed very well towards the improvement of waste management and adaptation strategies for greater resilience of vulnerable communities.Examples of achievements includean extensive civic engagement programon sustainable waste management, for example a weekly garbage collection activity by youth and children, the provision of more communal trash bins/disposal points within the community, recycling activities in schools and households, and awareness raising to inform households and schools about waste issue and environmentalimpacts ontheir lives.




Tag: Clean Energy Waste management Effectiveness Sanitation Oversight Jobs and Livelihoods Awareness raising

20.

10. Yala Bio-diesel Community Enterprise for People with Disabilities

The Yala Biodiesel Community Enterprise for People with Disabilities in Lam Mai Sub-district of Yala province provides a successful example of organizing waste oil recycling cooperatives including collection, transformation, and commercialization.Thisproject explores different business model by involving anetwork of 3,000 People with Disabilities (PWDs)in 170 communities in the three southernmost provinces to work witha thriving private recycling company.The project has demonstrated remarkable progress in expanding horizons of applying technology to engage vulnerable people, i.e., PWDs in the community enterprise promotion which hastightened relationships between PWDs in different communities in the three southernmost provinces and disseminatehealth-relatedinformation more broadly than it ever has before.




Tag: Environment Policy Waste management Effectiveness Disabilities Vulnerable

21.

Creating opportunity for new business

Creating new business in the southern border provinces is at a very early stage but the two following projects have the potential to generate income and employment with a local cultural and resource focus.

11. Meat Goat Raising Project

Goat production business seems most promising and well established in Ban Paka Harang, Pattani.Goat production in the three southernmost provinces is very importanttradition and socio-economic activities.Ban Paka Harangbecame one the main suppliers of meat goat to the entire Deep regionwith a stock of 300 goats from 10 breeding farms within the community.The Meat Goat Farming GroupatBan Paka Harangcomprising of 20goat breeders came up with farm modernization and community resilience. Goat breeders play a role in strengthening the resilience in relationship with governance, knowledge and learning.The members accept advice and their participation in governance and construction farm building is increasing.




Tag: Livestock Tourism Effectiveness Knowledge management Jobs and Livelihoods Trade and Development Value Chain Capacity Building

22.

12. Mussel Farming for Fishermen

Hatchery-produced seed supply were provided at an acceptable cost and reproduced successfully at bouchot culture plotssupported by UNDP STEP II.However, the mussel farm still remains a demonstrable livelihood improvement project due to stock collapses by storm attack andillegal harvest.The project has not generated a sizable profit from sellingmusselsbutthe social contribution of mussel farming for fishermen to society is varied. More importantly,there are wide-ranging benefits from program involvement including maintaining the functional integrity of the coastal resource systems, establishing a protection for coastal erosion, and generating alternative income from other marine resources and services.

The benefits from increased marine resources are widely shared among conflict-affected coastal communities which havereduced resource-used conflicts The holistic and comprehensive approachto ecosystem management of Pattani Bay has been used as an implementation framework for the mussel-farming project.Following the holistic approach, responsive education with integrated workshop series delivered to 20 fishermen and leaders subsequently emerged.Establishing a group of fishermen was supported by a group of researchers from the Fisheries Department, Faculty of Science and Technology, PSU, Pattani Campus. The capacity-building initiatives allow potential mussel growersh ave an access to a specialized skill set to care for their crop in order to ensure access to quantities of food and to protect the musselsfrom predators.




Tag: Effectiveness Capacity Building Fishery Ecosystem services

23.

13. Meat Goat Farming in Hutaetuwo, Khok Kian, Narathiwat

As the project was recruited in the first quarter of 2017 and started its project a little late.

During the period of conflict, PattaniBay is facing the depletion of marine resources due to degraded fisheries habitats. Due to a lack of alternative livelihoods for conflict-affected communities, the dependence on marine resources is greater than ever. Calling for a greater public participation, communication and coordination on a large scale gave an opportunity to other communities to beinvolved in this project full time or to supplement their primary source of income.PSU as a catalysts institution is uniquely positioned to link communities together and facilitate the development of a mussel demonstration farm, which was a model on participatory and sustainable coastal natural resource management in Pattani Bay of STEP phase I.UNDP follow-up in support of the project produced an impact on building trust among different communities.




Tag: Fishery Natural Resouce management Effectiveness National Regional Communication Social cohesion SDG monitoring and reporting

24.

3.4 Efficiency

The efficiency of project was high in most aspects. The STEP Project Phase II operates an extensive network of operations in relation to a global priority, a national priority and does so with a high level of accountability.The Strategic Plan does providethe direction to operate efficiently.Particularly Output 3 to promote social cohesion and community resilience through greater employment and improved livelihoods as well as through longer-term community development and participation, nearly all activities were carried out in excess of what was originally planned.

The core funding decline has placed pressure on the functions of the implementing agency. Project partners are aware of the shortage of funds and actively fund-raise for priority activities.

To cope with frequent unexpected events, the Project Manager has exercised a great amount of flexibility and creativity.A variety of communication channels has made available for systematic project management and implementation. Following a more flexible approach,the project tailors standard proceduresto the unique needs of their projects and partners. It is noted that the project receives non-government funds and is not under audit scope of the Office of the Auditor General of Thailand. Subsequently,the budget was fully spent.





Tag: Efficiency Project and Programme management Social cohesion Jobs and Livelihoods

25.

Monitoring is stated to be the best way to hold consultants, partners and group members accountable for the implementation. The demand for monitoring and evaluation of project implementation at the local level was evident. From the 2016 Annual Report, it is indicated that the project isregularly monitored against the schedule and budget.Project implementation was monitored by the STEP II Project Management Unit through weekly updates, monthly team meetings, quarterly partnership meeting, and project site visits. The monitoring activities allowed the project team members to oversee, improve, and solve projects in time. From the interview, project monitoring mechanisms largely involve local participation has ensured project activities were managed efficiently and empoweredlocal networkof consultantsso that the activities were implemented productively.





Tag: Efficiency Monitoring and Evaluation

26.

Having donors who are actively engaged in project implementation (Output 3) is the leading factor in project success.

The project has produced both intended and unintended results. It has achieved the target beyond expectation of vulnerable groups including vulnerable youth, women and widows, and communities and delivered in a timely and cost effective manner as the result was doubled from the planned. Publishing the achievements on UNDP website and linked up data has had international reach and enhanced participation. Adata setcreated by local partners and group members provided more information than was publicly available at that time.




Tag: Efficiency Communication Donor Vulnerable Women and gilrs Youth

27.

The capacity building and the involvement of community members has surpassed the target number.The trained members have supported the implementation of measures of government authority to promote livelihood improvement and community development. Many communities find a new way of working with local authorities and different partners/CSOs by creating platforms/toolsin order to engage with them directly. Of particular, data collection connects community data collectors with local authorities and decision makers. From data survey, the community group becomesbetter at adapting to the rapidly changing needs of the society.

The assessment survey notified the coordination challenge with some vulnerable groupsand maintaining forward momentum which shouldbe performed continuously.




Tag: Efficiency Capacity Building Data and Statistics Vulnerable

28.

3.5 Sustainability

UNDP's Southern Thailand Empowerment and participation Project (STEP)has the ability to foster a resilience society and has the credibility in the three southernmost provinces. The projecthas received constant support and cooperation from local authorities, including the, Sub-district Administration Organisations (SAOs), Deep South's provincial offices, the Office of the Non-Formal and Informal Education, and especially the Southern Border Province Administration Centre (SBPAC), which has been supporting the STEP project's activities for years and has committed to strengthen its partnership with UNDP to implement development projects in the Deep South




Tag: Sustainability Local Governance Partnership

29.

Several projects under the STEP Projectare popular and flush with achievements, many related to the success of women empowerment and livelihoods development. The STEP Project Phase II significantly upgraded and expanded the team, especially TOTs who will infuse new talents and skills into local economies and societies.Efforts are being made to identify partners/group members who have engaged positively with the training courses and dialogues and show potential as trainer, in order to create a pool of future trainers within the community.The next phase of the project should further work towards institutionalizing of the function of trainers from all sectors including local communities, NGOs, and government who are working within the livelihood improvement and community development areas




Tag: Sustainability Women's Empowerment Jobs and Livelihoods Civil Societies and NGOs

30.

The focus on community development and participation, particularly the marginalized groups has become a general driver for all activities and is embedded in the new vision and movement of local government.However, knowledge and interventions from UNDP on transitional justice for local NGOs and government officials at the operational level are requested from project partners. It is suggested that the project needs to focus on roadmap to shape more inclusive strategies.

PSU as the implementing partner took up a challenge to work with different networks. A long term nature of their trainings given by local experts of PSU and a huge support from PSU students has enhanced relationship building between the trainers, communities, and beneficiaries.For the ultimate long-term success and sustainability of the STEP Project Phase II, it is essential tocontinue the STEP Project Phase II with UNDP Office to ensure the presence in the three southernmost provinces andincrease financial base.




Tag: Sustainability Local Governance Partnership Capacity Building Operational Services

31.

3.6 Impact

The sustainable livelihoods and development project is only the first stepbut achieving impact in its activities. These impacts relate to the Theory of Change and the stakeholder analysis. The collective results of activities across all three outputs can be seen 41in the performance data and the overall positive evaluation reports across projects. It is also reflected in the positive feedback through the IPs and stakeholders survey.

To create cohesiveness and inclusiveness among diverse groups in fragile areaswill require a comprehensive approach, whichneed to enhance connections from national to regional and local community including PSU, and vulnerable youth. The success ofOutput 3needs to be supported by equivalent strength in the neighboring countries and with comprehensive regional approaches. Local communities are a game changer and alternative income generation activities serving as the great mediator in a conflict zone.

Assisting broadening public participation in peace processrequires 1) a participatory approach to form a local agenda that moves towards a peaceful solution and 2) parallel and integrated interventions in governance an action in order to giver sustainable impact.

Regarding improving access to justice of vulnerable populations at the community level through the provision of support services focusing mainly to the grievances of vulnerable and marginalized groups, key partners acknowledged that this approach have impact on marginalized groups, particularly children, women and the elderly.It goes beyond typical strategies to show how community function can be revived in conflict prone areas by empowering people and civil society.



32.

UNDP's STEP Project Phase II has pushed the boundary of peace building and conflict prevention by organizing public outreach activities to reach the hard targets and raise the awareness of the vulnerable people on the available resources for receiving legal aid and legal information. However, the impact of Output 2 remains very much to be seen, as the mechanism is now beginning to pick up momentum.

UNDP's approach is ultimately to achieve a change in mindset of decision-makers in government where they see the benefits of the working in collaboration with CSOs and funding social resilience and livelihood improvementprogramme –and this contributes to transformational change. However, a stronger knowledge management and advocacy approach is required to accelerate communityunderstanding.




Tag: Impact Knowledge management Peace Building Jobs and Livelihoods Awareness raising Civil Societies and NGOs Vulnerable
Recommendations
1

UNDP's STEP Project should provide more integrated support for the vulnerable and low-income, and enable holistic support for the elderly, persons with the disabilities, and youth and target the hard targets. There are anonymous 10,000 victims hidden in the region. The STEP Project Phase III should offer an opportunity to enter into or glimpse areas that are usually hidden and/or restricted.

2

For the ultimate long-term success and sustainability of the STEP Project Phase II, it is essential to continue the STEP Project Phase II to maintain forward momentum with UNDP Office to ensure the presence in the three southernmost provinces and increase financial base. The next phase should focus more on an integrated strategic knowledge management function of UNDP to support its very extensive and deep knowledge production capacity.

3

The next phase of the project should further work towards institutionalizing of the function of trainers from all sectors including local communities, NGOs, and government who are working within the livelihood improvement and community development areas.

4

To power communities across the region and promote models of development, it requires a special handing including 1) establishing deep and inclusive national ownership and 2) robust grounding of the research. The research direction includes 1) peace dialogues and follow-up actions, 2) people-centered, better and more comprehensive governance, and 3) prevention oriented responses as a means to tackle the root causes of conflicts.