Strengthening climate service and early warning systems in The Gambia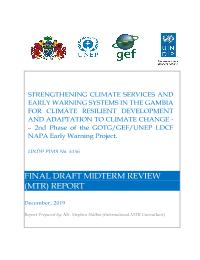 Evaluation Plan:

Evaluation Type:

Project

Planned End Date:

04/2018

Completion Date:

01/2020

Status:

Completed

Management Response:

Yes

Evaluation Budget(US $):

20,000
Title
Strengthening climate service and early warning systems in The Gambia
Atlas Project Number:

00083699

Evaluation Plan:
2017-2023, Gambia
Evaluation Type:
Project
Status:
Completed
Completion Date:
01/2020
Planned End Date:

04/2018

Management Response:
Yes

Focus Area

:

1. Environment & Sustainable Development
2. Others

Corporate Outcome and Output (UNDP Strategic Plan 2018-2021)

1. Output 1.4. Scaled up action on climate change adaptation and mitigation across sectors which is funded and implemented

SDG Goal

Goal 12. Ensure sustainable consumption and production patterns
Goal 13. Take urgent action to combat climate change and its impacts

SDG Target

12.4 By 2020, achieve the environmentally sound management of chemicals and all wastes throughout their life cycle, in accordance with agreed international frameworks, and significantly reduce their release to air, water and soil in order to minimize their adverse impacts on human health and the environment
13.1 Strengthen resilience and adaptive capacity to climate-related hazards and natural disasters in all countries

Evaluation Budget(US $):

20,000

Source of Funding:
GEF
Evaluation Expenditure(US $):

32,500

Joint Programme:
No
Joint Evaluation:

No

Evaluation Team members:

| Name | Title | Nationality |
| --- | --- | --- |
| Stephen Ndiboi | consultant | KENYA |

GEF Evaluation:

Yes

| | |
| --- | --- |
| GEF Project Title: | Strengthening climate service and early warning systems in The Gambia |
| Evaluation Type: | Terminal Evaluation |
| Focal Area: | Climate Change |
| Project Type: | FSP |
| GEF Phase: | GEF-5 |
| GEF Project ID: | 5071 |
| PIMS Number: | 5156 |

Key Stakeholders:
Countries:

GAMBIA
Lessons
1.

It is very easy to forget developing a contingency plan of an Early Warning System (EWS). This is because, designers, developers and implementers of an EWS might wrongly take that they are geared towards implementing a system which by itself is to manage emergencies and create capacity to respond.

However, during the review of the EWSP 2, it was evident that an EWS should be supported by implementation of a well thought out Contingency Plan that factors aspects of people, technology and processes. The Contingency Plan of an EWS should focus on how to ensure financial sustainability, insuring the equipment installation, managing aspects of technological obsolescence (that is when ICT or other equipment become obsolete or outdated and no longer used), equipment maintenance, testing and calibration, as well as continuous training and capacity building on the EWS technological and operational aspects.

An effective EWS should be buttressed with an integrated weather, climate, environmental, hydrological and meteorological data and information management system (mostly GIS enabled) that can be both centralised and decentralised. Continued research would also strengthen the EWS.

In order to implement an effective and robust EWS, the key stakeholders and experts should understand the following:

Apart from a small number of NHMS agencies, essentially, early warning systems are non-structural disaster mitigation measures designed to save human lives by enabling local authorities and the communities to plan and to act accordingly in the event of a disaster. For example, if an EWS is applied to the flood hazard, such an early warning would require facilities to measure rain data and upstream catchment and river behaviour so that timely warnings from a possible flood can be provided to the downstream communities. Hence, the design of the early warning system on flood should adopt a river basin or a watershed approach to essentially account for the upstream, midstream and downstream aspects of the basin. Hence, within the framework of disaster management system, emphasis should be made on "self-reliance", "self-help" and "mutual assistance" at the local level, particularly in the utilization of resources. It is against this backdrop that for example a community-based flood early warning system (CBFEWS) can be developed and anchored on the existing local disaster

coordinating council that is inherent in the institutional set-up of every local government unit (LGU).

The EWS implementation would need people, technological and operational capability that would provide impact-based forecasting and risk-based warnings, in particular for secondary hazards such as coastal flooding and flash floods. As the EWS implementation progress, there is an increasing demand to create capacities and standardizing the operational procedures between NMHSs and disaster risk management institutions. In addition, there would be a need to ensuring that the EWS information dissemination can reach those that need them the most in a manner that leads to effective action.



Findings
Recommendations
1

Meteorological, hydrological, environmental and climate information / services do support disaster risk reduction (DRR) and early warning systems (EWS) in Gambia and hence a contingency / continuity plan for these essential services should be developed to ensure functioning of EWS at all times.

2

EWSP2 financing and implementing partners should consider a third phase of the EWSP in order to enable a smooth transition of the EWS from the formative stage that it is now to a more mature stage when key agencies shall be semi-autonomous (generating some incomes from the products and services they offer) and well supported by the government.

3

The EWS agencies that should be established by the law should be supported in becoming specific service focused institutions / Agencies (SFA) with inbuilt self-sustaining capabilities through income generation from services and products they provide. Private and public sectors players should be widely consulted on the income generation proposals by the EWS agencies.

4

Farafenni post graduate diploma programme should be upgraded to provide Bachelors and Master degrees in hydrology and meteorology, as well as other related areas

in order to create sustainable local human resource for the EWS in the Gambia. A target of training at least 4 bachelors and 3 master degree students before project

ends should be realised.

5

Some of the critical mobility impediments for key agencies and beneficiaries should be considered (e.g. giving motor bikes or a few motor vehicles). Areas to be considered

include Project's outcome inspection capability e.g. meteorology and hydrology stations and installations.

6

The meteorology services capability should be aimed at having all the 15 traditional meteorology centres be equipped with both Intellisense (as standby) and Automatic Weather Stations. All the conventional weather stations should be faced out before end of year 2020 in order to comply with mercury instrument discontinuation by Minamata Convention on Mercury.

7

establish an integrated and GIS enabled environmental information system (EIS) platform and to be hosted by NEA or any other agency the stakeholders will identify as most suitable. The EIS should also plug in institutions like research agencies (e.g. climate change institute at the UTG. The EIS should also be a driving lever for the EWS.