Final Evaluation of Integrating community-based adaptation into Afforestation and Reforestation Project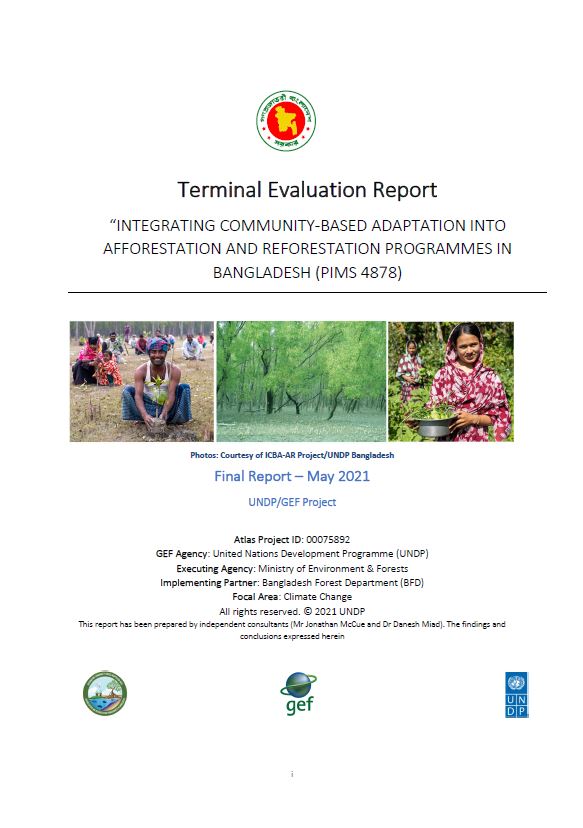 Evaluation Plan:

Evaluation Type:

Final Project

Planned End Date:

05/2021

Completion Date:

05/2021

Status:

Completed

Management Response:

No

Evaluation Budget(US $):

43,250
Title
Final Evaluation of Integrating community-based adaptation into Afforestation and Reforestation Project
Atlas Project Number:

00075892

Evaluation Plan:
2017-2021, Bangladesh
Evaluation Type:
Final Project
Status:
Completed
Completion Date:
05/2021
Planned End Date:

05/2021

Management Response:
Yes

UNDP Signature Solution

:
Corporate Outcome and Output (UNDP Strategic Plan 2018-2021)

1. Output 1.4.1 Solutions scaled up for sustainable management of natural resources, including sustainable commodities and green and inclusive value chains

SDG Goal

Goal 13. Take urgent action to combat climate change and its impacts
Goal 15. Protect, restore and promote sustainable use of terrestrial ecosystems, sustainably manage forests, combat desertification, and halt and reverse land degradation and halt biodiversity loss

SDG Target

13.1 Strengthen resilience and adaptive capacity to climate-related hazards and natural disasters in all countries
15.2 By 2020, promote the implementation of sustainable management of all types of forests, halt deforestation, restore degraded forests and substantially increase afforestation and reforestation globally

Evaluation Budget(US $):

43,250

Source of Funding:
Project budget
Evaluation Expenditure(US $):

29,655

Joint Programme:
No
Joint Evaluation:

No

Evaluation Team members:

| Name | Title | Email | Nationality |
| --- | --- | --- | --- |
| Jonathan McCue | International Consultant – Lead Eval | jonathan.mccue@sustainableseas.co.uk | |
| Dr. Md Danesh Miah | National Consultant | dansmiah@gmail.com | |

GEF Evaluation:

Yes

| | |
| --- | --- |
| GEF Project Title: | Integrating Community-based Adaptation into Afforestation and Reforestation Programmes in Bangladesh |
| Evaluation Type: | Terminal Evaluation |
| Focal Area: | Climate Change |
| Project Type: | FSP |
| GEF Phase: | GEF-5 |
| GEF Project ID: | 4700 |
| PIMS Number: | 4878 |

Key Stakeholders:
Countries:

BANGLADESH
Lessons
1.

Be clear on National "Sign off" Procedures: The project experienced an 18-24-month delay in project operational completion due to two main reasons: a) delay in the recruitment and b) the time required to gain nationally accepted TAPP. Better planning and anticipation of these difficulties may have minimized the length of the delay though this may have still not occurred unless the cumbersome bureaucratic process is simplified at the GoB end. It is maybe of value for UNDP to explore with UNDP's Nature, Capital and Energy vertical fund Directorate to determine whether start dates of projects can be established based on approval of TPP/DPP rather than the approval of ProDoc to offset any delay.



2.

Ensure the Project design is not overly ambitious at the outset: Since it is difficult to attain measurable outcomes within a short time frame of most EbA or nature-based solution related pilot projects/programmes, it is essential to ensure that the project's design is not overly ambitious and include needed details such as SMART indicators and targets from the beginning. The project's concept was well-justified, and had a good approach and was opportunistic, relevant and strategic in nature. Despite this, ICBAAR ProDoc did not have a clear and meaningful Theory of Change being produced at the outset.



3.

Sound technical inputs and relevant experience is a contributing factor to successful project design and implementation: In all project components, international technical experts and national technical experts worked collaboratively to provide sound technical guidance and inputs, conducted technical workshops and training sessions. However, the TE does relay that the ICBAAR suffered from reduced input from key GoB officials (experiencing frequent staff transfers including NPD, PD of implementing partners as well as grass-root level local officials) which all influenced the effectiveness of the projects implementation strategy and caused impacts on project scheduling of certain activities.



4.

Good participatory planning is essential to ensure timely project inputs to achieve project outcomes: An important lesson captured from different types of adaptation intervention is that there is always a requirement to conduct a "needs assessment" that adopts a Participatory Rural Appraisal (PRA) in order to document real socio-economic and climatic aspects of each site and from this, to compile a database of all participating beneficiaries to better assess the enhancement of adaptive capacities through specific project interventions. One simple fact that perhaps was overlooked as a consequence of not pursuing a PRA was that on occasion, human disturbances and grazing problems are acute within the remotest project implementation sites, though these simple protection measures were overlooked in the signed ProDoc. Ten commercially important mangrove species and 3FV model plants were proposed by the ICBAAR though these were palatable species and highly grazed by deer, livestock and buffalos.



5.

Learn from past experiences: To make the coastal belt more protective and climate-resilient, the ICBAAR project has learned from the lessons of the past and enriched the greenbelt plantation approach by using a diversity of climate-resilient species. It also attempted to offer community incentives to act as local custodians of the forest, and by offering climate-resilient livelihoods that are linked to the management and protection of the greenbelt.



6.

Enhance local appreciation and ownership of the mangrove forest: The ICBAAR approach invested in strengthening awareness and actively involving communities and other stakeholders (including local government representatives, local leaders, NGOs, women, and youth) in forest protection and adaptation activities.



Findings
1.

The ICBAAR project strategy involved multiple government departments during the whole planning and implementation process. This provided platforms for communities to build better relationships with relevant departments. It has managed to involve many stakeholders in ICBAAR implementation and hence stakeholders' participation and engagement have been incorporated and planned sufficiently. With regards to management arrangements, these are deemed appropriate with suitable correct implementing partners being set up at the outset with no obvious gaps. The PMU also appears to have been quite effective and respected throughout the project with suitable integrated coordination mechanisms being in place between the PD and the PMU.



2.

The project has demonstrated adaptive change which was needed to be undertaken as a direct consequence of the delayed project start (circa 2 years) which minimized the window of opportunity for project delivery, meaning that adaptive management was needed to deliver the expectations of the project within reduced timelines. Adaptive measures also needed to be implemented by the project as in many instances, partner agency staffs often needed to re-allocate to be engaged on crisis management-related issues which inevitably placed certain project interventions in "pause" mode.



3.

Regarding project spend (up to the beginning of 2021), there was an overspend in Outcome 1 (105%), near-total usage of Project Management budget (96%) though under-utilization of spend in Outcomes 2 and 3 (73% and 82% respectively). From the remaining 290,530.38 USD, the Project team is anticipating expenditure up to 200,000.00 USD up to 30 March 2021. Although co-financing was made available at the project outset, commitments from USAID and UNDP projects were not realised mainly as a consequence of those projects having to terminate by the time this project started (in 2017).



4.

The Sojurn agriculture, 2FVD and 3FV models represent important innovative "Climate Resilience Livelihoods" approaches that comprise of short, medium- and long-term recurrent resource generation and diversified options for livelihood security. A key finding is that the barren land inside the coastal forest often was not suitable for plantation of non-mangrove species and cultivation of crops and the area used to receive frequent inundation of tidal saline water. Following the 2FVD and 3FV approach by modifying the local topography, non-mangrove species can now be planted, and other crops can be cultivated. Other valuable interventions that demonstrate adaptive management include approaches such as the "floating garden", 3- Layer "Sack" vegetable cultivation and the 2FVD etc.



5.

From a gender perspective, the ICBAAR project has proven to be gender inclusive, appreciative of all members of society and appreciative of the needs of minority and vulnerable groups. It has reached 8645 (4501 female, 4144 male) vulnerable HH through a variety of climate-resilient livelihood Interventions to provide them with further alternatives and as a result reduce vulnerability. More than 52% of the project livelihood beneficiaries are female. Interventions were designed to provide innovative livelihood options suitable for women, including the floating garden, vegetable production in sacks and in hanging baskets, Khaki Campbell duck farming, 2FVD model of vegetable production and fisheries, the hydroponic fodder grass production, etc. which requires less space and can be grown in the backyard. Steady livelihood options support economic empowerment of these very poor women in the remotest islands. Finally, 20 FRPG comprising of 600 members (261 M, 339 F) have been formed and trained. Meaning that 56.5% of FRPG members are female, which helps society as women are the main contributor and beneficiary to future FRPG savings. In addition to improving economic empowerment, the FRPG membership allows local women to raise their voices on natural resource management and governance matters.



6.

An estimated 162 participants were collectively interviewed during the Terminal Evaluation field mission between 1-9 March 2021 (Focus Group Discussions, Key Informant Interview and individual meetings). From this, coupled with thorough report review, the following findings are declared. The project design included clear outputs milestones and activities for each output with SMART indicators to help monitor implementation and activity achievements. The design was undertaken in a manner that involved all implementing and executing institutions at the outset of the project. The indicators set are deemed as being SMART following some update since the MTR (2019). Importantly, lessons from other relevant projects were considered. The TE believes the management of the Programme's risks needed some improved formality procedures adopted, as some risks needed to be more carefully identified and monitored with concrete mitigation measures with a robust follow-up plan on each risk/assumption as suitable.



7.

Finally, the impact of the ICBAAR has been influenced by the levels of communication which have been strong. The training offered (and from this) the professional help from National and local government (e.g.: from BFD) has been impactful along with the basic provision of fertilizer, pesticide and seeds which all helped to incentivize positive actions. The impact of the interventions appears to have also been improved by the technical designs undertaken, ensuring the safety to livestock, fishes, vegetables plus the introduction of salinity tolerant crop varieties which were supplied. Having said this, the impact may have been improved if there was development of an improved marketing (not communicative outreach which has been effective) team/support/training, etc which may be needed for the future (including exposure visits of the participants which could have been useful).



Recommendations
1

Need for a Continuation Strategic Plan (linked to CMCs) to help support the route map for next phases of work to help make coastal communities' climate resilient.

This is an important task for UNDP/MoEFCC to help capture the good practice generated by the project and to help set an Action Plan to take forward urgent interventions for sustaining the impact of the project. This is founded from consultation from the Bangladeshi stakeholders who have stated during the TE interviews that they would like to see ICBAAR principles to continue and be replicated as a specific continuation phase into 2021 and beyond. This would provide an opportunity to follow-up and expand the conducted demonstration activities and thereby increase the likelihood for sustainability. Replication of the ICBAAR intervention projects into other Districts/Upazila/Unions would certainly require the role and input of local CMCs and stakeholders early on in any future design process.

UNDP may consider an impact assessment of both phases of the project to document and share deeper learnings from the interventions.

2

Update existing ICBAAR Guides and Manuals to help mainstream climate resilience into National and Sector Specific Policies and Plans.

The development of integrated management plans remains a priority for each coastal relevant "sector" including forestry, agriculture, fisheries, livestock, and tourism sector. In fact, being able to upscale the greenbelt "model" adopted by ICBAAR will need additional support from a range of sectors and not just the forestry sector to make this work in an integrated manner (i.e.: aquaculture, horticulture and agriculture) to make it functional.

Importantly, the good work undertaken to date, including the Guidelines for ICBAAR which have already been produced (see Section 3.3.5 – "Sustainability") have certainly helped to frame how to formulate "government ready" coastal planning strategies for Districts. Despite this, any District/Upazila specific "Plan" still requires to be better mainstreamed into existing GoB practice and needs to be used to help formulate risk resilient ICZM policy in the future (see Section 3.3.5 "Sustainability"). It is also clear that these ICBAAR produced guidelines need to be updated to provide clarity on how sector strategies should be updated to help support climate-resilient mainstreaming in the future, embracing any new information attained from the ICBAAR outputs and outcomes. This, therefore, links directly to the financial sustainability/replication issue raised in Recommendation 1.

Detailed engineering design and maintenance manuals may also need to be prepared to help introduce more precise engineering design details (e.g.: how to physically construct the 3FV models to engineering design standards and how these may be adapted in design based on new monitored information etc.). Such a manual update may help with advisories on planning zonation issues as well as how to pursue and access climate financing for any subsequent investment program which may be of relevance to coastal afforestation sites that require detail "how to" advisories relating to extensive grazing and livestock encroachment problems etc. This improved guidance would benefit decision makers by being clearer on how local communities can maintain and improve greenbelt rehabilitation areas to aid future replication programmes elsewhere around Bangladesh. Through the introduction of new (or updated) guide manuals (see above) that are formally embraced by GoB, adaptation planning in Bangladesh, using new climate-resilient infrastructure building codes, could be realised and mainstreamed quicker. Future donor support is therefore likely to be required to help deliver this need.

3

Undertake a forward-looking review of staffing and capacity needs.

The PMU should undertake a forward-looking review of staffing and capacity needs for key ICBAAR stakeholders (government and non-governmental) that focuses on "life after the ICBAAR project" period. Capacity improvements may need to include setting up and delivering more online training courses to help add value and demonstrate long-term sustainability of GEF funds. Likewise, Upazila Nirbhaya officers, for example, may benefit from having training to enhance their expertise on EbA and Nature-based Solutions to be able to help convey to project beneficiaries how households and businesses may introduce nature-based solutions into their work plans to address flood management, etc.

This recommendation for GoB staffs and local community may wish to consider what staffing support is needed to help provide solutions to address (for example) land ownership issues to enable the replication of killa constructions, in addition to the long-term risk of killa "sinking" issues meaning that regular maintenance and upgrading (crest height) may be needed on yearly/five yearly basis to counter any structure effectiveness dilution in the coming years. This may be needed to realise the benefit of "Climate Resilient Villages" (or "Cluster Villages), there is a possible need to sustain the crest level of the killas each year (with extra inland quarried materials etc).

4

Provide strong justification on how to sustain and continue the Adaptation Learning Centre (ALC)

The Adaptation Learning Centre (ALC) represents an important project outcome that has contributed towards promoting and demonstrating locally-led adaptation technologies. It has also helped to promote dialogue through south-south and triangular cooperation initiatives by involving the Global Centre on Adaptation's regional center based in Dhaka.

5

An agreement needs to be reached between the GoB and UNDP on streamlining of GEF financed projects and TAPP approval processes.

The delays in project start-up were mainly attributed to slow and protracted government TAPP approval processes. Any recommendation to improve and streamline existing administrative procedures to expedite project start-ups would be advantageous for future GEF supported projects. This is important as it is acknowledged that TAPP approval processes are required for all development projects in Bangladesh and hence all future GEF projects need to be compliant with this. However, without a review of administrative improvements, future projects are likely to suffer from similar delays unless the issue is resolved. More cooperation between the Planning Commission and the Economic Relations Division is therefore needed to expedite and streamline the project approval process currently followed. It is acknowledged that reaching agreement on this matter will take time and requires the input, willingness, and consensus from all parties including GEF.

6

Instil Project Monitoring Planning

This is proposed as the ICBAAR could have benefitted from a more adequate "month by month" monitoring planning processes, as opposed to only an annual report that was used to measure progress. A Mid-term review (which was delayed) could have been helpful for assessing performance to assist in the final TE. In addition, an effective and well-structured documentation process or platform could have been more useful for measuring project progress. Similar future projects should consider how to improve mechanisms to support the process of ensuring that beneficiary institutions develop a reporting requirement that informs ICZM related policy-making, assesses progress on capacity development, and helps enable mainstreaming climate data into national development activities.

7

Improve Frequency of Risk Register reviews

This is proposed as operational risks need to be more clearly and carefully analysed at the programme design phase, and appropriate risk mitigation measures identified from the beginning. In addition, continuous assessment of risks is an absolute necessity to ensure effective management of risks and the identification of proper mitigation measures.

8

In order to promote enrichment plantations within monoculture mangrove afforestation stands, that all ICBAAR beneficiaries are made better aware of both ecological/ socio-economic benefits and the cost-effectiveness of any intervention from an ecosystem service perspective. This may involve new targeted training events (workshops, seminars etc) for the beneficiaries especially at the upazila level to help grow adequate expertise in country. Such modules may include topics such as how to increase the crop resistance to disease impacts (such as stem borer, etc).

9

Improved "exposure visits" of the participants to new areas could be useful as an additional exercise which can be used to build awareness about Climate Resilient related innovative livelihoods for communities. This may consider visits to (or from) participants engaged on similar climate-resilient innovative activities implementing from abroad such as Vietnam, Timor Leste, Indonesia, Malaysia or Gambia.

10

A Rewards system (or similar) should be introduced for those successful participants of the ICBAAR project to help encourage replication of interventions. This should build upon the approach adopted by the Project which did provide crests & certificates to the local climate champions who show-cased innovative adaptation and other NbS.

11

As the project supported the new construction of the PSF (Pond Sand Filter) system for drinking water, and it repaired the older PSF, this approach could in theory be adopted as part of any future replication strategy.