Final Evaluation of the project "Afghanistan Access to Justice" (AA2J)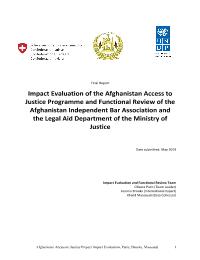 Evaluation Plan:

Evaluation Type:

Final Project

Planned End Date:

06/2019

Completion Date:

07/2019

Status:

Completed

Management Response:

Yes

Evaluation Budget(US $):

70,000
| Document | Type | Language | Size | Status | Downloads |
| --- | --- | --- | --- | --- | --- |
Title
Final Evaluation of the project "Afghanistan Access to Justice" (AA2J)
Atlas Project Number:

00094291

Evaluation Plan:
2015-2022, Afghanistan
Evaluation Type:
Final Project
Status:
Completed
Completion Date:
07/2019
Planned End Date:

06/2019

Management Response:
Yes

Focus Area

:
Corporate Outcome and Output (UNDP Strategic Plan 2018-2021)

1. Output 3.2.2 National and local systems enabled and communities empowered to ensure the restoration of justice institutions, redress mechanisms and community security

SDG Goal

Goal 16. Promote peaceful and inclusive societies for sustainable development, provide access to justice for all and build effective, accountable and inclusive institutions at all levels
Goal 5. Achieve gender equality and empower all women and girls

SDG Target

16.3 Promote the rule of law at the national and international levels and ensure equal access to justice for all
5.5 Ensure women's full and effective participation and equal opportunities for leadership at all levels of decision-making in political, economic and public life

Evaluation Budget(US $):

70,000

Source of Funding:
Project resources
Evaluation Expenditure(US $):

70,000

Joint Programme:
No
Joint Evaluation:

No

Evaluation Team members:
GEF Evaluation:

No

Key Stakeholders:
Ministry of Justice (MoJ)
Countries:

AFGHANISTAN
Recommendations
1

Enhanced partnerships through platform programming: The next phase of the AA2J project should be designed in an innovative manner as a "platform project "where UNDP gathers strategic partners around the same goal, without being at the center of the project design.

2

Top-down protection and bottom-up empowerment: The next phase of the project is developed in line with the human rights-based approach to programming

3

Promote Change Management Approach: The project staff is empowered with appropriate levels of responsibility combined with decision-making authority to ensure effective project implementation. The project team needs to be fit for purpose with a suitable balance of technical knowledge and project management skills.

4

Partner-orientated focus: In the next phase, the project partnership should focus more on building a higher degree of trust, adequately communicating and managing expectations and limitations, seizing opportunities and creating solutions. In addition to the already existing coordination mechanisms in the project, through the Project Board, and the Technical Working Group on Rule of Law, establishing a specific Access to Justice Policy Dialogue Platform should be considered.

5

Adaptive programming: The next phase of the project should be looking more at incubating and seeding, including with regards to the provision of free legal aid and development of a state funded and managed system of legal aid provision.

6

Implementation of Monitoring and Evaluation Recommendations: All project partners should have an M&E system at the lower and central level, with UNDP project staff backstopping them to ensure standards and quality. In addition, significant resources should be allocated for data quality assurance in the next phase of the project to ensure that the data collected in reliable and usable

7

Ownership and Sustainability: Follow a participatory approach during the development of the next phase of the project, including consultations with all relevant partners, sharing the draft project document and actively seeking their validation of the planned lines of support.

8

Upstreaming engagement: In the next phase senior management play a more active role in elevating the project profile, significance and impact as well as positioning UNDP more as policy partners at the policy dialogue level, rather than simply as providers of logistical support.