Evaluation of UNV Gender Equality and Women's Empowerment for Organisational and Programmatic Effectiveness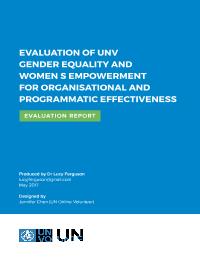 Evaluation Plan:

Evaluation Type:

Thematic

Planned End Date:

07/2017

Completion Date:

05/2017

Status:

Completed

Management Response:

Yes

Evaluation Budget(US $):

13,050
Title
Evaluation of UNV Gender Equality and Women's Empowerment for Organisational and Programmatic Effectiveness
Atlas Project Number:
Evaluation Plan:
2016-2017, UNV
Evaluation Type:
Thematic
Status:
Completed
Completion Date:
05/2017
Planned End Date:

07/2017

Management Response:
Yes

Focus Area

:

1. Cross-cutting Development Issue

Corporate Outcome and Output (UNDP Strategic Plan 2018-2021)
Evaluation Budget(US $):

13,050

Source of Funding:
Evaluation Expenditure(US $):

13,050

Joint Programme:
No
Joint Evaluation:

No

Evaluation Team members:

| Name | Title | Nationality |
| --- | --- | --- |
| Lucy Ferguson | | |

GEF Evaluation:

No

Key Stakeholders:
Countries:

GLOBAL
Recommendations
1

Develop a clear understanding of what gender equality, women's empowerment and gender mainstreaming mean for UNV, in particular, as they relate to UNV's core mandate of volunteer mobilisation and recruitment.

2

Integrate gender equality into organisational priorities, policies and strategies at the highest level, and ensure gender is mainstreamed into the new Strategic Framework and organisational transformation process.

3

Allocate and systematically track financial resources for gender equality and gender mainstreaming, in line with the target of 15% established in UNDP's Gender Equality Strategy and the Gender Marker system.

4

Establish clear, accountable structures for gender equality and gender mainstreaming with the necessary level of expertise, and ensure that responsibility sits at the highest levels of the organisation.

5

Address gender gaps in workplace issues and organisational culture, particularly in light of the Global Staff Survey 2016 results which demonstrate gender gaps of up to 38% in favourable perceptions of management performance and behaviour.

6

Develop and implement a training and capacity development plan on gender equality and gender mainstreaming for all staff and UN Volunteers, following current best practice to ensure that this meets the specific requirements of the organisation and will have a lasting impact on all areas of UNV's work.

7

Integrate gender equality more substantively into UNV's core work of volunteer mobilisation and recruitment, as well as programmatic work, through the development of appropriate indicators, targets and processes for tracking the impact of UNV's work.