Evaluación Final del proyecto Creación de capacidades de Acuerdos Multilaterales Ambientales (Capacity building for mainstreaming MEA objectives into inter-ministerial structures and mechanisms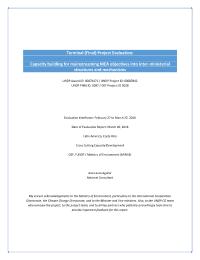 Evaluation Plan:

Evaluation Type:

Final Project

Planned End Date:

03/2018

Completion Date:

04/2018

Status:

Completed

Management Response:

Yes

Evaluation Budget(US $):

15,000
Title
Evaluación Final del proyecto Creación de capacidades de Acuerdos Multilaterales Ambientales (Capacity building for mainstreaming MEA objectives into inter-ministerial structures and mechanisms
Atlas Project Number:

00076472

Evaluation Plan:
2018-2022, Costa Rica
Evaluation Type:
Final Project
Status:
Completed
Completion Date:
04/2018
Planned End Date:

03/2018

Management Response:
Yes

Focus Area

:

1. Environment & Sustainable Development
2. Others

Corporate Outcome and Output (UNDP Strategic Plan 2018-2021)

1. Output 1.3. Solutions developed at national and sub-national levels for sustainable management of natural resources, ecosystem services, chemicals and waste

SDG Goal

Goal 16. Promote peaceful and inclusive societies for sustainable development, provide access to justice for all and build effective, accountable and inclusive institutions at all levels

SDG Target

16.6 Develop effective, accountable and transparent institutions at all levels

Evaluation Budget(US $):

15,000

Source of Funding:
GEF Trustfund
Evaluation Expenditure(US $):

7,300

Joint Programme:
No
Joint Evaluation:

No

Evaluation Team members:

| Name | Title | Nationality |
| --- | --- | --- |
| Ana Laura Aguilar | Consultant | |

GEF Evaluation:

Yes

| | |
| --- | --- |
| GEF Project Title: | Capacity Building for Mainstreaming MEA Objectives into Inter-Ministerial Structures and Mechanisms |
| Evaluation Type: | Terminal Evaluation |
| Focal Area: | Multifocal Areas |
| Project Type: | MSP |
| GEF Phase: | GEF-5 |
| GEF Project ID: | 5028 |
| PIMS Number: | 5097 |

Key Stakeholders:
Countries:

COSTA RICA
Lessons
1.

Best practices:

The facilitation of partnerships with academic public institutions allows capacity building within public instances, value added for the expansion of a particular action and also assures sustainability.
The identification of possible experiences for escalation/replication.
The use of a learn-by-doing approach to facilitate policy-making.
The use of democratic dialogue and participatory approaches for policy-making.
Having a direct access to the office of the Minister provides support and facilitates the advancement of difficult issues.

Worst practices:

The generation of a lot of important information, that due to internal circumstances at the decision-making level, is not fully used as a tool for policy making.
The lack of clarity in role establishment within de PMU and how it is projected to institutional counterparts can generate difficulties in implementation.
Not enough involvement of technical institutional staff in the design/implementation of project activities can decrease institutional ownership.
A perception of a "politicization" of the project, due to its director being a high level political officer, such as a minister can be a hindrance to project implementation.



Findings
1.

Summary of conclusions and recommendations

Conclusions

Clarity in the roles that the project management unit (including the project director) is very important for effective communication and articulation of activities.
Several instruments of public policy, supported with technical assistance from the project, have achieved the mainstreaming of provisions from the three Rio Conventions.
Structural elements within institutions can hinder institutionalization of coordination mechanisms.
The project can try to involve national actors, but that it is the institution's responsibility to assume that ownership.
Participatory policy-making was a key part of the project's strategy for capacity building, as was using the learning by doing approach. Both these tools help the promotion of institutional ownership and also foster sustainability.
Public-private partnerships must generate greater awareness about compliance with MEAs, as a responsibility of the State in the broader definition: it goes beyond any particular administration and civil society, private sector, NGOs, academia, and private citizens must assume their share of responsibility.
Partnerships with public research institutes and bodies from public universities generate an aggregate value and can foster sustainability.

Recommendations

Communication processes within the key stakeholders and actors must be improved and prioritized.
Focal points should identify common entry points to start developing a common working agenda, and support the institutionalization of the coordination mechanism, so that those more structural elements can be overcome.
A project management unit should give the correct degree of involvement to institutional representatives at the design and implementation levels and support the completion of intra and interinstitutional agreements.
Since project implementation may not give the be able to prioritize baseline building processes, due to financial or time constraints, baselines must be constructed or identified during the project design.
Projects must achievable targets, considering not only the ultimate objectives to be achieved, but elements of the current political, economic, social and institutional context.
Projects need a tailored strategy not only for the production but for the management of the information generated through its activities.
The direction of a project shouldn't be assumed by high-ranking officers such as ministers, since the load of work they normally experience may prove detrimental to their performance as project directors.
Validation and revision processes should comply with an established schedule, to give fluidity to the implementation of activities.
To sustain strategic interventions, financial and operational planning must be not only linked but part of programmatic priority planning.
A process to make sure that MEA convention focal points have greater negotiation skills and are able to devote more time to the responsibility of being the key player of the government for that convention should be determined.
MINAE, as the oversight body for the environmental sector, should build an institutional policy on open data, which articulates with the national policy on open data, and provides guidelines to other environmental institutions, or bodies that produce environmental information, on how to manage that information, and how to make it available



Recommendations
1

Communication processes within the key stakeholders and actors must be improved and prioritized.

2

Focal points should identify common entry points to start developing a common working agenda, and support the institutionalization of the coordination mechanism, so that those more structural elements can be overcome.

3

A project management unit should give the correct degree of involvement to institutional representatives at the design and implementation levels and support the completion of intra and interinstitutional agreements.

4

Since project implementation may not allow to prioritize baseline building processes, due to financial or time constraints, baselines must be constructed or identified during the project design.

5

Projects must achievable targets, considering not only the ultimate objectives to be achieved, but elements of the current political, economic, social and institutional context.

6

Projects need a tailored strategy not only for the production but for the management of the information generated through its activities.

7

The direction of a project shouldn't be assumed by high-ranking officers such as ministers, since the load of work they normally experience may prove detrimental to their performance as project directors.

8

Validation and revision processes should comply with an established schedule, to give fluidity to the implementation of activities.

9

To sustain strategic interventions, financial and operational planning must be not only linked but part of programmatic priority planning.

10

A process to make sure that MEA convention focal points have greater negotiation skills and are able to devote more time to the responsibility of being the key player of the government for that convention should be determined.