Mid-term Evaluation of Development of Sustainable Renewable Energy Power Generation (SREPGEN) Project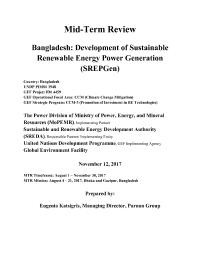 Evaluation Plan:

Evaluation Type:

Mid Term Project

Planned End Date:

11/2017

Completion Date:

11/2017

Status:

Completed

Management Response:

Yes

Evaluation Budget(US $):

25,000
Title
Mid-term Evaluation of Development of Sustainable Renewable Energy Power Generation (SREPGEN) Project
Atlas Project Number:

00073939

Evaluation Plan:
2017-2021, Bangladesh
Evaluation Type:
Mid Term Project
Status:
Completed
Completion Date:
11/2017
Planned End Date:

11/2017

Management Response:
Yes

Focus Area

:
Corporate Outcome and Output (UNDP Strategic Plan 2018-2021)

1. Output 1.5.1 Solutions adopted to achieve universal access to clean, affordable and sustainable energy

SDG Goal

Goal 12. Ensure sustainable consumption and production patterns
Goal 7. Ensure access to affordable, reliable, sustainable and modern energy for all

SDG Target

12.2 By 2030, achieve the sustainable management and efficient use of natural resources
12.a Support developing countries to strengthen their scientific and technological capacity to move towards more sustainable patterns of consumption and production
7.a By 2030, enhance international cooperation to facilitate access to clean energy research and technology, including renewable energy, energy efficiency and advanced and cleaner fossil-fuel technology, and promote investment in energy infrastructure and clean energy technology

Evaluation Budget(US $):

25,000

Source of Funding:
Project budget (GEF-funded)
Evaluation Expenditure(US $):

23,256

Joint Programme:
No
Joint Evaluation:

No

Evaluation Team members:
GEF Evaluation:

Yes

| | |
| --- | --- |
| GEF Project Title: | Bangladesh: Development of Sustainable Renewable Energy Power Generation |
| Evaluation Type: | Mid-term Review |
| Focal Area: | Climate Change |
| Project Type: | FSP |
| GEF Phase: | GEF-5 |
| GEF Project ID: | 4459 |
| PIMS Number: | 3948 |

Key Stakeholders:
Countries:

BANGLADESH
Recommendations
1

Major project redesign should be adopted (by Nov. 2017), followed by check on progress (at latest Feb. 2018). If progress is not sufficient, early project close should be considered to ensure funds are not wasted. If progress is acceptable, application to the GEF for a one-year extension from current project close date of Dec. 31, 2018 until Dec. 31, 2019 may be considered if needed.

2

[Component 1 – Recommendation 1] Policy and planning outputs and activities should be substantially revised to fit needs and should be the main focus of Component 1 going forward. Redesigned activities will include Net Metering Action Plan, technical solutions for grid integration of distributed RE power, template agreement for rooftop solar, quality and disposal guidelines for PV components, investment management and incentive policy/ regulations and guidelines for utility scale RE, and GOB Action Plan for RE Power Generation 2019-2040.

3

[Component 1- Recommendation 2] While some SREDA promotion activities can be continued, given that this area has already had significant achievement and received significant budget allocation, this work should be secondary to Component 1's policy and planning work. In particular, with 3 study tours completed, no more should be carried out.

4

[Component 2 – Recommendation 1] Wind resource assessment work should be redesigned to take into account extensive work already done by USAID and remaining needs. Assuming the results of the USAID wind resource assessment work at nine sites shows some positive results and that its retired towers can be transferred in time for no-cost use, SREPGen can fill in the gaps by carrying out learning-by-doing onshore wind resource assessment in Barisal and carrying out a desk study on offshore wind resource potential.

5

[Component 2 – Recommendation 2] Nationwide biomass resource assessment, not initially included in the ProDoc, but with TOR design already initiated by a top biomass expert, should be launched as soon as possible. The current scope of work should be divided into two phases, with phase one efforts to be limited to a cost of USD300, 000 of project funds, with contracting efforts to be initiated immediately. As the total costs anticipated for the nation-wide study may be roughly USD1 million or more, the other USD700, 000 or more of work should be allocated to phase two, for which other donor funds can be pursued in parallel with implementation of phase 1 of the study. Work should be done concurrently to justify and, if possible, reduce costing.

6

[Component 2 – Recommendation 3] The need for project support of investment-grade solar resource assessment, now being proposed at five sites, should be further vetted and justified, before being contracted. If the project goes forward with this work, it should include a capacity building/ learning-by-doing dimension.

7

[Component 3 – Recommendation 1] Component 3 work (which aims to address getting PV power to the poor that lack electricity) should put its greatest focus on those villages among the 1,024 identified long-term off-grid villages that are not suitable to PV mini-grids. A survey of the 1,024 villages is recommended (to be commenced promptly by January 2018) in order to: (a) confirm which villages are not suitable for PV mini-grids and which of these have the highest proportion of un-electrified households, (b) determine the best type of PV nano-grids when nano-grids are suitable for such villages, and (c1) identify those cases of villages for which free-standing, unconnected household systems (SHSs) are instead the best option and (c2) determine viability of and strategy for a pay-as-you-go distribution initiative for such villages.

8

[Component 3 – Recommendation 2] The design and installation of 300 nano-grids for clusters of homes in long-term off-grid villages not suitable to PV mini-grids and with a high proportion of un-electrified households is recommended as the most extensive activity of Component 3, with budget of roughly USD1.255 million.

9

[Component 3 – Recommendation 3] Small SHS and pico-solar sold on monthly installment plan implemented via automated pay-as-you-go payment technology is recommended as the second key activity of the re-designed Component 3 to get PV power to the poorest households. A preliminary budget allocation of roughly USD 318,000 is recommended, pending confirmation of the viability of the pay-as-you-go strategy to generate substantial demand for systems. This work should also include training of "solar grandmas" to ensure repair services are available.

10

[Component 4 – Recommendation 1] Re-design of RE power generation scale-up activities (the focus of Component 4) is recommended to suit the current needs to achieve actual installations of utility-scale PV, utility-scale wind, and utility scale biomass power generation projects. Redesigned activities should include a mix of barrier removal (with barriers identified via consultation with investors) for utility scale RE power generation, design and implementation of concession bidding programs for utility scale RE power generation, preparation of bankable financing documents for RE power generation, and direct support for a 100 kW W2E project (the last item, as requested by SREDA).

11

[Component 4 – Recommendation 2] Special applications of RE power is an area less fully in line with the RE power generation objective of SREPGen. At the same time, pursuit of RE power applications as a part of SREPGen is to some extent justifiable. Bangladesh's power grid is expanding rapidly, so that PV power applications represent an important means of increasing use of RE power in both on-grid and off-grid areas. Thus, it is recommended that special PV power applications be considered, but only if sufficient funding is first allocated to other project initiatives. Relevant sub-areas should all be contingent on the availability of a feasible business model for commercial replication. Areas to consider in this regard are: an additional auto-rickshaw and easy ride PV charging station, arsenic removing solar pump, solar freezer, household solar pump, and solar boats (with the last to be supported only if compelling new aspects are included as compared to the 5 boats already supported).

12

[Cross-cutting – Recommendation 1] The project should recruit part-time experts to support its efforts to implement the re-designed project at a rapid pace. The mix of experts may follow one of two scenarios: (1) a part time expert in PV (most major contract in terms of time), as well as a part-time expert in each of wind and biomass (more limited contracts) or (2) a general RE expert and an expert in TOR preparation and contracting.

13

[Cross-cutting – Recommendation 2] The project should aim to diversify its partners – the organizations with which it signs contracts to implement project activities. Partners should be chosen based on their capabilities in the relevant re-designed activities.

14

[Cross-cutting – Recommendation 3] The project team, after finalizing indicators (initial draft provided in Annex 3), should carefully consider achievement of indicators (especially GHG ERs) in any further adjustment or re-prioritization of project activities. In the case of utility scale projects, it will be important for the project team to carefully monitor developments and provide evidence that SREPGen activities did indeed remove barriers for such utility-scale projects, so that SREPGen can "claim" credit for their GHG ERs.

15

[Cross-cutting – Recommendation 4] Measures should be adopted as follows so that each of four key stakeholder groups (PSC, the Implementing Entity, UNDP, and the project team) are able to increase their effectiveness in promoting project progress:

- The PSC should discuss and approve the re-designed project as a whole by end of Nov. 2017. Further, PSC members should be made aware that the project objective concerns RE power generation and that the project has four clear outcomes on which project activities need to focus.

- As with the PSC, the implementing entity should be reminded repeatedly that the project objective concerns RE power generation and has four clear outcomes on which project activities need to focus. The implementing entity should further understand the GEF incremental strategy – which the project should aim to invest money in activities that stimulate replication of RE power generation initiatives on substantial scale and have the potential for commercial viability. Thus, one-off activities that lack replication potential and/or that lack commercial viability are not suitable for SREPGen.

- UNDP should make strong efforts to support the project in faster turnaround of procurement handled through UNDP, with a target of maximum six weeks between opportunity posting and contract signing.

- The performance of the project team should be enhanced and monitored. To ensure the project team's work is on target, each team member should keep a daily timesheet in Excel documenting time spent on various activities. UNDP should review these timesheets every two weeks to ensure the team is putting its full effort in the right areas.