Mid-term evaluation of ECOWAS/EU Small Arms Project (SALW)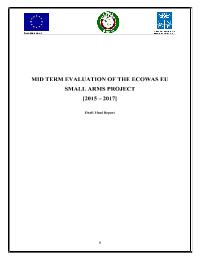 Evaluation Plan:

Evaluation Type:

Mid Term Project

Planned End Date:

10/2018

Completion Date:

11/2018

Status:

Completed

Management Response:

Yes

Evaluation Budget(US $):

25,700
Title
Mid-term evaluation of ECOWAS/EU Small Arms Project (SALW)
Atlas Project Number:

00082508

Evaluation Plan:
2018-2022, Nigeria
Evaluation Type:
Mid Term Project
Status:
Completed
Completion Date:
11/2018
Planned End Date:

10/2018

Management Response:
Yes

Focus Area

:

1. Crisis Prevention & Recovery
2. Others

Corporate Outcome and Output (UNDP Strategic Plan 2018-2021)

1. Output 5.5. Policy frameworks and institutional mechanisms enabled at the national and sub-national levels for the peaceful management of emerging and recurring conflicts and tensions

SDG Goal

Goal 16. Promote peaceful and inclusive societies for sustainable development, provide access to justice for all and build effective, accountable and inclusive institutions at all levels

SDG Target

16.3 Promote the rule of law at the national and international levels and ensure equal access to justice for all

Evaluation Budget(US $):

25,700

Source of Funding:
Evaluation Expenditure(US $):

30,000

Joint Programme:
No
Joint Evaluation:

No

Evaluation Team members:
GEF Evaluation:

No

Key Stakeholders:
The Presidential Committee on Small Arms and Light Weapons (PRESCOM)
Countries:

NIGERIA
Recommendations
1

Increase effort to accelerate arms collection and implementation of the community development project before the completion date. Consider inclusion of nearby communities (not initially targeted) who are willing to voluntarily submit their small arms and light weapons to benefit from the community development projects

2

Deepen sensitization activities including the use of champions - organizing house-to-house meetings and intensive engagement and involvement of legislators and local authorities to deal with the individualistic tendencies and to project communal and group benefit.

3

Refine the focus group benefit concept to include support to help the beneficiaries to formalise and grow their businesses.

4

Consider in-kind rewards for individuals in the form of scholarships for children/wards of those who voluntarily surrender their weapons

5

Support NATCOM to improve its website to facilitate information sharing especially for citizens in the diaspora. This will help mitigate inflow of illicit arms and light weapons into the pilot countries.