Evaluation of the UNDP Innovaton Facility Project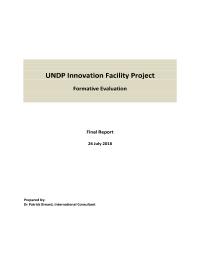 Evaluation Plan:

Evaluation Type:

Project

Planned End Date:

12/2018

Completion Date:

08/2018

Status:

Completed

Management Response:

Yes

Evaluation Budget(US $):

30,000
Title
Evaluation of the UNDP Innovaton Facility Project
Atlas Project Number:

00081451

Evaluation Plan:
2018-2021, Bureau for Policy and Programme Support
Evaluation Type:
Project
Status:
Completed
Completion Date:
08/2018
Planned End Date:

12/2018

Management Response:
Yes

Focus Area

:
Corporate Outcome and Output (UNDP Strategic Plan 2014-2017)

1. Output 7.6. Innovations enabled for development solutions, partnerships and other collaborative arrangements

Evaluation Budget(US $):

30,000

Source of Funding:
Evaluation Expenditure(US $):

28,080

Joint Programme:
No
Joint Evaluation:

No

Evaluation Team members:

| Name | Title | Email | Nationality |
| --- | --- | --- | --- |
| Patrick Breard | Mr. | patrick@breard.com | |

GEF Evaluation:

No

Key Stakeholders:
internal
Countries:

GLOBAL
Lessons
1.

The evaluation recognizes the significant achievements of the Innovation Facility. The project has supported UNDP in achieving its strategic results by fostering internal change and enabling COs to bring new solutions to national partners in response to their development objectives. The Innovation Facility has contributed to the achievement of the objectives set forth by UNDP Focus Areas. Between 2014 and 2017, 142 Innovation Facility initiatives were initiated and 21 scaled-up. Furthermore, the Innovation Facility has fostered and enabled ampler South-south cooperation, collaboration and partnerships. Over the course of the project, a total of 66 public-private partnership mechanisms and models were piloted and rolled out to provide innovative solutions for development. The Innovation Facility has also contributed to improving UNDP development projects and delivery. According to more than 80% of UNDP informants, the initiatives supported by the Innovation Facility have contributed to make funded projects more effective (improved quality, targeting, inclusiveness, timeliness).

The Innovation Facility project presents evidence of outstanding features across the expected outputs. Project implementation has exerted the capability to "pivot" some of the planned activities and working modalities to achieve the expected objectives. For instance, the project has adapted over the years the criteria and conditions to allocate seed-funds to COs with a view to amplify some approaches/methods or influence scaling.

The project has successfully participated in the identification and promotion of innovative approaches. A body of knowledge has been harnessed and developed and capacities strengthened to accelerate the growth, replication, and uptake of new approaches/methods across countries and regions particularly in Asia & Pacific and ECIS. Part of these achievements have benefited from new partnerships with a vast range of actors, from global leading tech companies to top research institutions and think tanks. Subsequently, these innovative approaches have offered to UNDP a platform to design and implement projects with new national partners, and to reach new beneficiaries at country level, such SME Owners, Entrepreneurs, and the Youth.

The seed-funding modality has been particularly effective at raising the attention of COs on the innovation agenda and familiarizing staff with new approaches/methods. The fund has further incited or elicited demand for these new approaches, which were taken up in UNDP projects and by national partners. Seed-funding has also helped to strengthen the credibility of innovation approaches in front of external partners and to trigger additional co-funding. For example, for one dollar of seed-funding allocated by the project in 2017, COs have on average mobilized $2.13 in local resources.

Partnerships were developed with leading innovators through platforms like IDIA, UNIN, or GSMA. Furthermore, the project has established networks of innovators, to some extent through expert rosters, but more actively through internal networking and collaboration between COs. Regional Innovation Leads have been very effective in their brokering and advisory role. A range of modalities have been deployed to enable intra-regional and cross-regional networking, such as joint workshops, staff visits or co-engagements as internal consultants, online mutual support, etc. When working with national partners to implement an innovative project, innovation champions remained engaged to benefit from the training delivered by external experts -e.g. on AI, BI, etc.- and gain new skills through learning by doing.

Advocacy, communication and outreach activities have delivered plethora of products, events and services. The initial SHIFT week was particularly successful from the onset to draw global attention on the project. The annual report of the Innovation Facility is recognized as an effective and qualitative advocacy product. Blogs contributed to magnify specific topics or innovation approaches/methods. The newsletter reaches regularly 1500 innovation champions. The twitter account @UNDP_innovation has more than 14000 followers and exchanged 8300 tweets since its creation. The innovation Yammer group has 1460 members and more than 200 messages posted in the past 12 months. Innovation conversations webinars were organized regularly with top experts, which have proven excellent at inspiring innovators across the organization. The project has recently launched innovation calls with UNDP Administrator. The Leadership Training Programme has integrated 4 modules on innovation. The programme was followed by 600 staff and delivered with support from innovation champions.

In terms of organizational processes for improved performance efficiency, the project has led to the establishments of the Innovation Challenge Policy and to informing the new PPM cycle with the Hacker's Kit developed in UNDP/ECIS and complementary inputs from project team members.

The evaluation did not identify major shortcomings or flaws in the setup of the Innovation Facility but some constraints stemming from the design of the project or limitations faced during implementation. The lack of a Theory of Change in the initial Project Document may have prevented the project from presenting clearly the broader causal chain and how innovation would specifically contribute to realizing relevant development outputs and outcomes across UNDP Focus Areas. Furthermore, the initial list of planned activities did not prove entirely relevant to achieving the expected outputs as illustrated by the obsolescence of a few output indicators. The next iteration of the project should be built on a strategy as learning i.e. formulate a Theory of Change, formulate key hypothesis and track progress to examine the validity of the key hypothesis and related assumptions in an iterative way. It is important to constantly revisit the measurement mechanisms of the project.

Project monitoring proposed using instruments such as blogs, micro-narratives, progress stories, and to Work Out Loud. This is effective to contribute to change management, but less relevant to communicate failures and lessons learned and to foster organizational learning. Incidentally, the Project Document did formulate the necessary metrics to track the effectiveness of its portfolio. However, further development of an impact measurement framework is highly recommended.

The current "projectization" of the Innovation Facility including through the support that it provides at country level appears also to mitigate the capacity to scale initiatives. As stressed by many informants, innovation as intended by the project does not focus on UNDP only. It targets and implies for partners in governments, public sector, private sector, etc. to change also and adopt the proposed new approaches, which is not necessarily achieved at scale in 6 months.

Despite several attempts to mobilize additional resources on the working level, the project has remained primarily funded by the Government of Denmark while UNDP provides core funding for staff positions. This clearly creates a risk for the sustainability of the project. This may have also limited the capability of the project to support additional scaling. The Innovation Facility Team should consider involving the Project Board members more closely in Resource Mobilization efforts.

Other constraints faced during project implementation include eventually fewer capacities than expected. For instance, the LAC region did not assign a full time Regional Innovation Lead. Similarly, the project expected the involvement of a global Knowledge Management Specialist, but due to other corporate duties this did not come close to any full-time support. Simultaneously, Knowledge Management needs were greater than the ones described in the Project Document. For example, a knowledge platform/workspace would be relevant for each innovation approach/method. At regional level, capacities were also limited to add some knowledge services such as regional online expert rosters, regional webinars that would be easier to attend for CO staff away from NY, or even more regular proactive outreach to CO to seek what support is needed or how projects are advancing and what were the lessons learned.

In terms of governance, the structure set by the Project Document has proved effective to swiftly and strategically drive the Innovation Facility. The escalation of innovation in UNDP through the Strategic Plan, the visible support from the Administrator, and the involvement of the Executive Office and other units on innovation related initiatives (project catalyst, country investment facility), are progressively making either the Project Board composition incomplete or its coordination modalities with other initiatives partial.

Other constraints faced by the project while realizing Output 1 include the lack of rewards or incentives for staff, being policy advisors, project managers, etc. to actively scan the horizon, report innovative approaches, reflect and test, and strive to change the status quo. A second blank area faced by the project regards the lack of clear process/procedure/governance in UNDP to institutionalize innovation approaches/methods, i.e. to transition a new approach from innovation to the mainstream, including to a "global owner" and capacities, being in BPPS, a Regional Hub, or Centre of Excellence. Achievements under project Output 2 were confronted to the short timeframe (6 months or less) available for projects to use seed-funding from the Innovation Facility, and the lack of visibility on subsequent seed-funds to scale-up initiatives. Furthermore, seed-funding and technical assistance provided by the Innovation Facility tend to concentrate on projects, while innovation implies a broader change management agenda with additional emulating levers at CO level and up to national partner institutions. In other words, many CO still need more empowerment towards risk-taking and sustainable innovation. Advocacy, communication, skills-building initiatives (especially learning by doing) and training have reached many audiences with Output 3, pointing out the need also for tailored approaches and possible gaps. This includes further targeting CO Directors and operations staff, as well as consider involving not just the innovators and early adopters in national partner institutions but also the decision-makers. Networking under Output 4 embarked successfully the like-minded, such as social innovators. There may be more limited networking though among the national communities with the more risk adverse bilateral donors, or with foundations and global funds, as well as with technical communities on AI, BI, Blockchain, etc. Output 5 overlooked the more comprehensive functional and organizational review that would have pointed out all the "choke points" hampering or slowing-down innovation throughout the organization.

Footnotes:

UNDP. 2018. Global Programme (2014-2017) Results & Resources Framework: Cumulative Reporting for 2014-2017. Internal document. New York.

Business- 51; Think tanks and innovation labs – 8 initiatives; Media- 7 initiatives.

i.e. according to (i) the evaluation survey, (ii) the Innovation Facility survey, and (iii) corporate ROAR.

Technically, the decision of having a regional lead remains the prerogative of a given region and how they go about prioritizing investment. This regional commitment is beyond what the project itself can determine/influence.



Findings
1.

4. Evaluation Findings

The below findings are presented based as much as possible on factual evidence (indicator values, quantitative data, references) and documented perceptions from informants. Findings (especially based on perceptions) were cross-checked during different interviews and with available evidence.

4.1. Project Relevance

Key Evaluation Question How well designed is the project to meet its broader objective to advance innovation across UNDP?

Key Findings - The project was well designed to meet its broader objective to advance innovation across UNDP. - The project outputs and outcome form a coherent framework that hold well over time, despite some adjustments made on the underlying activities.

The Innovation Facility has been, remains, and will continue to be highly relevant to UNDP and its partners. The external environment that presided over the establishment of the project compels organizations to innovate and adapt. The pace of change continues to accelerate worldwide. The context in which UDNP operates becomes increasingly complex and interconnected. Meanwhile, development challenges remain alarming. Common public goods are under growing stress (climate, water, etc.). Despite income poverty having fallen in some regions of the world in the past 20 years, there remains 650 million people still living in extreme poverty. About 70% of the world's population live in countries where inequality has increased over the last two decades. It is acknowledged that allocating 0.7% in ODA will not be sufficient to achieve the SDGs and new partnerships must be forged. At the nexus of external and internal forces, countries are progressively graduating to the uppermiddle income group, which comes with new opportunities and challenges. Becoming better equipped to rely on domestic income and knowledge to stir development, these countries demand organizations like UNDP to respond with more innovative and flexible solutions. Internal drivers are also at play, calling UNDP to become more agile. This includes among others the continuous decline in UNDP core resources; demand from UNDP staff for more empowerment and less compliance; legacy programmatic and administrative arrangements that are illequipped to address highly differentiated country needs. Against this backdrop, UNDP started early on to integrate innovative approaches in its programming. Predating the Innovation Facility project, these activities were initiated by CO and Regional Centres. They generated good practices and lessons learned, primarily at regional level. The project proved timely therefore to harness these experiences, establish a global platform to make them widely visible, and facilitate cross-regional knowledge sharing and collaboration.




Tag: Relevance Innovation Knowledge management Programme/Project Design Strategic Positioning Inequalities Poverty Reduction Coordination Policy Advisory

2.

4.1. Project Relevance (continuation)

The project responds to the objective to advance innovation across UNDP, and to the broader strategic goals of the organization. The Project Document was designed after UNDP's Strategic Plan 2014-2017. The Strategic Plan embedded innovation as a key component of UNDP's development work, South-South cooperation, partnerships and coordination, and institutional effectiveness. A specific output was set on innovation in the IRRF (7.6: Innovations enabled for development solutions, partnerships and other collaborative arrangements), to which the Project Document explicitly linked to. However, the IRRF 2014-2017 did not make ample room to innovation outside of the above specific output, i.e. innovation was not deeply mainstreamed across the IRRF outcome and output areas, which may have prevented the project from being more relevant. But the latest UNDP Strategic Plan 2018-2023 makes the project even more opportune. The forthcoming country platforms aim inter alia to install "greater collaboration amongst a wide range of actors (United Nations, government, civil society, private sector, IFIs, etc.)", which is in the DNA of innovation. Similarly, the global development advisory and implementation services platform is intended inter alia to "support UNDP global knowledge, innovation and partnership-building efforts within the UNDS, as well as with IFIs and a wide range of other partners." The Strategic Plan establishes also two new business models, one of them being an Innovation stream that will "focus on exploring new ways of doing business through a process of idea generation at the country and regional levels, business case development, testing, iterative improvement and scaling up or down when feasible." The evaluation noted also that the new IRRF mainstreams innovation more consistently across development outputs and indicators (cf. also section 4.5).




Tag: Relevance Communication Innovation Knowledge management Monitoring and Evaluation Partnership Programme/Project Design Results-Based Management Strategic Positioning International Financial Institutions UN Agencies Coordination South-South Cooperation

3.

4.2. Effectiveness of the Project

Key Evaluation Question: How well has the project delivered the expected results?

Key Findings - The project was effective at achieving the expected results, with limited realization when it comes to improving UNDP organizational processes (output 5). - Seed-funds were critical to enable COs to adopt innovative approaches and were used strategically by the project. The assessment indicates that the main objectives of the Innovation Facility project were achieved. The following findings per project output can be highlighted:

Output 1: The first output aimed for the project to develop product and service offerings reflecting Leading Edge Thinking on Innovation for Development. The portfolio of innovative approaches has grown over the course of the project with 18 innovative approaches identified and tested across UNDP in 2017. Another activity under this output was to "forge relationships (and partnerships as appropriate) with social innovation thinkers, doers and disrupters". Over the course of the project, the UNDP Innovation Facility has become a member of the International Development Alliance (IDIA). The Alliance gathers senior executives and directors of innovation from a dozen of organizations including the Bill & Melinda Gates Foundation, the Rockefeller Foundation, USAID, UNICEF and the World Bank. With IDIA, UNDP Innovation Facility has participated in several meetings where participants shared innovation good practices and challenges, and to the development of several knowledge products. Furthermore, UNDP has become a founding member of the United Nations Innovation Network (UNIN), with which the 9 Principles of Innovation for Development and other guidance materials were shaped. Similarly, UNDP has become a founding member of the Global Alliance for Humanitarian Innovation and a member of the Advisory Panel of the GSMA Big Data 4 Social Good Accelerator




Tag: Effectiveness Communication Innovation Knowledge management Partnership Strategic Positioning Technology National Institutions

4.

4.2. Effectiveness of the Project (continuation)

Output 4: To increase the availability of qualified Social Innovators to support UNDP innovation for development work (Output 4), the Innovation Facility has created a global roster populated with 57 vetted experts in 2015. In addition, Regional Innovation Leads relied on complementary rosters. COs informants reported also consistently to the evaluation the role of the Regional Innovation Leads in brokering knowledge across UNDP COs, allowing staff to tap internal experience in lieu of external experts.




Tag: Effectiveness Human and Financial resources Innovation Knowledge management Policies & Procedures Project and Programme management Strategic Positioning National Institutions

5.

4.2. Effectiveness of the Project (continuation)

Output 5: Several initiatives were taken to improve UNDP organizational processes:(continuation)

The initial objectives of the project were ambitious enough to advance change in the organization but not necessarily to trigger radical change. On the one hand, the objectives of the project were ambitious from the standpoint of the range of outputs covered and the extensive list of activities identified in the Project Document. Despite some weaknesses in the design of the project, such as several activities/indicators not pursued, the overall construct was comprehensive, coherent, and ambitious. In effect, it helped to anchor innovation in the organization, build staff skills, and (confer section infra on Impact). However, on the other hand, radical change would have implied transforming a bureaucracy into a leaner and much more agile organization, installing a risktaking culture throughout UNDP, creating new norms and an entrepreneurial spirit, institutionally empowering CO with resources to innovate, as well as influencing the external environment for these changes to hold. As for the latter, this would include for instance to make donors more willing to fund projects that have high risk of failure. The evaluation shared the perspective of several informants according to whom the capacities allocated to the project, while significant and effective to foster innovation in the organization, were not up to the level required for a genuine paradigm shift. The escalation of innovation in UNDP, being in the Strategic Plan or through recent initiatives like the Project Catalyst or the Country Investment Facility, will likely create stronger momentum towards radical change.




Tag: Effectiveness Human and Financial resources Innovation Integration Knowledge management Programme/Project Design Project and Programme management Theory of Change National Institutions

6.

4.3. Efficiency

Key Evaluation Question: To what extent is the project on track to catalyze innovation at UNDP?

Key Findings - The project is on track to catalyze innovation at UNDP and proved influential to escalate the agenda up to the Strategic Plan. - The Innovation Facility has efficiently supported the testing and adoption of innovation approaches that have received additional co-funding support. - Scaling was achieved at global level for several innovation approaches/methods but would benefit from longer-term support at national level.

The evaluation found that the project was achieving the expected objectives in a cost-efficient manner. When compared to other organizations for example, the Innovation Facility and the larger innovation agenda at UNDP is implemented with more limited capacities. UNICEF in particular relies on an innovation team strong of 30 people, half of them being staff and the other half are highly specialized consultants. Management-wise costs are lower at UNDP compared to several other organizations, such as UNICEF Office of Innovation led by a D2 Director, WFP Innovation and Change Management Division also headed by a Director at D2 level, or UNHCR with a D1 as Head of Innovation. As mentioned earlier, 81% of the evaluation survey respondents found that the project was effective to "Make seed funding for innovation available to CO in a cost-effective manner", which was further corroborated by the informants consulted by the evaluation. Various actions were implemented to achieve the objectives of the project in a cost-effective way. This includes mainstreaming innovation in the Leadership Training Programme -followed by 600 staff members- and relying on the Regional Innovation Leads to engage participants with concrete field examples. Another mechanism involved leveraging internal experiences and fostering mutual support between COs rather than calling on external consultants. Such modality has taken different forms, e.g. virtually through online exchanges; bringing staff from one country to another to train Government officials, private sector partners, and other CO staff (e.g. in Egypt, Sri Lanka); or for the Regional Hub in Istanbul, through co-contracting consultants with COs or buying part of a CO staff's time to work on a specific innovative project.




Tag: Efficiency Sustainability Government Cost-sharing Private Sector Financing Resource mobilization Innovation Integration Knowledge management Operational Efficiency Technical Support

7.

4.3. Efficiency (continuation)

Several areas of work were identified that would have the potential to improve the efficiency of the Innovation Facility. The Project Document indicated that when the project would allocate seed-funds to a CO, "There will be no extensions (including no-cost extensions) of initiatives or projects beyond each calendar year. Inactivity of more than three months, as determined by the Project Team, will trigger a return of funds back to the Innovation Facility." The second point was relaxed during project implementation, but the first one has remained current. As the call for proposals is issued in March and funding decisions are taken in June, this leaves 6 months -including summer- for COs to make use of the funds. Informants mentioned that this timeframe was too short especially with disruptive projects that require working with new partners and new methods. Instead, a capability to call for seed-funding as needed throughout the year was found to be a more efficient mechanism for CO. On a somewhat related matter, the format of the Innovation Facility as a cost-sharing project, as opposed to a dedicated trust fund, was not assessed as the most efficient vehicle to serve UNDP's innovation needs and objectives. An Innovation Fund in the form of a Multi-Partner Trust Fund would offer the advantage to outsource a range of administrative tasks and financial transactions handled by the Project Team to a dedicated unit. This would lower the barrier when it comes to operational and procurement requirements. Furthermore, this would free time for the project team to concentrate on the selection and attribution of grants, and on analyzing outcomes and lessons learned. This would offer also higher visibility to the project by installing a platform designed to channel new donors and funding. Incidentally, this would also help to anchor the innovation function in the longer term rather than being projectized with three to four-year cycles as today. A last component was raised by informants that relates to the Knowledge Management function of the Innovation Facility. As indicated earlier (3.4 Project Governance), the initial Project Document expected the Project Team to comprise a Knowledge Management Specialist to be responsible for managing the virtual community on innovation, maintaining the virtual space for UNDP on innovation work, etc. However, ampler knowledge needs span across the innovation approaches/methods. Some have setup Yammer groups, but even though, informants called for additional KM solutions. In that regards, workspaces gathering existing experiences, internal and external rosters, and other information on the respective innovation services lines were referred as a useful instrument for CO to access information faster and a means for Regional Innovation Leads to concentrate on more strategic support.




Tag: Efficiency Communication Innovation Knowledge management Strategic Positioning

8.

4.4. Impact

Key Evaluation Question: To what extent is the project on track to influence the broader corporate system in the uptake of innovation in contexts where it has invested in innovation?

Key Findings - The project has contributed to make funded projects more effective (improved quality, targeting, inclusiveness, timeliness). - By design, the project has contributed to establish/federate a supportive culture targeting the innovators and early adopters but less prominently the risk-adverse and late majority. - The causal link between the project and development outcomes can be better evidenced after the new Strategic Plan and IRRF, providing the project with increased opportunities to influence the broader corporate system.

The project was successful in enabling innovation for development solutions, partnerships and other collaborative arrangements. For the period 2014-2017, the project reported a total of 66 public-private partnership mechanisms and models to provide innovative solutions for development piloted and rolled out through the Innovation Facility. Examples of new partnerships over the course project implementation feature organizations that are among leaders on the innovation agenda such as MIT Poverty Action Lab and Climate CoLab, UK's Behavioral Insights Team, Nesta, Danish Government's MindLab; private sector partners such as MobiMedia, DJI, Vodafone, Glorious Labs, Baidu, Facebook, Google, Microsoft; global consultancies like PWC, E&Y, McKinsey; academic or research institutions and think tanks, including NASA, INSEAD, The Brookings Institute, and more. Besides these internationally renowned organizations, ample evidence was found also of innovative initiatives embarking national organizations that were not previously part of UNDP's usual partners in the country, such as the National Meteorological Institute in Rwanda, the Chamber of Commerce and Industry in Honduras, the National Traffic Police in Uruguay, the Post Office in Egypt, etc. In 2017, 46% of the 35 projects seed-funded by the Innovation Facility involved a partnership with the Civil Society, 40% with the Private Sector, and 34% with Academic and Research Institutions. As illustrated by a respondent to the evaluation survey: "In my experience, one of the most important outcomes of the IF support was a renewed interest by 'old' partners (national) and the 'discovery' of new societal partners of UNDP. In many countries, UNDP support is seen as stale, increasingly irrelevant and going through the motions (not just in middle income countries). The innovation supported by the IF has piqued new interest." (Annex 5). Corporately, analysis of UNDP ROAR 2017 showed that Resident Representatives from 77 Country Offices across all 5 regions reported leveraging innovative approaches and new partnerships to improve achievement of their CPDs. Resident Representatives from these offices reported on attracting double (or more) of the partnerships with the private sector (60 versus 23 COs); the academic/think tank partnerships (59 versus 27 COs) and Foundations (22 versus 7 COs); and IFIs (32 versus 13 COs).




Tag: Impact Innovation Partnership Policies & Procedures Strategic Positioning Civil Societies and NGOs National Institutions Private Sector

9.

Impact (continuation)

As illustrated by one informant: "A big part of scaling comes from handholding. What happens is that when a new initiative is tried out, it is very important to provide consistent support to the national partners who are also facing the same problem of overcoming resistance from the way of doing business as usual -it happens in the government, in the public sector, non-public sector as well. So, you need to handhold the process, to be with them all the way through until they are strong enough to prove their case to their own managers, to their own decisionmakers. I think the greatest strength for us has been that UNDP managed to stay with the national partners for quite some time, like 3 years for example in my case with the first lab, handhold the process of experimentation with them, which allowed them to become strong enough to continue on the project and start becoming a trusted partner as a design practitioner within the government". As mentioned earlier, the project has contributed to larger innovation uptake through spillover effects, but the evaluation methodology did not allow to quantify precisely those. One example of spillover is provided though with the projects that received seed-funding in 2017, 14% of these initiatives leading CO project teams to try an innovation project in another field after this initial experience. Another aspect of scaling regards the extent to which the project was successful in contributing to scale-up innovation approaches/methods. When considering ROAR data, a significant level of innovation uptake was reported across the organization. Altogether, 533 innovative approaches (Figure 5) were under implementation in 2017 across 327 projects in 135 COs. The regional breakdown shows stronger uptake of innovative approaches/methods in Asia & Pacific and in Europe & the CIS, and lower adoption in Latin America & Caribbean. Globally, four approaches/methods have scaled-up quite consistently across regions: Innovation Labs, implemented across 31 countries; Human-Centered Design (31 COs); Behavioural Insights (39 COs); and New and Emerging Data (34 COs). Other approaches/methods have witnessed proportionally higher demand/uptake from some regions, like Alternative Finance in Asia & the Pacific; Real Time Monitoring in Africa; Crowdfunding in Europe & CIS; or Blockchain in the Arab States. On average, initiatives in Asia & the Pacific tend to apply more than 2 innovative approaches per project compared to ca. 1 approach per project in the Latin America and Caribbean region.




Tag: Effectiveness Impact Sustainability Innovation Strategic Positioning Civil Societies and NGOs National Institutions Private Sector Women and gilrs Youth

10.

Impact (continuation)

Evidence indicates that the Innovation Facility has contributed to development outcomes in making projects more effective. About 88% of the respondents to the evaluation survey indicated that the Innovation Facility had contributed to make seed-funded projects more effective (improved quality, targeting, inclusiveness, timeliness) (Figure 7a). The survey showed also continuous improvement in the perception of respondents over time, projects that were recently seed-funded returning a more positive assessment than older interventions (Annex 5). One factor explaining this trend is the progressive move of the Innovation Facility over the years from investments on advocacy, hackathons, and showcase projects to more programmatic and substantive proposals. The survey conducted by the Innovation Facility for the projects seed-funded in 2017 returned quite comparable opinions. About 79% of the respondents found that the innovation had a comparative advantage over status quo/old process. Among the projects that reported an improvement, 52% of those referred to better programming through newly gained insights, and 44% to improved targeting to reach project stakeholders and beneficiaries (Figure 7b). ROAR data returned a similar assessment, with 80% of the 327 projects implementing an innovative approach in 2017 declaring a comparative advantage over status quo/old process.




Tag: Impact e-Governance Communication Innovation Policies & Procedures Technology Youth

11.

Impact (continuation)

Egypt: After a first experiment, the CO created the concept of Innovation for Development Lab, which served as the umbrella for all following innovation projects. Over the years I4D has received a total of $355,000 -and advisory services- for 5 initiatives that contributed to create new programmes. For example, the CO established with Microsoft and the National Council for Women a social innovation hub for women, which is currently being expanded. The team is also helping Egypt Post (4,000 offices) to set the Post Innovation Lab, i.e. to utilize a Public Service Innovation Lab framework to effect a paradigmatic change, whereby stakeholders are brought together to design and test new approaches and solutions for public services.

Georgia: In 2014, UNDP Georgia, with Government of Sweden support, set up a design workshop that brought together people with disabilities, tech specialists and civil society organizations to redesign the phone number 112 for emergency services. Those living with speech or hearing impairments simply didn't have the option to call. service. Today, sign language interpreters are on hand at the emergency hotline 112 to accept video calls and SMS messages from those who cannot hear and/or speak.

Iraq: To stimulate an innovation ecosystem and foster entrepreneurship with cutting-edge methods, UNDP Iraq started the 'Innovation for Development' initiative in 2015. Youth volunteers set up boot camps and train peers in Design Thinking and Lean Start-up methodologies. The initiative attracted tens of major companies and banks, and resulted in new partnerships with young entrepreneurs. The initiative is now providing tailored support to over 35 promising startups




Tag: Impact Innovation Monitoring and Evaluation Results-Based Management Service delivery SDG Integration Women and gilrs Youth

12.

4.5. Sustainability

Key Evaluation Question: To what extent has the project shown to be sustainable and/or scalable?

Key Findings - The sustainability of the project is currently linked to the support provided by one donor only. - Project outcomes including the uptake and replication of innovation approaches/methods are likely to scale but will benefit from stronger focus on institutionalization.

The sustainability of the Innovation Facility project after 2019 is unclear. Current funding comes primarily from Denmark. The donor has committed resources to the project until 2019. Despite being itself a strong innovation advocate, it is not possible to foresee what will be the priorities of the Danish government in 2 years. For instance, Denmark had to reduce the funds committed to the project in 2016 due to competing domestic priorities. Efforts were undertaken by the Project Team to approach other potential donors, but these did not bear fruit. UNDP has recently launched a couple of initiatives (Project Catalyst, Country Investment Facility) that convey a genuine innovation component, but with aims different from the ones of the Innovation Facility. While UNDP Strategic Plan 2018-2021 emphasizes the importance and role of innovation in its realization, this did not result in increased resources for the project. As referred earlier (section 4.3), the Innovation Facility is currently "projectized". Although the majority of the Project Team is BPPS staff, shifting priorities could potentially call for committing time to other activities, such as Knowledge Management, South-south Cooperation, etc. While this seems to be unlikely, the project is not preserved from such transition. Furthermore, the position of Innovation Facility, Global Coordinator & Fund Manager is only on a consulting contract. Altogether, there seems to be a slight disconnect between the ambitious innovation agenda at UNDP and the sustainability of resources committed to its realization.




Tag: Efficiency Sustainability Private Sector Financing Donor relations Human and Financial resources Innovation Integration Knowledge management Ownership Partnership Project and Programme management Results-Based Management Country Government

13.

Sustainability (Continuation)

As reviewed above, the Innovation Facility has installed over the years several measures to assess the effects of the project. The Innovation Facility survey that was conducted in 2018 for projects funded in 2017 provides a sound monitoring instrument to complement activities such as Work Out Loud. Despite not concentrating on the project but covering innovation throughout UNDP, the ROAR offers also useful information to assess the extent of adoption of innovation in the organization and make comparisons between COs. Furthermore, the new IRRF comes with indicators mainstreamed in the Signature Solutions to monitor uptake of innovation. Nevertheless, different avenues remain available to strengthen the range of instruments used to assess/measure the effects and sustainability of the project. Necessarily, their applicability would require to be gauged against the capacities currently available and cost-benefits of the options. A first area of work could be to refine the expected scope of any complementary assessment. Potentially, it could encompass the innovation approaches/methods to monitor the institutional context (e.g. staffing, capacities, procedures, knowledge, etc.), outputs (e.g. funding, scale, etc.), or outcomes (e.g. SDG related indicators). Another potential entry would be to unfold the expected contribution at CO level (e.g. innovation capacities and funding, risk-taking culture, CPD/UNDAF, projects, partnerships, effectiveness -quality, targeting, inclusiveness, timeliness- etc.). Another option would be to consider monitoring more granularly the effects of innovative projects. Most innovation approaches/methods develop projects that are full-fledged development projects and come with indicators and targets, for instance when working with a ministry or public institution to install an Innovation Lab or Foresight unit. Some other projects are internally focused and therefore have different and eventually less thorough indicators -e.g. when installing an Innovation Lab or an innovation approach/method within a CO. A third type of initiative involves adding a specific method or technology during implementation of a pre-designed project -e.g. replace a workshop by a hackathon-, which makes innovation outcomes more difficult to attribute. A second area of work to better measure the effects of the Innovation Facility would include reviewing and enhancing assessment methodologies. Currently, the project relies mainly on opinions and brief case studies -e.g. in annual reports, Work Out Loud, etc. The latter offers narratives that are first and foremost success stories, which is effective to support change management.




Tag: Sustainability Communication Innovation Knowledge management Monitoring and Evaluation Policies & Procedures Results-Based Management Theory of Change
Recommendations
1

The Innovation Facility project should develop a Theory of Change that accounts for the new vision and priorities set forth in the UNDP Strategic Plan 2018-2021. The Theory of Change should therefore elicit the contribution of the project to the Innovation stream, country platforms, and global development advisory and implementation services platform. Furthermore, the Theory of Change should link the project outcomes with the Signature Solutions and the relevant Strategic Plan outputs and indicators presented in the IRRF 2018-2021. The project narrative and results and resources framework of the project should be revisited to better reflect the activities the project has concentrated on during its first phase and the ones required to deliver the expected achievements until 2021.

2

The Innovation Facility should consider having a joint Board (or similar coordination/governance mechanism) for all global initiatives with a strong innovation component, including Project Catalyst, the Country Investment Facility, Project T and others. Composition of the Project Board and oversight of the project would need to account for the escalated innovation agenda at UNDP. Considering the strategic elevation of innovation at UNDP and its positioning in the Strategic Plan as one of two new business models for the organization, the Project Team should consider informing regularly the Executive Office about the expected activities and achievements of the project to ensure that the project aligns with the strategic vision of the organization and contributes to its realization. Furthermore, the project should strive to establish or participate in a coordination mechanism that offers increased opportunities to create synergies between the range of innovation related initiatives (e.g. Project Catalyst, Country Investment Facility). The project should also consider the added value for UNDP to build a global brand on innovation based on an overarching model that could be taken up and disseminated by COs as unique, both federating and differentiating the organization.

3

The project should conduct a review of the administrative and procedural bottlenecks that impede innovation within UNDP. A business model and operations review is underway in UNDP, which will likely aim to address some of these issues. However, forthcoming innovation approaches/methods may require continuous organizational improvement or radical change. Therefore, the next iteration of the project should be a team that has BMS membership and reporting lines, and therefore be given the clear mandate to work with BMS to structurally review bottlenecks, address them and also to have regulatory sandboxes to test new ways of working. Such regular reviews could be jointly performed with the teams that manage the Project Catalyst and Country Investment Facility.

4

The project should continue looking for the leading edge and explore mechanisms to institutionalize innovation approaches/methods that were taken-up by the organization. The project should consider transitioning the approaches/methods when they have reached a certain scale to global owners promoted and capacitated either as new component of a Signature Solution and/or as Centre of Excellence, being in BPPS, a Regional Hub, a Global Policy Centre. The project should clarify the threshold and conditions for such transition to happen and decision-making process. The project could also elicit what are the expected characteristics of innovation approaches/methods, what are their commonalities and optional features, for instance in terms of global resource mobilization, partnership building, branding, knowledge management and networking, etc. This entails further investing in specialized capacities inside the organization, for instance on data science. It has therefore to be supported by core investments. Furthermore, the project should pivot to building horizon scanning capabilities in all offices and across all thematic areas while continuing to scan for innovative approaches and seek rewards and incentives to actively involve CO staff and national partners in "business/development intelligence".

5

The project should explore ways to further empower COs to take-up and scale innovation. This may entail for instance to provide longer-term predictable support to specific COs to build an ecosystem better allowing to design systems-change pathways, reach scale and sustainable initiatives. The project could also review options for COs to request seed-funding when they see an opportunity for it rather than just once a year. This would, however, require more capacities in the Innovation Facility project team. The project may further consider focusing certain resources on fewer projects that are more likely to scale, which may require to select some proposals based on their intended impact. It is important to note that co-investments from Country Offices have proven to be a key factor in successful scaling. Empowerment may look also at strengthening the capacity of COs to help each other -e.g. through mutual support initiatives, horizontal knowledge sharing, etc.- to facilitate the establishment of an internal market places whereby work is better equipped to tackle an approach "one client, one problem, one team". Empowerment may also touch upon the external partners, from slightly enlarging the intervention around a project up to looking at assisting in the development of national innovation strategies.

6

The project should consider alternative funding arrangements, like a trust fund, to "de-projectize" the Innovation Facility and facilitate the mobilization of additional resources. Resource mobilization should be prioritized – especially involving senior management -, including by seeking increased access to global funds, leveraging impact investments in relevant innovation approaches/methods, targeting foundations and private sector actors with which the project has already established partnerships.

7

The Innovation Facility should further emphasize and support cultural change as a key enabler of innovation adoption within UNDP and across partner organizations. Accelerating change would imply to target more vigorously CO management, for instance through tailored training, special events, etc. The project should also further strengthen the global visibility of UNDP on innovation for development together with the Executive Office and BERA, including by continued support to the Istanbul Innovation Days which could be branded as UNDP's global I4D event. To further facilitate change and adoption of innovation, the project should strive to develop structured support offers to Country Offices and partners that can be adjusted based on specific needs and strengthen its Knowledge Management activities.