Evaluation of the UNDP Innovaton Facility Project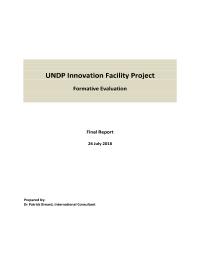 Evaluation Plan:

Evaluation Type:

Project

Planned End Date:

12/2018

Completion Date:

08/2018

Status:

Completed

Management Response:

No

Evaluation Budget(US $):

30,000
Title
Evaluation of the UNDP Innovaton Facility Project
Atlas Project Number:

81451

Evaluation Plan:
2018-2021, Bureau for Policy and Programme Support
Evaluation Type:
Project
Status:
Completed
Completion Date:
08/2018
Planned End Date:

12/2018

Management Response:
No
Focus Area:
Corporate Outcome and Output (UNDP Strategic Plan 2014-2017)

1. Output 7.6. Innovations enabled for development solutions, partnerships and other collaborative arrangements

Evaluation Budget(US $):

30,000

Source of Funding:
Evaluation Expenditure(US $):

28,080

Joint Programme:
No
Mandatory Evaluation:
No
Joint Evaluation:

No

Evaluation Team members:

| Name | Title | Email | Nationality |
| --- | --- | --- | --- |
| Patrick Breard | Mr. | patrick@breard.com | |

GEF Evaluation:

No

Key Stakeholders:
internal
Countries:

GLOBAL
Lessons
1.

The evaluation recognizes the significant achievements of the Innovation Facility. The project has supported UNDP in achieving its strategic results by fostering internal change and enabling COs to bring new solutions to national partners in response to their development objectives. The Innovation Facility has contributed to the achievement of the objectives set forth by UNDP Focus Areas. Between 2014 and 2017, 142 Innovation Facility initiatives were initiated and 21 scaled-up. Furthermore, the Innovation Facility has fostered and enabled ampler South-south cooperation, collaboration and partnerships. Over the course of the project, a total of 66 public-private partnership mechanisms and models were piloted and rolled out to provide innovative solutions for development. The Innovation Facility has also contributed to improving UNDP development projects and delivery. According to more than 80% of UNDP informants, the initiatives supported by the Innovation Facility have contributed to make funded projects more effective (improved quality, targeting, inclusiveness, timeliness).

The Innovation Facility project presents evidence of outstanding features across the expected outputs. Project implementation has exerted the capability to "pivot" some of the planned activities and working modalities to achieve the expected objectives. For instance, the project has adapted over the years the criteria and conditions to allocate seed-funds to COs with a view to amplify some approaches/methods or influence scaling.

The project has successfully participated in the identification and promotion of innovative approaches. A body of knowledge has been harnessed and developed and capacities strengthened to accelerate the growth, replication, and uptake of new approaches/methods across countries and regions particularly in Asia & Pacific and ECIS. Part of these achievements have benefited from new partnerships with a vast range of actors, from global leading tech companies to top research institutions and think tanks. Subsequently, these innovative approaches have offered to UNDP a platform to design and implement projects with new national partners, and to reach new beneficiaries at country level, such SME Owners, Entrepreneurs, and the Youth.

The seed-funding modality has been particularly effective at raising the attention of COs on the innovation agenda and familiarizing staff with new approaches/methods. The fund has further incited or elicited demand for these new approaches, which were taken up in UNDP projects and by national partners. Seed-funding has also helped to strengthen the credibility of innovation approaches in front of external partners and to trigger additional co-funding. For example, for one dollar of seed-funding allocated by the project in 2017, COs have on average mobilized $2.13 in local resources.

Partnerships were developed with leading innovators through platforms like IDIA, UNIN, or GSMA. Furthermore, the project has established networks of innovators, to some extent through expert rosters, but more actively through internal networking and collaboration between COs. Regional Innovation Leads have been very effective in their brokering and advisory role. A range of modalities have been deployed to enable intra-regional and cross-regional networking, such as joint workshops, staff visits or co-engagements as internal consultants, online mutual support, etc. When working with national partners to implement an innovative project, innovation champions remained engaged to benefit from the training delivered by external experts -e.g. on AI, BI, etc.- and gain new skills through learning by doing.

Advocacy, communication and outreach activities have delivered plethora of products, events and services. The initial SHIFT week was particularly successful from the onset to draw global attention on the project. The annual report of the Innovation Facility is recognized as an effective and qualitative advocacy product. Blogs contributed to magnify specific topics or innovation approaches/methods. The newsletter reaches regularly 1500 innovation champions. The twitter account @UNDP_innovation has more than 14000 followers and exchanged 8300 tweets since its creation. The innovation Yammer group has 1460 members and more than 200 messages posted in the past 12 months. Innovation conversations webinars were organized regularly with top experts, which have proven excellent at inspiring innovators across the organization. The project has recently launched innovation calls with UNDP Administrator. The Leadership Training Programme has integrated 4 modules on innovation. The programme was followed by 600 staff and delivered with support from innovation champions.

In terms of organizational processes for improved performance efficiency, the project has led to the establishments of the Innovation Challenge Policy and to informing the new PPM cycle with the Hacker's Kit developed in UNDP/ECIS and complementary inputs from project team members.

The evaluation did not identify major shortcomings or flaws in the setup of the Innovation Facility but some constraints stemming from the design of the project or limitations faced during implementation. The lack of a Theory of Change in the initial Project Document may have prevented the project from presenting clearly the broader causal chain and how innovation would specifically contribute to realizing relevant development outputs and outcomes across UNDP Focus Areas. Furthermore, the initial list of planned activities did not prove entirely relevant to achieving the expected outputs as illustrated by the obsolescence of a few output indicators. The next iteration of the project should be built on a strategy as learning i.e. formulate a Theory of Change, formulate key hypothesis and track progress to examine the validity of the key hypothesis and related assumptions in an iterative way. It is important to constantly revisit the measurement mechanisms of the project.

Project monitoring proposed using instruments such as blogs, micro-narratives, progress stories, and to Work Out Loud. This is effective to contribute to change management, but less relevant to communicate failures and lessons learned and to foster organizational learning. Incidentally, the Project Document did formulate the necessary metrics to track the effectiveness of its portfolio. However, further development of an impact measurement framework is highly recommended.

The current "projectization" of the Innovation Facility including through the support that it provides at country level appears also to mitigate the capacity to scale initiatives. As stressed by many informants, innovation as intended by the project does not focus on UNDP only. It targets and implies for partners in governments, public sector, private sector, etc. to change also and adopt the proposed new approaches, which is not necessarily achieved at scale in 6 months.

Despite several attempts to mobilize additional resources on the working level, the project has remained primarily funded by the Government of Denmark while UNDP provides core funding for staff positions. This clearly creates a risk for the sustainability of the project. This may have also limited the capability of the project to support additional scaling. The Innovation Facility Team should consider involving the Project Board members more closely in Resource Mobilization efforts.

Other constraints faced during project implementation include eventually fewer capacities than expected. For instance, the LAC region did not assign a full time Regional Innovation Lead. Similarly, the project expected the involvement of a global Knowledge Management Specialist, but due to other corporate duties this did not come close to any full-time support. Simultaneously, Knowledge Management needs were greater than the ones described in the Project Document. For example, a knowledge platform/workspace would be relevant for each innovation approach/method. At regional level, capacities were also limited to add some knowledge services such as regional online expert rosters, regional webinars that would be easier to attend for CO staff away from NY, or even more regular proactive outreach to CO to seek what support is needed or how projects are advancing and what were the lessons learned.

In terms of governance, the structure set by the Project Document has proved effective to swiftly and strategically drive the Innovation Facility. The escalation of innovation in UNDP through the Strategic Plan, the visible support from the Administrator, and the involvement of the Executive Office and other units on innovation related initiatives (project catalyst, country investment facility), are progressively making either the Project Board composition incomplete or its coordination modalities with other initiatives partial.

Other constraints faced by the project while realizing Output 1 include the lack of rewards or incentives for staff, being policy advisors, project managers, etc. to actively scan the horizon, report innovative approaches, reflect and test, and strive to change the status quo. A second blank area faced by the project regards the lack of clear process/procedure/governance in UNDP to institutionalize innovation approaches/methods, i.e. to transition a new approach from innovation to the mainstream, including to a "global owner" and capacities, being in BPPS, a Regional Hub, or Centre of Excellence. Achievements under project Output 2 were confronted to the short timeframe (6 months or less) available for projects to use seed-funding from the Innovation Facility, and the lack of visibility on subsequent seed-funds to scale-up initiatives. Furthermore, seed-funding and technical assistance provided by the Innovation Facility tend to concentrate on projects, while innovation implies a broader change management agenda with additional emulating levers at CO level and up to national partner institutions. In other words, many CO still need more empowerment towards risk-taking and sustainable innovation. Advocacy, communication, skills-building initiatives (especially learning by doing) and training have reached many audiences with Output 3, pointing out the need also for tailored approaches and possible gaps. This includes further targeting CO Directors and operations staff, as well as consider involving not just the innovators and early adopters in national partner institutions but also the decision-makers. Networking under Output 4 embarked successfully the like-minded, such as social innovators. There may be more limited networking though among the national communities with the more risk adverse bilateral donors, or with foundations and global funds, as well as with technical communities on AI, BI, Blockchain, etc. Output 5 overlooked the more comprehensive functional and organizational review that would have pointed out all the "choke points" hampering or slowing-down innovation throughout the organization.

Footnotes:

UNDP. 2018. Global Programme (2014-2017) Results & Resources Framework: Cumulative Reporting for 2014-2017. Internal document. New York.

Business- 51; Think tanks and innovation labs – 8 initiatives; Media- 7 initiatives.

i.e. according to (i) the evaluation survey, (ii) the Innovation Facility survey, and (iii) corporate ROAR.

Technically, the decision of having a regional lead remains the prerogative of a given region and how they go about prioritizing investment. This regional commitment is beyond what the project itself can determine/influence.



Findings
1.

Based on the above findings and conclusions the evaluation formulates several key recommendations and sub-recommendations to make the next iteration of an Innovation Facility more effective.

The Innovation Facility project should develop a Theory of Change that accounts for the new vision and priorities set forth in the UNDP Strategic Plan 2018-2021. The Theory of Change should therefore elicit the contribution of the project to the Innovation stream, country platforms, and global development advisory and implementation services platform. Furthermore, the Theory of Change should link the project outcomes with the Signature Solutions and the relevant Strategic Plan outputs and indicators presented in the IRRF 2018-2021. The project narrative and results and resources framework of the project should be revisited to better reflect the activities the project has concentrated on during its first phase and the ones required to deliver the expected achievements until 2021.

The Innovation Facility should consider having a joint Board (or similar coordination/governance mechanism) for all global initiatives with a strong innovation component, including Project Catalyst, the Country Investment Facility, Project T and others. Composition of the Project Board and oversight of the project would need to account for the escalated innovation agenda at UNDP. Considering the strategic elevation of innovation at UNDP and its positioning in the Strategic Plan as one of two new business models for the organization, the Project Team should consider informing regularly the Executive Office about the expected activities and achievements of the project to ensure that the project aligns with the strategic vision of the organization and contributes to its realization. Furthermore, the project should strive to establish or participate in a coordination mechanism that offers increased opportunities to create synergies between the range of innovation related initiatives (e.g. Project Catalyst, Country Investment Facility). The project should also consider the added value for UNDP to build a global brand on innovation based on an overarching model that could be taken up and disseminated by COs as unique, both federating and differentiating the organization.

The project should conduct a review of the administrative and procedural bottlenecks that impede innovation within UNDP. A business model and operations review is underway in UNDP, which will likely aim to address some of these issues. However, forthcoming innovation approaches/methods may require continuous organizational improvement or radical change. Therefore, the next iteration of the project should be a team that has BMS membership and reporting lines, and therefore be given the clear mandate to work with BMS to structurally review bottlenecks, address them and also to have regulatory sandboxes to test new ways of working. Such regular reviews could be jointly performed with the teams that manage the Project Catalyst and Country Investment Facility.

The project should continue looking for the leading edge and explore mechanisms to institutionalize innovation approaches/methods that were taken-up by the organization. The project should consider transitioning the approaches/methods when they have reached a certain scale to global owners promoted and capacitated either as new component of a Signature Solution and/or as Centre of Excellence, being in BPPS, a Regional Hub, a Global Policy Centre. The project should clarify the threshold and conditions for such transition to happen and decision-making process. The project could also elicit what are the expected characteristics of innovation approaches/methods, what are their commonalities and optional features, for instance in terms of global resource mobilization, partnership building, branding, knowledge management and networking, etc. This entails further investing in specialized capacities inside the organization, for instance on data science. It has therefore be supported by core investments. Furthermore, the project should pivot to building horizon scanning capabilities in all offices and across all thematic areas while continuing to scan for innovative approaches and seek rewards and incentives to actively involve CO staff and national partners in "business/development intelligence".

The project should explore ways to further empower COs to take-up and scale innovation. This may entail for instance to provide longer-term predictable support to specific COs to build an ecosystem better allowing to design systems-change pathways, reach scale and sustainable initiatives. The project could also review options for COs to request seed-funding when they see an opportunity for it rather than just once a year. This would, however, require more capacities in the Innovation Facility project team. The project may further consider focusing certain resources on fewer projects that are more likely to scale, which may require to select some proposals based on their intended impact. It is important to note that co-investments from Country Offices have proven to be a key factor in successful scaling. Empowerment may look also at strengthening the capacity of COs to help each other -e.g. through mutual support initiatives, horizontal knowledge sharing, etc.- to facilitate the establishment of an internal market places whereby work is better equipped to tackle an approach "one client, one problem, one team". Empowerment may also touch upon the external partners, from slightly enlarging the intervention around a project up to looking at assisting in the development of national innovation strategies.

The project should consider alternative funding arrangements, like a trust fund, to "de-projectize" the Innovation Facility and facilitate the mobilization of additional resources. Resource mobilization should be prioritized – especially involving senior management -, including by seeking increased access to global funds, leveraging impact investments in relevant innovation approaches/methods, targeting foundations and private sector actors with which the project has already established partnerships.

The Innovation Facility should further emphasize and support cultural change as a key enabler of innovation adoption within UNDP and across partner organizations. Accelerating change would imply to target more vigorously CO management, for instance through tailored training, special events, etc. The project should also further strengthen the global visibility of UNDP on innovation for development together with the Executive Office and BERA, including by continued support to the Istanbul Innovation Days which could be branded as UNDP's global I4D event. To further facilitate change and adoption of innovation, the project should strive to develop structured support offers to Country Offices and partners that can be adjusted based on specific needs and strengthen its Knowledge Management activities.



View report for recommendation
Management response not available