Independent Country Programme Evaluation: Congo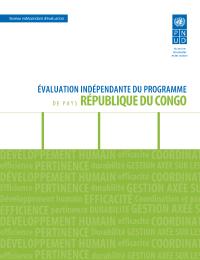 Evaluation Plan:

Evaluation Type:

ICPE/ADR

Planned End Date:

12/2017

Completion Date:

12/2017

Status:

Completed

Management Response:

Yes

Evaluation Budget(US $):

120,000
Title
Independent Country Programme Evaluation: Congo
Atlas Project Number:
Evaluation Plan:
2014-2017, Independent Evaluation Office
Evaluation Type:
ICPE/ADR
Status:
Completed
Completion Date:
12/2017
Planned End Date:

12/2017

Management Response:
Yes

Focus Area

:
Corporate Outcome and Output (UNDP Strategic Plan 2014-2017)

1. Output 1.4. Scaled up action on climate change adaptation and mitigation across sectors which is funded and implemented

Evaluation Budget(US $):

120,000

Source of Funding:
Evaluation Expenditure(US $):

130,000

Joint Programme:
No
Joint Evaluation:

No

Evaluation Team members:

| Name | Title | Email | Nationality |
| --- | --- | --- | --- |
| Nadia Bechraoui | Regional Expert | | |
| Hyacinthe Defoundoux | National Expert | | |
| Jean-Christophe Boungou Bazika | National Expert | | |

GEF Evaluation:

No

Key Stakeholders:
Countries:

CONGO BRAZZAVILLE
Lessons
Findings
1.

2.1 DEMOCRATIC GOVERNANCE

2.1.2 RESULTS ACHIEVED WITH UNDP SUPPORT AND PROGRESS TOWARDS IMPACT

Finding 1. The results of UNDP support for institutions and agencies involved in electoral processes were significant during the 2009-2013 cycle, but very modest in light of the ambitions stated for the following cycle, and did not bring about changes in governance practices.




Tag: Challenges Impact Sustainability Civic Engagement Election Local Governance Capacity Building

2.

Finding 2. Similarly, the results of UNDP capacity support to ministries, to improve their performance as promoters and regulators of democracy, were not sufficient to bring about progress towards the desired impact or any significant changes.




Tag: Challenges Impact Sustainability Civic Engagement Human rights Justice system Local Governance Public administration reform Monitoring and Evaluation Results-Based Management UN Agencies Extremism Capacity Building Education Youth

3.

Finding 3. UNDP has strengthened the capacities of members of departmental councils, delivering training and raising their awareness of the importance of strategic management tools. However, the results achieved are below the targets set, since only two of an expected 12 local development plans have been prepared and approved, those of Pool and Plateaux.




Tag: Effectiveness Impact Sustainability Local Governance Public administration reform Ownership Civil Societies and NGOs Country Government Capacity Building Advocacy Technical Support

4.

2.2 POVERTY REDUCTION AND ACHIEVEMENT OF MDGS

2.2.2 RESULTS ACHIEVED WITH UNDP SUPPORT AND PROGRESS TOWARDS IMPACT

During the period under review (2009-2017), UNDP contributed to strengthened institutional capacity at central (ministry), departmental and community levels. UNDP support helped to substantially improve access to basic social services for populations in target areas. With regard to local economic development, no significant change was found.

Finding 4. UNDP contributed to the Government's development of tools for planning, programming, and monitoring and evaluating national development programmes and the MDGs.




Tag: Effectiveness Efficiency Local Governance Public administration reform Monitoring and Evaluation Country Government Capacity Building Inclusive economic growth Poverty Reduction Social Protection Technical Support Data and Statistics

5.

Finding 5. During both programming cycles, UNDP contributed to improving people's access to and use of quality basic social services in target villages, though with a low multiplier effect and low probability of sustainability.




Tag: Water resources Efficiency Sustainability Local Governance Health Sector Procurement Inclusive economic growth Poverty Reduction Social Protection

6.

Finding 6. During the second cycle, UNDP contributed to the promotion of job opportunities for women and young people, through the development of microenterprises in target areas, but with no significant observable transformative impact.




Tag: Rural development Effectiveness Sustainability Gender Equality Women's Empowerment Local Governance Jobs and Livelihoods Trade and Development Youth Policy Advisory Technical Support

7.

Finding 7. UNDP has given strong support to the process to elaborate and adopt laws and regulations to protect people living with HIV/AIDS and promote prevention activities in target areas.




Tag: Relevance HIV / AIDS Social Protection Advocacy Technical Support

8.

2.3 ENVIRONMENT, CRISIS PREVENTION, RECOVERY AND NATURAL DISASTER AND RISK MANAGEMENT

2.3.1 DESIRED IMPACT AND UNDP STRATEGY

2.3.2 RESULTS ACHIEVED WITH UNDP SUPPORT AND PROGRESS TOWARDS IMPACT

Finding 8. During the period from 2009 to 2017, UNDP contributed to the development of numerous policy documents, strategies and action plans, providing the Congolese Government with a reference framework essential to the implementation of its environmental policies. However, few concrete results have been achieved to date, because of the lengthy timescales needed for approval and the financial difficulties that the Congolese Government has faced since 2014 that have slowed or stalled implementation of the identified actions.




Tag: Forestry Energy Environment Policy Natural Resouce management Effectiveness Efficiency Global Climate Fund Global Environment Facility fund Policy Advisory

9.

Finding 9. Thanks to UNDP support during the period under review, the Republic of the Congo has been able to meet the requirements of conventions and other international agreement that it has ratified.




Tag: Climate Change Adaptation Climate change governance Biodiversity Policy Advisory South-South Cooperation SDG Integration

10.

Finding 10. UNDP helped raise the awareness of decision makers on broad environmental issues, but the principles of environmental protection are only slowly being applied across the board.




Tag: Agriculture Climate Change Adaptation Climate change governance Environment Policy Tourism UN Agencies Advocacy

11.

Finding 11. UNDP has been a catalyst in issues related to meeting the energy needs of the populations, but these initiatives have either not yet materialized or have had limited impact.




Tag: Energy Water resources Efficiency Sustainability Resource mobilization Gender Equality Women's Empowerment Knowledge management Disabilities Inclusive economic growth Poverty Reduction South-South Cooperation Technical Support

12.

Finding 12. During these two programming cycles, UNDP has also been heavily involved in advocacy and training on monitoring and evaluation and results-based management (RBM). While it is undeniable that individual capacities were strengthened in this regard, it is not certain that any significant changes in behaviour and operation were observed at institution level.




Tag: Forestry Environment Policy Tourism Sustainability Public administration reform Monitoring and Evaluation Results-Based Management Capacity Building Advocacy

13.

2.4 THE UNDP CONTRIBUTION IN THE POOL REGION

Background: The conflict that raged in the Republic of the Congo from 1997 to 1999 caused enormous destruction and loss of life, especially in the Pool region. During the post-conflict period, after many years of social and political crises, the country entered a decisive phase in its development. The Pool region, however, was again struck by fighting between security forces and rebels after the disputed re-election of the President of the Republic in March 2016. According to various sources, between 10,000 and 30,000 displaced persons are living in very precarious conditions characterized by total insecurity and vulnerability to abuse.

2.4.1 RESULTS ACHIEVED WITH UNDP SUPPORT AND PROGRESS TOWARDS IMPACT

UNDP strategy: UNDP and other United Nations agencies have been providing ongoing practical support to the efforts of the Government since 2005 through various projects, particularly on the issue of reintegration of residual groups of former combatants, estimated to number 5,000 men and women in this region. Despite these efforts, it was found that most former combatants were still waiting to be reintegrated, representing a serious threat to the security of communities if no action were taken to promote their sustainable self-development.

To better understand the nature of this problem and identify appropriate actions, in 2009 the Bureau for Crisis Prevention and Recovery and the Human Security Trust Fund conducted missions in the Congo. Following these missions, the Pool region became one of the priority areas for intervention by the United Nations System, coordinated by UNDP. UNDP adopted a holistic approach, covering host communities and the different vulnerable groups, and integrated with the decentralization process then under way in the country, to support the establishment of local decentralized administrations.

A number of joint interventions were identified and implemented, based on a survey of the socio-demographic and economic characteristics of Pool and five selected districts and a needs assessment for reintegration activities, and in accordance with the capacity of target groups and the local availability of skills and economic opportunities. These were:

A multi-dimensional and multi-sectoral security and humanitarian action programme, estimated at over US$4,000,000 and implemented from 2012 to 2014 in Mindouli, Kindamba, Mayama, Boko and Kinkala. The implementing agencies were UNDP, FAO, WHO, UNICEF and UNFPA. The objectives were to: i. support income-generating activities for members of producers' cooperatives; ii. improve access to drinking water and health services in the five communities, through the provision of drinking water, health equipment and training of beneficiaries; iii. improve the school environment for pupils and strengthen the capacity of school districts; iv. develop civic education on peace initiatives through the organization of holiday camps and sports and cultural activities; and v. contribute to better protection of women and girls from sexual violence.

With respect to the reintegration of at-risk groups affected by the armed conflicts, a UNDP partnership with the International Fund for Agricultural Development (IFAD) aimed to promote community development and revitalize the local economy to the benefit of thousands of former combatants left to fend for themselves and consequently constituting a threat to peace and community development.




Tag: Agriculture Water resources Gender Equality Gender-Based Violence Women's Empowerment Civic Engagement Local Governance Health Sector Ownership UN Agencies Conflict Displacement Humanitarian development nexus Peace Building Security Social Protection

14.

Finding 14. In addition, an amendment to the electoral law of 2014 allowed an increase in women representatives among political parties' election candidates, from 15 to 30 per cent, and integrated parity for the first time in the Constitution.




Tag: Rural development Effectiveness Sustainability Gender Equality Gender Parity Women's Empowerment Election Public administration reform UN Agencies Capacity Building Education Jobs and Livelihoods Youth

15.

Finding 15. There has been less progress on gender mainstreaming at sectoral level.




Tag: Relevance Gender Mainstreaming Local Governance Data and Statistics

16.

Finding 16. On the ground, and in sites visited by the evaluation team, some of the interventions implemented achieved their objectives, but only temporarily since benefits were not sustained.




Tag: Vulnerable Efficiency Sustainability Gender Equality Women's Empowerment HIV / AIDS Capacity Building Youth

17.

Finding 17. Recently, the UNDP country office has been making major efforts in gender mainstreaming with the support of a United Nations Volunteer.




Tag: Efficiency Impact Gender Mainstreaming UN Agencies

18.

Finding 18. Projects which pay significant attention to gender issues are mostly within the poverty reduction area.




Tag: Efficiency Gender Equality Gender Mainstreaming Poverty Reduction

19.

3.1 Relevance

This section examines the extent to which UNDP interventions were aligned with national priorities and the UNDP mandate, and whether they were consistent with human development needs in the country. The relevance of UNDP approaches and strategies to achieve the desired impact is also analysed.

Finding 19. Overall, UNDP interventions have been very relevant as they are aligned with national priorities, the needs of communities, the organization's mandate and the priorities of the UNDP Strategic Plan 2014-2017, as well as with the MDGs and other international commitments. The continuity of themes over both programming cycles should also be noted.




Tag: Forestry Climate Change Adaptation Climate change governance Disaster Risk Reduction Vulnerable Biodiversity Clean Energy Energy Relevance Global Climate Fund Government Cost-sharing Resource mobilization Gender Equality Election Ownership Programme Synergy Country Government Security Inclusive economic growth Poverty Reduction Social Protection SDG Integration

20.

3.3 SUSTAINABILITY

This section examines the sustainability, actual or potential, of the results to which UNDP contributed.

Finding 20. Overall, the sustainability of UNDP interventions is problematic due to weak ownership of results by national institutional actors and by beneficiaries on the ground.




Tag: Sustainability Election Knowledge management Monitoring and Evaluation Ownership Results-Based Management Peace Building Security Capacity Building SDG Integration

21.

2.6 LEVEL OF ACHIEVEMENT OF IMPACTS BASED ON CPAP 2014-2018 INDICATORS

Annex 5 (available online) presents annual trends in country programme impact indicators from 2009 to 2013 and 2014 to 2018, as per the UNDP institutional planning system at the date of the evaluation. Following recommendations from the 2008 ADR, the country office updated the indicators, as below.

Examination of the country programmes for 2009-2013 and 2014-2018 shows that the recommendations made in the ADR of 2008 have been the subject of various follow-up actions:

? The country office has focused its programme on governance, poverty reduction and community development, and the environment and sustainable development with a regional approach. The gender dimension has been addressed transversely. The office has also disengaged from interventions related to the post-conflict period.

? The recommendation on the need to consider the consolidation of peace has been accepted and included in the governance programme. UNDP has concentrated its interventions on advocacy initiatives with the Government and on support for local-level community projects.

? With regard to shared costs, the UNDP office has initiated negotiations for the Government to increase its contribution to match that of UNDP.

? The country office has focused on building the capacities of institutions, communities and individuals, looking to the sustainability of projects.

? Throughout the two cycles, UNDP has sought to improve coordination between technical and financial partners (TFPs). The establishment of results groups to which all the TFPs belong has improved the operation and effectiveness of project review and steering committees.

On the other hand:

? It was not possible to evaluate the Centre for Project Execution and Support because it has been dissolved. Efforts have been made to improve programme execution.

? Regarding formulation, this recommendation has been only partially implemented during the two programming cycles, and the UNDP strategy has not been clearly defined. Impacts (desired changes) are not always clearly expressed and there is confusion between impacts and outputs.

? UNDP has encouraged national ownership throughout the second cycle but has not succeeded in enforcing a completion (exit) strategy.

? UNDP and other United Nations System agencies have worked in a coordinated manner to open offices outside Brazzaville when this was necessary to support community projects, and one office has been maintained in Pointe-Noire.




Tag: Environment Policy Government Cost-sharing Gender Equality Women's Empowerment Results-Based Management Peace Building Capacity Building Poverty Reduction

22.

3.2 EFFICIENCY

This section analyses the efficiency of UNDP interventions in terms of the use of human and financial resources. It will firstly analyse programme efficiency, to answer the following questions:

? Have UNDP resources been focused on interventions that would produce meaningful results?

? Has UNDP concentrated its resources to intensify impact?

? Has UNDP pursued synergies to reduce costs and strengthen results?

? Has UNDP established effective partnerships?

Then, the evaluation will examine the level of efficiency of the organization (management and operational efficiency) to produce the expected results.

3.2.1 PROGRAMMATIC EFFICIENCY

In the area of democratic governance, the amounts committed have been relatively large. This was due to a partnership with the European Union (EU), which entrusted UNDP with the management of financial resources. Nonetheless, given the political context, it was not possible to carry out all of the planned actions, despite UNDP offers of support to which the Congolese Government did not respond. According to information gathered during interviews with UNDP experts, the European Union were to provide an additional 90,000 Euros in 2014, but it did not pursue its financial support due to the postponement of local elections, and UNDP had to return US$1,313 in unspent funds that had been intended for this purpose. This was probably a missed opportunity to contribute to this impact. On the other hand, UNDP did persuade USAID to allocate US$65,551 that had not been used in 2013 to activities to promote the culture of democracy implemented in 2015. Regarding poverty reduction projects, the resources allocated generally enabled satisfactory results to be achieved. For example, the construction and refurbishment of classrooms and integrated health centres were delivered on time and are used. These interventions were generally carried out in partnerships with the State, with other United Nations System agencies, with privately-owned companies or with NGOs. These partnerships helped to mobilize significant funds from the World Bank to leverage results. Furthermore, 78 per cent of UNDP interventions were implemented in a single locality, which shows a positive tendency towards geographical concentration and greater programmatic efficiency.




Tag: Efficiency Aid Coordination Resource mobilization Gender Equality Human and Financial resources Multilateral Partners Operational Efficiency Bilateral partners Civil Societies and NGOs Country Government Private Sector Youth South-South Cooperation

23.

Chapter 4 THE STRATEGIC POSITIONING OF UNDP

This chapter presents a brief analysis of some cross-cutting aspects of the UNDP country programme in the Republic of the Congo, to assess its strategic positioning in the national context and its capacity to leverage its comparative advantages.




Tag: Humanitarian Crisis Global Climate Fund Global Environment Facility fund Gender Equality Human rights Innovation Monitoring and Evaluation Partnership Programme Synergy Results-Based Management Strategic Positioning UN Agencies Capacity Building Disabilities Youth Advocacy Coordination Technical Support SDG Integration

24.

2.5 THE UNDP CONTRIBUTION TO CONSIDERATION OF GENDER ISSUES

Background: In the Republic of the Congo, women represent 70 per cent of the agricultural workforce, and undertake 60 – 80 per cent of food production and 100 per cent of artisanal processing of agricultural products. Despite significant progress made in recent years in terms of access to decision-making positions, women remain under-represented in the three branches of power – the executive, the legislative and the judiciary. The Congo is among the lowest-ranked countries for representation of women in decision-making posts and elected bodies (172nd of 193). Furthermore, recent studies reveal a feminization of poverty, due to weak economic power, and vulnerability to HIV/AIDS, sexually transmitted infections and many other diseases. One of the main challenges that the country faces is employment of young people under 20, who account for more than half the population of the Congo. The youth unemployment rate (using the ILO definition) is 25 per cent, as opposed to 16 per cent for the whole active population, making it three times as high as that of unemployed people aged 30 to 49 and 4.6 times as high as people aged over 50 years.Two main causes explain this phenomenon:

1. The loss of State sovereignty in the education and employment of young people due to the austerity measures of the structural adjustment programmes of the 1980s and 1990s, which limited recruitment to public services and introduced staffing reductions and privatization of state-owned enterprises, and drove the State to gradually disengage from its missions of education and the integration of young people into the job market; 2. The mismatch between the needs of the labour-market and education and training provision.

To meet these challenges the Ministry for the Promotion and Integration of Women in Development committed, in 2002, to establish a strategic policy framework for national actions to promote gender equality and equity. This commitment also reflects the desire of the Government to harmonize the national vision with sub-regional, regional and global commitments. In 2010, the Congolese Government also developed a National Employment Policy to improve the employability of the working age population. This policy was technically validated in 2012.

UNDP strategy: During the period from 2009 to 2017, UNDP committed to mainstream gender issues in every economic sector of the Congo in all its interventions and, from 2015, within its country office. Specifically, gender was to be mainstreamed in reference frameworks and sectoral policies, especially those relating to the sustainable management of the environment. The goal was to conduct studies and issue publications related to gender issues, to promote income-generating activities and the creation of local microenterprises to improve the income and autonomy of women and young people, and to support the development of microfinance. Interventions were also to be carried out to increase the participation of women and young people in politics and, through the creation or strengthening of community organizations, to enable them to express their opinions and participate in village-level decision-making. Lastly, UNDP set itself the goal of supporting the reduction of vulnerability to HIV/AIDS, including that of women and girls, providing education, awareness and legal and economic support through departmental prevention centres.

2.5.1 RESULTS ACHIEVED WITH UNDP SUPPORT AND PROGRESS TOWARDS IMPACT

Finding 13. The most successful results were observed in the increased participation of women candidates to the parliamentary elections of 2012.




Tag: Rural development Gender Equality Gender Mainstreaming Gender Parity Women's Empowerment Civic Engagement Parliament HIV / AIDS Disabilities Education Indigenous people Jobs and Livelihoods Poverty Reduction Social Protection Youth

25.

2.7 IMPACT OF THE SPECIFIC CONTEXT OF THE REPUBLIC OF THE CONGO

Given the specific context of the Republic of the Congo during the period under review, the evaluation included a detailed presentation of the main economic, political and social factors that might affect development results, especially those supported by UNDP.

2.7.1 ECONOMIC FACTORS

The economic crisis that has held sway since 2015, further to the drastic fall in the world oil price, has had a significant impact on budget receipts in the Congo, which fell from 4,000 billion FCFA in 2014 to 2,800 billion FCFA in 2017. During this period, government policy was primarily to invest in infrastructure such as roads, hydroelectric dams and bridges. A new National Development Plan has been in preparation since early 2017.

The Congo has experienced alternating periods of peace and conflict since the late 1990s, which have had a major impact on the economic, social and political development of the country. The war that raged in the country from 1998 to 2000 dealt a heavy blow to the economy, but a lengthy period of relative peace (2000 to 2016) has made it possible to reverse much of the impact. During this period, the Congolese economy experienced strong growth, of 5 per cent on average, but this was mainly dependent on the oil sector and on a peace that remains fragile.

Apart from the oil sector, other drivers of Congolese growth are wood, transport and communication, and construction and public works. The current drop in oil prices has reduced the share of the oil sector, though it still represents more than half of the Congolese economy. The structure of exports from the Congo reflects that of production, and consequently oil exports (about 80 per cent of total exports between 2000 and 2014) are placed well ahead of wood (6 per cent) in second position.

Lack of diversification in the Congolese economy has underpinned its poor reaction to the fall in the price of oil. This weak resilience is also explained by the weakness of political and social institutions, such as the State, political parties and CSOs, and the private sector. The weakness of public institutions is manifested in high levels of corruption, which has repercussions on democratic governance (transparency of elections), on the management of public finances and on the implementation of policies and strategies to reduce poverty and protect the environment.

2.7.2 POLITICAL FACTORS

From 2009 to 2013, the Congo made notable progress in the consolidation of peace and security. The 2009 and 2012 elections were held in a peaceful environment and did not lead to violence, despite some opposition parties challenging the results.

However, since 2016 and further to the presidential election, the climate worsened and culminated in conflict in the Pool region. Due to clashes between armed groups and the Congolese armed forces and security forces, this region is cut-off from the rest of the country and is experiencing the progressive destruction of its rural economy. There is practically no movement of people and goods there. The train linking PointeNoire to Brazzaville no longer runs, and populations are moving to Brazzaville or neighbouring regions (Bouenza and Plateaux) to seek refuge. This situation is leading to an exacerbation of poverty for the entire population of the region.The consequences of this situation are economic and social on the one hand, and political on the other. They are not confined to this region and extend throughout the nation, leading to the break-up of the social fabric, which was re-established with difficulty between 2000 and 2016. The new Constitution adopted in 2016 led to several institutional reforms, including the establishment of a government led by a Prime Minister. This new measure makes it easier to coordinate government action.

2.7.3 SOCIAL FACTORS

Measures taken under the PRSP and DSCERP lowered the poverty rate, from 50.7 per cent in 2005 to 46.4 per cent in 2011. Similarly, there was a decrease in the high rates of child and maternal mortality. According to the 2016 Multiple Indicator Cluster Survey, conducted by the Ministry of Planning, Statistics and Regional Integration in collaboration with UNICEF, the child mortality rate fell from 36 per cent to 17 per cent. Regarding education, gross enrolment ratios in the primary phase experienced a significant increase, which enabled the Congo to achieve the MDG on primary education for all. Household vulnerability remains high, as does youth unemployment, estimated at 42.2 per cent (2015). The Human Development Index (0.592) places the Congo in 135th place out of 188 countries in 2015. The magnitude of inequalities persists, with a Gini index of 0.47 (UNDP, 2013). Gender inequality is similarly high with an estimated index of 0.617 in 2012 (NHDR 2015, UNDP). In this context, one of the major factors to have influenced UNDP results is a change in budgetary resources. During the period from 2009 to 2013 there were considerable resources, due to the conjunction of two factors: high oil price and increased production. Government resources contributed significantly to funding UNDP activities. From 2014 to 2017, State budgetary resources experienced a major fall. The budget deficit reached 17 per cent of GDP in 2016, which had a serious negative impact on the execution of the provisions of the joint Government and UNDP programme (2014 to 2018) and has prevented the disbursement of counterpart funds since 2015. Another context-related factor is the lack of responsiveness by national actors to UNDP proposals to support the electoral processes of 2016 and 2017. These elections were considered very sensitive, prompting the Government to conduct them without the collaboration of development partners as had happened previously. The appearance of political tensions after the amendment of the Constitution and violence in the Pool region were perceived to be, and treated as, matters falling exclusively within national sovereignty. Finally, weak national capacity for the formulation, strategic planning and implementation of projects has had significant repercussions. In this context, UNDP tended to substitute national institutions and carry out work in their place, with consequent impacts on the sustainability and ownership of projects.




Tag: Gender Equality Women's Empowerment Anti-corruption Election Resilience Inclusive economic growth Poverty Reduction
Recommendations
1

Recomendation 1. UNDP should, in its next country programme, retain the promotion and consolidation of peace as a central axis of its intervention. This can be achieved by using its comparative advantages, with the support of a peace and development advisor. Currently, the Congo's major challenge is to strengthen democratic processes and the rule of law. To do this, it is essential to maintain the recently-established climate of peace. Initiatives in support of peace should underpin all UNDP interventions.

This can be achieved by using its comparative advantages, with the support of a peace and development advisor (PDA). UNDP has recognized assets in institutional capacity building and is a neutral actor with good capacity for dialogue and coordination, which allows it to work at different levels of government and with diverse national actors. Currently, the Congo's major challenge is to strengthen democratic processes and the rule of law. To do this, it is essential to maintain the recently-established climate of peace. Initiatives in support of peace should underpin all UNDP governance interventions (political, economic and environmental) and those relating to reduction of inequalities (between urban and rural areas, to the detriment of indigenous peoples, gender inequalities and unequal access to natural resources). Citizen security initiatives must continue, including community-based initiatives aimed at reducing the circulation of illicit arms, and security reform (of the police and army) must be promoted.

FRENCH: Le PNUD devrait, au cours de son prochain Programme de pays, privilégier les interventions de développement qui visent à consolider la paix. Le PNUD peut l'accomplir grâce à ses avantages comparatifs et en sollicitant les services d'un Conseiller en matière de Paix et Développement. En effet, le grand défi du moment au Congo est le renforcement des processus démocratiques et de l'État de droit. Pour y parvenir, il est impératif de maintenir le climat de paix, nouvellement instauré. Les initiatives en la matière doivent sous-tendre toutes les interventions du PNUD.

2

Recommendation 2. During its next programme, UNDP could concentrate its interventions on just two strategic axes – 'Democratic governance and consolidation of peace' and 'Inclusive sustainable development'.

These two areas, which complement and reinforce each other at every level, would aim to support the resilience of populations to political, economic, social and environmental shocks and challenges. UNDP could 'do less, but better', focusing on its areas of expertise while aligning itself with the new NDP currently being written. It needs to avoid dispersing interventions and direct its resources to activities in priority areas and for the most vulnerable populations.

This will require an integrated approach based on the coherence, complementarity and coordination of interventions. Such a concentration of efforts will lead to significant changes and provide an example for national actors and other partners to follow. For example, UNDP could, as part of the first axis, strengthen its interventions in improving the rule of law, transparency and the accountability of public institutions, focusing on the fight against corruption in accordance with relevant UN conventions, as well as on decentralization and local government. As part of the second axis, it could strengthen the population's capacity for resilience to and recovery from climate change and other natural disasters and develop opportunities for job creation and IGA using an approach based on the value chain or 'Cash for Work'.

FRENCH: Au cours de son prochain programme, le PNUD pourrait concentrer ses interventions sur deux axes stratégiques uniquement – l'un portant sur la « gouvernance démocratique et la consolidation de la paix » et l'autre, sur le « développement durable inclusif ».

3

Recommendation 3. With regard to electoral governance, a major challenge in the Congo, UNDP should, alongside other international agencies, contribute to efforts to bolster the electoral system with interventions to establish an environment favourable to citizen participation and free, transparent elections.

UNDP could play a mediation role to facilitate the process of national dialogue between the parties and offer innovative ways of supporting non-traditional actors through mediation and support activities. It could do more to train and guide the media covering elections and encourage them to adopt and adhere to a code of conduct, to develop the capacities of CSO observers and provide technical support to associations that encourage participation, particularly of women, young people and indigenous populations or support conflict-prevention strategies.

FRENCH: Concernant la gouvernance électorale en particulier, qui représente un défi majeur au Congo, le PNUD – de même que les autres agences internationales – devrait contribuer aux efforts de renforcement du système électoral avec des interventions permettant d'établir un environnement propice à la participation citoyenne et à la tenue de scrutins libres et transparents. Le PNUD pourrait jouer un rôle de médiateur afin de faciliter le processus de dialogue national entre les partis et proposer des moyens innovants visant à appuyer des acteurs non traditionnels par le biais d'activités de médiation et de soutien. Il pourrait davantage former et encadrer les médias qui traitent des élections et les inciter à adopter et à respecter un code de conduite, à développer les capacités d'observateurs des OSC, et à apporter une assistance technique aux associations qui encouragent la participation, notamment celles des femmes, des jeunes et des populations autochtones, ou qui appuient les stratégies de prévention des conflits.

4

Recommendation 4. The country office should develop the next country programme underpinned by a theory of change that makes clear its intervention strategy: in relation to perceived constraints of the context (assumptions); and as a function of the factors (drivers) relating to the comparative advantages it can rely on to bring about change.

Based on a situation analysis, UNDP can determine for each axis and intervention or group of interventions, the necessary inputs (resources) and required outputs or products. To obtain these outputs, UNDP will seek the participation of the State, identify other national or local capacity, and mobilize stakeholder participation. The outputs will help to bring about immediate, medium-term and interim effects and, finally, impact. This approach will help to identify interventions with rapid and visible results (immediate effects), and the actions needed to make their outcomes sustainable. The formulation of SMART indicators will enable simple, useful monitoring to measure progress.

FRENCH: Le Bureau de pays devra, lors du prochain processus d'élaboration de son Programme de pays, faire en sorte que celuici repose sur une théorie du changement qui précisera sa stratégie d'intervention, en fonction des contraintes perçues de l'environnement dans lequel il intervient (hypothèses) et des facteurs (moteurs) relativement à ses avantages comparatifs, sur lesquels il peut s'appuyer pour susciter des changements.

5

Recommendation 5. UNDP should further encourage and engage in joint activities with other United Nations agencies and, failing that, continue its collaboration with agencies specialising in priority areas that fall outside its own area of expertise.

UNDP should further promote joint action with other United Nations agencies so as to increase the impact of its interventions, giving priority to cross-cutting issues such as gender, the fight against the HIV/AIDS or youth. This will allow it to act from its mandate, without substituting for agencies qualified in other areas. UNDP should also ensure that other United Nations System agencies benefit from its privileged access to senior decision makers in the Government, to give full meaning to the Delivering as One approach which it has followed since 2015.

FRENCH: Par ailleurs, le PNUD devra davantage encourager et s'investir dans des actions conjointes avec les autres agences des Nations Unies et, à défaut, poursuivre sa collaboration avec les agences spécialisées dans les domaines qu'il est nécessaire de couvrir, mais qui sortent de son domaine de compétences. Le PNUD doit continuer à encourager l'appropriation nationale afin de pérenniser et de promouvoir la démultiplication des résultats obtenus et d'initier ainsi une dynamique de transformation et de changement à plus grande échelle.

6

Recommendation 6. UNDP should continue to encourage national ownership in order to secure sustainability and help leverage outcomes, thus instigating a dynamic of transformation and change on a larger scale. UNDP should expand its grassroots consultations when designing and implementing its programmes and projects, linking its traditional and non-traditional partners, the private sector and local communities. Civil society should also be more involved.

To this effect, UNDP should expand its grassroots consultations when designing and implementing programmes and projects, linking its traditional partners such as government and associations with representatives of non-traditional associations, the private sector and local communities. The latter particularly should be involved in the identification of locally specific social and cultural factors, as well as post-project exit strategies. The identification of impeding and enabling factors, and the provision of support interventions (e.g. capacity-building), will help to build the sustainability of projects and programmes. Civil society should be more involved in project implementation, and the role of UNDP limited to management, monitoring and quality control. To promote national ownership, UNDP could accommodate senior officials from the Ministry of Planning, Statistics and Regional Integration and other sectoral ministries into its structures, to help them to master approaches, procedures, techniques and methods of project and programme management. It could also promote the transfer of knowledge and skills by linking experts with staff and beneficiary institutions. Finally, in addition to those directly responsible, capacity-building should benefit liaison and technical staff who are likely to change post less frequently.

FRENCH: Le PNUD doit continuer à encourager l'appropriation nationale afin de pérenniser et de promouvoir la démultiplication des résultats obtenus, et d'initier ainsi une dynamique de transformation et de changement à plus grande échelle. Le PNUD devrait élargir ses consultations à la base lors de la conception et de la mise en oeuvre, en associant ses partenaires traditionnels et non traditionnels, le secteur privé et les communautés locales. La société civile doit être davantage impliquée également.

7

Recommendation 7. During the next programme, UNDP should adopt a communications strategy based on the results of its interventions, not just the launch of activities.

The communications plan will have three purposes: improving the visibility of UNDP in terms of results achieved; recalling its mandate; and distinguishing its activities from those of the United Nations System coordination, with which it is often equated.

FRENCH: Au cours du prochain cycle de programmation, le PNUD devra adopter une stratégie de communication axée sur les résultats de ses interventions et non pas se focaliser exclusivement sur le lancement d'activités.

8

Recommendation 8. In terms of resource mobilization, UNDP should intensify its advocacy for the Government to make national counterpart funds available and seek new opportunities to diversify its sources of funding.

Considering that UNDP resources should be used as a catalyst, national counterpart funds should be at least twice that of UNDP funds. UNDP should continue to extend its partnership with other technical and financial partners (TFPs), such as the African Development Bank (AfDB) and the World Bank, which would like to benefit from the UNDP capacity for dialogue and its proximity to Congolese decision makers. AfDB would like to build on the capacity of UNDP to manage funds for civil society organizations and the major oil and forestry corporations, particularly those that have embarked on a process of corporate social responsibility. UNDP could seize other partnership opportunities to improve its ability to mobilize resources and diversify its funding sources.

FRENCH: En termes de mobilisation des ressources, le PNUD devra, d'une part, intensifier ses efforts de plaidoyer auprès du gouvernement pour l'amener à mettre à disposition les fonds de contrepartie nationale et, d'autre part, diversifier ses sources de financement en s'orientant vers de nouvelles opportunités.

9

Recommendation 9. UNDP should strengthen its results-based monitoring and evaluation activities at programme level and continue to support partners to produce reliable statistics.

The focus should be on the changes brought about by its activities, and progress made towards expected impacts. Indicators should be formulated more realistically, with reasonable costings, and be appropriate to constraints on the ground. Qualitative indicators should be defined to reflect the nature of the support given by UNDP interventions, which is often qualitative. Project evaluations should be more regular and greater in number, as they are tools for decision-making. Capacity-building in RBM should be accompanied by the implementation of a monitoring system based on reliable statistics. Strengthening the national statistical system seems critical to make this operational.

FRENCH: Le PNUD doit renforcer ses activités de suivi et d'évaluation axées sur les résultats au niveau du programme et poursuivre l'appui qu'il apporte à ses partenaires dans ce domaine afin de disposer de statistiques fiables.

10

Recommendation 10. UNDP should continue its support to national counterparts for effective gender mainstreaming, which must translate, as a minimum, into systematic reporting of sex-disaggregated data and gender-sensitive budgeting.

The country office already classifies projects according to the gender equality marker, but it does not yet systematically integrate sex-disaggregated data into reports of activities. This is necessary to guide decision-making and gender-sensitive budgeting, and to implement effectively targeted interventions. The participation of (national or sectoral) officials responsible for gender issues in planning exercises would be an effective way of achieving the sectoral integration of this dimension.

FRENCH: Le PNUD doit poursuivre son appui aux contreparties nationales en faveur de l'intégration du genre, de manière à assurer au minimum l'établissement systématique de rapports présentant des données désagrégées par sexe et des lignes budgétaires tenant compte de la dimension du genre.