Independent country programme evaluation: Bosnia and Herzegovina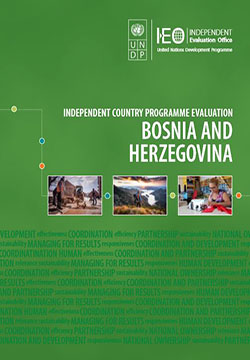 Evaluation Plan:

Evaluation Type:

ICPE/ADR

Planned End Date:

12/2019

Completion Date:

12/2019

Status:

Completed

Management Response:

No

Evaluation Budget(US $):

100,000
Title
Independent country programme evaluation: Bosnia and Herzegovina
Atlas Project Number:
Evaluation Plan:
2018-2021, Independent Evaluation Office
Evaluation Type:
ICPE/ADR
Status:
Completed
Completion Date:
12/2019
Planned End Date:

12/2019

Management Response:
Yes

Focus Area

:
Corporate Outcome and Output (UNDP Strategic Plan 2018-2021)

1. Output 1.3. Solutions developed at national and sub-national levels for sustainable management of natural resources, ecosystem services, chemicals and waste
2. Output 2.5. Legal and regulatory frameworks, policies and institutions enabled to ensure the conservation, sustainable use, and access and benefit sharing of natural resources, biodiversity and ecosystems, in line with international conventions and national

Evaluation Budget(US $):

100,000

Source of Funding:
Evaluation Expenditure(US $):

100,000

Joint Programme:
No
Joint Evaluation:

No

Evaluation Team members:

| Name | Title | Nationality |
| --- | --- | --- |
| Alan Fox | Chief of Section | |
| Tianhan Gui | Research Consultant | |
| Youri Bless | Research Consultant | |
| Elizabeth Wojnar | Research Consultant | |
| Elinor Bajraktari | Evaluation Consultant | |

GEF Evaluation:

No

Key Stakeholders:
Countries:

BOSNIA AND HERCEGOVINA
Lessons
Findings
1.

Flood management

Finding 1: Interviews with a cross section of stakeholders – including government officials, health and education service managers, business owners and financing partners, indicate that UNDP moved quickly, and transparently in managing the allocation of flood relief financial assistance after the 2014 flood.




Tag: Disaster risk management Disaster Risk Reduction Challenges Efficiency Local Governance Operational Efficiency Partnership Procurement Strategic Positioning

2.

War Remnants

Finding 2: Defense Ministry officials interviewed during the ICPE mission expressed high appreciation for UNDPs managment of the EXPLODE project, desgined to decrease the threat posed to human security by the large and poorly controlled stockpiles of weapons and ammunition in the country. Its success has led to the establishment of similar initatives in neighboring countries – thus upscaling into a region-wide effort.




Tag: Sustainability Rule of law Security South-South Cooperation

3.

Anti Corruption

Finding 3: An area of UNDP activity that was not emphasised in the CPD concerns support to Bosnia and Herzegovina on anti-corruption. Yet corruption remains one of the key obstacles to development of Bosnia and Herzegovina and UNDP has indicated it may seek to expand its work in this regard in future years.




Tag: Effectiveness Anti-corruption Parliament Capacity Building

4.

Social Protection

Finding 4: UNDP was not able to get traction on implementation of its social service goals during this period. There has been no systemic progress since 2015 on Roma Action Plan for Bosnia and Herzegovina, and little improvement in the quality of life of Roma living in the country.




Tag: Vulnerable Relevance Social Protection

5.

Economic Development

Finding 5: UNDP has been an important provider of strategic advice on economic development issues to the government entities in Bosnia and Herzegovina, at national and municipal levels.




Tag: Rural development Tourism Local Governance Public administration reform Inclusive economic growth Jobs and Livelihoods Policy Advisory Technical Support

6.

Smart Cities

Finding 6: The smart city pilot in Bosnia and Herzegovina is providing important lessons for UNDP globally on municipal support programming. The initiative is notable in its inclusiveness, bringing citizens, the private sector and government officials to the table with architects, IT experts and urban planners to envision how new technologies can be harnessed to improve the quality of life in urban areas, with ideas proposed in areas such as real-time air pollution monitoring; smart urban mobility and public transport systems; smart parking and lighting. As the first smart city pilot in Bosnia and Herzegovina, the initiative has great potential for scaling up, as well as for resource mobilization (BiH government entities, donors, IFIs).




Tag: Relevance Sustainability Private Sector Financing Resource mobilization Civic Engagement e-Governance Innovation Technology Urbanization

7.

Climate and Energy

Finding 7: UNDP support in the areas of climate change, energy efficiency and water management have contributed to the development of policy instruments - draft laws, regulations and strategies. Taking these instruments forward, to policy implementation and enforcement remains a significant hurdle, with the efforts of Bosnia and Herzegovina to approximate the EU environmental acquis featuring prominently. UNDPs support to the government on energy efficiency has led to real efficiency gains and CO2 reductions country wide.




Tag: Climate Change Adaptation Climate change governance Energy Green Economy Water resources Effectiveness Sustainability Global Climate Fund Donor relations Partnership Bilateral partners Country Government

8.

SDGs

Finding 8: UNDP in Bosnia and Herzegovina has taken an active role in the nationalization of the SDGs in the country, with leadership especially on sensitizing and engaging the private sector in the implementation of the SDGs; and support to ensuring SDGs are embedded within emerging strategies of sub-national governments. This effort includes helping Bosnia and Herzegovina establish an SDGs framework and engaging also with the private sector on SDG implementation.




Tag: Tourism Private Sector Financing Civic Engagement Local Governance Private Sector Inclusive economic growth Agenda 2030 Mainstreaming, Acceleration and Policy Support (MAPS) SDG Integration Voluntary National Review

9.

2.2. Cross-cutting findings EU Accession

Finding 9: EU accession is driving the legislative and financial strategies for the government of Bosnia and Herzegovina, and creating opportunities also for UNDP to cooperate on common areas of interest. UNDP has committed to helping the country on its path to EU membership.




Tag: Agriculture Rural development Energy Environment Policy Effectiveness Efficiency Anti-corruption Human rights Justice system Rule of law Civil Societies and NGOs Private Sector Security Capacity Building Policy Advisory Technical Support

10.

Subnational presence

Finding 10: The presence of regional offices in Mostar and Banja Luka (and project presence in Bihac), in addition to the main office in Sarajevo, has enabled UNDP to develop strong relations with both government entities as well as the state government.




Tag: Relevance Local Governance Country Support Platform Partnership Country Government

11.

Programme Design & Implementation

Finding 11: Programme design is generally strong, with well crafted programming across each of the outcome areas. Cross-outcome coordination remains a challenge – as is often the case with large diverse portfolios. More attention is needed to linkages within the project portfolios at municipal level.




Tag: Rural development Energy Government Cost-sharing Local Governance Partnership Programme Synergy Programme/Project Design Project and Programme management Country Government

12.

Results based management, audit and evaluation

The country office has a well-established M&E framework. In addition to a senior level manager overseeing this work, the country office also has a Monitoring and Evaluation Analyst (NOA level). Some of the projects also have their own M&E Specialists or dedicated parts of project team member job descriptions for this. Since 2015, the country office has utilised a Monitoring Tool, consisting of a manually processed excel table which enables the organized collection of data from all projects set against CPD outcome and output level indicators, and monitoring of cumulative results against the CPD targets. The monitoring tool also includes IRRF indicators, connected to the relevant UNDP projects and programmes, and is updated twice annually.

During the current CPD cycle, the CO yearly monitoring and evaluation expenditures have been generally under 5 percent of the total programme expenditures. During the period under review, 7 projects were delayed in completion: Municipal Governance 2, Green Economic Development Phase II, National response to HIV/AIDS and Tuberculosis in BIH, Revitalizing Local Communities, Joint UNDP-DPA Programme on Conflict Prevention, Sustainable Development Pathways in Europe and the CIS, Inclusive Labour Market Solutions. Based on the UNDP partner results, satisfaction with UNDP Bosnia and Herzegovina's approach to RBM has been slightly lower (67 per cent) than regional (70 per cent) and above global (62 per cent) averages.

In general, the evaluation found the monitoring system is well established and generating important information on programme activities. Weaknesses include relatively generic outcome-level indicators (taken directly from UNDAF), with some projects lacking baselines.

An Audit of the UNDP Country Office in Bosnia and Herzegovina was issued 16 August 2019. A satisfactory rating was rendered, with three recommendations, none considered high priority. The three medium priority recommendations were to: a) Improve the performance of the procurement process; b) improve civil works contract management as part of the procurement process; and c) conduct the service contract remuneration survey to update the remuneration scale for service contract holders. The country office provided a response indicating the steps they would take to respond to each issue raised.

Evaluation

Finding 12: The evaluation team has analyzed the evaluation work of the UNDP office in Bosnia and Herzegovina, viewing the extent of evaluative effort as an indicator of transparency and the propensity of the office to solicit external independent feedback for adjustment. In this case, the UNDP office in Bosnia and Herzegovina ranks as one of the top UNDP offices with respect to evaluation planning, design and implementation.




Tag: Effectiveness Efficiency Local Governance Public administration reform Donor relations Implementation Modality Monitoring and Evaluation Partnership Procurement Programme/Project Design Project and Programme management Results-Based Management Country Government Displaced People Capacity Building Inclusive economic growth Agenda 2030 SDG Integration

13.

Cost effectiveness

Finding 13: The UNDP country office in Bosnia and Herzegovina appears to have healthy financial management and systems as the Financial Management Dashboard (maintained on Atlas) that aggregates various financial indicators shows a consistently "green" rating over the period 2015-2018. In addition, management efficiency ratio shows that during this CPD cycle, the Country Office's yearly expenditures on management generally represent on average 6 percent of the total annual expenditures, which indicate that the CO operational efficiency is on track.




Tag: Effectiveness Efficiency Operational Efficiency Partnership

14.

Regional Cooperation

Finding 14: UNDP in Bosnia and Herzegovina has been an important actor on UNDP regional programming, both through participation in regional programmes and in the scaling of their national programmes regionwide.




Tag: Water resources Sustainability Global Environment Facility fund Civic Engagement Justice system Local Governance Rule of law Donor relations Partnership UN Agencies UNDP Regional Bureaux Peace Building Security Jobs and Livelihoods South-South Cooperation

15.

UN Joint Programming

Finding 15: The UNDP country office played a prominent role in joint partnerships with other UN agencies during this period. UNDP served as the lead agency in four of five joint programmes carried out, with notable efforts towards policy coherence and thought leadership. UNDP actively developed joint programming and resource mobilization in the areas of disaster risk reduction, social inclusion and economic wellbeing of the most vulnerable.




Tag: Disaster Risk Reduction Vulnerable Coherence Effectiveness Efficiency Resource mobilization Civic Engagement Partnership UN Agencies Peace Building Inclusive economic growth Social Protection Coordination Technical Support

16.

Innovation

Finding 16: The Bosnia and Herzegovina country office of UNDP has placed itself on the leading edge of UNDP efforts to create and implement innovative development solutions.




Tag: Disaster Risk assessments Gender Equality Women's Empowerment Innovation Multilateral Partners UN Agencies Jobs and Livelihoods Technology Youth

17.

Gender Mainstreaming

Finding 17: The UNDAF for Bosnia and Herzegovina includes a specific focus on the empowerment of women. The impact on women and girls from UNDP programming has been considered across most outcome areas and project portfolios. While most of the project portfolio in Bosnia and Herzegovina takes gender into account as an objective, there is only one project with gender equality as a principle objective, situated in the disaster risk reduction thematic area.




Tag: Disaster Risk Reduction Efficiency Impact Sustainability Gender Equality Gender Mainstreaming Gender-Based Violence Women's Empowerment Justice system Local Governance Rule of law Security Social Protection Data and Statistics
Recommendations
1

Recommendation 1: Further expansion in the environment and energy sector should be a major focus of the office during the next planning cycle, including maintaining UNDPs strong position in climate and energy efficiency support. UNDP should take the initiative to help government entities develop long term strategies and financial plans addressing the acute air pollution problems in the country

2

Recommendation 2: UNDP should continue to advance its municipal-services offering in Bosnia and Herzegovina, with emphasis on the inclusive processes being piloted in the Sarajevo smart city effort. Creating effective 'bottom-up' approaches to smart city planning offers real opportunities within the country and elsewhere.

3

Recommendation 3: UNDP should strengthen its work with government entities and the private sector on job creation and entrepreneurship to expand youth employment opportunities in Bosnia and Herzegovina. Support to small and medium enterprises is crucial, and new ideas to expand the financial support for entrepreneurship should be tested, including ways to better utilize remittances from the Bosnian diaspora to stimulate jobs. UNDP should seek to build on its pilot entrepreneurship and vocational training efforts so they scale nationally and make a meaningful difference to the economy.

4

Recommendation 4: Additional actions should be taken to ensure that gender aspects are mainstreamed across all outcome areas, and in particular the environment and energy portfolio. This suggests a more concerted effort during project formulation and review. In addition, continued attention by the country office, together with other UN agencies and development partners, is needed to raising public awareness on social inclusion and support for marginalized communities, especially the Roma, taking into account factors shaping social norms and behavioral aspects of change.