Independent Country Programme Evaluation: Colombia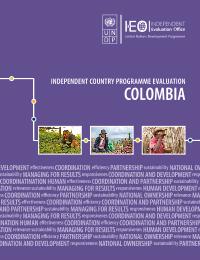 Evaluation Plan:

Evaluation Type:

ICPE/ADR

Planned End Date:

12/2018

Completion Date:

12/2018

Status:

Completed

Management Response:

Yes

Evaluation Budget(US $):

76,000
Title
Independent Country Programme Evaluation: Colombia
Atlas Project Number:
Evaluation Plan:
2018-2021, Independent Evaluation Office
Evaluation Type:
ICPE/ADR
Status:
Completed
Completion Date:
12/2018
Planned End Date:

12/2018

Management Response:
Yes

Focus Area

:
Corporate Outcome and Output (UNDP Strategic Plan 2018-2021)

1. Output 1.1. National and sub-national systems and institutions enabled to achieve structural transformation of productive capacities that are sustainable and employment - and livelihoods- intensive
2. Output 1.4. Scaled up action on climate change adaptation and mitigation across sectors which is funded and implemented

Evaluation Budget(US $):

76,000

Source of Funding:
Evaluation Expenditure(US $):

76,000

Joint Programme:
No
Joint Evaluation:

No

Evaluation Team members:

| Name | Title | Nationality |
| --- | --- | --- |
| Vijayalakshmi Vaidvelu | TEam leader and Evaluaiton Advisory | INDIA |

GEF Evaluation:

No

Key Stakeholders:
Countries:

COLOMBIA
Lessons
Findings
1.

Finding 1: UNDP's country programme 2015-2019 addressed peace and development priorities in Colombia. UNDP's response showed a recognition that development disparities need to be addressed in non-conflict regions alongside support to peace-related efforts in areas affected by armed conflict.




Tag: Strategic Positioning Post Conflict Coherence Effectiveness Relevance Technical Support

2.

Finding 2: UNDP was well-prepared, strategically positioning itself, to support Colombia at a crucial time when the Peace Accord was signed and initiated, providing timely assistance. Partnerships UNDP established, with the national and local governments as well as the communities, were an enabling factor in UNDP's positioning. A notable contribution of UNDP, beyond its programme support, is the catalytic and convening role in strengthening community-level enabling environment for reincorporation, dialogue and mediation, and putting citizens security on the peace agenda.




Tag: Strategic Positioning Humanitarian development nexus Post Conflict Promotion of dialogue Effectiveness Relevance Coordination Technical Support

3.

Finding 3: UNDP's territorial offices and community-level presence further increased its programme relevance. A significant strength of the UNDP programme is its presence in 11 territories, which allowed UNDP to reach areas where there is limited government presence. Reaching out to remote conflict-affected areas made UNDP support more significant.




Tag: Conflict resolution Strategic Positioning Conflict Effectiveness Relevance Technical Support

4.

Finding 4: Knowledge management is not sufficiently institutionalized or anchored in specific thematic analysis and policy-focused reflections to inform public policies.




Tag: Knowledge management Challenges Technical Support

5.

Finding 5: UNDP's inclusive growth programmes at the community level were pertinent in a context where there was a high level of rural poverty and challenges remain in creating employment and growth. UNDP's programmes were appropriate in the regions affected by armed conflict as well as the poorer regions.




Tag: Inclusive economic growth Jobs and Livelihoods Poverty Reduction Operational Efficiency Conflict Effectiveness Relevance Technical Support

6.

Finding 6: UNDP supported national and district level diagnostics and assessments to inform poverty-reduction efforts and more equitable sectoral policies. For greater policy relevance, such efforts needed further consolidation.




Tag: Inclusive economic growth Knowledge management Effectiveness Technical Support

7.

Finding 7: Initiatives aimed at productive capacities and employment at the local level have the potential for diversifying income-generation options and agricultural practices. Value chain initiatives for agriculture products are critical; such efforts are in the early stages and need technical inputs and policy linkages. Sufficient anchoring in government policies and programmes is critical for entrepreneurship development efforts and for wider replication of the successful initiatives.




Tag: Jobs and Livelihoods Effectiveness Relevance Agriculture Technical Support

8.

Finding 8: UNDP support to economic revitalization and strengthening livelihood capacities contributed to integrating communities affected by armed conflict into mainstream employment efforts.




Tag: Economic Recovery Conflict Effectiveness Technical Support

9.

Finding 9: Structural challenges are yet to be addressed. Micro-level interventions are constrained by lack of macro-level linkages, and projects lack scale and threshold level.




Tag: Local Governance Challenges Technical Support

10.

Finding 10: SDGs mainstreaming efforts are in progress but more at a technocratic stage. The localization of SDGs is an evolving area in Colombia. UNDP is yet to streamline its support to the SDGs.




Tag: Agenda 2030 Operational Efficiency Effectiveness Technical Support

11.

Finding 11: UNDP promoted practical approaches to enhance an enabling environment in the private sector for a more gender-equitable labour force.




Tag: Gender Equality Effectiveness Private Sector Technical Support

12.

Finding 12: There are ongoing efforts by the Government of Colombia to address environmental protection issues and improve protected area coverage. Institutional capacity development and policies supported by UNDP contributed to government efforts in protecting ecosystems and mitigation. UNDP's policy support had more salience for the changes and adjustments made to regional and local instruments.




Tag: Capacity Building Biodiversity Ecosystem based adaption Environment Policy Protected Areas Effectiveness Relevance Technical Support

13.

Finding 13: Support to the reduction of greenhouse gases (GHG) produced by the industry received emphasis in UNDP's support. While these initiatives are important, the outcomes depend on the commitment of national industries and productive sectors in meeting Colombia's international commitments.




Tag: Emission Reduction Effectiveness Relevance Technical Support

14.

Finding 14: UNDP support to biodiversity and ecosystems management had tangible outcomes at the community level. UNDP support to ecosystem conservation in FARC-occupied regions has been critical for protected areas management. These ecosystems-centred territorial models have the potential for upscaling.




Tag: Biodiversity Ecosystem based adaption Effectiveness Technical Support

15.

Finding 15: While UNDP projects used a multifocal approach and have complementary objectives, there were moderate synergies between ecosystems, biodiversity and conservation initiatives. UNDP is yet to use its programme presence in stabilization and inclusive growth areas to play a greater role in the integrated ecosystems management support in areas affected by armed conflict.




Tag: Programme Synergy Biodiversity Ecosystem based adaption Protected Areas Challenges Technical Support

16.

Finding 16: There is scope for more strategic engagement in the extractive industries sector.




Tag: Strategic Positioning Extractive Industries Coherence Relevance Technical Support

17.

Finding 17: Focus on community democratic processes, particularly in areas affected by armed conflict, assumes significance given the importance of engaging citizens in local stabilization processes and income generation. Strengthening municipal and local-level capacities while useful were small in scope.




Tag: Local Governance Conflict Crisis prevention Effectiveness Technical Support

18.

Finding 18: An inclusive approach to local development made UNDP's support more distinct. Besides targeted programmes, specific efforts were made to support women and youth in programme processes. A valued contribution of such initiatives is the mobilization of the women and communities as political actors, empowering them to assert their rights and demand actions.




Tag: Youth Local Governance Gender Mainstreaming Women's Empowerment Effectiveness Technical Support

19.

Finding 19: UNDP support filled important gaps at the municipal level, particularly strengthening local access to justice and security.




Tag: Human rights Justice system Local Governance Effectiveness Technical Support

20.

Finding 20: UNDP had some level of success in engaging public and private sector companies in local development and inclusive growth efforts. A more structured approach to private and blended financing is yet to be pursued.




Tag: Inclusive economic growth Operational Efficiency Partnership Country Government Private Sector Advocacy

21.

Finding 21: Despite territorial offices, UNDP is yet to build a strong governance portfolio to address structural governance challenges at the local level.




Tag: Local Governance UNDP management Efficiency Technical Support

22.

Finding 22: UNDP support to peace negotiations enabled an effective presence and engagement of citizens and victims in the peace talks, which has high significance for the legitimacy of the Peace Accord and to ensure citizens' ownership of the peace process.




Tag: Conflict resolution Sustainability Advocacy

23.

Finding 23: Consistent work on promoting peace in Colombia, organizational experience, credibility, operational capacity, high-level access to all actors, and presence at the local level have positioned UNDP advantageously to add value in a complex process of reincorporation.




Tag: Conflict resolution Strategic Positioning Efficiency Relevance Technical Support

24.

Finding 24: UNDP has played a pivotal role in putting in place a well-functioning transitional justice architecture. The unprecedented changes in the national peace context with the adoption of the Peace Accord demanded a high degree of flexibility and responsiveness. Given the sensitivities associated with the Peace Accord implementation, it was crucial not only to do the right thing but also to be able to do it at the right time, in a highly time-sensitive context. UNDP contribution has been significant on both counts




Tag: Justice system Conflict resolution Effectiveness Technical Support

25.

Finding 25: An important area of UNDP's role and contribution is in the provision of much-needed credibility and trust in different platforms of dialogue. More sustained support is needed for dialogue in areas affected by armed conflict.




Tag: Strategic Positioning Promotion of dialogue Efficiency Relevance Advocacy

26.

Finding 26: Contributions to the peace education and communication strategy of the Office of the High Commissioner for Peace had mixed outcomes considering that the communication process was initiated late.




Tag: Conflict resolution Post Conflict Promotion of dialogue Effectiveness Efficiency Technical Support

27.

Finding 27: UNDP's support to the implementation of the UN MPTF enabled speedy implementation of peace initiatives. There are positive lessons from Colombia's example for MPTF management in other countries.




Tag: Crisis prevention Effectiveness UN Agencies

28.

Finding 28: There are areas where ad hoc responses were insufficient to address large-scale challenges.




Tag: Displaced People Challenges Rural development
Recommendations
1

UNDP is well positioned to promote a development centred stabilization and sustainable peace approach. UNDP needs to be more proactive in identifying key areas for its engagement in Peace Accord implementation. UNDP's ability to inform national policies and link community-level initiatives with national programmes lies in demonstrating well-tested programme models.

2

UNDP should consider facilitating a comprehensive contextualized territorial development signature solution that can engage various actors towards a common agreed plan. In line with national development strategies, the solution should aim to accelerate employment and livelihoods, promote a sustainable environment, and strengthen inclusive governance.

3

UNDP should strategize support to private sector development and impact investment in Colombia.

4

Programme synergies and mutual reinforcement need to be pursued for enhancing development outcomes. UNDP should have a deliberate approach to overcome programme silos within/between sustainable development programme areas.

5

UNDP should take measures to strengthen and formalize programmatic partnerships with the United Nations agencies as well as other international agencies.

6

UNDP should consider specific measures to strengthen knowledge management to inform policy processes.

7

To avoid reputational risk, conscious efforts are needed to clarify UNDP's development and fiduciary service provider role. UNDP should position itself in a way that it can adequately balance providing development services as well as engage on more substantive issues.