Independent Country Programme Evaluation: Cuba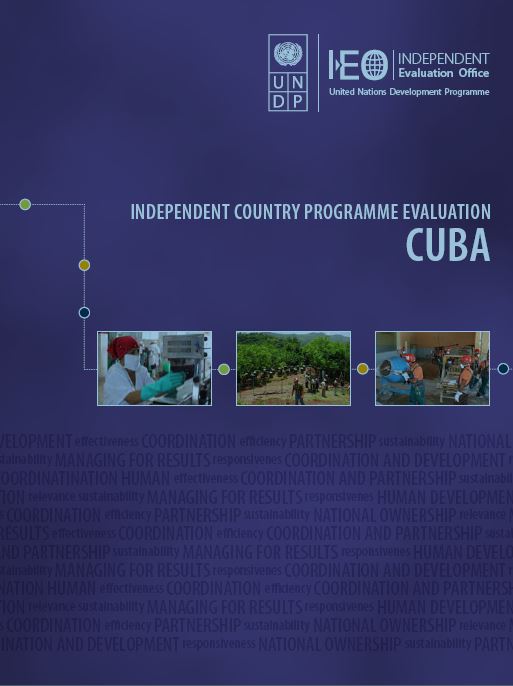 Evaluation Plan:

Evaluation Type:

ICPE/ADR

Planned End Date:

12/2018

Completion Date:

09/2019

Status:

Completed

Management Response:

No

Evaluation Budget(US $):

40,000
Title
Independent Country Programme Evaluation: Cuba
Atlas Project Number:

00099419,00095007,00066383,00086492,00077925,00101031,00110366,00093029,00093545,00085116,00057985,00084425,00083239,00110372,00066401,00109468,00083240,00085126,00085068,00080640,00085124,00109527

Evaluation Plan:
2018-2021, Independent Evaluation Office
Evaluation Type:
ICPE/ADR
Status:
Completed
Completion Date:
09/2019
Planned End Date:

12/2018

Management Response:
No

UNDP Signature Solution

:

1. Poverty
2. Governance
3. Sustainable
4. Energy

Corporate Outcome and Output (UNDP Strategic Plan 2018-2021)

1. Output 1.2.1 Capacities at national and sub-national levels strengthened to promote inclusive local economic development and deliver basic services including HIV and related services
2. Output 1.4.1 Solutions scaled up for sustainable management of natural resources, including sustainable commodities and green and inclusive value chains
3. Output 2.1.1 Low emission and climate resilient objectives addressed in national, sub-national and sectoral development plans and policies to promote economic diversification and green growth
4. Output 2.5.1 Solutions developed, financed and applied at scale for energy efficiency and transformation to clean energy and zero-carbon development, for poverty eradication and structural transformation

SDG Target

1.2 By 2030, reduce at least by half the proportion of men, women and children of all ages living in poverty in all its dimensions according to national definitions
1.a Ensure significant mobilization of resources from a variety of sources, including through enhanced development cooperation, in order to provide adequate and predictable means for developing countries, in particular least developed countries, to implement programmes and policies to end poverty in all its dimensions
12.4 By 2020, achieve the environmentally sound management of chemicals and all wastes throughout their life cycle, in accordance with agreed international frameworks, and significantly reduce their release to air, water and soil in order to minimize their adverse impacts on human health and the environment
12.a Support developing countries to strengthen their scientific and technological capacity to move towards more sustainable patterns of consumption and production
13.2 Integrate climate change measures into national policies, strategies and planning
16.10 Ensure public access to information and protect fundamental freedoms, in accordance with national legislation and international agreements
16.3 Promote the rule of law at the national and international levels and ensure equal access to justice for all
16.7 Ensure responsive, inclusive, participatory and representative decision-making at all levels
2.4 By 2030, ensure sustainable food production systems and implement resilient agricultural practices that increase productivity and production, that help maintain ecosystems, that strengthen capacity for adaptation to climate change, extreme weather, drought, flooding and other disasters and that progressively improve land and soil quality
2.a Increase investment, including through enhanced international cooperation, in rural infrastructure, agricultural research and extension services, technology development and plant and livestock gene banks in order to enhance agricultural productive capacity in developing countries, in particular least developed countries
3.3 By 2030, end the epidemics of AIDS, tuberculosis, malaria and neglected tropical diseases and combat hepatitis, water-borne diseases and other communicable diseases
7.1 By 2030, ensure universal access to affordable, reliable and modern energy services
9.4 By 2030, upgrade infrastructure and retrofit industries to make them sustainable, with increased resource-use efficiency and greater adoption of clean and environmentally sound technologies and industrial processes, with all countries taking action in accordance with their respective capabilities

Evaluation Budget(US $):

40,000

Source of Funding:
Evaluation Expenditure(US $):

39,000

Joint Programme:
No
Joint Evaluation:

No

Evaluation Team members:

| Name | Title | Email | Nationality |
| --- | --- | --- | --- |
| Ana Soares | Evaluation Advisor | | BRAZIL |
| Natalia Acosta | Evaluation Specialist | | |

GEF Evaluation:

No

Key Stakeholders:
Countries:

CUBA
Recommendations
1
UNDP should develop a clear theory of change for the new CPD that reflects a contextualized sequencing of strategic SDG integration and strengthening of cross-sectoral synergies, making better use of UN agencies expertise. The structure of the country office should also reflect this integration to better ensure synergies. The programme approach should ensure focus on leaving no one behind and the human development multidimensional approach to complement the country's efforts to achieve the SDGs. This needs to be more evidently highlighted in the programme as UNDP's key value added to strengthening the institutions and society for the challenges and opportunities ahead related to the decentralization process, currencies and exchange rates unification, constitutional reform and the update of the social and economic model. In developing the theory of change, more appropriate assumptions, risks and indicators at adequate levels should be mapped to accurately test and measure not only progress but also UNDP's contributions and lessons learned for adequate results-based management.
2

Building from PADIT's experience, UNDP should expand the use of platform approaches as a catalytic investment to leverage national efforts and resources to strengthen governments' capacities and systems to integrate and implement the SDGs in a holistic way, especially at the territorial level. Positioned as the 'go-to agency', UNDP has a leading and integrator role in strengthening synergies among UN agencies, and in fostering greater intersectoral partnerships and multidimensional integrative approaches that contribute to national challenges and opportunities, such as the SDGs, currency unification, changes to the economic model and building resilience to climate change. It is recommended to localize/territorialize the SDGs and properly monitor, not just harmonize measurements but also the learning from different local contexts in order to adapt and improve effectiveness of different integrative approaches used to achieve the SDGs, especially at the local level, considering that the global tendency is to report at the national level, which can mask local inequalities.

3

Considering the restricted execution rates, the upcoming unification of currencies, andchallengeswithInternetconnectivity, UNDP, withthesupport of the Regional Bureau, should continue to work with the Government to agree, as partners, on mitigation measures and strengthening plans to expedite execution, and minimize impacts on programme results and staff. Continued close communication with the Government will be needed to ensure timely corporate commitment from UNDP to solutions that mitigate potential negative impacts on programme results and staff salaries that may result from the currencies and exchange rate unification. UNDP should also renegotiate with the Government the payment of the Global Contributions to Local Office Costs (GLOC) in a currency that the country office can use. Part of these resources can be directed towards addressing the persisting problem of inadequate Internet connection. Simultaneously, in line with one of the corporate goals of UNDP – to make the organization more open, adaptable and agile – the country office should continue to work with RBLAC to better adapt operational procedures to the Cuban context while still honouring the principles of transparency, competitiveness, and accountability with the intention to free staff time for learning, and for them to be able to provide more strategic support to programme results.

4

As a key value proposition of the programme, UNDP should more systematically integrate South-South cooperation, expanding the use of existing Cuban expertise and knowledge and more proactively identifying opportunities to support Cuba's development and for Cuba to contribute to the development of other countries. Monitoring and evaluation frameworks of all UNDP projects and initiatives should be adapted to expand from the usual focus only on compliance to learning and with attention to documenting and extracting lessons and best practices for further replication of South-South cooperation. In more proactively identifying opportunities for Cuba to cooperate with other countries, UNDP should strengthen its role by ensuring mutual benefits to both countries and enabling Cuba to take advantage of learning from other countries on other matters when possible.

5

Building on Cuban social equity results and the good capacities of UNDP staff for gender mainstreaming, UNDP should pursue more gender-transformative rights approaches in all areas of work to accelerate changes in social determinants and structural issues. While important progress has been made with gender-responsive and some initiatives with transformative potential, more can be done to enhance UNDP's contributions to secure transformative results. In doing so, it will be important to also consider the SDGs' principle of leaving no one behind and redirect attention to the needs and challenges of other vulnerable groups, such as the LGBT and the elderly.

6
Considering Cuba's growing elderly population, UNDP should mainstream an intergenerational approach throughout the programme. This should be done in collaboration with other national partners and agencies with expertise in the area. In close consultation and collaboration with national partners, UNFPA and other UN agencies, UNDP should develop a theory of change to identify a strategy and means to systematically integrate measures addressing intergenerational issues that affect the ageing population of Cuba as well as youth.
7
Considering the transition from the Global Fund by 2020 and challenges linked to the blockade, UNDP should keep working with national partners on identifying other viable solutions to ensure access to medications and to fund the work with social networks and the conduct of regular prevention and target population surveys. UNDP should support national partners to ensure transparency and commitment to sustain results and efforts in motion. This may include helping social support networks in their efforts to access alternative financing opportunities and mechanisms to secure the continuity of the results.
8
UNDP should support the formulation of policies related to the management model of territorial and intersectoral value chains from productive regions as a consolidation of innovations and changes initiated with the programme. This should allow the expansion of initiatives that promote local development to more provinces, using the approach and methodology provided by the Articulated Platform for Integrated Territorial Development. It is recommended to deepen support to local economic development, taking advantage of the favourable context of the country for the decentralization process and the potential significant positive impact on the development of territories and on improving the living conditions of its inhabitants. UNDP has extensive experience and expertise in building and applying instruments and tools for local economic development that can be very relevant and timely for the country; it is recommended that the office identify and make it available to the Government.
Management response not available