Independent Country Programme Evaluation: Madagascar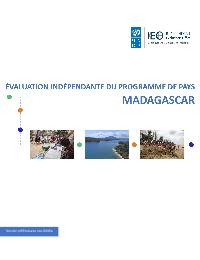 Evaluation Plan:

Evaluation Type:

ICPE/ADR

Planned End Date:

12/2018

Completion Date:

12/2018

Status:

Completed

Management Response:

Yes

Evaluation Budget(US $):

70,000
Title
Independent Country Programme Evaluation: Madagascar
Atlas Project Number:
Evaluation Plan:
2018-2021, Independent Evaluation Office
Evaluation Type:
ICPE/ADR
Status:
Completed
Completion Date:
12/2018
Planned End Date:

12/2018

Management Response:
Yes

Focus Area

:
Corporate Outcome and Output (UNDP Strategic Plan 2018-2021)

1. Output 1.1. National and sub-national systems and institutions enabled to achieve structural transformation of productive capacities that are sustainable and employment - and livelihoods- intensive
2. Output 1.3. Solutions developed at national and sub-national levels for sustainable management of natural resources, ecosystem services, chemicals and waste
3. Output 1.4. Scaled up action on climate change adaptation and mitigation across sectors which is funded and implemented

Evaluation Budget(US $):

70,000

Source of Funding:
Evaluation Expenditure(US $):

60,000

Joint Programme:
No
Joint Evaluation:

No

Evaluation Team members:

| Name | Title | Nationality |
| --- | --- | --- |
| Heather Bryant | Chief CD and QA | |
| Youri Bless | Evaluation Specialist | |
| James Gasana | Evaluation consultants | |
| Ginna Rakotoarimanana | Evaluation consultants | |

GEF Evaluation:

No

Key Stakeholders:
Countries:

MADAGASCAR
Lessons
Findings
1.

Finding 1. Following the drought in the south, UNDP decided to focus on the Androy region in southern Madagascar. The decision implies reducing the level of investment in certain programmes carried out in other regions of the country. With the concentration of resources in Androy, the country office aimed to obtain and demonstrate more significant results in this region, and based on that, mobilize more resources for its programme. This was an appropriate and relevant decision given that Androy is the poorest and most vulnerable region with the lowest socio-economic indicators and over 90 percent of the population living in extreme poverty.




Tag: Inclusive economic growth Jobs and Livelihoods Poverty Reduction Election Local Governance Rule of law Natural Disaster Vulnerable Gender Mainstreaming SDG Integration Humanitarian development nexus Resource mobilization Effectiveness Efficiency Relevance Coordination Technical Support

2.

Finding 2. The CPAP did not present a theory of change (ToC) to clearly articulate the linkages between country programme activities and expected outcomes. Consequently, it did not provide good guidance for programme implementation and for dialogue with partners on appropriate pathways from outputs to outcomes and impacts and on the conditions to ensure the sustainability of results. When UNDP refocused on Androy, the opportunity was not used to present a ToC of this repositioning. Although the expected results are backed by indicators, they are only relevant for monitoring the implementation of the programme's activities and do not allow the evaluation of lasting political, institutional, social and economic results induced by UNDP's projects.




Tag: Monitoring and Evaluation Theory of Change Coherence Relevance Sustainability

3.

Finding 3. UNDP's technical and financial support to the National Independent Electoral Commission (CENI) for the management of electoral processes in Madagascar has contributed to strengthening the governance of open and credible electoral processes. Indeed, the performance of electoral process management in Madagascar is an essential element for the stability of the country. The overall result is a broad consensus among stakeholders on the transparency and neutrality of the CENI with regard to how it manages electoral processes and voting events. Nevertheless, financial mechanisms are still lacking to ensure its effective functioning and independence as stipulated in the CPAP's results.




Tag: Capacity Building Anti-corruption Election Gender Equality Gender Mainstreaming Women's Empowerment Efficiency Sustainability Technical Support

4.

Finding 4. In support of the fight against corruption, UNDP has enabled Madagascar to implement legislative reforms putting instruments in place that lay the groundwork for a potentially effective fight against corruption. These include the new National Strategy for the Fight against Corruption (SNLCC) and its implementation plan, and the promulgation of the law on Anti-Corruption Poles (PAC), as well as the draft law on the recovery of illicit assets. The support provided to the territorial branches of the Independent Anti-Corruption Bureau (BIANCO) has made it possible to reinvigorate the fight against corruption in its intervention areas. However, the impact of these results remains fragile because in addition to the dependence on financial support from UNDP, the PACs are not yet operational, BIANCO's coverage is still limited to a few regions, and the law on recovery of illicit assets is not yet adopted. The country still has a long way to go in its anti-corruption efforts, in particular in regard to demonstrating sufficient political will at the highest levels and commitment to send the necessary signals.




Tag: Anti-corruption Local Governance Rule of law Efficiency Relevance Sustainability Technical Support

5.

Finding 5. With the support of UNDP and other partners, the Government of Madagascar is developing a comprehensive vision for security, based on a cross-sectoral approach and on operational complementarity between actors in this field. The adoption of the National Security Sector Reform (SSR) Plan, supported by UNDP, contributes to an understanding of citizen security among key institutions and actors. However, the achievement of the CPAP's expected results, after a very positive momentum at the start of this project, is hampered by the delays in setting up the National Office for the Coordination of Security Sector Reform.




Tag: Public administration reform Rule of law Gender Mainstreaming Gender-Based Violence Knowledge management Monitoring and Evaluation Security Effectiveness Relevance Sustainability Country Government UN Agencies

6.

Finding 6. UNDP's support to improved access to justice for the poor has been limited in terms of regional coverage, and with limited prospects for financial sustainability. This support is provided to six legal clinics that operate in the regions targeted by UNDP interventions, and the Ministry of Justice has not yet scaled up this experience to other locations. Despite the contribution of these clinics to social cohesion, their legal status is not yet established, and their institutional anchoring and the sustainability of their achievements are not ensured.




Tag: Justice system Rule of law Gender Equality Gender-Based Violence Women's Empowerment Government Cost-sharing Efficiency Sustainability Country Government Technical Support

7.

Finding 7. UNDP interventions strengthened the capacity of decentralized authorities (CTDs) in inclusive local development planning to establish good governance and to increase the resilience of vulnerable communities. They have enabled several targeted municipalities to produce integrated and inclusive local development plans (PDLIIs). However, the competencies of municipalities in terms of investment ownership and in project implementation, supervision and oversight in the execution of the PDLII have not yet been fully developed. Intangible investments such as the strengthening of producers' organizations were also not sufficiently developed.




Tag: Capacity Building Inclusive economic growth Local Governance Public administration reform Disaster Risk Reduction Vulnerable Knowledge management Food Security Effectiveness Efficiency Relevance Sustainability

8.

Finding 8. Following the devastating impact of El Niño in 2015-2016, UNDP responded with a concentration of interventions in the Androy region, to provide more sustainable solutions to the recurring problems of natural disasters than those provided by emergency aid. This resulted in a concentration of resources rather than the implementation of a new approach for the socio-economic development of the Great South in general, and the Androy region in particular. UNDP still needs to address challenges related to the limited role of the CTDs in the implementation of development projects, the limited prospects for scaling up of results to the national level, as well as the lack of synergies among relevant development actors.




Tag: Inclusive economic growth Poverty Reduction Disaster risk management Natural Disaster Partnership Food Security Humanitarian development nexus Coherence Effectiveness Efficiency Relevance Sustainability Bilateral partners UN Agencies Technical Support

9.

Finding 9. UNDP is implementing an integrated approach to creating job opportunities and income generating activities by supporting the development of promising value chains. Interventions for value chain development and improved access for poor producers are encouraging in terms of income enhancement and job creation. The balance of roles and competencies between UNDP, CTDs and local actors in steering poverty reduction approaches remains to be found.




Tag: Inclusive economic growth Jobs and Livelihoods Poverty Reduction Local Governance Vulnerable SDG Integration Integration Programme Synergy Theory of Change Coherence Effectiveness Relevance Sustainability Country Government

10.

Finding 10. CFW and PTFM programmes have helped to reduce the difficulties faced by vulnerable groups in UNDP's areas of intervention. The jobs under CFW are temporary because they are generated by short-term interventions (such as repairing roads or irrigation canals) funded by UNDP. As for the PTFM endowments, the problem of management, maintenance and replacement of facilities remains unresolved.




Tag: Capacity Building Jobs and Livelihoods Poverty Reduction Local Governance Vulnerable Gender Equality Women's Empowerment SDG Integration Country Support Platform Programme/Project Design Effectiveness Relevance Sustainability Livestock Rural development

11.

Finding 11. UNDP's programme in Madagascar gives particular consideration to national and global biodiversity conservation issues, and to the sustainable use of natural resources for poverty reduction of local populations. It has contributed significantly to the country's efforts to strengthen the National Protected Area (PA) system by adding new areas, thus contributing to the conservation of the country's outstanding biodiversity. However, even if the conditions for setting up a Category V and VI PA sub-network are in place, UNDP must continue its efforts and advocacy for their existence.




Tag: Poverty Reduction Theory of Change Biodiversity Protected Areas Global Environment Facility fund Effectiveness Sustainability Advocacy

12.

Finding 12. UNDP has carried out research and studies on traditional practices and behavioural changes, with a view to successfully integrating new technologies and the inclusion of vulnerable and marginalized groups, by taking traditional values and customs into account in projects for sustainable and inclusive development. The results of these studies have allowed to better understand capacity-building efforts among vulnerable groups, in particular women and young people, and to improve their self-confidence for their active and effective participation in the sustainable and inclusive development of their society.




Tag: Capacity Building Inclusive economic growth Technology Youth Vulnerable Gender Equality Gender transformation Women's Empowerment Relevance

13.

Finding 13. The analysis of factors that contribute to the results of the UNDP country programme points to the definition of objectives in a non-compartmentalized way, the implementation of interventions with a relatively wide range of government partners, and a mix of upstream and downstream activities.




Tag: Poverty Reduction SDG Integration Effectiveness Efficiency Relevance Sustainability Agriculture Country Government Private Sector

14.

Finding 14. UNDP has developed strong and diverse partnerships with government partners at national political levels for the implementation of its country programme. In contrast, the partnership with other bilateral and multilateral development partners, including UN agencies, are weak. At the CTD level, it has not expanded its partnerships to those that are targeted by its interventions, which does not facilitate their ownership of the results and strengthen their capacities for investment ownership and for supervision and oversight of the implementation of projects. It did not invest in the development of a partnership with producer organizations, both at the national level and at the CTD level.




Tag: Partnership Effectiveness Relevance Sustainability Country Government UN Agencies

15.

Finding 15. The CPAP has not sufficiently articulated knowledge management at the country programme and project levels. Although there have been ad hoc activities of some projects to capitalize on their experiences, the programme has not defined a strategy to systematically document and disseminate information, experiences and lessons in order to share them for various uses.




Tag: Knowledge management Monitoring and Evaluation Programme Synergy Results-Based Management Coherence Relevance

16.

Finding 16. The sustainability of the results achieved with the support of UNDP varies between interventions, but it is generally fragile. It is vulnerable to several factors out of UNDP's control, including the weak capacities in coordination and delivery of development projects in the municipalities, insufficient involvement and commitment of CTD authorities, and weak commitment of the Government to ensure additional funding for the implementation of the municipal PDLII.




Tag: Anti-corruption Civic Engagement Justice system Local Governance Country Support Platform Integration Monitoring and Evaluation Results-Based Management Government Cost-sharing Effectiveness Efficiency Relevance Sustainability

17.

Finding 17. As far as planning is concerned, the UNDP country programme in Madagascar is in line with the fundamental principles of human rights, gender equality and women's empowerment, and environmental sustainability. However, results from actual project implementation are only partially aligned with those principles.




Tag: Human rights Gender Equality Gender Mainstreaming Gender-Based Violence Women's Empowerment Integration Results-Based Management Theory of Change Coherence Effectiveness Relevance

18.

Finding 18. The mobilization of resources for the implementation of the programme proved to be a challenge.




Tag: Human and Financial resources Global Environment Facility fund Government Cost-sharing Multi Donor Trust Funds Resource mobilization Effectiveness Efficiency Bilateral partners

19.

Finding 19. UNDP's operating mechanisms and structure in the field are not adequate to ensure effective monitoring of field activities, and to maximize project synergies when operating in the same regions.




Tag: Country Support Platform Monitoring and Evaluation Operational Efficiency Programme Synergy Risk Management Theory of Change Global Environment Facility fund Effectiveness
Recommendations
1

UNDP should con­tinue to prioritize a logical continuation of the sustainable development efforts initi­ated in the Great South – particularly in the Androy region – to stimulate transforma­tional changes. This prioritization must be conceptualized on the basis of an explicit sub-ToC , which must shed light on the stra­tegic development objectives as well as the transformational changes to be targeted.

2

In preparing the next country programme document, UNDP must develop an explicit ToC, allowing for better visibility and understanding of UNDP support for transformational change, explicitly identifying the intended changes in terms of outcomes and impacts, as well as including the corresponding assumptions about partner responsibilities and other necessary conditions to be put in place. Based on the ToC, UNDP should develop a set of outcome indicators in addition to the usual output indicators, which will make it possible to measure transformational changes through an analysis of UNDP's contribution.

3

In view of developments in the political, social and economic context, the relevance of UNDP's support to Madagascar's democratic governance priorities through the strengthening of rule of law is evident. To sharpen the scope of these activities, UNDP should advocate with its government partners – with the support and active participation of all technical and financial partners of Madagascar – for the implementation of the Government's political commitments and for scaling up of good practices and know-how acquired through its programme, for example, with the experiences in anti-corruption measures and legal clinics.

4

UNDP should continue support for improving environmental governance and reconciling natural resource management with development challenges at regional and community levels.

5

UNDP should continue its support for CTD capacity-building with a focus on improving their competencies in coordination and delivery of development projects.



6

In the design of the next UNDP country programme, it is important to identify and integrate strategic and operational interventions and approaches leading to structural and transformational change, in order to create a socio-economic and cultural environment that provides the opportunity for women and girls to participate effectively in public, political, social, economic and cultural life at all levels. This should be done in collaboration with UN agencies and national partners such as the Ministry of Population, Social Protection and Promotion of Women, and aim at strengthening the skills and entrepreneurial and managerial capacities of women in different value chains.


7

UNDP must strengthen its programme monitoring and evaluation system so that it can go beyond the regular collection of data on the progress of activities, outputs and results against targets for the main indicators defined in the CPAP and provide timely information on changes at the outcome and impact level to which UNDP is contributing. UNDP should integrate a knowledge management component into this system.