Independent Country Programme Evaluation: Madagascar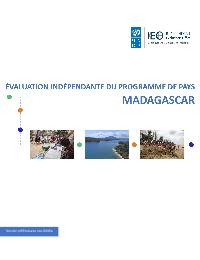 Evaluation Plan:

Evaluation Type:

ICPE/ADR

Planned End Date:

12/2018

Completion Date:

12/2018

Status:

Completed

Management Response:

No

Evaluation Budget(US $):

70,000
Title
Independent Country Programme Evaluation: Madagascar
Atlas Project Number:
Evaluation Plan:
2018-2021, Independent Evaluation Office
Evaluation Type:
ICPE/ADR
Status:
Completed
Completion Date:
12/2018
Planned End Date:

12/2018

Management Response:
No

Focus Area

:
Corporate Outcome and Output (UNDP Strategic Plan 2014-2017)

1. Output 1.1. National and sub-national systems and institutions enabled to achieve structural transformation of productive capacities that are sustainable and employment - and livelihoods- intensive
2. Output 1.3. Solutions developed at national and sub-national levels for sustainable management of natural resources, ecosystem services, chemicals and waste
3. Output 1.4. Scaled up action on climate change adaptation and mitigation across sectors which is funded and implemented

Evaluation Budget(US $):

70,000

Source of Funding:
Evaluation Expenditure(US $):

60,000

Joint Programme:
No
Joint Evaluation:

No

Evaluation Team members:

| Name | Title | Email | Nationality |
| --- | --- | --- | --- |
| Heather Bryant | Chief CD and QA | heather.bryant@undp.org | |
| Youri Bless | Evaluation Specialist | youri.bless@undp.org | |
| James Gasana | Evaluation consultants | | |
| Ginna Rakotoarimanana | Evaluation consultants | | |

GEF Evaluation:

No

Key Stakeholders:
Countries:

MADAGASCAR
Recommendations
1

UNDP should continue to prioritize a logical continuation of the sustainable development efforts initiated in the Great South – particularly in the Androy region – to stimulate transformational changes. This prioritization must be conceptualized on the basis of an explicit sub-ToC, which must shed light on strategic development objectives taking into account all the constraints related to the geographical situation and the socio-economic and cultural context of the Great South and its constituent regions, as well as the transformational changes to be targeted in the medium and long term by UNDP and other government partners.

To ensure the potential of these transformational changes – in the Great South and especially in the Androy region, UNDP should adopt the following three innovative approaches. Firstly, it should espouse a more differentiated approach, which accounts for the geography of recurring natural disasters, isolation, and the spatial aspects of social marginalization in each region. Secondly, while oversight of the interventions must be the responsibility of the central state institutions, i.e., UNDP's main implementing partners, partnerships for regional and local implementation must extend to the CTDs, NGOs, communities and their umbrella associations, and the private sector. Thirdly, in place of the current distributive logic with the same support packages in all areas, UNDP should consider operationalizing these partnerships through calls for project proposals with awards to those actors who commit to change.

2

In preparing the next country programme document, UNDP must develop an explicit ToC, allowing for better visibility and understanding of UNDP support for transformational change, explicitly identifying the intended changes in terms of outcomes and impacts, as well as including the corresponding assumptions about partner responsibilities and other necessary conditions to be put in place. Based on the ToC, UNDP should develop a set of outcome indicators in addition to the usual output indicators, which will make it possible to measure transformational changes through an analysis of UNDP's contribution.

The ToC must not only make it possible to define country programme objectives at the national strategic level and in the main intervention areas, but must also show, in particular through the intended outcomes and the related underlying assumptions, the changes to be promoted beyond planned activities and outputs. It must also integrate the logic of geographical and thematic concentration and ensure that the country's poor regions are adequately taken into account.

3

In view of developments in the political, social and economic context, the relevance of UNDP's support to Madagascar's democratic governance priorities through the strengthening of rule of law is evident. To sharpen the scope of these activities, UNDP should advocate with its government partners – with the support and active participation of all technical and financial partners of Madagascar – for the implementation of the Government's political commitments and for scaling up of good practices and know-how acquired through its programme, for example, with the experiences in anti-corruption measures and legal clinics.

Corruption remains a major concern in Madagascar and impedes its socio-economic development and national cohesion. While there has been significant progress in strengthening the accountability and rule of law institutions, and in strengthening and clarifying their responsibilities, there are still important steps to be taken in the fight against corruption. These include the promulgation by the National Assembly of the law on recovery of illicit assets, scaling up of anti-corruption results obtained through the work conducted by the territorial branches of BIANCO in the regions where UNDP was active, as well as the experiences of the legal clinics.

4

UNDP should continue support for improving environmental governance and reconciling natural resource management with development challenges at regional and community levels.

UNDP has been very successful in supporting Madagascar in expanding its protected areas system through the development of an International Union for the Conservation of Nature Category V or VI protected areas sub-network of natural resources managed in under-represented ecological landscapes, as part of joint management of local governments and communities and integrated into regional development frameworks. This is a new type of protected areas that still faces a lack of consensus on the political, legal and institutional framework, but especially whose financial sustainability is not yet assured. Even though the joint management frameworks of these protected areas are in place at the level of each protected area, the effective implementation of this co-governance approach to ensure both the protection of biodiversity, local and regional economic growth and responding to the needs of local communities will require support from the governance platforms that have been put in place.

5

UNDP should continue its support for CTD capacity-building with a focus on improving their competencies in coordination and delivery of development projects.

Training should not only target local elected representatives (mayors, municipal councillors), and municipal officials, but also local development partners of municipalities (NGOs, community-based organizations, etc.). In order for the acquired theoretical knowledge to be transformed into pragmatic actions, training should be followed by adequate post-training support for continuous learning in particular around the implementation of local development plans. This support must be organized according to the specificities of each beneficiary municipality and the level of its skills in project management.

6

In the design of the next UNDP country programme, it is important to identify and integrate strategic and operational interventions and approaches leading to structural and transformational change, in order to create a socio-economic and cultural environment that provides the opportunity for women and girls to participate effectively in public, political, social, economic and cultural life at all levels. This should be done in collaboration with UN agencies and national partners such as the Ministry of Population, Social Protection and Promotion of Women, and aim at strengthening the skills and entrepreneurial and managerial capacities of women in different value chains.

UNDP has provided substantial support for the integration of women in development, for strengthening their presence in the social and economic fields, and for their access to justice. This must be continued. However, women's participation in national and local politics and decision-making does not yet reflect the principle of gender equality. Support is therefore needed to improve this situation. UNDP should also seek to strengthen the capacity of women as actors in value chains, so they can take greater advantage of market opportunities and pursue economic empowerment. UNDP could also consider supporting the development of women's socio-professional associations at the municipal, district and even regional level to reinforce this positioning. These efforts could involve, through partnerships, NGOs and private sector actors who would be able to provide services to women's associations.

7

UNDP must strengthen its programme monitoring and evaluation system so that it can go beyond the regular collection of data on the progress of activities, outputs and results against targets for the main indicators defined in the CPAP and provide timely information on changes at the outcome and impact level to which UNDP is contributing. UNDP should integrate a knowledge management component into this system.

The current monitoring and evaluation system meets the reporting requirements for the implementation of the country programme. However, it needs to be strengthened in order to provide evidence-based information on the outcomes and impacts of UNDP interventions, and to inform decision-making on these issues. Also, given the innovative nature of some projects such as MRPA and ARSSAM in the country, UNDP should invest more in knowledge management, so that lessons learned from local and regional levels can be taken up to the level of national planners and policy makers. For projects, knowledge management should cover all stages, including planning, monitoring of implementation, and evaluation. The collected knowledge will be beneficial to the population of Madagascar, the governmental partners and other development partners, if they are shared and communicated with contents and in formats adapted to its end-users.
Management response not available