Independent Country Programme Evaluation: Mali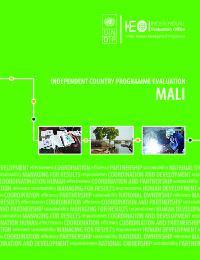 Evaluation Plan:

Evaluation Type:

ICPE/ADR

Planned End Date:

12/2018

Completion Date:

12/2019

Status:

Completed

Management Response:

No

Evaluation Budget(US $):

84,000
Title
Independent Country Programme Evaluation: Mali
Atlas Project Number:
Evaluation Plan:
2018-2021, Independent Evaluation Office
Evaluation Type:
ICPE/ADR
Status:
Completed
Completion Date:
12/2019
Planned End Date:

12/2018

Management Response:
No
Corporate Outcome and Output (UNDP Strategic Plan 2018-2021)

1. Output 1.1.2 Marginalised groups, particularly the poor, women, people with disabilities and displaced are empowered to gain universal access to basic services and financial and non-financial assets to build productive capacities and benefit from sustainable livelihoods and jobs
2. Output 2.1.1 Low emission and climate resilient objectives addressed in national, sub-national and sectoral development plans and policies to promote economic diversification and green growth

Evaluation Budget(US $):

84,000

Source of Funding:
Evaluation Expenditure(US $):

84,000

Joint Programme:
No
Joint Evaluation:

No

Evaluation Team members:

| Name | Title | Email | Nationality |
| --- | --- | --- | --- |
| Youri Bless | Evaluation Specialist | | |
| Roberto la Rovere | Evaluation Advisor | | |

GEF Evaluation:

No

Key Stakeholders:
Countries:

MALI
Lessons
Findings
1.

Finding 1. UNDP is active in all UNDAF areas and has not clearly defined specific areas towards which to target its contribution. This led to a certain thematic dispersal, as well as a multiplication of targets, making the programme objectives overall more difficult to reach. This lack of prioritization in the programme strategy also led to geographically scattered projects, further reducing their potential impact.




Tag: Multilateral Partners Coherence Relevance UN Agencies Coordination

2.

Finding 2. UNDP is involved in the four thematic areas of UNDAF, with approaches and strategies that are largely distinct from each other. UNDP has not sufficiently explored synergies between activities in each thematic area of the programme.




Tag: Donor relations Programme Synergy Coherence Relevance UN Agencies Technical Support

3.

Finding 3. Not all UNDP activities, as defined in the CPD objectives, have been implemented. Differences and gaps between the planned activities and the implemented programme are evidenced by comparing indicative resources from the CPD and actual expenditures by programme outcome. Furthermore, activities in favour of IDPs have not been implemented, putting the full achievement of UNDP's contribution to the peace and social cohesion outcome at risk.




Tag: Implementation Modality Displaced People Peace Building Social cohesion Effectiveness Efficiency Technical Support

4.

Finding 4. Within the institutional support for national reconciliation, UNDP reported the operationalization of formal mechanisms of transitional justice and intra- and inter-community social dialogue as an important achievement. But the results of the CVJR remain limited and in the field, despite the increased activities at the community level, inter- and intra-community conflicts persist. UNDP did attempt to take the underlying causes of conflict into account to improve the conditions of the population most affected.




Tag: Justice system Social cohesion Crisis prevention Effectiveness Efficiency Technical Support

5.

Finding 5. Some contributions to the goal of social cohesion as well as that of reintegration and rehabilitation of IDPs were obtained indirectly. But without a systematic integrated approach to exploit the results of other areas of the programme, these contributions are not measured, remain fragile, and are less likely to be sustainable.




Tag: Justice system Displaced People Promotion of dialogue Refugees Security Social cohesion Effectiveness Technical Support

6.

Finding 6. UNDP contributions in the area of economic development and inclusive growth first took place at the central level, through effective improvement of economic policy formulation and planning and business climate reform efforts. While results in the development of some sectors of the economy are apparent, poverty rates remain high despite several years of economic growth. The questions remain of whether the economic policies can be effectively implemented, and whether economic growth in Mali is truly inclusive.




Tag: Inclusive economic growth Operational Efficiency Coherence Relevance Agriculture Technical Support

7.

Finding 7. Support for the formulation of the 2016-2018 CREDD is a recognized contribution by many government partners and provided a gateway for the integration of the SDGs into national development strategies. In a context where support to numerous development strategies may have contributed to a scattering of UNDP's programme, the SDGs offer an opportunity to refocus and better define its programme.




Tag: Inclusive economic growth Agenda 2030 Integration Strategic Positioning Coherence Relevance Technical Support

8.

Finding 8. Support at the local level has contributed to the resilience of vulnerable communities in rural areas through several targeted interventions. But some examples of successes, especially in cases where the benefits are likely to be unsustainable, do not ensure contribution to the programme's objective as it is formulated, the result of too great an ambition, an inappropriate approach and limited means.




Tag: Poverty Reduction Local Governance Vulnerable Operational Efficiency Sustainability Technical Support

9.

Finding 9. In the area of environment, natural resources and resilience to climate change and disasters, UNDP support has also been active at the local community and at the institutional levels. Appreciable results have been obtained in both cases, but they are still far from the desired scope, and remain difficult to measure.




Tag: Climate Change Adaptation Resilience building Vulnerable Operational Efficiency Natural Resouce management Effectiveness Technical Support

10.

Finding 10. UNDP has contributed to significant efforts for the redeployment of State structures in the northern regions, and has helped to restore the administration's infrastructure, in support of the establishment of interim authorities that resulted from the Peace Agreement. But not all the built or rehabilitated infrastructure are functional, and because the security situation remains critical in some localities, the public servants assigned to them rarely occupy the buildings.




Tag: Social cohesion Promotion of dialogue Resilience Effectiveness Technical Support

11.

Finding 11. In addition to the restoration of State authority in the North, UNDP has articulated its governance support programme around the capacity of the Malian Parliament for its oversight role in the management of public affairs and institutional capacity-building in support of decentralization efforts.




Tag: Parliament Public administration reform Operational Efficiency Effectiveness Technical Support

12.

Finding 12. In the area of elections, the work done by UNDP prior to the start of the current programme has yielded successes that are recognized by many technical and financial partners and within the Government. This has allowed UNDP to position itself effectively in this area, and to extend its support to the elections in 2016, including through initiatives aimed at the development of civil registration data.




Tag: Election Strategic Positioning Effectiveness Technical Support

13.

Finding 13. The programme mobilized significant resources for the fight against HIV/AIDS, which also represented its main budget component: almost $50 million was mobilized from the Global Fund. This represented more than 65 percent of the total financing for the fight against HIV/AIDS in Mali. A significant portion of these funds was spent on medicines and health services management costs, thereby addressing an important need for the country, but the treatment of HIV infections remains insufficient, and far from attaining the programme's objectives.




Tag: HIV / AIDS Resource mobilization Efficiency Coordination Technical Support

14.

Finding 14. In the programme's results framework, only one out of four outcomes, and one out of eleven UNDP-specific results, clearly and specifically mentions targeting women. Despite this weakness in the programme design, women and youth have benefited from UNDP interventions, and there is some progress achieved through UNDP's work in the areas of women's participation and representation in electoral processes.




Tag: Gender Equality Gender Mainstreaming Results-Based Management Coherence Relevance Technical Support

15.

Finding 15. The recruitment of a gender specialist in 2016 helped the country office in developing its gender strategy, offering prospects for a better contribution of the programme to more gender-responsive and even transformational results.




Tag: Gender Equality Gender Mainstreaming Human and Financial resources Effectiveness Technical Support

16.

Finding 16. The contribution of UNVs to programme implementation and achievement of results has been significant. They are involved in all areas of the programme and have helped mobilize volunteers who are close to the communities and know the field. However, UNVs were not included in either the UNDAF or the CPD results framework. UNDP must recognize and better exploit the potential of UNV engagement on the central issue of youth in Mali.




Tag: Operational Efficiency Effectiveness UN Agencies Technical Support

17.

Finding 17. Overall, the programme demonstrates a good balance of work at the central and local levels. In addition, the interventions take into account local needs in the different areas of intervention.




Tag: Local Governance Operational Efficiency Effectiveness Technical Support

18.

Finding 18. The partnership initiated with the Government, technical services and local communities has been successful in some cases. Overall, the institutional partnerships which were founded upon UNDP's proximity to Government and technical services, have yielded tangible results and allowed the country office to progress towards the achievement of some of its goals.




Tag: Partnership Effectiveness Civil Societies and NGOs Country Government Technical Support

19.

Finding 19. In implementing its programme, UNDP has applied the fundamental principles of human rights, gender equality and women's empowerment and environmental sustainability. It is an added value of UNDP, which is a recognized actor for the integration of social and environmental standards in its interventions.




Tag: Human rights Gender Equality Gender Mainstreaming Sustainability Effectiveness Technical Support

20.

Finding 20. The implemented projects did not systematically and effectively take risks into account, leading in some cases to significant delays in the execution or cancellation of planned activities. Weak risk-mitigation efforts affected the achievement and sustainability of results.




Tag: Risk Management Sustainability Efficiency Technical Support

21.

Finding 21. Most of UNDP's projects are carried out outside of the capital, Bamako, including in remote and hard-to-reach locations. UNDP is limited in its capacity to implement and monitor projects at the local level, which in some cases has led to difficulties in fully achieving planned results. The country office has made recent efforts to expand its local presence, which could improve UNDP's ability to support efforts on the ground.




Tag: Monitoring and Evaluation Project and Programme management Efficiency Technical Support

22.

Finding 22. The evaluations carried out during the period under review found significant weaknesses in the country office's project monitoring, which was confirmed by the observations of the ICPE mission. The country context, combined with the country office's weak monitoring capacities, made it very difficult to carry out project visits and report on achieved results. This has had significant implications on the way UNDP has been viewed by development partners, as well as its ability to attract funds.




Tag: Monitoring and Evaluation Effectiveness Efficiency Technical Support

23.

Finding 23. While UNDP is a designated co-lead in three of the five outcomes of the UNDAF, it has so far not been able to coordinate the work of UN agencies effectively. In particular, while they could have a very positive impact on UNDP's results, the strong linkages between UNDP and MINUSMA's mandate have not been sufficiently explored.




Tag: Strategic Positioning Efficiency UN Agencies Technical Support

24.

Finding 24. Analysis of programme expenditures shows a high implementation rate and relatively low management efficiency ratios, below the regional average. The country office visibly has the required capacity for programmatic budget management, but financial risks are still present and have sometimes had an impact on UNDP's reputation in Mali.




Tag: Operational Efficiency Risk Management Efficiency Technical Support

25.

Finding 25. The country office developed a new resource mobilization strategy in 2016 to support the implementation of its programme. The CPD mid-term review reports satisfactory results in mobilizing external sources of funding, but a more detailed analysis also highlights notable differences between programme areas, the heavy reliance on a small number of donors, and persisting financial risk factors.




Tag: Operational Efficiency Resource mobilization Efficiency Technical Support

26.

Finding 26. The sustainability of UNDP's results is likely to be affected by the security situation, particularly in the North and Centre. The intensification of the crisis can have an impact on project achievements, or directly on beneficiaries. UNDP has succeeded in establishing elements of sustainability in some projects, but in other cases the programme has also lacked effective exit strategies.




Tag: Strategic Positioning Security Sustainability Technical Support
Recommendations
1

Recommendation 1. UNDP must clearly define, both geographically and thematically, its area of intervention. An increased focus will help the country office in setting realistic goals, improve the monitoring of its activities, and better communicate on achieved results. In order to address the problems resulting from the fragmentation of its programme, UNDP must select a more defined area of intervention. It can, for example, implement programmes in two, or a maximum of three, regions where strong and immediate needs are recognized – where the populations are most vulnerable to poverty, climate change and inter and intra-community conflicts. The choice of intervention areas must be based on an in-depth analysis of needs and challenges.

2

Recommendation 2. The next programme must be based on strategies that actively support exploring synergies and thematic integration, to address the complex development challenges of Mali more effectively. UNDP needs to develop clearer strategies to support its work, including through the development of a theory of change for each programme area, and for the programme as whole. This strategy can highlight existing opportunities to move away from a silo approach and look for possible synergies between thematic areas.

3

Recommendation 3. Strengthening the country office's capacity for programme monitoring and evaluation will contribute to improved reporting, clear positioning as well as addressing implementation risks and insufficient results while projects are being implemented. The UNDP programme must be articulated around realistic objectives and results that UNDP is able to achieve. The monitoring of results must be done through indicators that provide information on the real progress of the programme, based on data that UNDP is able to collect, either directly through the implementation of its projects, or in collaboration with its partners. Such efforts respond to more than just a procedural obligation, as a clear programme results framework can facilitate the monitoring, evaluation and reporting of results.

4

Recommendation 4. UNDP should improve and clarify its position among the development partners of Mali. It has a recognized advantage as the main actor that can bring effective ways to deliver on the SDGs. In turn, the SDGs should also be a means for UNDP to better focus its programme. Integrated and geographically focused programmes, accompanied by a clear results framework, will enable UNDP to better position itself among development actors in Mali. This positioning must clearly align with the SDGs and their implementation framework, to effectively support and monitor Mali's development efforts.

5

Recommendation 5. UNDP can use its central role, its good collaboration with government partners and the SDGs as entry points for a more coordinated UN development effort.

One of UNDP's strengths is its central position within the United Nations system, exemplified by its co-lead role on three of the four pillars of the UNDAF. Thanks in part to its good collaboration with government partners in many sectors, and its proximity to MINUSMA, UNDP is well-positioned to support efforts to design a more coordinated offer among UNCT agencies.