Independent Country Programme Evaluation: Sierra Leone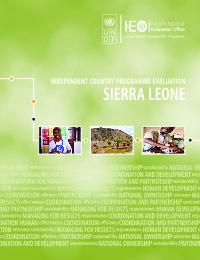 Evaluation Plan:

Evaluation Type:

ICPE/ADR

Planned End Date:

12/2018

Completion Date:

12/2018

Status:

Completed

Management Response:

Yes

Evaluation Budget(US $):

50,000
Title
Independent Country Programme Evaluation: Sierra Leone
Atlas Project Number:
Evaluation Plan:
2018-2021, Independent Evaluation Office
Evaluation Type:
ICPE/ADR
Status:
Completed
Completion Date:
12/2018
Planned End Date:

12/2018

Management Response:
Yes

Focus Area

:
Corporate Outcome and Output (UNDP Strategic Plan 2018-2021)

1. Output 1.1. National and sub-national systems and institutions enabled to achieve structural transformation of productive capacities that are sustainable and employment - and livelihoods- intensive
2. Output 1.3. Solutions developed at national and sub-national levels for sustainable management of natural resources, ecosystem services, chemicals and waste

Evaluation Budget(US $):

50,000

Source of Funding:
Evaluation Expenditure(US $):

46,000

Joint Programme:
No
Joint Evaluation:

No

Evaluation Team members:

| Name | Title | Nationality |
| --- | --- | --- |
| Elinor Bajraktari | Consultant | |

GEF Evaluation:

No

Key Stakeholders:
Countries:

SIERRA LEONE
Lessons
Findings
1.

Finding 1: The programme has faced significant external challenges throughout the cycle. The outbreak of EVD in 2014 disrupted regular activities, forcing the country office to concentrate its efforts and resources on the response. The effects of Ebola on the programme continued in 2015 and 2016, while the country was struggling with the recovery process. Other major events that occurred during this period include the economic downturn triggered by the fall in iron-ore prices and the ensuing drop in government revenues, the August 2017 landslide in Freetown, and general elections in March and April 2018.




Tag: Crisis Response Disaster Recovery Challenges Effectiveness Election Ebola Health Crises Health Sector Country Support Platform Project and Programme management Country Government Economic Recovery Coordination Technical Support

2.

Finding 2: Overall, UNDP has pursued activities relevant and closely related to key goals and objectives in the country's development strategies, including the overarching Agenda for Prosperity (2013-2018). In certain areas, such as elections and the rule of law, UNDP has provided significant and important contributions, which are closely aligned to the needs of the country. However, the overall programme has lacked depth, strategic focus and coherence as a result of thinly spread resources across a wide range of projects that, in many cases, have been inadequately planned and have not taken advantage of synergies and collaboration across projects. As a consequence, efficiency has been suboptimal and impact limited.




Tag: Inclusive economic growth Youth Election Rule of law SDG Integration Human and Financial resources Implementation Modality Programme Synergy Results-Based Management Crisis prevention Migration Challenges Effectiveness Advocacy Operational Services Technical Support

3.

Finding 3: UNDP Sierra Leone has benefited from a high level of TRAC funding, as well as pooled and vertical funds, which have enabled it to support a number of key areas and institutions. Donor funding from the European Commission, Irish Aid, Japan, the United States and the United Kingdom has been focused on specific areas, such as EVD response and recovery, support to the 2018 elections as well as support to rule of law. Although TRAC funding has been used to develop work in crucial areas of need, the country office has not been able to leverage significant external funding to strengthen this work further.




Tag: Crisis Response Recovery Challenges Efficiency Resource mobilization Vertical Trust Funds Ebola Health Crises Donor relations Operational Efficiency Project and Programme management Donor Coordination Technical Support

4.

Finding 4: There are clear weaknesses in the overall approach to results-based management across the programme portfolio. For the most part, programme planning and implementation have been informed by monitoring and reporting at the level of inputs, activities and outputs. Data about outcomes and results have been largely lacking or fragmented. On the positive side, the country office has developed a comprehensive evaluation plan, and has evaluated the majority of its projects and programmes.




Tag: Ebola Business Model Implementation Modality Monitoring and Evaluation Programme/Project Design Results-Based Management Efficiency Sustainability Civil Societies and NGOs Country Government Technical Support

5.

Finding 5: UNDP Sierra Leone has played a major role in the establishment and capacity development of a number of key institutions in the country. However, some of these remain almost solely reliant on UNDP for further support, with no clear sustainability or institutionalization plan in place.




Tag: Human rights Justice system Parliament Public administration reform Integration Operational Efficiency Relevance Sustainability Civil Societies and NGOs Country Government UN Country Team

6.

Finding 6: UNDP has engaged with a number of CSOs, primarily as implementing partners of its projects. This has been a significant contribution to the development of civil society in the country. Overall, CSOs have limited capacity, and UNDP could have done more to strengthen their capabilities, rather than using them mainly as contractors.




Tag: Capacity Building Business Model Knowledge management Programme Synergy Coherence Effectiveness Sustainability Civil Societies and NGOs Advocacy Technical Support

7.

Finding 7: Between 2015 and 2018, the programme budget was spent predominantly on projects designed to contribute to gender equality and women's empowerment, with 60 percent of projects under the gender equality marker (GEN) 2 or GEN 3 (see Figure 3). UNDP has made significant contributions in this regard.




Tag: Capacity Building Inclusive economic growth Jobs and Livelihoods Youth Parliament Rule of law Gender-Based Violence Programme/Project Design Promotion of dialogue Effectiveness Relevance UN Agencies Advocacy Coordination

8.

Finding 8: Support to national and community disaster recovery following the EBV outbreak was somewhat successful and showed UNDP's ability to absorb additional resources and refocus financial and human resources into new areas unrelated to its normal core business or existing focal areas.




Tag: Crisis Response Disaster Recovery Recovery Effectiveness Efficiency Ebola Health Crises Human and Financial resources Multilateral Partners Partnership Programme/Project Design Donor Social Protection Coordination Technical Support

9.

Finding 9: UNDP continues to support and align its work with a major government focus and development concern through its Youth Employment and Empowerment Programme. However, YEEP's overall activities and impact have been declining as funds have decreased.




Tag: Capacity Building Jobs and Livelihoods Youth Monitoring and Evaluation Programme Synergy Project and Programme management Sustainability Effectiveness Efficiency Relevance Civil Societies and NGOs Country Government Technical Support

10.

Finding 10: The Local Governance and Economic Development project has supported a number of businesses, again through BDS and the provision of grants. Work with local governments to support improved revenue-generation has led to some increased income-generation by local governments following support from the project.




Tag: Capacity Building Inclusive economic growth Anti-corruption Local Governance Monitoring and Evaluation Operational Efficiency Project and Programme management Effectiveness Efficiency Relevance Civil Societies and NGOs Country Government UN Agencies Technical Support

11.

Finding 11: UNDP has provided significant contributions in the area of governance. It has assisted all branches of government and has contributed to the strengthening of the system of checks and balances, which is essential for good governance. However, by covering such a wide range of areas and issues, UNDP has been unable to create significant depth in many areas of its operation and to secure the sustainability of some of the structures and initiatives it has supported.




Tag: Civic Engagement Election Human rights Justice system Parliament Rule of law Business Model Operational Efficiency Programme Synergy Service delivery Strategic Positioning Sustainability Effectiveness Efficiency Sustainability Policy Advisory Technical Support

12.

Finding 12: In the area of conflict prevention and peacebuilding, UNDP sought to fill the gap left by the closing of the United Nations Integrated Peacebuilding Office in Sierra Leone (UNIPSIL) mission by strengthening existing conflict resolution mechanisms. UNDP's main objective in this area has been the establishment of an early warning and response system and the creation of a culture of dialogue with a particular focus on engaging youth at risk. However, these activities did not attract donor interest and were replaced by UNDP in the last two years of the project with civic education activities, which were not a good fit for the governance structure of the project.




Tag: Capacity Building Youth Civic Engagement Crisis prevention Peace Building Promotion of dialogue Effectiveness Efficiency Relevance Sustainability Country Government Technical Support

13.

Finding 13: UNDP's contribution to the successful conduct of the 2018 general elections is highly recognized. The country office supported key electoral institutions in the management of the election process, promotion of public confidence and participation in the electoral process, delimitation of constituency boundaries, development of a national civil registry, and mitigation and prevention of election-related violence through national dialogue and peace advocacy.




Tag: Capacity Building Election Rule of law Programme Synergy Project and Programme management Peace Building Promotion of dialogue Aid Coordination Effectiveness Efficiency Civil Societies and NGOs Donor Advocacy Coordination Technical Support

14.

Finding 14: In the area of rule of law and access to justice, UNDP has provided important contributions to Sierra Leone's justice institutions and citizens, in particular the most marginalized and vulnerable. UNDP's support has resulted in the strengthening of a number of justice institutions, and improved access to justice, accountability and justice service delivery at the local level. However, interventions in this area have been fragmented across multiple small projects and the sustainability of a number of initiatives and structures supported by UNDP is uncertain.




Tag: Capacity Building Justice system Rule of law Gender-Based Violence Donor relations Integration Security Aid Coordination Relevance Sustainability Civil Societies and NGOs Donor Operational Services Technical Support

15.

Finding 15: UNDP Sierra Leone has been a long-running, continuous and consistent supporter of the Parliament of Sierra Leone, with activities supporting the establishment and strengthening of parliamentary support services. However, this support has focused more on administrative aspects of the institution, while more could have been done to engage with the Parliament at the political level, especially supporting the law-making capabilities of members of Parliament (MPs) and their interaction with citizens.




Tag: Capacity Building Parliament Business Model Donor relations Human and Financial resources Strategic Positioning Effectiveness Relevance Bilateral partners

16.

Finding 16: UNDP successfully supported the government's comprehensive constitutional review process launched in 2013, producing good results, and ensuring that the process was highly consultative and participatory. The outbreak of Ebola and the 2018 elections put the process on hold. However, there is now an opportunity for UNDP to facilitate discussions over the future of the process.




Tag: Capacity Building Civic Engagement Election Rule of law Ebola Strategic Positioning Effectiveness Country Government Coordination Policy Advisory

17.

Finding 17: UNDP has supported a number of other governance areas, including support to the media sector, assistance to the Ministry of Planning in the formulation of the National Development Plan and Aid Coordination, and support to governance at the subnational level. Assistance in these areas could have been more strategic and substantive and has the potential for high impact, especially if efforts on strengthening governance at the subnational level are sustained and organized more strategically.




Tag: Civic Engagement Local Governance Public administration reform Business Model Country Support Platform Operational Efficiency Programme Synergy Strategic Positioning Effectiveness Efficiency Civil Societies and NGOs Coordination Technical Support

18.

Finding 18: The country office has developed a more comprehensive approach to support for the environment through the development and implementation of several GEF-funded projects in energy efficiency, climate change management and climate information systems, among other key areas.




Tag: Capacity Building Technology Climate Change Adaptation Programme/Project Design Green Climate Global Environment Facility fund Effectiveness Relevance Sustainability Country Government Policy Advisory Technical Support

19.

Finding 19: The Environment and Natural Disaster Management project is an all-encompassing shell project with a project document from 2008 that is mostly financed through core funds. The project has been aligned with a number of environmental, extractive industry and disaster risk mitigation policy support needs. But, again, it is a disparate collection of loosely connected projects supporting a wide variety of activities, implementing partners and outputs that, overall, has little connection or overall strategy towards a common goal. However, it constitutes a considerable UNDP investment in support of the country.




Tag: Capacity Building Disaster Risk Reduction Natural Disaster Operational Efficiency Project and Programme management Resource mobilization Effectiveness Efficiency Relevance Donor Coordination Technical Support
Recommendations
1

In developing the new CPD, care should be taken to: reflect UNDP's comparative strengths and identify areas it is able to deliver on effectively; develop clear and supporting theories of change for UNDP's work in the country; and prioritize interventions and resources. Included in the country programme development should be a detailed analysis of the use of core funding and a strategy for leveraging core funding for greater impact. The country programme development process should ultimately strengthen the strategic focus of the programme, develop synergies across projects and clusters, deepen interventions and ensure sustainability.

2

The country office should further strengthen its results-based systems and practices. These efforts should be driven by the need to establish clarity and a clear sense of priority over what UNDP is seeking to achieve in Sierra Leone.

3

The establishment of a new Ministry of Planning and the finalization of a new National Development Plan provides UNDP with an opportunity to consolidate a number of activities, while working to strengthen a key new ministry. UNDP should also strengthen its support to the government and the new administration's commitment to the SDGs.

4

Interlinked with support to planning is that of ongoing and expanded support to local governance. UNDP is well positioned to develop further support to local governance and to ground several ongoing or planned activities in local governance work.

5

In terms of positioning, UNDP should further consolidate its work in areas such as elections and rule of law, where it has had real impact and is currently well established; it should also strengthen its presence in areas where there is clear and strong potential for synergies among activities it has undertaken.