Independent Country Programme Evaluation: Tunisia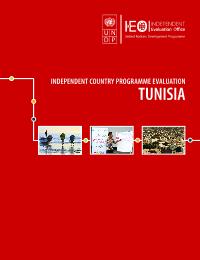 Evaluation Plan:

Evaluation Type:

ICPE/ADR

Planned End Date:

12/2018

Completion Date:

12/2018

Status:

Completed

Management Response:

Yes

Evaluation Budget(US $):

70,300
Title
Independent Country Programme Evaluation: Tunisia
Atlas Project Number:
Evaluation Plan:
2018-2021, Independent Evaluation Office
Evaluation Type:
ICPE/ADR
Status:
Completed
Completion Date:
12/2018
Planned End Date:

12/2018

Management Response:
Yes

Focus Area

:
Corporate Outcome and Output (UNDP Strategic Plan 2018-2021)

1. Output 1.3. Solutions developed at national and sub-national levels for sustainable management of natural resources, ecosystem services, chemicals and waste
2. Output 1.4. Scaled up action on climate change adaptation and mitigation across sectors which is funded and implemented

Evaluation Budget(US $):

70,300

Source of Funding:
Evaluation Expenditure(US $):

62,300

Joint Programme:
No
Joint Evaluation:

No

Evaluation Team members:

| Name | Title | Nationality |
| --- | --- | --- |
| Deqa Ibrahim Musa | Evaluation Specialist and Lead Evaluator | SOMALIA |
| Amanuel Zerihoun | Evaluation Specialist and Associate Lead Evaluator | |

GEF Evaluation:

No

Key Stakeholders:
Countries:

TUNISIA
Lessons
Findings
1.

Finding 1. UNDP has been an important partner to the Government of Tunisia in its democratic transition. The country programme includes several flagship projects—electoral support, transitional justice, security sector reform, public accountability and support to Parliament—that are helping to lay the foundation of a governance architecture embodying the democratic values of inclusiveness, participation, accountability and good governance. The challenge now is consolidation of the programme's results given the fluidity and instability inherent in transition processes.




Tag: Anti-corruption Civic Engagement Election Justice system Local Governance Parliament Rule of law Gender Equality Women's Empowerment Access to Medicines Country Support Platform Donor relations Risk Management Effectiveness Relevance Sustainability Country Government Donor UN Agencies Technical Support

2.

Finding 2. The country programme's approach to civil society participation is shifting to stand-alone projects aiming to build the capacities of small community-based organizations (CBOs) through implementation of UNDP projects. While relevant for capacity-building, the approach is not line with the upstream focus of the country programme and may limit strategic partnerships with a wider range of CSOs.




Tag: Capacity Building Anti-corruption Civic Engagement Human rights Rule of law Gender-Based Violence Monitoring and Evaluation Operational Efficiency Partnership Programme Synergy Strategic Positioning Effectiveness Impact Relevance

3.

Finding 3. The programme, while relevant and achieving planned results through the individual projects, lacks a critical mass of interventions in any one sector or location to contribute to the anticipated outcome results.




Tag: Jobs and Livelihoods Justice system Rule of law Implementation Modality Operational Efficiency Programme Synergy Resource mobilization Coordination

4.

Finding 4. The development of the Strategic Development Plan 2016-2020 and six regional development plans helped to strengthen national development planning, and poverty and vulnerability analysis capacities.




Tag: Inclusive economic growth Local Governance Mainstreaming, Acceleration and Policy Support (MAPS) SDG monitoring and reporting Voluntary National Review Donor relations Project and Programme management Effectiveness Impact Relevance Policy Advisory

5.

Finding 5. UNDP interventions on job creation and entrepreneurship development were small-scale and lacked the long-term focus required to bring them to fruition. Funding was the main cause for the limited scope of the interventions.




Tag: Capacity Building Inclusive economic growth Jobs and Livelihoods Gender Equality Women's Empowerment Effectiveness Relevance Sustainability Country Government Technical Support

6.

Finding 6. UNDP support helped to create high level political support for coordination of renewable energy development, leading to the adoption of the public-private partnership regulations which have enabled the Government to launch large renewable energy projects with private sector funding.




Tag: Public administration reform Energy Global Environment Facility fund Effectiveness Impact Country Government Private Sector

7.

Finding 7. Support for improved drinking water governance exceeded its targets in terms of the number of beneficiaries provided with access to drinking water; however, it faced difficulties in changing attitudes of partner institutions and the population towards the implementation of an effective water governance system.




Tag: Climate Change Adaptation Gender Equality Gender Mainstreaming Women's Empowerment Project and Programme management Biodiversity Water resources Effectiveness Impact Policy Advisory

8.

Finding 8. Disaster risk reduction (DRR) awareness and capabilities at national and local levels, particularly preparedness and response mechanisms to increasing climate change risks, have been improved in targeted vulnerable communities.




Tag: Capacity Building Local Governance Climate Change Adaptation Disaster Risk assessments Disaster Risk Reduction Natural Disaster Vulnerable Effectiveness Impact Sustainability Policy Advisory

9.

Finding 9. The effectiveness of gender mainstreaming in the country programme varied. The governance programme was generally more successful in incorporating gender perspectives in legislation, policy and planning that yielded some concrete results in terms of gender equality and women's empowerment.




Tag: Civic Engagement Gender Equality Gender Mainstreaming Gender Parity Gender transformation Gender-Based Violence Women's Empowerment Project and Programme management Effectiveness Impact UN Agencies Technical Support

10.

Finding 10. While there is no specific collaboration between UNV and UNDP, UNV contributes at different levels of the country office supporting the implementation the country programme, including supporting the UNDP presence outside of Tunis.




Tag: Human and Financial resources Effectiveness UN Agencies

11.

Finding 11. Contextual challenges will for the most part affect opportunities for the sustainability of the results to which UNDP contributes.




Tag: Public administration reform Project and Programme management Global Environment Facility fund Challenges Effectiveness Sustainability Country Government Policy Advisory Technical Support

12.

Finding 12. UNDP positioned itself successfully as a convener of donors in the democratic transition process, resulting in significant resource mobilization.




Tag: Anti-corruption Civic Engagement Local Governance Parliament Rule of law Climate Change Adaptation Disaster Risk Reduction Gender-Based Violence Change Management Partnership Global Environment Facility fund Resource mobilization Vertical Trust Funds Effectiveness Efficiency Coordination

13.

Finding 13. The country office has taken important steps towards increasing synergies across programmes and projects by adopting a convergence strategy, which is expected to improve the overall effectiveness of the country programme.




Tag: Local Governance Monitoring and Evaluation Programme Synergy Coherence Effectiveness Efficiency Technical Support

14.

Finding 14. The country programme has partially implemented the consolidation of its interventions under a programmatic approach as envisaged in 2012 through its change management plan. As a result, the programme design and/or implementation still reflects a project orientation, which has not favoured coordination and synergies across interventions.




Tag: Change Management Programme Synergy Project and Programme management Coherence Effectiveness Relevance Sustainability Country Government Coordination

15.

Finding 15. The M&E capacity of the country office is not commensurate with the level of programmatic activities and with the complexity of the environment in which UNDP operates in Tunisia. This has led to a focus on fulfilling the corporate monitoring requirements with less attention to tracking results at outcome level.




Tag: Capacity Building Change Management Monitoring and Evaluation Operational Efficiency Programme Synergy Project and Programme management Results-Based Management Effectiveness Efficiency Impact

16.

Finding 16. The position of UNDP in Tunisia can be described as catalytic as its presence provides an enabling environment for other United Nations agencies to intervene, acting as an "operational backbone support" for the rest of the United Nations system.




Tag: Human and Financial resources Integration Operational Efficiency Procurement Aid Coordination Coherence Effectiveness Efficiency Coordination

17.

Finding 17. UNDP support for United Nations coordination has helped to demonstrate its convening role, notably in the areas of SDG mainstreaming and prevention of violent terrorism. However, the use of strategic partnerships with United Nations and non-United Nations development actors that go beyond funding and implementation mechanisms was limited.




Tag: Mainstreaming, Acceleration and Policy Support (MAPS) SDG Integration Operational Efficiency Partnership Coherence Effectiveness Efficiency Relevance UN Country Team UNDP Regional Bureaux Coordination
Recommendations
1

The new country programme should be more flexible, pursuing greater adaptive planning and management approaches to address the challenge of working in a fluid national context. The results framework of the country programme has remained unchanged despite limited progress in some of the key outcome results. The country office and stakeholders of the country programme need to more explicitly recognize the dynamism and change of speed of the national context, reflecting it in ongoing environmental scanning, risk analysis and rigorous monitoring and evaluation (M&E) processes, which are subsequently used to inform midcourse corrections. This requires greater clarity in the country programme's theory of change, investments in a M&E function that supports the monitoring of key assumptions for success at project and programme levels, and a greater level of integration of M&E practices.

2

UNDP should seize the opportunity of the preparation of the next country programme to conduct a strategic review to identify a differentiated and strategic niche in the area of job creation with a view to enhancing its value proposition in this area of work. Such positioning should be informed by a thorough analysis and reflection on past successes and failures and the positioning of other stakeholders. As noted in this evaluation, while successive projects are credited for their capacity development support and multi-stakeholder approach, interventions have had limited sustainable results in terms of job creation, and at the same time have not demonstrated an approach distinct from those of other actors. While supporting the development of entrepreneurship and social and economic solidarity is in line with national priorities to address the challenge of unemployment, particularly of youth, UNDP should seek to be more ambitious and innovative in its value proposition and explore other entry points and modalities for supporting job creation, including balancing between supporting self-employment and wage employment options in order to adapt its response to the employment aspirations of Tunisians.

3

UNDP should review the current level and nature of partnerships developed with civil society to ensure that such partnerships are at the strategic level required in Tunisia's middle-income country context. The UNDP strategy for engagement with civil society organizations has focused on supporting the emergence and organizational capacity development of civil society groups in local governance and development. While this level of engagement is relevant, UNDP should re-examine the strategic fit of this approach given the growing influence of larger and more established civil society actors in public debates, with whom partnerships were not developed. There are important synergies, at technical rather than financial levels, that could be explored with existing civil society actors. UNDP should seek opportunities to more systematically consider synergies with existing civil society actors across its portfolio, with due regard to the need to maintain its positioning as a neutral partner.

4

UNDP should consider adopting a more proactive coordination role with regard to its engagement in strategic partnerships with other actors who are contributing to the same objective, so as to enhance coherence and harmonization and optimize collective contributions where relevant. UNDP Tunisia has developed effective partnerships with the national authorities, which has enabled it to position itself as an important development partner in several sectors that are relevant to Tunisia's development plan, particularly in the area of democratic governance. UNDP is engaged with the relevant national authorities in the implementation of its country programme and is recognized for its positive contribution to development challenges. However, further leveraging existing capacities through strategic partnerships is likely to grow as an imperative for the positioning of UNDP in Tunisia. Given anticipated declines in both UNDP resources and donor funding, the country office should lay the groundwork for strategic partnerships in the current cycle to avoid opportunistic resource mobilization. Different from funding partnerships, the proposed strategic partnerships are centred on leveraging and knowledge exchange.
Management Response Documents