Independent Country Programme Evaluation: Rwanda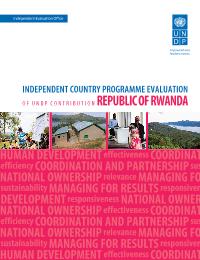 Evaluation Plan:

Evaluation Type:

ICPE/ADR

Planned End Date:

12/2017

Completion Date:

12/2017

Status:

Completed

Management Response:

Yes

Evaluation Budget(US $):

120,000
Title
Independent Country Programme Evaluation: Rwanda
Atlas Project Number:
Evaluation Plan:
2014-2017, Independent Evaluation Office
Evaluation Type:
ICPE/ADR
Status:
Completed
Completion Date:
12/2017
Planned End Date:

12/2017

Management Response:
Yes

Focus Area

:
Corporate Outcome and Output (UNDP Strategic Plan 2014-2017)

1. Output 1.3. Solutions developed at national and sub-national levels for sustainable management of natural resources, ecosystem services, chemicals and waste
2. Output 1.4. Scaled up action on climate change adaptation and mitigation across sectors which is funded and implemented

Evaluation Budget(US $):

120,000

Source of Funding:
Evaluation Expenditure(US $):

120,000

Joint Programme:
No
Joint Evaluation:

No

Evaluation Team members:

| Name | Title | Email | Nationality |
| --- | --- | --- | --- |
| Edward Gizemba Ontita | Consultant | | |
| Emmanuel Rugumire-Makuza | Consultant | | |
| James Maraga | Consultant | | |

GEF Evaluation:

No

Key Stakeholders:
Countries:

RWANDA
Lessons
Findings
1.

Finding 1. UNDP, through its provision of necessary resources and policy services, has contributed to the strengthening of national institutional capacity to implement the development actions (EDPRS) and improve policy coordination and development effectiveness.




Tag: Effectiveness Relevance Sustainability Human and Financial resources Capacity Building

2.

Finding 2. UNDP has contributed to bringing the youth and women employment agenda at the national level through inclusion of the issues in key sectoral policies and its innovative advocacy work.




Tag: Gender Equality Women's Empowerment Innovation Private Sector Jobs and Livelihoods Youth Advocacy

3.

Finding 3. UNDP contributed to the promotion of a propoor agenda by improving access to finance by previously marginalized and excluded groups of the society, youth and women, and supporting efforts to reflect pro-poor policies in the country's economic agenda.




Tag: Effectiveness Sustainability Gender Equality Women's Empowerment Inclusive economic growth Micro-credit Poverty Reduction Youth

4.

Finding 4. Various factors contributed to the goals under the poverty outcomes (e.g. programme relevance, focus on targeted groups, programme approach). At the same time, the programmes experienced several challenges (e.g. coordination, M&E capacity, and limited engagement with local government and CSOs).




Tag: Vulnerable Coherence Relevance Civic Engagement Local Governance Monitoring and Evaluation Oversight Ownership Programme Synergy

5.

Finding 5. UNDP's environment portfolio has made significant contributions to ecosystem rehabilitation, but much more needs to be done to help the Government achieve its target from 10 percent in 2012 to 17 percent by 2018.




Tag: Climate Change Adaptation Ecosystem based adaption Ecosystem services

6.

Finding 6. UNDP has been successful in supporting the Government in mainstreaming environment, climate change and disaster risk reduction into sector policies and district development plans.




Tag: Climate Change Adaptation Disaster Risk Reduction Environment Policy Integration

7.

Finding 7. UNDP created a favourable policy environment and strengthened the capacity of national and local institutions on disaster risk management. However, the technical capacity gap remains with overdependence on external expertise.




Tag: Disaster Risk Reduction Resilience building Green Climate Monitoring and Evaluation Data and Statistics

8.

Finding 8. UNDP-supported Green Villages have become a successful model demonstrating how integrated sustainable natural resource management can help reduce poverty, enhance environmental sustainability, empower communities and improve quality of life.




Tag: Green Climate Green Economy Sustainability Innovation

9.

Finding 9. The performance indicators used for corporate reporting on the poverty and environment outcomes are generally very broad and not appropriate for tracking and measuring UNDP's performance.




Tag: Monitoring and Evaluation Results-Based Management Theory of Change

10.

Finding 10. There is room for more collaboration in the energy sector with development partners.




Tag: Forestry Rural development Energy Private Sector Financing International Financial Institutions

11.

Finding 11. A key component of UNDP's support to the Government of Rwanda, gender has been one of the cross-cutting components in UNDP's poverty and environment programmes. Most of the project interventions planned and implemented during the review period were gender-targeted to gender-responsive, with attention to the most vulnerable.




Tag: Vulnerable Gender Equality Gender Mainstreaming Women's Empowerment

12.

Finding 12. Home-grown solutions embedded in UNDP's poverty and environment programme played a critical role in ensuring programme results and their ownership among the implementing partners and local government.




Tag: Ownership

13.

Finding 13. UNDP's programmes contributed to the reduction in poverty and inequalities, the organization's corporate mandate. By creating alternative livelihoods, the supported activities in the areas of environment, energy, climate change and natural resource management have been able to improve the livelihoods of the poor and most vulnerable households.




Tag: Climate Change Adaptation Vulnerable Adaptation Fund Natural Resouce management Gender Equality Women's Empowerment Inclusive economic growth Poverty Reduction

14.

Finding 14. In the poverty and environment sector, both UNV and the UNCDF have played a key role in responding to emerging development needs of the country.




Tag: Climate change governance Global Environment Facility fund Gender Equality Women's Empowerment UN Agencies Capacity Building Jobs and Livelihoods Poverty Reduction Youth

15.

Finding 15. Under Outcome 38, UNDP has helped strengthen capacities of various government and public institutions to fulfil their envisaged mandates. With UNDP support on ICT equipment and capacity-building, the NEC's capacity to run elections in Rwanda improved and citizens expressed their confidence in the commission through widespread participation in voter registration and voting. Through use of a home-grown solution, electoral volunteers helped reduce the cost of elections per voter over previous elections.




Tag: Civic Engagement Election Public administration reform Capacity Building Disabilities Technology

16.

Finding 16. The presence of the National Parliament began to be felt in the country as its oversight role improved and citizens became aware of its work through Parliament Radio and parliamentary committee members' field visits. Debates and resolutions were evidence-based due to research support for MPs and senators from the PRU.




Tag: Effectiveness Efficiency Civic Engagement Parliament Knowledge management Results-Based Management Capacity Building Technical Support

17.

Finding 17. UNDP supported the National Forum of Political Parties (NFPO) to transform political parties by bringing into their leaderships women
and youth.




Tag: Gender Equality Women's Empowerment Capacity Building Youth

18.

Finding 18. UNDP's support helped entrench media reforms, positioned the media as a platform for democracy, and strengthened its watchdog role in society.




Tag: Effectiveness Gender Equality Women's Empowerment Civic Engagement Capacity Building

19.

Finding 19. UNDP's support enabled the RGB to contribute to the participation of citizens in assessing and monitoring service delivery in the districts and at national level and to hold the GoR to account through policy dialogues and regular citizens' satisfaction studies.




Tag: Effectiveness Sustainability Anti-corruption Civic Engagement Human rights Local Governance

20.

Finding 20. The CSO sector's capacity in programming has improved. There is better appreciation among the GoR of the role of CSOs in development and it has involved CSOs in its own activities and contributed resources to the CSO Grant Basket established at the RGB with UNDP support.




Tag: Effectiveness Sustainability Gender Equality Gender Mainstreaming Women's Empowerment Civic Engagement Human rights Innovation Capacity Building Disabilities

21.

Finding 21. The critical factors contributing to UNDP's progress towards Outcome 38 centre on their relevance to the socio-economic and political context of Rwanda and UNDP's acceptability and trust by the GoR.




Tag: Coherence Efficiency Relevance Strategic Positioning Policy Advisory Technical Support

22.

Finding 22. Under Outcome 39, UNDP contributed to legal reform to make laws more compliant with human rights standards and dissemination of the Rwandan Constitution so that citizens understand their constitutional rights better




Tag: Agriculture land resouces Gender Equality Gender Mainstreaming Women's Empowerment Human rights Justice system Public administration reform Knowledge management

23.

Finding 23. UNDP contributed to the reduction of the backlog of court cases and congestion in the prisons arising from the 1994 genocide through strengthening of and resourcing alternative justice mechanisms (Gacaca, Abunzi and the MAJ).




Tag: Vulnerable Effectiveness Sustainability Gender Equality Gender-Based Violence Women's Empowerment Justice system Rule of law

24.

Finding 24. With UNDP support, the RNP has improved handling of GBV and their relationships with citizens. As a result of citizen involvement in community policing, crime reporting and prevention has improved in Rwanda.




Tag: Sustainability Gender-Based Violence Civic Engagement e-Governance Security

25.

Finding 25. UNDP contributed to building the capacity of the Supreme Court and the judiciary in general with the result that the case backlog was reduced and access to justice for ordinary people improved.




Tag: Effectiveness Sustainability e-Governance Justice system Public administration reform

26.

Finding 26. UNDP support to the NHRC and Ministry of Justice has enabled the Government to comply with the country's international human rights reporting obligations and clear reporting backlogs.




Tag: Civic Engagement Human rights Capacity Building SDG monitoring and reporting

27.

Finding 27. On the gender equality front, progress was made in representation institutions at national and subnational levels and in women empowerment mechanisms.




Tag: Gender Equality Gender Mainstreaming Gender Parity Women's Empowerment Local Governance Rule of law Social Protection Policy Advisory

28.

Finding 28. With UNDP support to the NURC, peacebuilding and reconciliation has been entrenched at national and district levels.




Tag: Relevance Sustainability Civic Engagement Local Governance Peace Building Promotion of dialogue Social cohesion Capacity Building

29.

Finding 29. The main contributing factor to UNDP progress made under Outcome 39 related to relevance of the programmes to the post-genocide Rwandan context and the policy direction of the GoR.




Tag: Relevance Gender Equality Women's Empowerment Human rights Justice system Peace Building Policy Advisory

30.

Finding 30. The governance programme under Outcome 38 was gender-targeted, as shown in results in parliament, political participation and public service.




Tag: Gender Equality Gender Mainstreaming Gender Parity Women's Empowerment Civic Engagement Human rights Local Governance Parliament

31.

Finding 31. Results were more significant under Outcome 39 with a prospect of bringing gendertransformative results in the future. Government Ministries, Departments and Agencies (MDAs) were by law required to incorporate Gender Budget Statements, the national police developed a gender policy and plan to combat GBV




Tag: Sustainability Gender Equality Gender transformation Gender-Based Violence Women's Empowerment Public administration reform

32.

Finding 32. Home-grown solutions were critical in facilitating some of the results in the two governance outcomes.




Tag: Civic Engagement e-Governance Justice system

33.

Finding 33. The governance programme has included the vulnerable and marginalized groups of the society in its programme design, contributing to, albeit indirectly, addressing inequality issues.




Tag: Vulnerable Gender Equality Women's Empowerment Civic Engagement Human rights Justice system Rule of law Programme/Project Design Disabilities Jobs and Livelihoods Poverty Reduction Youth

34.

Finding 34. UNV has mobilized its staff to the governance programme, but so far, their role has been limited in technical support.




Tag: Effectiveness UN Agencies

35.

Finding 35. UNDP's two programmes – poverty and environment and democratic governance – are directly relevant to the national development agenda.




Tag: Relevance Joint UN Programme

36.

Finding 36. The programmes were also aligned with UNDP's corporate mandate.




Tag: Relevance Gender Equality Women's Empowerment Public administration reform

37.

Finding 37. UNDP's poverty and environment programme directly focused on meeting the needs of its target audiences as part of its programmatic approach.




Tag: Environment Policy Relevance Inclusive economic growth Poverty Reduction

38.

Finding 38. UNDP carefully used a mix of intervention approaches to progress on its governance objectives (e.g. up/downstream, short-/long-term).




Tag: Relevance Gender Equality Women's Empowerment Human rights Ownership Partnership Country Government Capacity Building

39.

Finding 39. UNDP enjoys a favourable relationship with the Government of Rwanda, based on a shared goal of promoting sustainable development in the country.




Tag: Joint UN Programme Partnership Country Government Agenda 2030 SDG Integration

40.

Finding 40. UNDP's keen understanding of 'how the Government works' and its capacity for flexibility and introspection responding to changing circumstances are also among its comparative strengths that other development partners do not have.




Tag: Effectiveness Strategic Positioning Country Government UN Agencies

41.

Finding 41. The business environment for gender mainstreaming at UNDP Rwanda was favourable. The office has made a concerted effort to promote gender equality internally over time and made significant progress in internalizing the principles of gender equality and women's empowerment both in its programmes and within the office.




Tag: Effectiveness Sustainability Gender Equality Gender Mainstreaming Gender Parity Women's Empowerment Capacity Building

42.

Finding 42. UNDP poverty-related efforts enhanced South-South cooperation through visits from other African countries.




Tag: Civic Engagement Knowledge management Poverty Reduction Youth South-South Cooperation

43.

Finding 43. In the environment area, UNDP facilitated South-South cooperation to enable the institutions in the country to learn best practices from other countries.




Tag: Environment Policy Resource mobilization Knowledge management Poverty Reduction South-South Cooperation

44.

Finding 44. There were several South-South cooperation activities in the governance programme, with varying degrees of results. Some produced transformational lessons as well as significant changes.




Tag: Effectiveness Sustainability Public administration reform Knowledge management Civil Societies and NGOs Country Government Peace Building Capacity Building South-South Cooperation

45.

Finding 45. Significant changes were brought about in the rule of law and justice areas through UNDP's provision of opportunities for South-South exchanges.




Tag: Women's Empowerment Justice system Rule of law South-South Cooperation SDG monitoring and reporting

46.

Finding 46. UNDP was at the forefront in supporting the GoR to implement the MDGs and is now doing the same in localizing the SDGs in Rwanda.




Tag: Gender Equality Gender-Based Violence Women's Empowerment Human rights Innovation Strategic Positioning Peace Building Capacity Building Poverty Reduction Advocacy Policy Advisory SDG Integration SDG monitoring and reporting

47.

Finding 47. UNDP has a solid partnership foundation with the GoR.




Tag: Climate change governance Global Environment Facility fund Resource mobilization Partnership Country Government Poverty Reduction Policy Advisory Technical Support

48.

Finding 48. UNDP also had a favourable partnership in the governance areas with the central Government. Its engagement with provincial or devolved authorities was indirect.




Tag: Gender Equality Women's Empowerment Justice system Local Governance Parliament Public administration reform Partnership Country Government

49.

Finding 49. The degree of success UNDP had in coordinating the implementation of the joint programmes with other UN agencies varied.




Tag: Coherence Effectiveness Resource mobilization Gender Equality Women's Empowerment Joint UN Programme UN Agencies Youth

50.

Findding 50. UNDP's partnerships with CSOs in Rwanda were indirect, mainly through the RGB. It did not have direct engagement with CSOs at the grassroots under the NIM approach in Rwanda.




Tag: Agriculture Climate change governance Gender Equality Women's Empowerment Human rights Implementation Modality Civil Societies and NGOs Country Government

51.

Finding 51. The role of CSOs in development activities is clearly recognized by UN Rwanda and its programme strategies. However, their capacity in Rwanda is still very weak.




Tag: Sustainability Women's Empowerment Civic Engagement

52.

Finding 52. UNDP has strong support from some donors. With others, its engagement has been limited due to, among others, 'differences in approaches'. There is potential to expand the support base through different engagement strategies and with more visibility of its work.




Tag: Aid Coordination Communication Donor relations Harmonization Joint UN Programme Knowledge management Results-Based Management Coordination

53.

Finding 53. The restructuring exercise has brought changes in the office's programme picture.




Tag: Effectiveness Efficiency Resource mobilization Change Management Operational Efficiency

54.

Finding 54. Many of the existing programmes were carried on from the previous cycles, benefiting from the past evaluation reports and needs assessment done by UNDP or the Government.




Tag: Knowledge management Monitoring and Evaluation Results-Based Management

55.

Finding 55. The projects in UNDP Rwanda were predominantly delivered through the NIM modality.




Tag: Resource mobilization Implementation Modality Monitoring and Evaluation Ownership Technical Support

56.

Finding 56. UNDP has incorporated a context-specific, issue-based approach to programming, generating synergy among its various projects and reinforcing results.




Tag: Gender Equality Women's Empowerment e-Governance Innovation Programme Synergy Results-Based Management Capacity Building Technology Youth SDG Integration

57.

Finding 57. With diminishing aid flows to Rwanda and the GoR emphasis on the Direct Budget Support, UNDP Rwanda has become more dependent on its core resources, requiring vigorous resource mobilization efforts.




Tag: Disaster Risk Reduction Effectiveness Efficiency Resource mobilization Civic Engagement Implementation Modality Joint UN Programme Operational Efficiency Jobs and Livelihoods Agenda 2030 Data and Statistics

58.

Finding 58. UNDP interventions in the poverty and environment areas have some strong elements of sustainability embedded in their design (e.g. high-level stakeholder engagement, programme relevance, and national ownership). Challenges include the need for more engagement at the local government as well as with CSOs.




Tag: Challenges Sustainability Resource mobilization Civic Engagement Local Governance Donor relations Integration Ownership Partnership Programme/Project Design Country Government Capacity Building SDG Integration

59.

Finding 59. In UNDP's governance programme, relevance, government ownership and attention to capacity-building in design, were also among the elements recognized for its sustainability. Vulnerability still exists in the area of human rights and justice, however, where the sustainability largely depends on relevant institutions' capacity to fulfil their obligations, their monitoring capability, as well as resources.




Tag: Relevance Sustainability Resource mobilization Gender Equality Gender Mainstreaming Women's Empowerment Civic Engagement Human rights Justice system Donor relations Monitoring and Evaluation Ownership Programme Synergy Programme/Project Design Capacity Building
Recommendations
1

Ensure close engagement in and contribution to the conceptualization and development of the next UNDAP to develop a country programme strategy for the next cycle that is in full alignment with the new national development framework, National Strategy for Transformation.

As observed in the period under review, the GoR is very clear on its vision for the country's sustainable development – addressed in the EDPRS I and II – and on areas requiring support from development partners. As UNDP's country programme is expected to be in full alignment with the UN-level programme framework, e.g. UNDAP, it is imperative that UNDP fully engage in UNCT's ongoing process of developing the new UNDAP, particularly in the prioritization and scope of its intervention areas in all three current thematic areas (poverty and environment and governance) as well as exploring/identifying the UN agencies that can complement one another's work towards the same objectives.

2

Place a greater focus in its programme work on producing and contributing to evidence- and research-based work for policy-level advisory services.

To support the country moving very quickly to achieving the middle-income country status, provision of upstream policy support will become even more critical in the next cycle. Drawing on lessons learned from the country office's ongoing operational shift from 'project implementation' to a more issue-based programme approach, UNDP should accelerate the latter efforts, particularly by focusing in its programme work on producing evidence-based analytical material that can be shared with government and development partners as well as on strengthening its policy-level advisory skills and work. The role played by the Strategic Planning Unit, which was responsible for producing much of UNDP's well-known analytical work on the MDGs and the SDGs, as well as the NHDRs featuring in-depth poverty and socio-economic analyses, should be expanded and strengthened and be fully integrated into the strategic planning of UNDP's thematic programmes.

3

Explore a partnership strategy that will include options for mobilizing both financial and staffing resources and will ensure UNDP's more robust engagements with donors and its visibility.

UNDP should revisit its partnership and resource mobilization strategy to meet Rwanda's emerging needs, without being constrained by its declining core resources or the UN funds. While several pipeline proposals were already on the table, results of the evaluation also indicated potentials for the following areas: i) more proactive and robust engagements with traditional, emerging, and new partners to identify areas or scope of work for collaboration (e.g. with AfDB on energy resources and on analytical partnership on cross-cutting issues that would affect their core interventions, e.g. value chains, youth employment, gender, and climate change); ii) development of knowledge products showcasing UNDP's analytical work leading to evidence-based policy dialogue (including more documentation of impact of the home-grown solutions, e.g. Gacaca courts and Imihigo performance contracts in scaling up results and application around the country); iii) closer and more substantive discussions with donors on the pros and cons of various strategies and approaches being used among development partners including UNDP's; iv) leveraging of the programmatic approaches that have been successfully tested (e.g. Green Villages) for expanding sponsors; v) tapping more into UN Volunteers that can provide technical expertise of choice and be mobilized fairly quickly, including national volunteers; vi) cost-sharing of common posts among UN agencies (e.g. communication, and M&E); and vii) government cost-sharing schemes which are practiced widely in UNDP's middle-income programme countries.

4

Continue to pay attention to human development in its programmes, particularly for advancing on the implementation of the SDGs.

There was a general consensus among development partners that the SDGs will be a significant opportunity for UNDP to demonstrate its leadership, given its proximity to the Government and other comparative strengths over other partners, particularly in raising awareness on and localizing/ domesticating the implementation. UNDP has already played a catalytic role in setting the roadmap, leading the gap analysis now in its second phase comparing the Goals and Rwanda's existing policies, setting sector-specific indicators for monitoring, translating the SDGs in Kinyarwanda, and training for national partners.

Rwanda had two important ingredients for success in the MDGs, and thus now for the SDGs, i.e. the GoR's high level of interest in advancing social and human development, and the existence of political commitment and governance. Leveraging those factors, UNDP is expected to play the central coordination role with government partners (e.g. MINECOFIN) and with the development partners. In addition, the following issues were raised during the evaluation as particularly relevant to UNDP in achieving and localizing the SDGs in Rwanda: i) upholding the principles contained in the UN Rwanda's human rights-based approach in all its work; ii) ensuring engagement with all relevant actors, including UN humanitarian agencies (e.g. WFP, FAO, UNHCR) who operate in the similar areas where UNDP works in, private sector and CSOs; iii) forging and strengthening substantive partnership with the recently established SDG Centre for Africa in Kigali that focuses on policy advice and research to support government, businesses, civil society, and academic institutions; iv) bringing in innovations and Rwanda's home-grown solutions for SDG localization; v) focusing its activities on building capacity of two groups UNDP has currently limited programmatic engagement with, i.e. CSOs for their participation in policy dialogue and decentralized government authorities for their critical role in ensuring subnational level implementation and reporting; vi) supporting national capacity to measure the SDGs; and vii) effectively monitor and measure the implementation of SDG 16 on peaceful, just and inclusive societies, Rwanda's key SDG focus.

5

Continue with the management- led, office-wide efforts to seek efficiency gains and promote programme effectiveness.

Moving into a new programme cycle, it is recommended that the office's change management efforts made in the previous programme cycle should further continue to enhance UNDP Rwanda's operational efficiency and programme contributions. For example, while the merger of poverty and environment programmes under one programme unit was an appropriate step in the right direction, the existing programme – worth more than $8 million, covering a diverse range of issues (from DRR, climate change and environment, inclusive finance, capacitybuilding of government ministries and institutions, etc.) – remains challenged managed by a small group of staff (nine staff, including three specialists, four UN Volunteers, and two administrative support). The number of programmes/ projects under the unit could be further reduced and their scope streamlined to focus on key areas where UNDP's strengths can be demonstrated. There is much scope for improving UNDP Rwanda's M&E functions to ensure enhanced programme oversight and sharpen the quality of reports shared with the donors and development partners. Strengthening the office's M&E functions is even more critical as the NIM is the adopted project implementation modality, and the SPIUs lacks appropriate capacity. With a dedicated M&E apparatus with technical expertise, the goal setting and identification of appropriate performance indicators for the thematic programmes as defined in the country programme document should also be strengthened.