Procurement Support Services to the Ministry of Health of Ukraine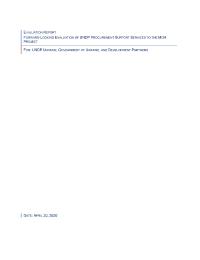 Evaluation Plan:

Evaluation Type:

Final Project

Planned End Date:

09/2020

Completion Date:

09/2020

Status:

Completed

Management Response:

Yes

Evaluation Budget(US $):

50,000
Title
Procurement Support Services to the Ministry of Health of Ukraine
Atlas Project Number:

00090474

Evaluation Plan:
2018-2022, Ukraine
Evaluation Type:
Final Project
Status:
Completed
Completion Date:
09/2020
Planned End Date:

09/2020

Management Response:
Yes

Focus Area

:
Corporate Outcome and Output (UNDP Strategic Plan 2018-2021)

1. Output 1.1.2 Marginalised groups, particularly the poor, women, people with disabilities and displaced are empowered to gain universal access to basic services and financial and non-financial assets to build productive capacities and benefit from sustainable livelihoods and jobs

SDG Goal

Goal 10. Reduce inequality within and among countries
Goal 16. Promote peaceful and inclusive societies for sustainable development, provide access to justice for all and build effective, accountable and inclusive institutions at all levels
Goal 3. Ensure healthy lives and promote well-being for all at all ages

SDG Target

10.2 By 2030, empower and promote the social, economic and political inclusion of all, irrespective of age, sex, disability, race, ethnicity, origin, religion or economic or other status
16.5 Substantially reduce corruption and bribery in all their forms
3.8 Achieve universal health coverage, including financial risk protection, access to quality essential health-care services and access to safe, effective, quality and affordable essential medicines and vaccines for all

Evaluation Budget(US $):

50,000

Source of Funding:
Project budget; donor
Evaluation Expenditure(US $):

79,800

Joint Programme:
No
Joint Evaluation:

No

Evaluation Team members:

| Name | Title | Nationality |
| --- | --- | --- |
| Nataliia Vehner | Consultant, KPMG | UKRAINE |
| Anton Shramko | Consultant, KPMG | UKRAINE |

GEF Evaluation:

No

Key Stakeholders:
Countries:

UKRAINE
Recommendations
1

Publishing of up-to-date information on the progress of procurement and deliveries
should become regular practice for UNDP. The format of the report/status file and update
frequency should be aligned with the MoH and include all necessary details to provide the fullest
picture on the procurement and delivery status starting from the bidding stage and onwards. The
file could also indicate the standard timing assigned for a specific action/procurement stage and
provide proper clarification when it is delayed. It is also advisable that the file is available both on
UNDP and MoH web sites, indicating the date of the current and next update.


2

UNDP could offer its procurement and supply chain expertise to the MoH to improve
quantification, budgeting and delivery planning. This revised approach could have a
significant effect on the procurement cycle, allowing procurement of larger quantities at once,
avoiding overlaps of budget years and reducing decision-making on budget and savings
(re)allocations. This is also likely to secure better prices for larger quantities, secure on-time
deliveries (primarily in cases when splitting procurement of medicines with long manufacturing
cycles or short shelf life in two or three rounds has in the past created gaps in deliveries and
stock-outs) and improve supply planning on manufacturers' side. The revised delivery planning
approach should potentially consider stocks held in the central MoH warehouse and regional
hospitals, remaining shelf life of available medicines and medical devices, and those awaiting
dispatch, monthly need, minimum order/batch quantity, supplier and MoH distribution lead times.
These improvements could be in parallel replicated for SoE MPU as proved working practice.


3

Managing supplier performance after contract signature should be a priority. It is
advisable to develop a set of KPIs allowing the tracking and review of supplier performance
on a regular basis. Some of those may include targets for on-time deliveries, QA nonconformities, quality of shipping documents etc. and be fixed in supplier contracts. KPI reporting
should be also distributed to suppliers and provide for generation of mitigating actions/back-up
scenarios in the event of low performance by the supplier, both by UNDP and the supplier.


4

Non-price evaluation criteria may be introduced to strengthen decision-making on
bid evaluation and contract award. This would allow for proper consideration of supplier
performance under previous contracts and avoiding cases when poor performing suppliers are
awarded new contracts being technically qualified and offering the lowest price. Non-price
evaluation criteria could include on-time deliveries (with clarification on reasons for delays),
mitigating actions taken by a supplier, speed of reaction, QA compliance etc. A scoring scale and
score weight should be developed and assigned to each evaluation criterion, including price and
technical compliance. Thus, a contract will be awarded to a bidder having the highest score. A
sample scoring table allowing consideration of non-price criteria for bidders that have a proven
record of deliveries to UNDP is provided in Annex 21.


5

Supply security should be a focus both for MoH and UNDP. For cases when on-time
delivery may be at risk, for example, due to placing a conditional contract, and outstanding
registration of a new medicine or poor performance of a potential contract holder under previous
contracts, it may make sense to develop a dedicated approach to splitting quantities between two
or more suppliers guided by total cost of ownership principles in order to avoid delays and stockouts.
Taking into account the project set-up and the MoH's role as a customer and often as the key
decision-maker most of the suggested recommendations on procurement part can be
implemented only on the condition that the MoH is directly involved and supportive.


6

Updating the MoH PSS Project Document and submitting it to the Board Meeting
Although board meetings were held regularly, and with the participation of MoH, development
activities provided under the MoH PSS Project to the MoH since 2015 to date have never been
formally defined in sufficient detail by the parties, i.e. MoH and UNDP, in the Project Document.
This led to lack of ownership and monitoring on the part of the MoH. The evaluation team
recommends that UNDP updates the Project Document and submits it to the next Board Meeting
for MoH's approval. No Board Meeting has taken place yet to examine the results from 2019. The
Project Document should also be updated to cover the extension of the PSS Project to March 31,
2022 to be in line with the relevant legislation covering procurement via international
organisations


7

Strengthen Results-Based Management
Currently, the Health & Transparency Programme is an emerging programme consisting of the
PSS and CCM project, and certain related health interventions (some very small-scale), rather
than a coherent and fully integrated programme. It is difficult to track the inputs on such
interventions and effectively monitor and evaluate them. There is visible lack of interlinkage
between interventions. The TA/CB provided by UNDP under the MoH PSS project has not been
registered with the Ministry of Economic Development and Trade (MERT) as ITA
project/programme.
Actions proposed for the CO may include:
1) To develop a tracking and monitoring system at the programme level that would list all
health interventions of the H&T programme with a breakdown of key inputs (people, purchases,
etc.) that are required to deliver the outputs. This should include UNDP staff time, which must be
adequately estimated, costed and captured in the project budget.
2) To establish a clear procedure by which health intervention baselines, indicators and
targets are harmonised and aligned with those of the H&T Programme.
3) To strengthen collaboration between health interventions and consider potential synergies
and linkages between health interventions in order to track them and promote the highest level of
cooperation possible.
4) To arrange training for programme staff to ensure integrity and understanding of the H&T
Programme RBM, monitoring & evaluation principles.
5) To consider whether conducting registration of the TA/CB activities to the MoH//SoE MPU
as part of the H&T programme with MERT would provide additional benefits and contribute to
national ownership and MoH's engagement in monitoring.


8

UNDP's positioning
In health sector, UNDP should build up its position as a developmental technical adviser (as
opposed to the current perception of UNDP as a procurement agency) and promote its integrated
and coherent Health & Transparency Programme securing better positioning for UNDP as a
unique services provider.
This would be particularly relevant in view of the gradual transition from the medical procurement
model to the development model.


9

Capitalise on expertise gained from medical procurement to build up a development
service offering
UNDP has a unique experience in procurement for the MoH since 2015. UNDP should preserve
its niche proactively offering a value proposition to the MoH for the services it most needs,
including but not limited to capacity-building (anti-corruption) and sustainable procurement,
reviewing and improving nomenclatures, implementing a QA policy, HIV/AIDS-TB response
quantification, budgeting and delivery planning, cost-benefit analyses, and relationships and
negotiation with international manufacturers.


10

Support for local reform and de-centralisation
UNDP CO may capitalise on its effective performance on past projects at a local level, including
in managing the recovery of conflict affected areas (RPP, CBA and other programmes and
projects funded by the EU and other international donors). UNDP should engage in close working
relationships with national and local governments. Partnering with the EU and building on
successful community-based programming, UNDP will be able to support local governments to
strengthen public service delivery, focusing on the sustainable human development agenda,
engagement of civil society, gender equality, transparency and development processes, and can
thus use its power to forge effective partnerships with the private sector and community-based
organisations (including women's organisations and civil society).